Centaur Technology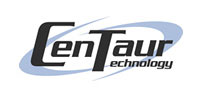 Have you ever heard of Centaur Technology? You might not have, but as a wholly owned subsidiary of VIA, Centaur Technology, has spent years designing high performance, x86 compatible microprocessors. Centaur Technology has been in the news a lot this year with the announcement of the VIA Isaiah Architecture. The 65 nanometer Isaiah processor was designed with performance per watt in mind and is taken the market by storm since VIA started showing off performance numbers just a few months ago. The main competition for the VIA Isaiah processor would be the Intel Atom processor, which Isaiah is very competitive with. Not bad for a company based in Austin, Texas that has a group of 100 engineers and microprocessor designers! While they don't nearly have the budget that Intel has, but they manage to get product on the market. Being the underdog isn't a bad thing though as Centaur has achieved the fastest design cycle in the industry, with new designs going from concept to completion in about 9 months (1/3 the time of their competitors). With ultra mobile portable devices (UMPD) taking off faster than expected Centaur Technology seems to have launched the Isaiah processor at just the right time. VIA also claims that the Isaiah Architecture is the World's most power-efficient x86 processor architecture. Late last week I had a chance to visit Centaur, so instead of doing the usual launch article I spent a day with Centaur, which just happened to be the day they announced the Nano processor series.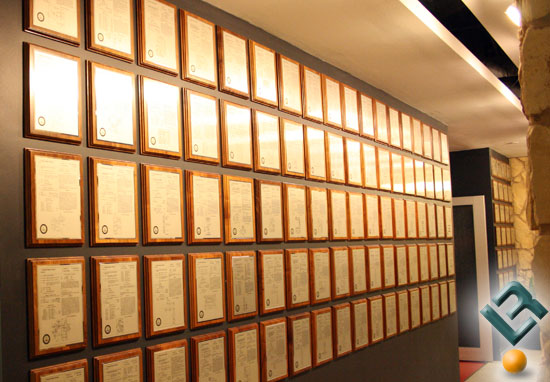 The first thing I noticed when walking into Centaur Technologies right after the elevator is that they have a good number of patents that revolve around the x86 processor. The 134 individual patents shown above is just part of how many they have as the oposite wall was also covered. After taking a look at the patents and sitting my things down I got a chance to meet Glenn Henry, who is the President of Centaur and is the same individual that founded the company back in 1995.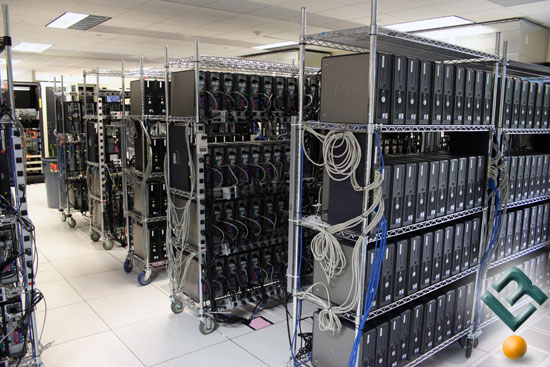 The first pit stop on our tour was Centaur's own raised floor data center that is packed full of Dell small form factor Intel Pentium 4 and Core 2 Duo/Quad machines that run software simulations 24 hours a day for processor testing. Outside the building Centaur invested in a diesel backup generator to ensure that the data crunching goes on no matter what the weather is like outside. I asked if Centaur leased these systems and was informed they were all outright purchased and that when they are retired/replaced that Centaur employees end up with them.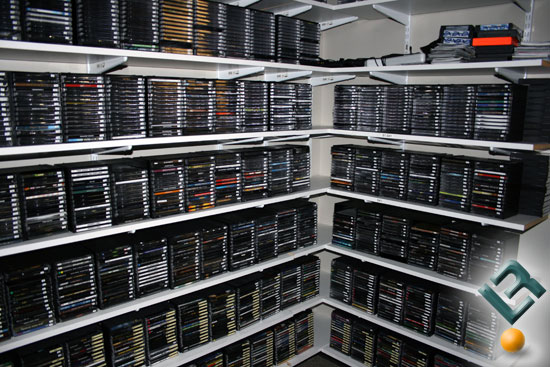 After leaving the data center I got a chance to peak into the software library, where Centaur keeps hard copies applications that they use for testing. Most of the above CD/DVD cases were game titles and these were all legitimate copies! What are they testing you ask?
VIA Nano Testing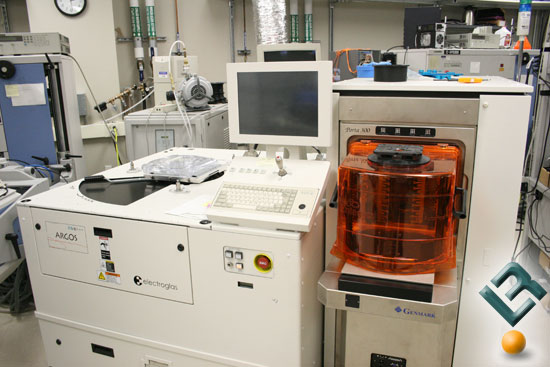 They are testing Nano processor of course! Centaur does in-house manual assembly (chip onto package) of processors at the facility I was visiting. Sadly, Centaur didn't have any uncut wafers of the VIA Nano processor the day of my tour. If they were working with wafers this is one of the machines that the wafers are inserted into to begin the processor of assembly.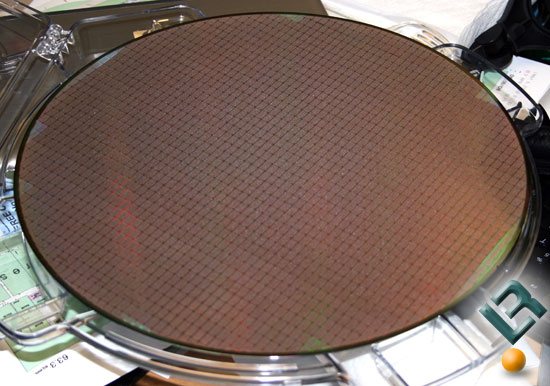 Since I didn't get a chance to see a wafer full of Nano processors I was shown a wafer of Via C7 processors!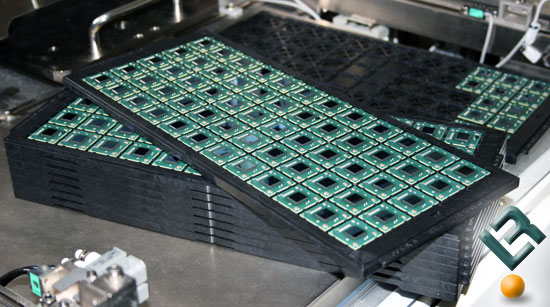 Pictured above are eight full trays of VIA Nano processors that are ready to be sorted! They had thousands of freshly cut and made Nano processors that were ready for testing if you looked around the room. It should be noted that the entire VIA Nano processor family uses Fujitsu's 65 nanometer process technology for and features a compact 21mm x 21mm nanoBGA2 package. Once Centaur gets the wafer back from Fujitsu they then complete the assembly of the processor and move on to testing and speed binning.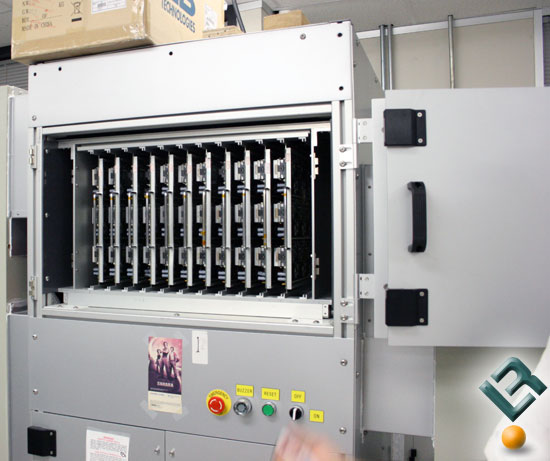 Pictured above is one of the burn-in ovens that Centaur uses to test hundreds of processors at a time and Centaur has a few of these ovens.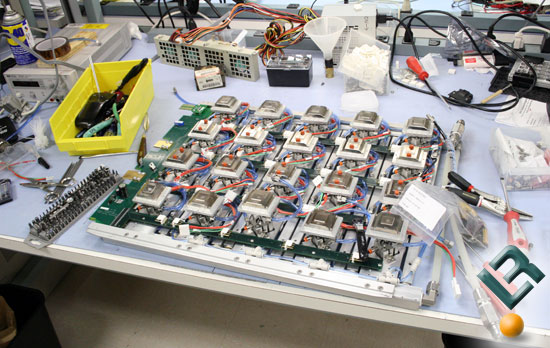 Here is a close up of a single testing 'tray' and as you can see it uses an impressive TEC heating/cooling system as well as a liquid cooling system. As you can see each 'tray' can handle 20 processors, so each chamber can do 240 processors at a time! This is good as the burn-in process can last a number of hours depending on what Centaur runs. If you look real close you can see a can of WD-40 in the picture (not sure what it is used for to be honest) and while I searched for some duct tape I just couldn't find any, but there was a roll of tape next to the WD-40. It's always amazing what you see sitting around labs, but after all it is a lab!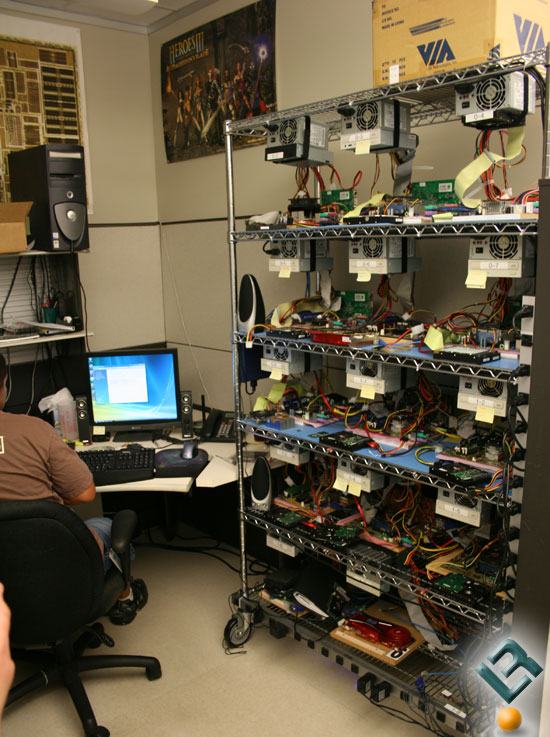 Centaur had a number of systems set up at workers' desks that were being used for testing VIA Nano processors while we were there. It should be noted that Centaur uses both retail production type boards and also development platforms for testing.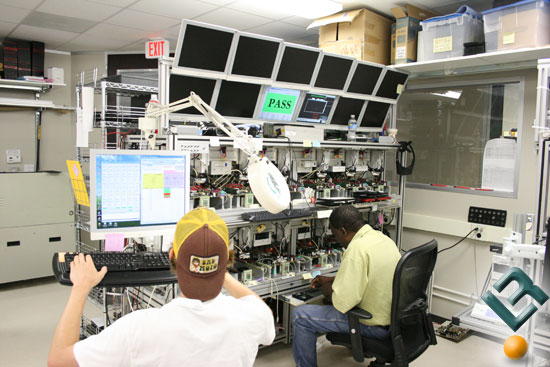 At this test station these two individuals were individually testing Nano processors at various speeds and temperatures to see if they pass stress testing. If you are curious what Centuar was testing you are in luck. Centaur was checking to see if the VIA Nano CPU's were stable at 1.8GHz at three different temperatures (85C, 5C and then 25C)with 1.1V on production platforms. The processors that pass testing at this stage move along to become VIA Nano L2100 processors, which are the 1.8GHz processors. I was able to see VIA Nano processors get speed binned right in front my eyes!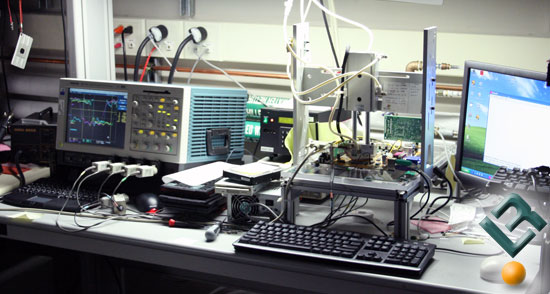 This station is used for parametric analysis set-up and testing. While I was there this station was actually in use with the thermal-controlled CPU analysis station in the image above.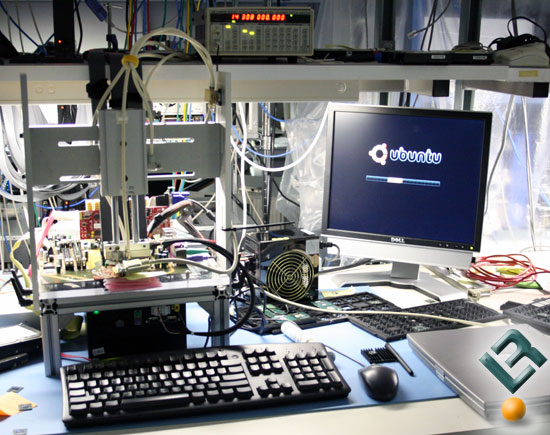 While talking to various employees I came across a group that was trying to solve a booting issue with the VIA Nano processor and Ubuntu 8.04 LTS. Without getting too technical all processors have fuses that can be blown to enable and disable various areas of the processor. Centaur discovered that by blowing one specific fuse that they created a booting issue with Ubuntu 8.04 LTS. I listened in for a bit and in a matter of minutes they were able to find the cause of a problem and fix it while I was standing there!
VIA Nano Benchmarks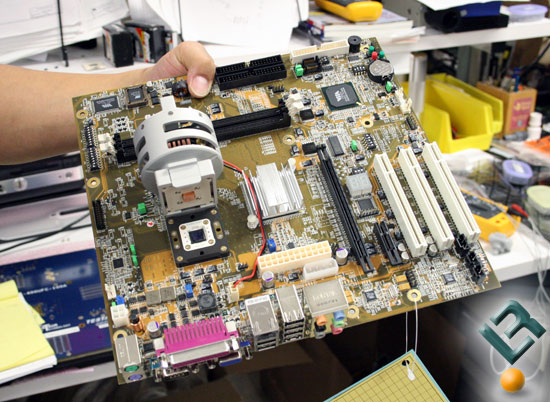 Not all VIA Nano processors will designed for use with a socket though as a number of mobile devices have the CPU soldered directly to the motherboard. In this package the chips' BGA-style package measures only 11mm by 11mm and a special motherboard is needed for testing. Pictured above the a VIA based motherboard with a special CPU socket to use the pinless processor. It's hard to tell in the above picture, but the processor is actually in the socket!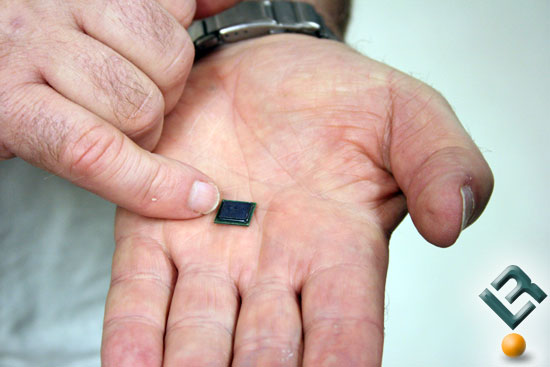 To see how tiny one of these actually are, I had Glenn Henry himself do some hand modeling for Legit Reviews! So, how does the Via Nano perform? Let's take a look at the benchmarks Centaur has provided the media.
The Centaur Benchmarks: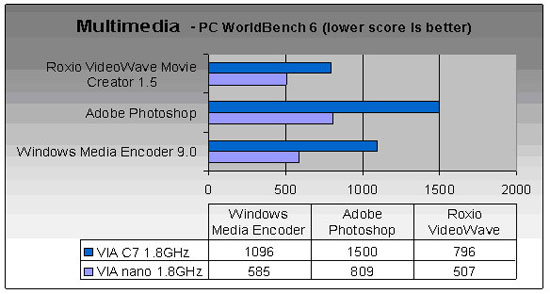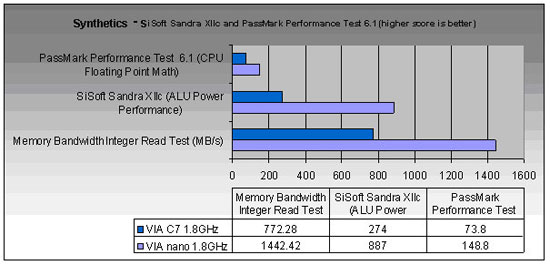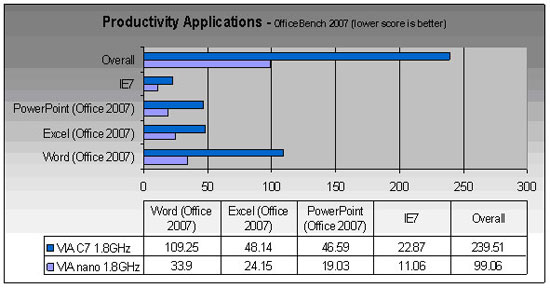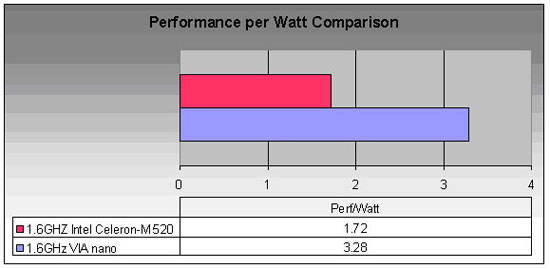 Keeping in mind that the Nano has pin-to-pin compatibility with current VIA C7 processors the benchmarks are impressive. Since Nano is pin-to-pin compatible it also enables a smooth transition for OEMs and mainboard vendors, enabling them to offer a wider range of products for different markets with a single board or system design. The benchmarks we really want to see is how the VIA Nano compares to the Intel Atom, but those will have to wait till real product hits the market. The benchmarks that Centaur used showed that the Nano was nearly twice as fast as the C7, which says a ton since both are single core processors. The VIA Nano has an impressive 1MB of L1 cache, which is likely one of the big reasons the performance jumped so much. The Intel Atom uses 512KB, so the VIA Nano should be able to give the Intel Atom a run for its money when it comes to both performance and low power consumption!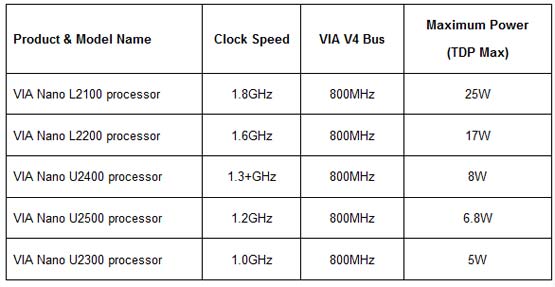 Initially the processor will be launched in two skus, the VIA Nano L-series processors for mainstream desktop and mobile PC systems and the ultra low voltage U-series for small form factor desktop and ultra mobile devices such as mini-notes. Centaur has working 2.0GHz VIA Nano processors running in the labs, so later in the year expect a faster Nano (although it will consume more power). Centaur has a serious X86 processor here and it will be interesting to see how the industry reacts to it. HP has already taken note of it and has a number of MID and mini-notebooks in the works. I look forward to the day that I have both an Intel Atom and VIA Nano platform on the test bench to give you the real numbers. I'd like to thank everyone at VIA and Centaur for letting me take a tour and seeing the inner workings in the middle of a product launch!