The XFX GeForce 8800 GT Alpha Dog Arrives!
Legit Reviews has published several articles covering the NVIDIA GeForce 8800 GT video card series, but today we bring you our first article on a production card from the folks over at XFX. The retail cards from XFX do differ from the reference design that we originally looked at a couple weeks ago, so be sure to read up on what we have already published before we jump into the new offerings.
GeForce 8800 GT Coverage: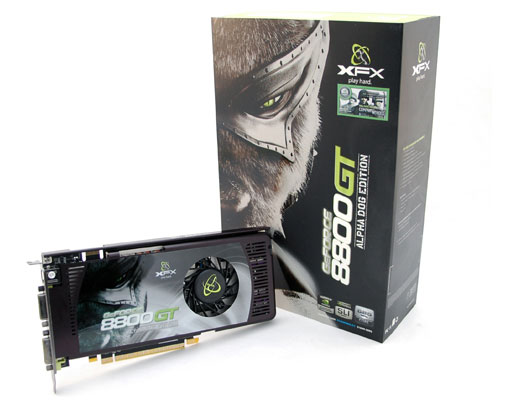 XFX currently offers four GeForce 8800 GT 512MB video cards and the only difference between the cards is the clock frequency that they operate at.
Stock (600MHz/1.8GHz) - Model Number PV-T88P-YDF4

Overclocked (625MHz/1.8GHz) - Model Number PV-T88P-YDQ4

Extreme (640MHz/1.9GHz) - Model Number PV-T88P-YDE4

XXX Edition (670MHz/1.95GHz) - Model Number PV-T88P-YDD4
The version that we will be looking at today is model number PV-T88P-YDQ4, which runs with a clock rate of 625MHz and a memory clock of 1.8GHz. This is a 25MHz increase on the core, which should improve performance when gaming.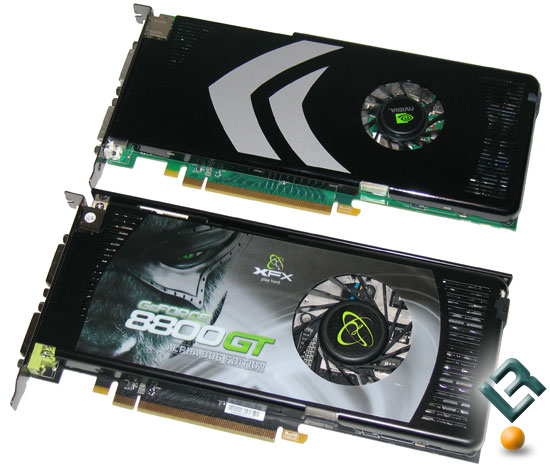 When we first sat the XFX GeForce 8800 GT 512MB next to the reference NVIDIA card something just didn't look right. XFX implimented a larger fan and also increased the opening in the cover to let more cool air in. The slits on the sides of the cover have also been increased to improve airflow around the capacitors and other heat producing components. The changes to the cooling really paid off as the XFX GeForce 8800 GT was 15C cooler at idle and 8C cooler at load thanks to the increased airflow. Not bad considering the XFX GeForce 8800 GT Alpha Dog is running overclocked! Our review sample have a core clock frequency of 625MHz and the reference cards from NVIDIA run at 600MHz.
A Closer Look At The 8800 GT Alpha Dog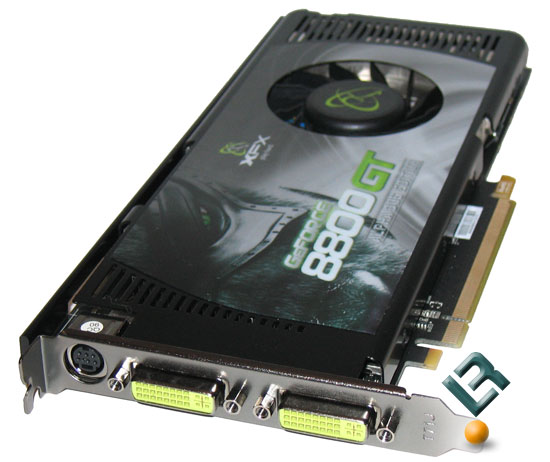 The pair of dual-link DVI connections and the TV output connector on the XFX GeForce 8800 GT Alpha Dog are what one would expect on any GeForce 8800 GT. The TV output is HDTV ready.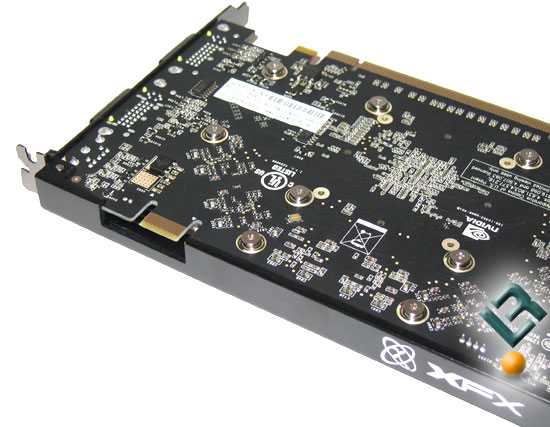 There is a single SLI connector on all of the 8800 GT cards, which makes it possbile to do SLI. It should be noted that when NVIDIA does 3-way or 4-way SLI down the road that the GeForce 8800 GT and GeForce 8800 GTS cards will not be supported since it has just one connection. Since most of our readers update their system on a regular basis this shouldn't be a concern.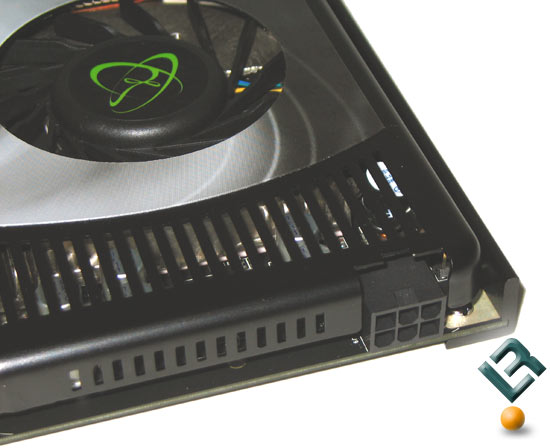 Since the G92 core on the GeForce 8800 GT requires more power than what the PCI Express slot can deliver on the motherboard, so an additional 6-pin PCIe power header is located on the side of the card.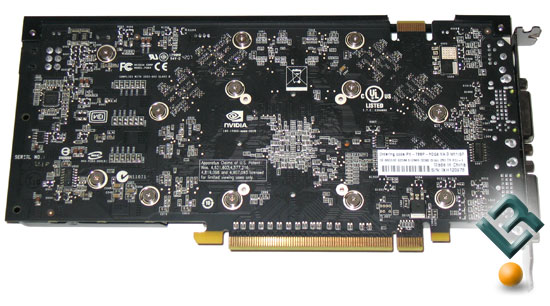 The back of the XFX GeForce 8800 GT 512MB Alpha Dog Graphics Card is where the black PCB can be best seen. Since there are no heat sinks or covers on the back there isn't too much to talk about! Let's take a look at the bundle before we move on to testing.
The Bundle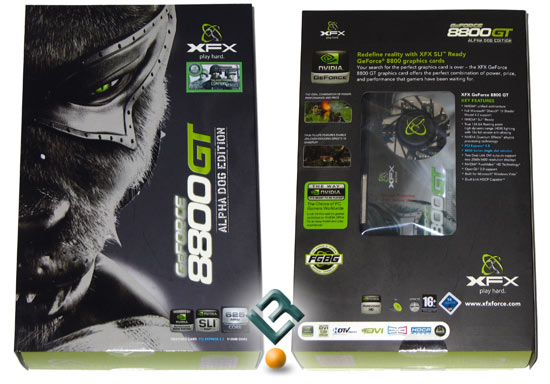 We normally don't cover retail boxes in our articles, but ever since XFX pulled the hidden images stunt that landed them in court we have been checking boxes. XFX settled the 'drool' case with EVGA out of court in case any of our readers ever wondered what happned with that situation.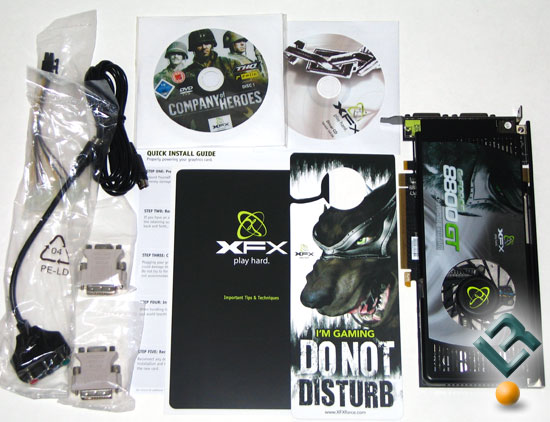 Inside the box one will find the expected bundle that comes with all brands of video cards. The bundle included with the XFX GeForce 8800 GT Alpha Dog includes two DVI-to-VGA adapters, a 4-pin molex to 6-pin PCI-Express power adapter, HDTV dongle, an S-Video cable and installation instructions. Also included it the full DVD version of THQ's Company of Heroes and another disc that includes the DirectX10 game update, which is worth using since you just purchased a DirectX 10 ready graphics card. The Driver disc included several NVIDIA Forceware driver versions and some other software like CoolBits for unlocking overclocking features. The bundle also includes a first for us - the 'Do Not Disturb' door hanger!
The Test System
The test system was running Windows Vista Ultimate 64-bit with all available Microsoft updates including the hotefixes required for enthusiast video cards to run correctly. NVIDIA Forceware 169.05 beta video card drivers were used on all of the GeForce series graphics cards except for the XFX GeForce 8800GT as it ran newer 169.12 drivers. ATI CATALYST 7.11 drivers were used on the Radeon HD 3850, 2900 XT and HD 2600 XT graphics cards. All results shown in the charts are averages of at least three runs from each game or application used.
The Video Cards:
XFX GeForce 8800 Ultra XXX Edition 768MB (675MHz/2.3GHz )
XFX GeForce 8800 GTX 768MB (575MHz/1.8GHz)
BFG Technologies GeForce 8800 GTS OC2 640MB (580MHz/1.7GHz)
NVIDIA GeForce 8800 GT 512MB (600MHz/1.8GHz)
XFX GeForce 8800 GT 512MB (625MHz/1.8GHz)
eVGA 8600 GT 256MB (540MHz/1.4GHz)
ATI Radeon HD 3850 (669MHz/1.658GHz)
ATI Radeon HD 2900 XT (743MHz/2.0GHz)
ATI Radeon HD 2600 XT (800MHz/1.1GHz)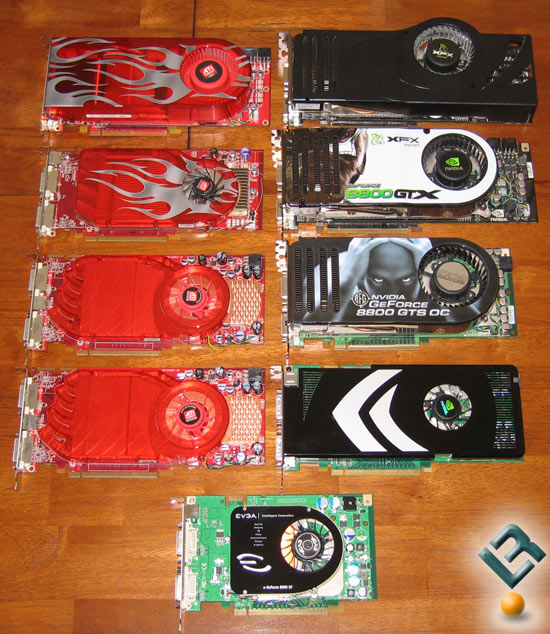 All of the video cards were tested on the Intel X38 Express Test platform, which is loaded with the latest and greatest hardware. The Intel Core 2 Quad QX9650 'Yorkfield' processor was used for testing as it proved to be the best desktop processor when it comes to game performance. The test system was also loaded with 4GB of memory and water cooled to ensure throttling of the processor or memory wouldn't cause any issues.
Intel Test Platform

Component

Brand/Model

Live Pricing

Processor

Intel Core 2 Quad QX9650

Motherboard

Gigabyte X38-DQ6

Memory

Corsair PC2-8500 4GB

Video Card

See Above

Hard Drive

Western Digital SATA 250Gb

Cooling

Corsair Nautilus 500

Power Supply

Corsair HX620W

Operating System

Windows Vista Ultimate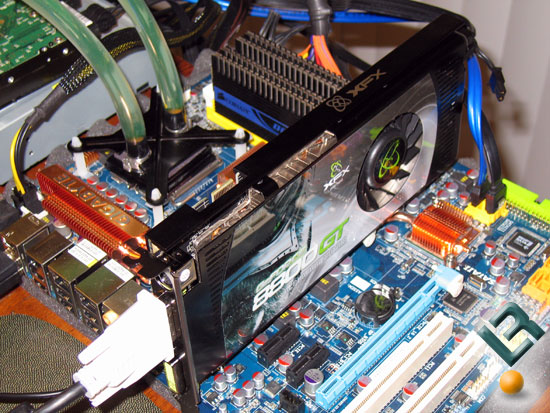 Now that we know exactly what the test system is, we can move along to performance numbers.
S.T.A.L.K.E.R.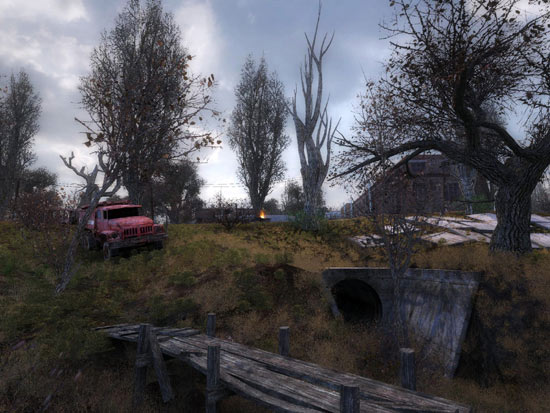 S.T.A.L.K.E.R.: Shadow of Chernobyl
S.T.A.L.K.E.R.: Shadow of Chernobyl uses the 'X-ray Engine' to power the graphics. It is a DirectX 8/9 Shader Model 3.0 graphics engine. Up to a million polygons can be on-screen at any one time, which makes it one of the more impressive engines on the market today. The engine features HDR rendering, parallax and normal mapping, soft shadows, widescreen support, weather effects and day/night cycles. As with other engines that utilize deferred shading (such as Unreal Engine 3 and CryENGINE2), the X-ray Engine does not support anti-aliasing with dynamic lighting enabled. However, a "fake" form of anti-aliasing can be enabled with the static lighting option; this format utilizes a technique to blur the image to give the false impression of anti-aliasing. The game takes place in a thirty square kilometer area, and both the outside and inside of this area is rendered to the same amount of detail.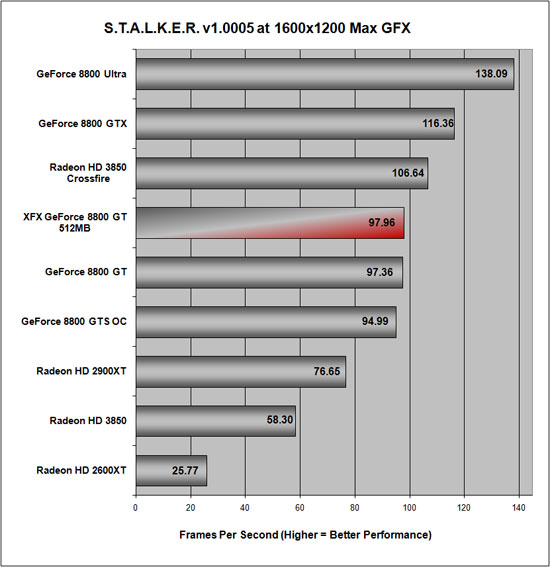 Benchmark Results: At the default 1600x1200 game resolution with full dynamic lighting and maximum quality settings, I found that S.T.A.L.K.E.R.: Shadow of Chernobyl was more than playable on nearly all of the video cards. The XFX GeForce 8800 GT 512MB Alpha Dog does slighty better than the reference GeForce 8800 GT 512MB from NVIDIA since it has a 25MHz higher clock frequency. The GeForce 8800 GT 512MB plays this DirectX 9 game title that was one of the most hyped games early on in the year with no problems at all.
Call of Juarez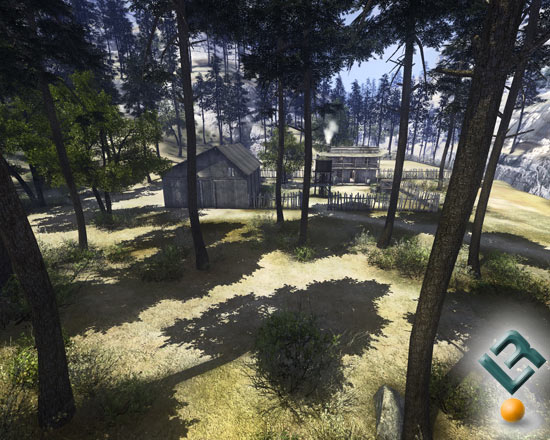 Call of Juarez is a Western-themed first-person shooter from the Polish developer Techland. First released for Windows in 2006 as a DirectX 9 title, it was re-released on June 12, 2007 as a DirextX 10 game title. Call of Juarez was one of the first games to utilize Microsoft's DirectX 10 and it is included in our testing for this reason. We have tested Call of Juarez before, but that was version 1.1.1.0 EN. Today, the performance results are from version 1.3.0.1 EN, which is a newer version with performance enhancements.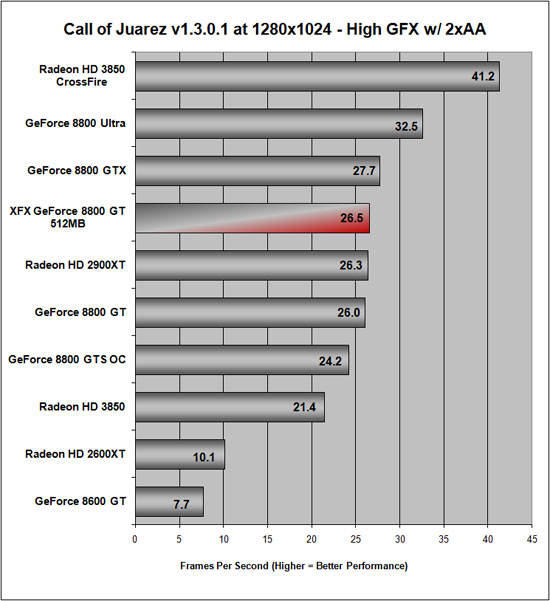 Benchmark Results:As you can see this benchmark pushes DirectX 10 graphics cards to the breaking point with high quality settings at 1280x1024 with 2xAA enabled. The XFX GeForce 8800 GT 512MB Alpha Dog video card performs 0.2FPS faster than the reference card.
Company of Heroes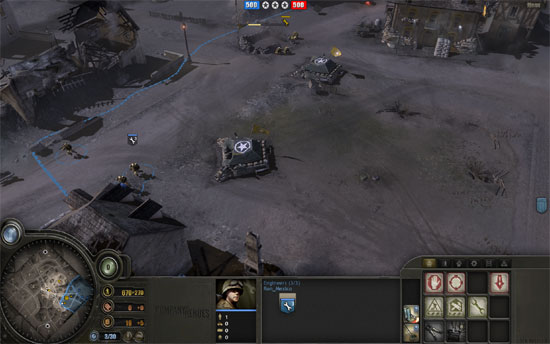 Company of Heroes (CoH) is a real-time strategy (RTS) computer game developed by Relic Entertainment that was released on September 14, 2006. On May 29, 2007 Relic released a patch for Company of Heroes that supports DirectX 10 and we used the latest patch to test DirectX 10 game performance. Company of Heroes is set during World War II where the player follows a military unit, known as Able Company, as they fight their way through some of the greatest and bloodiest battles, including the D-Day landings at Normandy.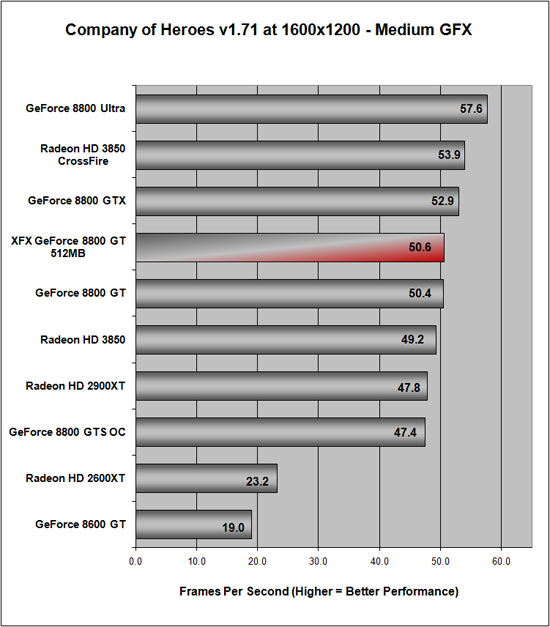 Benchmark Results: With the latest patch (1.71) installed, the performance numbers showed solid results on the higher end cards. The XFX GeForce 8800 GT 512MB Alpha Dog video card again score 0.2 more frames per second than the reference card.
BioShock
BioShock is a game published by 2K Boston/2K Australia, and designed by Ken Levine. The game is a PC and Xbox 360 title released on August 21, 2007 in North America. BioShock is a first-person shooter with role-playing game customization elements that was developed using the Unreal Engine 3.0 and is a DirectX 10 game title that is multithreaded.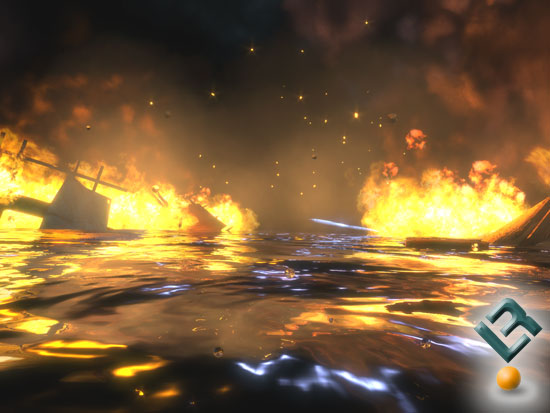 Since 2K didn't include a benchmark script or utility in BIOSHOCK, I used FRAPS version 2.9.2 to capture the frame rates for 240 seconds at scenes that I personally selected from the game. If you don't know anything about Bioshock, let me set the scene for you: After your plane crashes into icy uncharted waters, you discover a rusted bathysphere and descend into Rapture, a city hidden beneath the sea. Constructed as an idealistic society for a hand picked group of scientists, artists and industrialists, the idealism is no more. Now the city is littered with corpses, wildly powerful guardians roam the corridors as little girls loot the dead, and genetically mutated citizens ambush you at every turn and you get to kill them. Let's look at the benchmark results!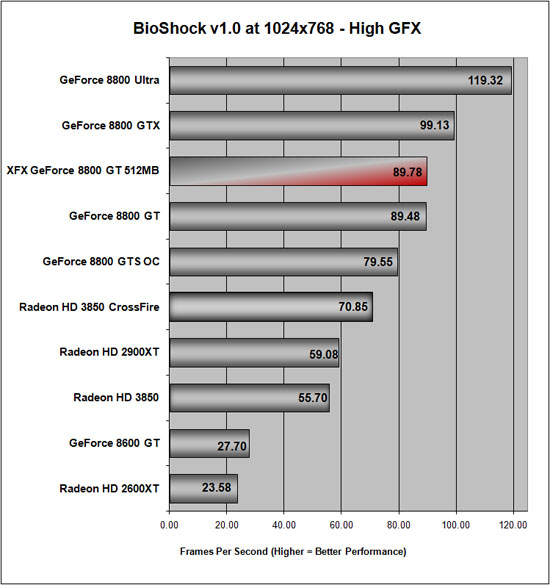 Benchmark Results: At 1024x768 with high quality settings set in the game, the XFX GeForce 8800 GT 512MB Alpha Dog video card score 0.3 frames per second higher than the reference GeForce 8800 GT.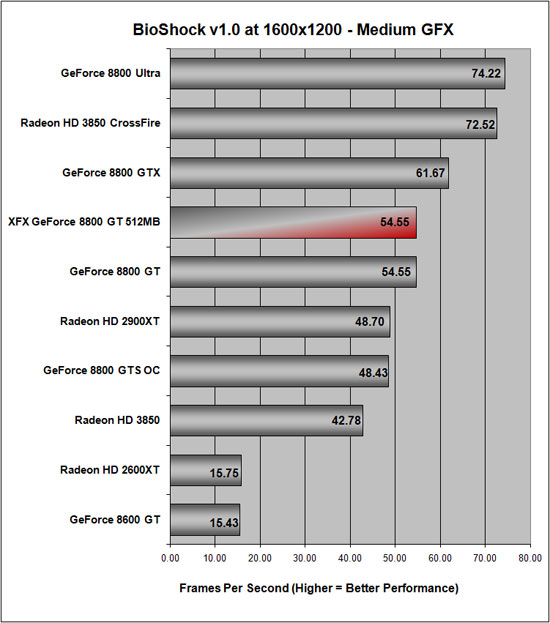 Benchmark Results: At an in-game resolution of 1600x1200 and medium quality settings, there was no difference found between either of the GeForce 8800 GT's. This could mean that the game is CPU limited or memory limited.
Crysis
Crysis is a science fiction first-person shooter computer game that was developed by Crytek, and published by Electronic Arts. It was released on November 15, 2007 in the United States. The game is based off the CryENGINE2 game engine, which is an extended version of CryENGINE, the game engine behind the hit game Far Cry a number of years ago.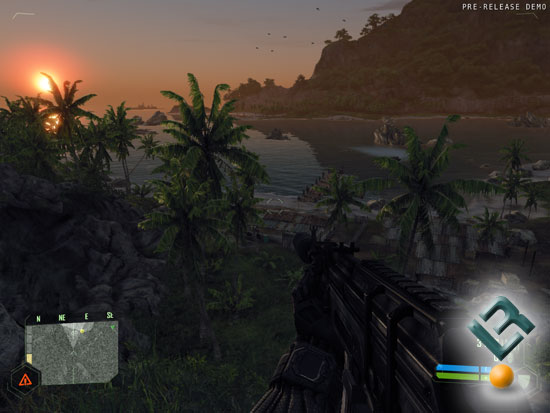 On October 26th, 2007, Crytek recently released a single-player demo that has the entire first level, Contact, as well as the sand box editor included. We used FRAPS to benchmark this multi-threaded DirectX 10 beta that came just a few weeks ago.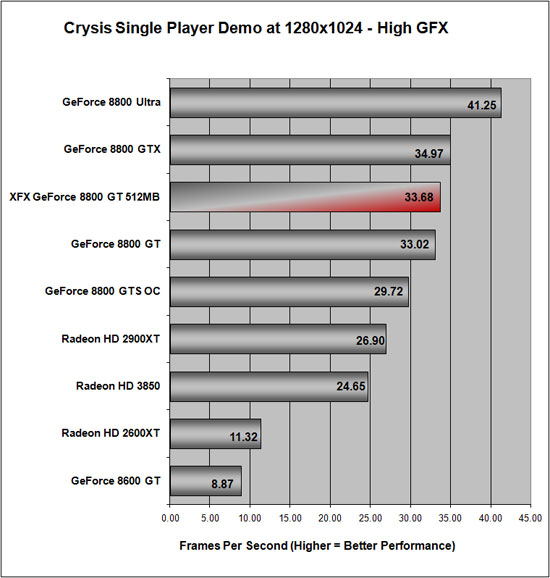 Results: Crysis is obviously tough on video cards with high graphics settings, with only the XFX GeForce 8800 Ultra XXX edition having an average frame rate above 40. The XFX GeForce 8800 GT 512MB Alpha Dog was again less than a frame per second ahead of our reference card.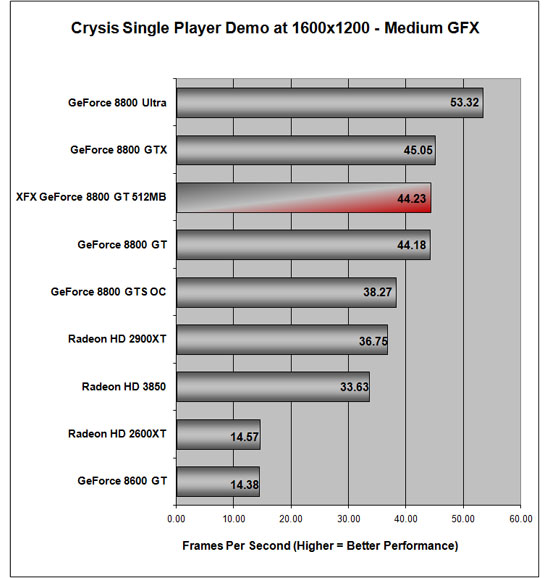 Results: At 1600x1200 with medium graphics quality set across the board the GeForce 8800 GT's had close to the same performance levels.
3DMark 2006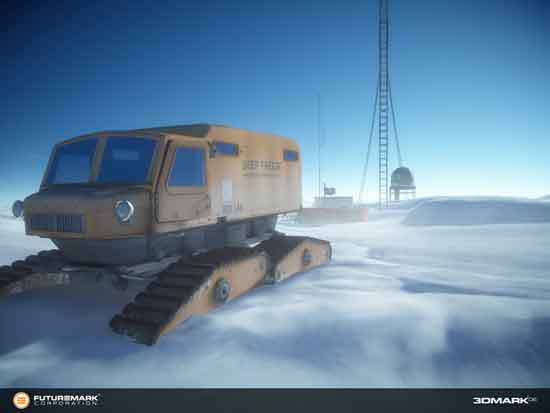 3DMark 2006


3DMark 06 is the worldwide standard in advanced 3D game performance benchmarking and the latest version in the popular 3DMark series! 3DMark06 tests include all new HDR/SM3.0 graphics tests, advanced SM2.0 graphics tests, AI and physics driven single and multiple cores or processor CPU tests and a collection of comprehensive feature tests to reliably measure next generation gaming performance today.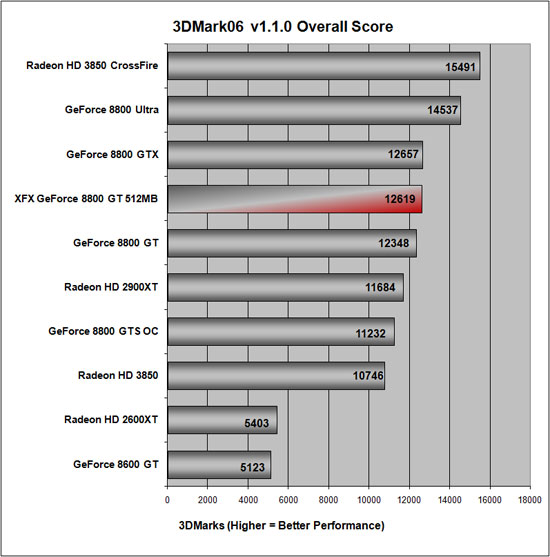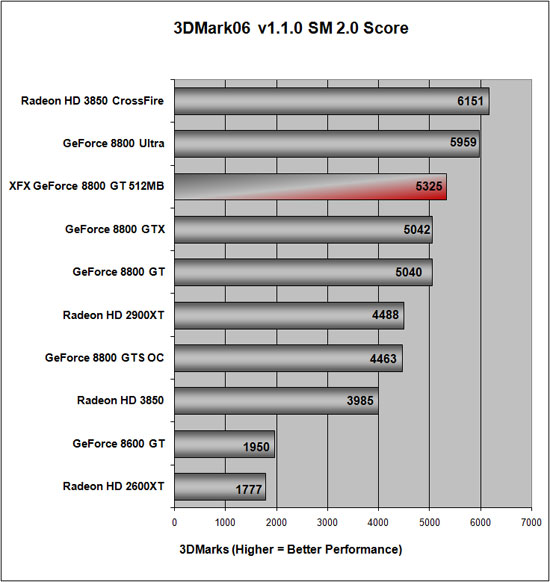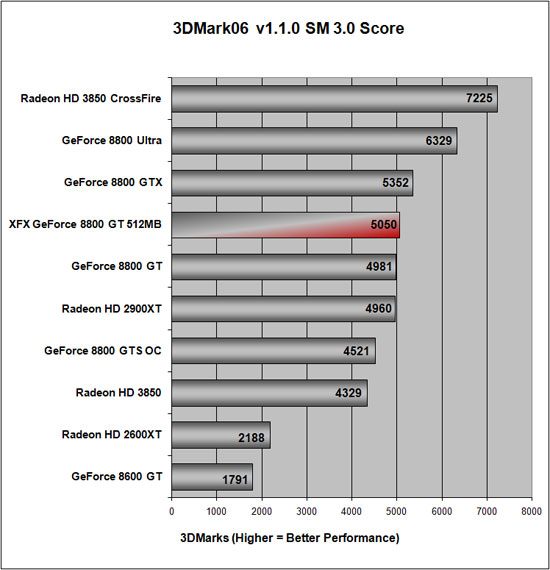 Benchmark Results: The extra 25MHz on the Alpha Dog help it pull away from the reference GeForce 8800 GT in 3DMark 2006. The XFX GeForce 8800GT 512MB video card was just shy of passing up the GeForce 8800 GTX in this benchmark, which is impressive considering the price differences.
Power Consumption and Conclusions
Power Consumption
For testing power consumption, we took our test system and plugged it into a Seasonic Power Angel. For idle numbers, we allowed the system to idle on the desktop for 15 minutes and took the reading. For load numbers, we measured the peak wattage used by the system while running the game World in Conflict at 1600x1200 with medium graphics quality.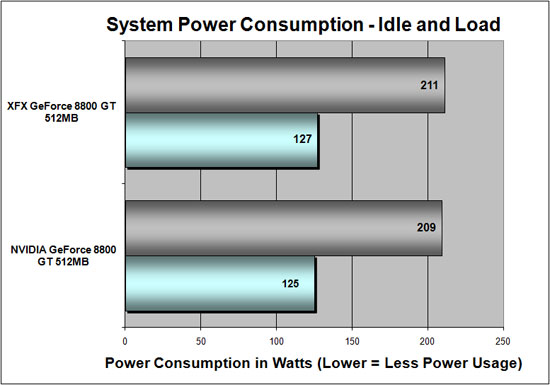 Power Consumption Results: Our big power consumption chart was getting hard to read, so we graphed just the two GeForce 8800 GT 512MB cards for this review. The power consumption numbers are nearly the same with just an additional 2W being consumed by the XFX card. With a 25MHz higher core clock and a different cooling fan a bigger difference was expected, but it wasn't.

Final Thoughts
The XFX GeForce 8800 GT 512MB Alpha Dog performed just slighty faster than the reference GeForce 8800 GT that we previously reviewed a couple weeks ago thanks to the 25MHz higher core clock frequency. The XFX GeForce 8800 GT 512MB graphics card was also able to drop the temperatures across the board thanks to the improvements to the cooling fan and fan cover. It's hard to say anything bad about the GeForce 8800 GT in general other than the supply is limited and that they are hard to find. If you can find the XFX GeForce 8800 GT 512MB Alpha Dog series in stock you should seriously consider it.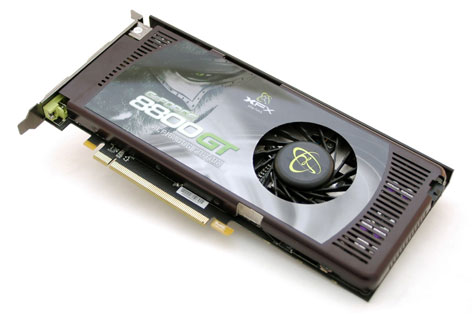 The bundle of the Alpha Dog comes with Company of Heroes, which is a fun game if RTS games are your thing. If not, you have a game title you can give to a friend or use as a coaster. It would be nice if companies included a game for each genre, but that would likely add to the cost of the bundle. The GeForce 8800 GT 512MB Alpha Dog video cards ranges in price from $269.99 to $289.99 with the price difference being which frequency you want to get. The card we reviewed today is the 625MHz core clock and 1.8GHz memory clock version, but they have two faster if you want a little extra performance boost.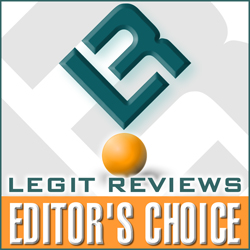 Bottom Line: The XFX GeForce 8800 GT 512MB video card improves on the NVIDIA reference design card by improving the cooling and increasing the core clock frequency.