Introduction:
Quakecon 2004 is here! We usually drive to Dallas from St. Louis as a tradition, but with some upcoming meetings and IDF around the corner we jumped aboard a plane to head the 600 miles to Dallas to skip out on the 22 hour round trip drive. When you drive you just throw your system in your car and go, but it is always fun taking a full tower ATX system as a carry on and then a laptop as your personal item for the quick plane flight (not to mention the 18" LCD and other hardware in the suitcase). For those of you that do not know, Quakecon is one of the best LAN parties in North America. What make it unique is that its free! Corporate sponsors foot the bill for the event and the majority of the "big" names in the hardware industry so face. What makes Quakecon 2004 special is the recent launch of DOOM 3 and Quakecon will be the proud host of the ID launch party.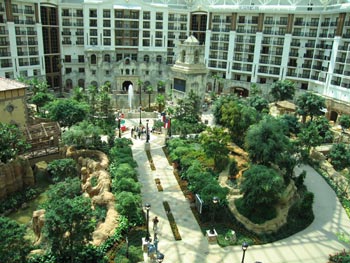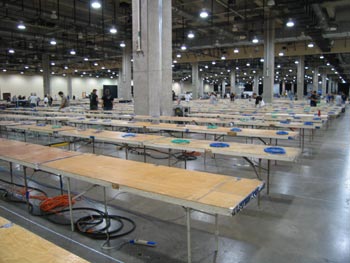 Over 5,000 gamers and spectators are expected to attend the four day event and everyone gets in for FREE. This year Quakecon is being held at the Gaylord Texan Resort just outside of Dallas, Texas. For the 3rd year in a row the venue location has changed, but this is due to how large the event is getting. This Gaylord Texan Resort just opened this year and while it is out of many gamers price range it was made semi-affordable ($109 per night) since the Quakecon organizers were able to negotiate a discounted Quakecon group rate. Fellow writer Kyle Bennett from [H]ard|OCP will be hosting his annual [H]ard Workshop where everyone in attendance walks away with something (in the form of a door prize) in their hands. This is also the time to grill Kyle with all those hard questions that you have been saving up. We also know that ABIT will show off the first Fatal1ty series motherboards and actually give a couple away to some very lucky attendees. If you get bored gaming the Gaylord Texan Resort has a health spa, lake, ski boats, fishing, and an 18 hole golf course. Nothing like teeing one up in the early morning then fragging your friends from around the world till you can't keep your eyes open any longer. As you can tell Quakecon isn't all about gaming -- it's about building community and having fun. This is by far the most family oriented LAN Party in America and thanks to strong supporters it will hopefully stay that way.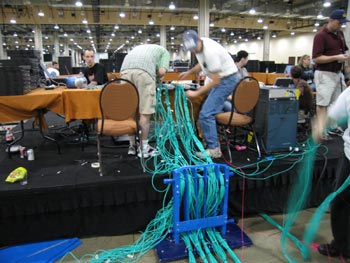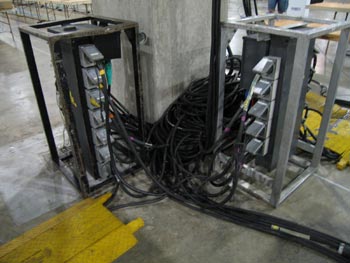 When we got to the show we found volunteers hard at work getting all the network cables set up for everyone to use. We were told that over 1700 cables ranging in sizes from 5 to 45 feet were cut and installed in under 24 hours! We also found one of the power junctions (shown above right) and noticed that the juice will be flowing nicely for all the gamers that will be attending.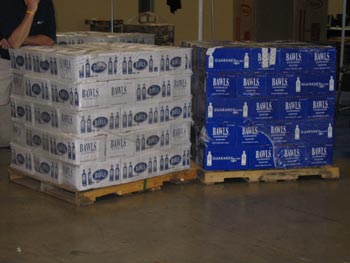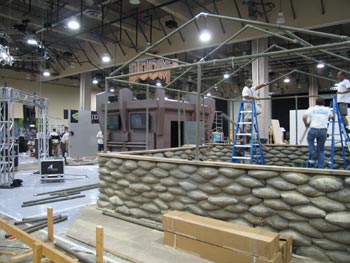 I heard a forklift backing up and turned around to seeing pallets of BAWLS being fork lifted into their booth. I've been to a bunch of LAN's, but not everyday do I see BAWLS being delivered by the pallet and not the case. The next area of interest was the vendor booths, these were being built when we showed up and still have a ways to go when we left. It's honestly amazing to see all the time and work all the sponsors put into this event. The image above shows the Call of Duty "hut" being constructed.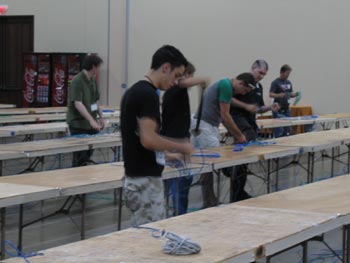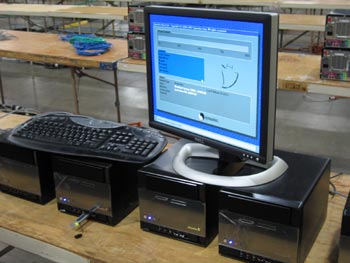 Hundreds of volunteers showed up to set up the tables, cables, chairs, and systems. Every person that comes is provided with a LAN cable. The majority of the cables are cut the day of the show and run to each seat. Next we ran across a volunteer using Norton Ghost on the Shuttle boxes to get them up and running. There were 150 of these systems that he had to go through one by one and make sure was up and running before the LAN started the next day.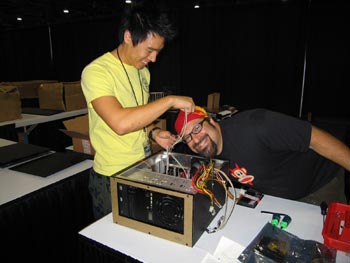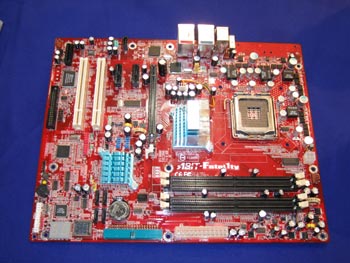 By getting in a day early we also got to that Quakecon can be fun before the actual attendees arrive! Companies like PWX/Fatal1ty could be found setting systems jam packed with the latest technology to showcase at their booth. It was also at their booth that we caught what I believe is the second generation prototype ABIT-Fatal1ty edition motherboard. The board is missing some of its key features, such as the dual OTES fans for the I/O plate, but the board is coming along and is not just hype. This board was actually hand carried by a top ABIT marketing employee from Taiwan just for this show. PWX/Fatal1ty saw it the first time I saw it! Expect to hear more about Fatal1ty as the show goes on as he is doing some cool things here at Quakecon 2004!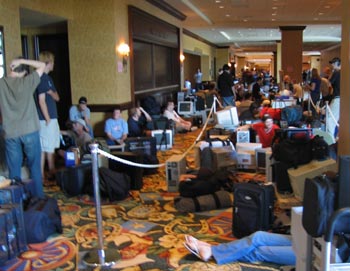 On my way out of Quakecon 2004 I was shocked to see hundreds of BYOC gamers camped out waiting to enter the LAN! I've seen people lined up early, but never this many almost 24 hours early. I saw a bunch of gamers that set up routers to play in small groups while waiting and then also others having a beer and hanging out talking with fellow gamers waiting to get in. Speaking of which...