AMD's DTX Form Factor Comes Closer To Reality
Back in January 2007, at the Consumer Electronics Show, AMD officially announced DTX, a new form factor specification designed to standardize small form factor motherboards. DTX was positioned as an open industry standard capable of supporting both AMD and Intel processors. Then months later in June 2007 at Cebit, AMD announced the finalization of the DTX specification and showed off a number of prototype systems like the one shown below. By the middle of the year it seemed that AMD was on track for giving system builders the ability to deliver smaller, quieter computing solutions for the home or office desktop, as well as other locations throughout home with the DTX specification.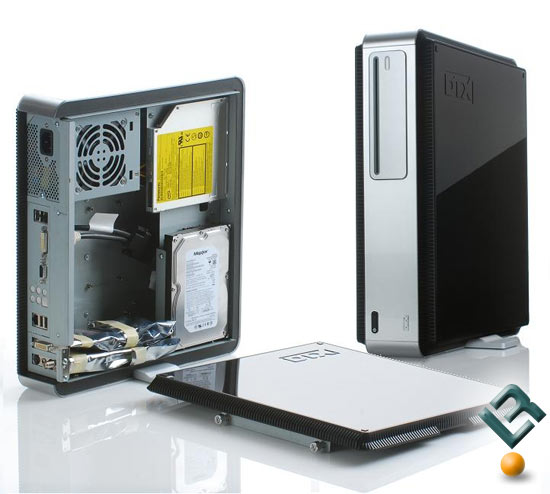 Now, more than ten months after the official announcement, we finally have our hands on a DTX system and have been able to take it for a brief test drive. Before we show you the reference system and what it looks like on the interior and exterior, lets go over what DTX is and why AMD is promoting this specification.
DTX is an open standard specification being driven by AMD to help enable the development of small form factor systems. The DTX standard will empower OEMs, ODMs, and component vendors to design solutions based on open standards that can deliver new innovative systems to market, while leveraging commonalities within the ecosystem that can benefit customers and end users. How important are small form factor systems in the market?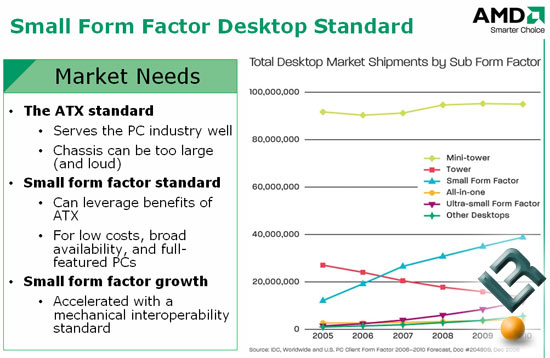 Market research shows that the tower systems that we all grew up with are declining at a significant rate, while small form factor systems are greatly increasing. Since small form factor shipments are taking off it makes sense for a new specification to come out to replace ATX (Advanced Technology Extended) as it was not designed with small form factors in mind back when it was created by Intel in 1995. That is why other standards for smaller boards were introduced, which includes microATX, FlexATX and mini-ITX. In 2003, Intel announced a new standard standard known as BTX that was intended as a replacement for ATX. This form factor made it into some OEM computers, but never really took off. DTX comes as a natural progression from form factor standards ATX and BTX, although CTX is missing in action. With small form factor sales taking off the DTX form factor seems better thought out than the BTX form factor that failed to catch on a few years ago.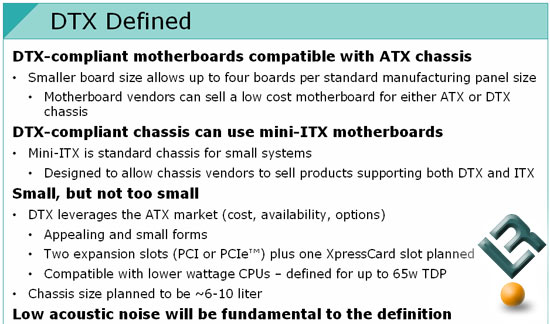 Relative to ATX, DTX is generally smaller, allowing DTX-compliant PCs to actually sit on desks instead of the floor – as is the case with many ATX systems. The DTX standard leverages existing ATX infrastructure and the benefits thereof, including system options and backward-compatibility, allowing for innovative small form factors while using currently available components from the ATX ecosystem. While BTX attempted to be small, it still had to accommodate 100 watt+ CPUs, which was a good plan in 2003, but now in 2007 energy efficiency is a leading concern to consumers.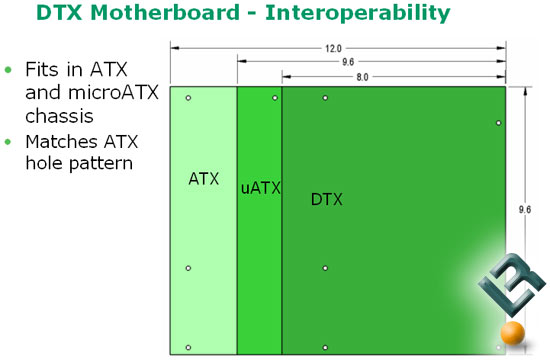 This means that a DTX motherboard will fit in any ATX or microATX chassis as they have the same mounting holes. This means any DTX motherboard can fit in an ATX form factor case and there are plenty of ATX cases are available today. If one is going for the smallest case they can get a true DTX case will of course be smaller as a DTX motherboard is 203mm x 244mm whereas the ATX motherboard is 305mm x 244mm. DTX chassis can also support mini-ITX motherboards, which are 170mm x 170mm. Now that we know what DTX is and how versitle the design is with current chassis, lets take a look at the reference system!
External Impressions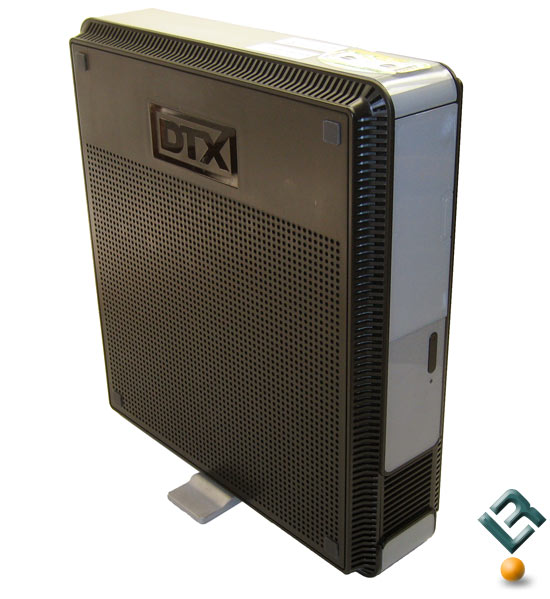 The reference DTX chassis from AMD looks just like the one in the drawing they sent out back in June. It's nice to see something go from a computer generated drawing to a real piece of hardware in a matter of months! The flexibility of the DTX open standard specification enable an array of small form factor designs welcomed anywhere, whether it is the kitchen, living room, or home office. The reference design looks like it could easily go behind a monitor or on a kitchen counter and is pretty small at 354mm wide, 325mm deep and 96 thick. The chassis can be stood upright (like above) or laid flat (like below).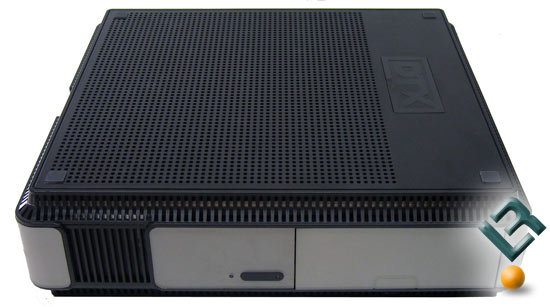 The only button on the front of the chassis is the power switch, but there is a cover that can be removed to access more goodies.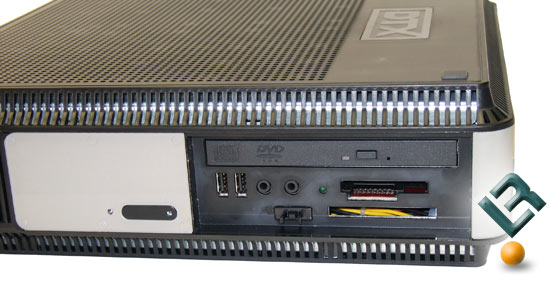 After the cover is pressed in and pulled away the notebook DVD drive can be seen as well as the memory card reader, dual USB 2.0 ports, headphone and microphone audio ports and finally an empty slot that has no use. Remember, this is a prototype!

On the rear of the chassis we find the AC power, an RJ-45 port, VGA and DVI video outputs, four USB ports and the audio ports. This means the reference motherboard requires using a USB keyboard and mouse since there are no PS2 ports. The reference DTX chassis can also accommodate two half-height expansion cards as seen on the far right.
Internal Impressions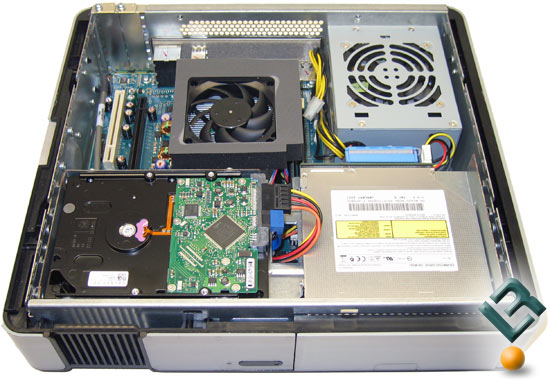 To open the chassis, there are two thumbscrews to unfasten on the backside of the reference system. Once both screws are loose, lay the computer down flat (do not stand it up like a tower). With those thumb screws toward the top, press with your thumbs against the two top corners (black part) of the case to slide the top forward approximately one or two centimeters. The top will then lift off and you can see that the reference system has a full size Seagate Barracuda SATA desktop hard drive and a Toshiba notebook DVD-ROM. The power supply is an Enhance ENP-2725J , which is a 250W hard drive. Just 250 Watts you say?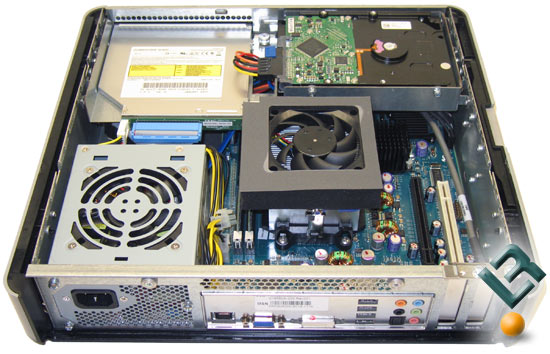 The AMD DTX reference motherboard (Diamond 2) features the tried and true AMD 690G chipset with a 45W Athlon X2 Dual-Core Processor BE-2350 processor and 2GB of DDR2 667MHz memory.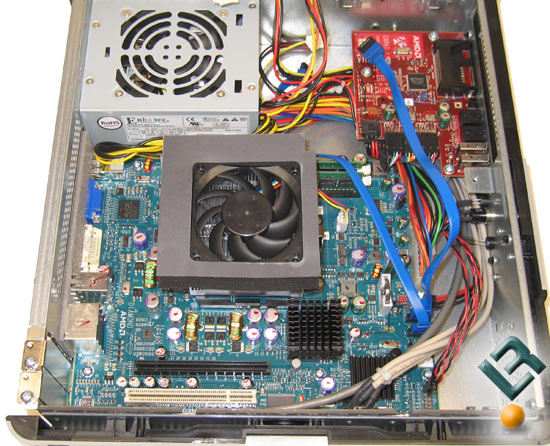 Since this motherboard chipset uses a low amount of power and the processor is only 45W there really is no reason to have a larger power supply. Actually ,250W might be over-kill as you will find out here in a bit.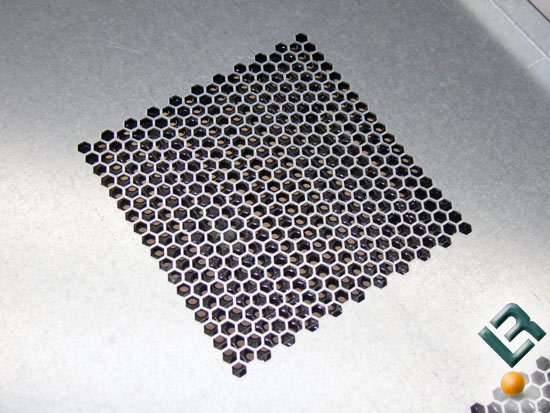 If you noticed the foam around the stock AMD Processor-In-a-Box (PIB) heat sink that is because the air intake is designed to bring in air from the 'outer chassis', which is cooler.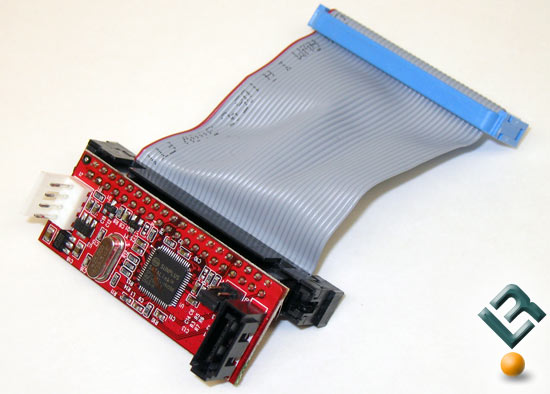 Since the reference motherboard didn't have any IDE headers on it a IDE/SATA bridge was needed to convert the IDE DVD-ROM to SATA.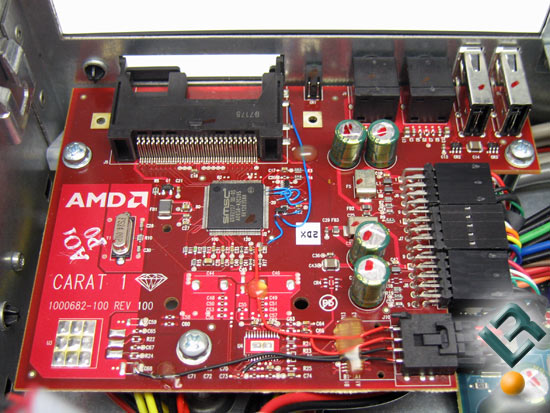 The front panel reference card is called the CARAT 1 and if you look close you can see a bunch of 'rework' was done to get it functional for the first batch of prototypes. Since both the DIAMOND 2 and CARAT 1 are works in progress they aren't going to be given the standard benchmarks we run here at LR. Benchmarks will be exactly what you would expect from an AMD-690G motherboard with integrated graphics and a 2.1GHz dual-core Athlon X2 CPU… Nothing new here other than the form factor!
Power Consumption, Performance & Conclusions
Power Consumption:
When it came to power consumption, it was shocking to see how little this system used. If you read this article all the way through, you'll recall that it had an Enhance ENP-2725J 250W power supply and while that is not a lot of horse power, this system doesn't really need it.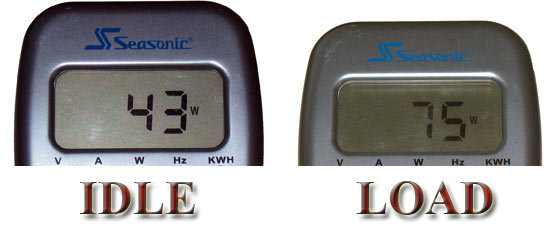 With the system running AMD Cool'n'Quiet technology, the power consumption results were awesome. At idle the entire test system consumed just 43W and at full load with two instances of Super Pi running it was 75W! Part of this is due to the fact it has integrated graphics, but it's still impressive to see a system using this small of a footprint when it comes to energy usage.
Benchmarking:
Since we are running 32-bit Vista we ran the lastest version of PC Mark to see how the reference system fairs. This new version of PCMark shifts its focus away from only providing pure hardware performance-analysis results, to generating accurate performance ratings based on popular Windows Vista Consumer Scenarios ranging from media and entertainment to productivity and communication. PCMark Vantage also incorporates an updated interface with easier access to test details and selections, results, system info and other features for 32 and 64-bit computers.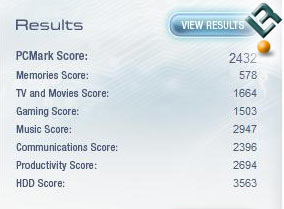 With a score of 2432, the test system performed as we expected with the major bottleneck being the 1GB of DDR2 667MHz memory and the integrated graphics. Our HTPC just happens to use the same processor and chipset and was able to score 3260 PCMarks as it had 4GB of DDR2 800MHz memory and discrete graphics (ATI Radeon HD 2600 XT). When the retail DTX motherboards come out, we hope they support DDR2 800MHz memory as 667MHz memory is limiting performance on the memory bandwidth front.
Final Thoughts:
Over the past ten months AMD has brought the DTX specification from a design on paper to an actual product that works. It is obvious that AMD is listening to market demands, as just this year alone they have announced low-wattage 45W desktop processor offerings and the DTX specification that will help make HTPC's smaller, cooler and quieter. Now that AMD has gotten the ball rolling, industry partners such as Albatron, Asus, Cooler Master, ECS, Gigabyte, MSI, Silverstone, and Thermaltake need to pick up the DTX form factor and run with it. All of these companies are releasing DTX platforms, whether it be a chassis, motherboard or a complete OEM system. When these companies launch retail products is when the market should get excited about what DTX can offer.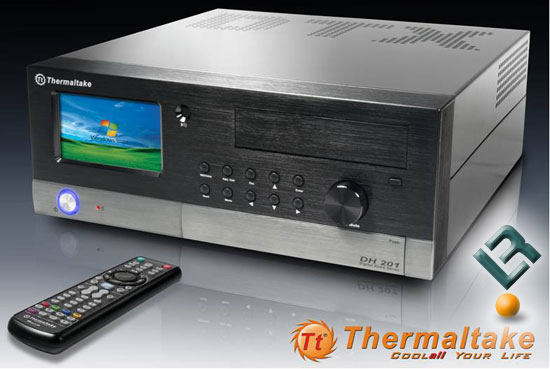 The Thermaltake VH5001BNS Home Theater Media PC (pictured above) is just one example of new and innovative DTX cases that will be coming out in the near future. This DTX and mini-DTX form factor case has a built-in, revolutionary 4.3" touch screen hot keys module that is bound to peak the interests of HTPC enthusiasts around the world. The Thermaltake VH5001BNS obviously doesn't follow the AMD reference design for a DTX case, so it should be interesting to see what all the other companies come up with. New specifications are not that exciting to write or read about, but the products that come from them are and it's just starting now!
Legit Bottom Line: The DTX Specification is coming close to having retail prodcuts and is trying not to follow in the footsteps of BTX!