Two Xeon X5365 CPU's and Eight Cores!
Just over one week into 2007 Intel kicked off the Consumer Electronics Show in Las Vegas by showcasing a demo machine that was to be known as 'V8'. It was a system that was prepared by Intel just to show the media that consumers could go build a dual-socket platform with Intel retail products just like what AMD was doing on their QuadFX system. The only difference between the two dual-socket 'workstations' was the fact that Intel used two quad-core processors and AMD only had two dual-core processors. This proved to be a crushing blow for AMD in a sense as they didn't have anything to return fire with.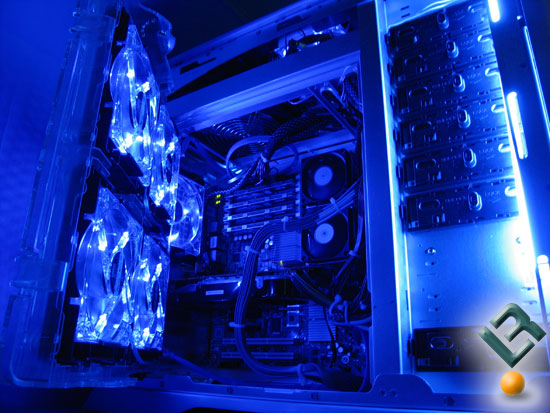 That was half a year ago and it seems that AMD still doesn't have a quad-core processor on the market. For now, one can purchase two quad-core Intel Xeon X5365 processors (3.0GHz) and the Intel S5000XVN Workstation Board to create their own 'V8' system. The heart of the platform is the Intel 5000X-series chipset that powers the S5000XVN workstation board that utilizes FB-DIMM memory modules.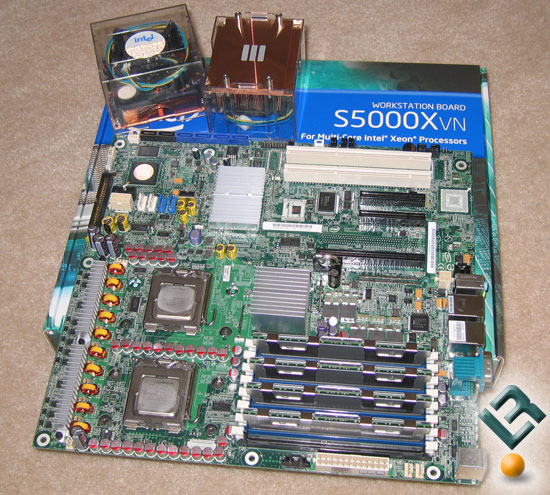 To fully understand and to witness this type of system we assembled one from scratch to see just what it could do. Using the same Intel S5000XVN Workstation Board that Intel showed off at CES and newer Intel Xeon X5365 processors along with 4GB of Samsung FB-DIMMs we set off to see just how fast this system really is against rival processors from both AMD and Intel. How do you think this system will do against the AMD QuadFX FX-74 system or the Core 2 Extreme QX6700 system? Sit back and put your five point racing harness on because this 'V8' has some serious torque even without being overclocked!
A Closer Look
The parts needed to build your very own system are pretty easy to find with the exception of the processor that we used. The Xeon (Clowertown) model X5365 processor works at 3.0GHz clock speed and uses 1333MHz bus should be available for purchase later this summer. For now the 2.66GHz Intel Xeon 5355 Processor is the best you can get and it features a lower multiplier, but the same 1333MHz bus speed. The Intel Xeon 5355 can be found between $1200 and $1600, but keep in mind two of these are needed for a true 'V8' system. These Xeon processors use Intel's LGA771 packaging and are equipped with 8MB of L2 cache per processor. Using two of these processors in a single platform results in eight available cores and a total of 16MB of L2!
With memory prices falling, 1GB modules of FB-DIMM ECC Fully Buffered DDR2 667 Server Memory can be found for around $79.99 per module by companies like Kingston Technology. We used four 1GB sticks of Samsung M395T2953CZ4-CE60 PC2-5300 FB-DIMM memory in our test system, which is plenty for the majority of todays applications and game titles. The Intel Workstation Board S5000XVN runs roughly $600 and is readily available. This brings the rough cost of a V8 platform using Xeon 5355 processors to $3320 before the power supply, video card, case, optical drives and so on. We used Thermaltake, PC Power & Cooling and Silverston 850W power supplies on this system with no problems at all as well as the PC Power & Cooling 1000W power supply.
Dual Quad-Core Intel Xeon Processors X5365 (3GHz/1333MHzFSB)

Intel Workstation Board S5000XVN

4 x 1GB Samsung 667Mhz ECC FB-DIMM Memory Modules

2 x LGA771-A Heat Sinks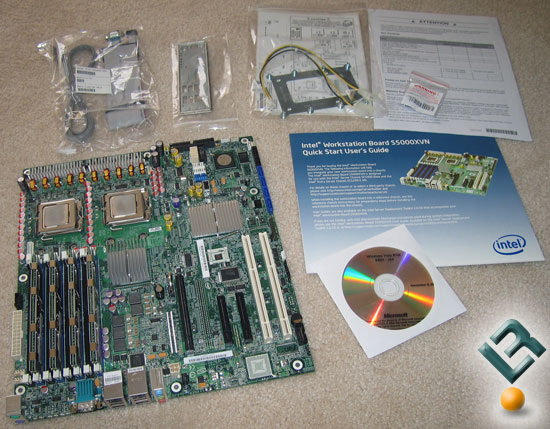 The chipsetused on the Intel Workstation Board S5000XVN mainboard is based on the i5000X chipset. This chipset fully supports 1333MHz bus processors and PCI Express x16 graphics cards. The S5000XVN mainboard also has two PCI Express x8 slots that are physically connected to PCI Express x4 bus, a PCI-X 100/133MHz slot and a PCI-X 100MHz slot. There are eight memory slots on the mainboard that can accommodate up to 32GB of FB-DIMM DDR2 memory working at 667MHz or 533MHz speeds (You'll want to use 667MHz). Hard disks and optical drives can be connected to one Parallel ATA-100 port, two Serial ATA-100 ports supporting RAID 0, 1, 0+1 and four Serial Attached SCSI (SAS) ports also supporting RAID 0, 1, 0+1 and 5 arrays. The Intel Workstation Board S5000XVN also has two of the latest generation Gigabit network controllers and a dual-channel HD audio codec. The only thing missing on this board that most enthusiasts are used to is a second PCI Express x16 slot to run multiple graphics cards. With just a single PCI Express x16 slot the main limitation of this board is the graphics, but with cards like the NVIDIA GeForce 8800 Ultra on the market it shouldn't impact performance greatly.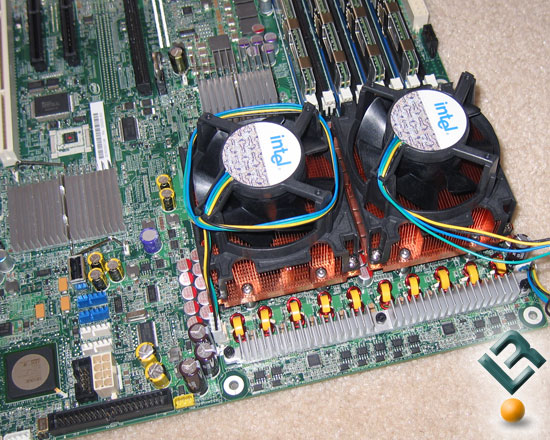 Intel suggests using specially designed all-copper heat sinks to cool the pair of Xeon X5365 processors. Pictured above are the PIB heat sinks that are included with the retail Xeon X5365 processors. These 1U heat sinks are are made completely of copper and get mounted through the board to a back plate by four screws at the corners of the heat sink. The noise level was a bit loud, but for a workstation board with the fastest Xeon processors it was to be expected. If you want to take this platform to the next level, just add high performance third party heat sinks or water-cooling!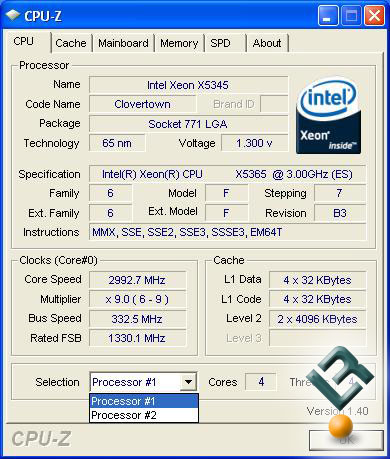 Once the test system was up and running, we fired up CPU-Z 1.40 to take a look at what was detected and while it got the processor name wrong, everything else looked to be set correctly!
Test Systems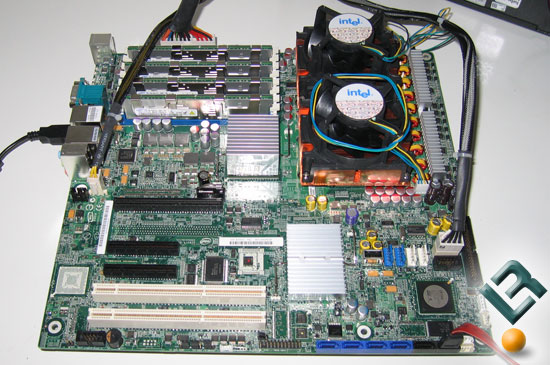 Testing Procedure:
All testing was done on a fresh install of Windows XP Professional build 2600 with Service Pack 2 and DirectX 9.0c. All benchmarks were completed on the desktop with no other software programs running. All of the modules were run in dual channel mode! The memory on the Intel and AMD test platforms with DDR2 memory was run with Corsair PC2-6400C3 memory running 4GB at 3-4-3-9 2T timings at 800MHz except for the Intel quad-core system as it was run at 3-3-3-9. The memory timings on the Quad FX system were set to 4-4-4-12 and the V8 system was set to 5-5-5 at 667MHz.
Here is the AMD Scoket AM2 Test platform:
AMD AM2 Test Platform

Component

Brand/Model

Live Pricing

Processor

All AMD AM2 Processors

Motherboard

Memory

Corsair PC2-6400C3

Video Card

ATI X1900XTX

Hard Drive

2x Western Digital 500MB

Cooling

Corsair Nautilus 500

Power Supply

PC Power & Cooling 1KW

Operating System

Windows XP Professional
Here is the Intel Test Platform:
Intel Test Platform

Component

Brand/Model

Live Pricing

Processor

All LGA775 Processors

Motherboard

Intel D975XBX rev304

Memory

Corsair PC2-6400C3

Video Card

ATI X1900XTX

Hard Drive

2x Western Digital 500MB

Cooling

Corsair Nautilus 500

Power Supply

PC Power & Cooling 1KW

Operating System

Windows XP Professional
Here is the Intel Quad-Core Test Platform:
Intel Quad-Core Test Platform

Component

Brand/Model

Live Pricing

Processor

All LGA775 Processors

Motherboard

eVGA 680i SLI

Memory

Corsair PC2-8888 Dominator

Video Card

ATI X1900XTX

Hard Drive

2x Western Digital 500MB

Cooling

Corsair Nautilus 500

Power Supply

PC Power & Cooling 1KW

Operating System

Windows XP Professional
Let's move on and take a look at the testing!
Sisoft; Sandra XI SP2
Sisoft; Sandra XI SP2:
SiSoftware, founded in 1995, is one of the leading providers of computer analysis, diagnostic and benchmarking software. The flagship product, known as "SANDRA", was launched in 1997 and has become one of the most widely used products in its field. SANDRA is used by almost 400 world-wide IT publications, magazines, review sites to analyze the performance of todays computers.
Multi-Core Support: SMP (multi-processor) and SMT (multi-threading/Hyper-Threading) support has been added for future AMD and Intel CPUs. The benchmarks have been optimized to schedule the optimum number of threads on the optimum (virtual) CPU on both multi-core and Hyper-Threaded computers.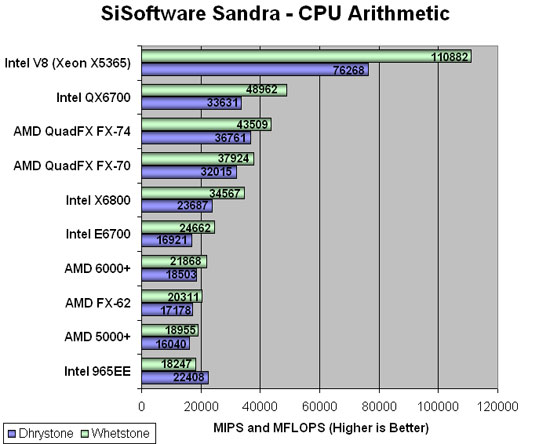 The paair of Intel Xeon X5365 processors on the Intel S5000XVN workstation board make short work of the other processors that we compared it to. The AMD QuadFX platforms just can't compete with the pair of quad-core Xeon processors. With the QuadFX platform running two dual-core processors and the V8 system running two quad-core processors could inter-connectivity be causing some of the performance differences? Let's take a look at multi-core eddiciency test and find out!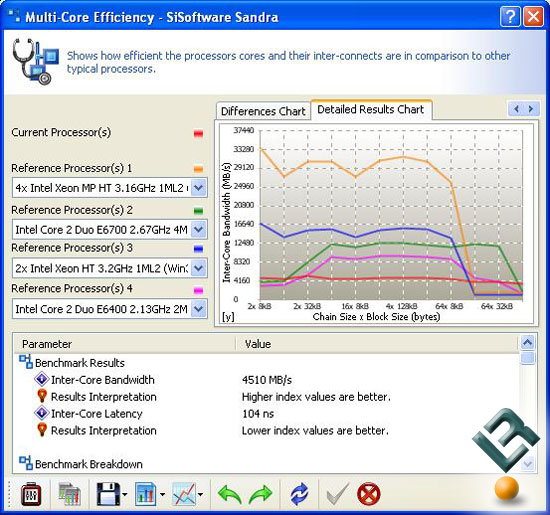 The AMD QuadFX FX-70 test system was found to have an inter-core bandwidth of 4,510MB/sec and a latency of 104ns.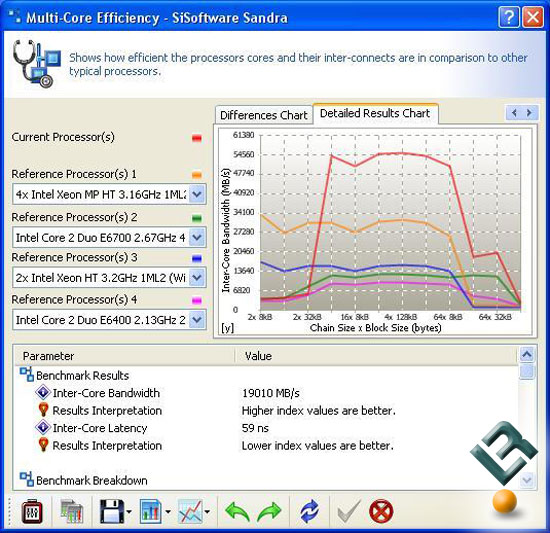 The Intel V8 test system on the other hand had a much higher inter-core bandwidth throughput of 19,010MB/sec and a lower latency of 59ns. According to SiSoftware Sandra the processor cores are more efficient on the Intel platform.
POV-Ray 3.7 Beta 13a
Processor Performance on Pov-Ray 3.7 Beta 13a:
The Persistence of Vision Ray-Tracer was developed from DKBTrace 2.12 (written by David K. Buck and Aaron A. Collins) by a bunch of people (called the POV-Team) in their spare time. It is an high-quality, totally free tool for creating stunning three-dimensional graphics. It is available in official versions for Windows, Mac OS/Mac OS X and i86 Linux. The POV-Ray package includes detailed instructions on using the ray-tracer and creating scenes. Many stunning scenes are included with POV-Ray so you can start creating images immediately when you get the package. These scenes can be modified so you do not have to start from scratch. In addition to the pre-defined scenes, a large library of pre-defined shapes and materials is provided. You can include these shapes and materials in your own scenes by just including the library file name at the top of your scene file, and by using the shape or material name in your scene. Since this is free software feel free to download this version and try it out on your own.
The most significant change from the end-user point of view between versions 3.6 and 3.7 is the addition of SMP (symmetric multiprocessing) support, which in a nutshell allows the renderer to run on as many CPU's as you have installed on your computer. This will be particularly useful for those users who intend on purchasing a dual-core CPU or who already have a two (or more) processor machine. On a two-CPU system the rendering speed in some scenes almost doubles. For our benchmarking we used version 3.7 as all of the processors we are testing today are dual-core.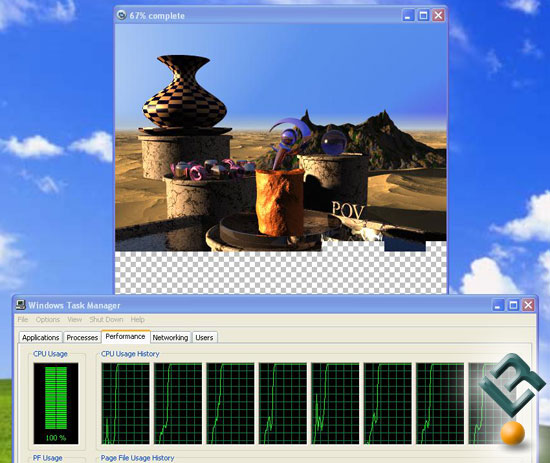 Once rendering on the object we selected was completed, we took the score from dialog box, which indicates the average PPS for the benchmark. A higher PPS indicates faster system performance.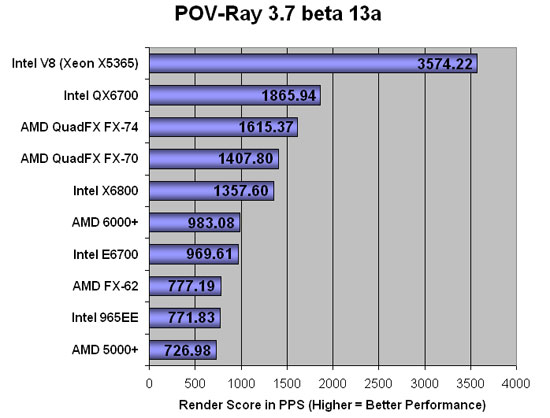 Looking at the overall render score, the winner is clear by a long shot. The pair of Intel quad-core Xeon X5365 processors blow the other processors away and more than doubles the performance levels seen on the AMD QuadFX platforms.

POV-Ray Real-Time Raytracing
The morning the Intel QX6700 article was to be posted Legit Reviews was e-mailed by one of the developers over at POV-Ray to see if LR could include real-time raytracing in our performance analysis of Kentsfield. After spending a bit of time to get the beta software to work correctly LR has some of the only real-time raytracing numbers available for Conroe and Kentsfield.
E-Mail From POV-Ray -- I thought I might ping you about an experimental feature we've added to the POV-Ray SMP beta: real-time raytracing. It's mostly useful to folks who have multi-core systems and in fact is something that I've wanted to do for years but the hardware just wasn't there (at least not in the consumer price range). It works best on a kentsfield or later, but a core 2 duo should be sufficient if you don't mind sub-10fps frame rates.
If you want to try it out it please feel free to grab it from: http://www.povray.org/beta/rtr/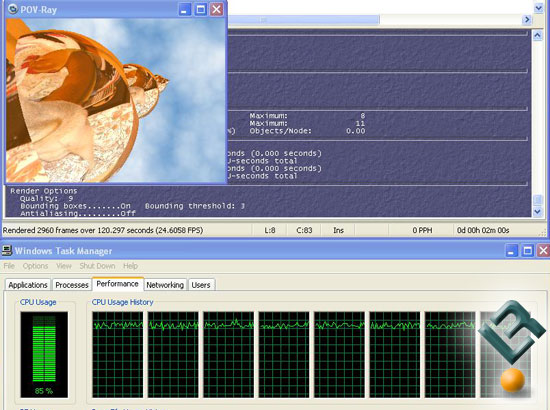 This experimental software by POV-Ray was a welcomed addition to our testing and was able to spread the work load across all eight cores on our V8 test system as seen above. The number that is used to gauge performance is shown in the status bar at the bottom of the main window as seen in the above image of with Intel V8 test system with two Xeon X5365 processors taking care of the rendering.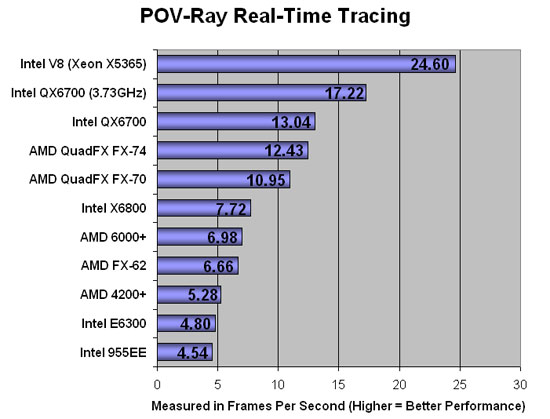 Here, we found that the Intel V8 test system performed far better than any other recent processor or pair of processors. Even with our Intel QX6700 overclocked from 2.66GHz to 3.73GHz (the highest we can reach with 100% stability) it doesn't come close to the pair of quad-core Xeon X5365 processors.
CineBench 9.5
MAXON; CINEBENCH 9.5:
CINEBENCH is the free benchmarking tool for Windows and Mac OS based on the powerful 3D software CINEMA 4D. Consequently, the results of tests conducted using CINEBENCH 9.5 carry significant weight when analyzing a computer?s performance in everyday use. Especially a system?s CPU and the OpenGL capabilities of its graphics card are put through their paces (even multiprocessor systems with up to 16 dedicated CPUs or processor cores). During the testing procedure, all relevant data is ascertained with which the performance of different computers can subsequently be compared, regardless of operating system. Again, higher Frames/Second and lower rendering time in seconds equal better performance.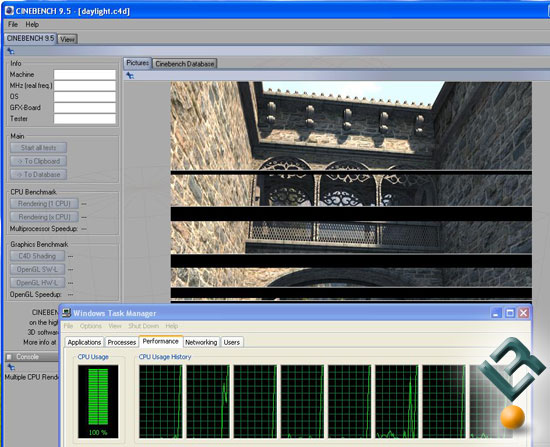 Cinebench 9.5 was able to put a 100% load across all the cores, which makes this a great benchmark to look at multi-core platforms.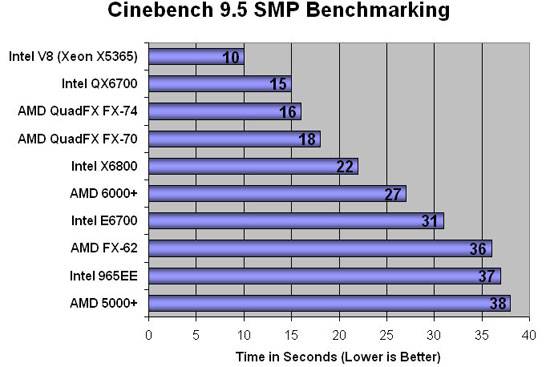 Our SMP Cinebench 9.5 results show that the Intel V8 test system performs exactly 33% faster than the QX6700 platform that we compared it to. With all eight cores working to complete the performance test all of the quad-core and dual-core systems didn't stand a chance!
WinRar v3.70
RARLAB - WinRar v3.70 has a multithreaded version of the RAR compression algorithm, which improves the compression speed on computers with several CPU, dual core CPU and processors with hyperthreading technology. Multithreading is enabled by default, but you can disable it in "General" part of "Settings" dialog.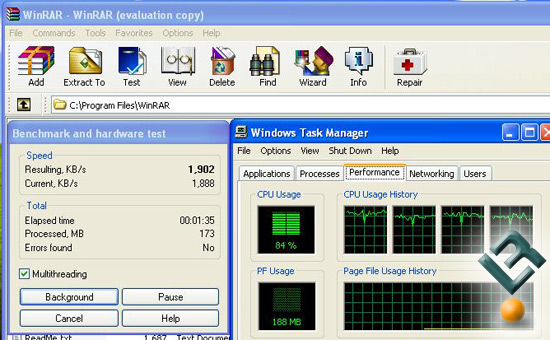 When we ran WinRAR on the Intel Core 2 Extreme Processor QX6700 we noticed that it used roughly 80-84% of the 2.66GHz quad-core processor, so it makes for a decent SMP benchmark.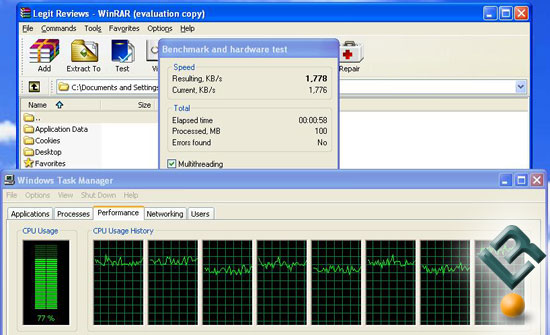 When running WinRAR on the eight cores using a pair of Xeon X5365 processors, the CPU utilization was even lower at roughly 75-78%, which is something interesting to point out. Also, notice that the performance decreased when moving from the quad-core system to the eight core system. Lets a look at the multithreaded testing results and see how things turned out.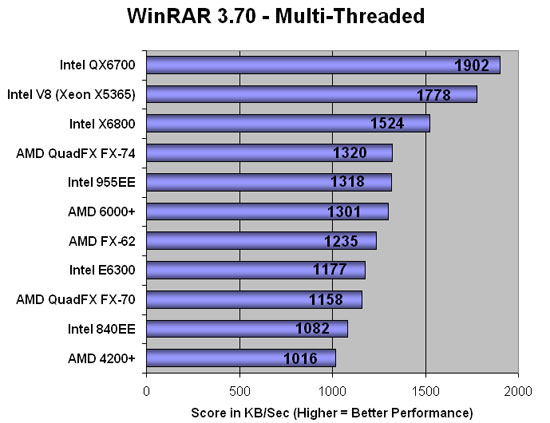 The Intel Core 2 Extreme QX6700 processor easily took the lead thanks to the fact that it has better memory bandwidth thanks to its low latency DDR2 modules versus the FB-DIMMs that the Xeon workstation board uses.
Futuremark 3DMark06
3DMark 2006 v1.1.0
3DMark06 includes an array of 3D graphics, CPU and 3D feature tests for overall performance measurement of current and future PC gaming systems. With this broader design approach, 3DMark06 has become the benchmark of choice for all PCs with top-of-the-line graphics hardware and CPUs. 3DMark06 is the first product from Futuremark using the AGEIA PhysX software physics library in two very complex, game-like threaded CPU tests conceived to measure properly performances of single processor, multi-core and multiple processor systems in next generation of games. In addition to using real-time physics, both CPU tests also employ multi-threaded artificial intelligence algorithms. By combining the results of the two CPU tests and four graphics tests, 3DMark06 enables users to get a 3DMark score which reflects the overall gaming performance of their PC.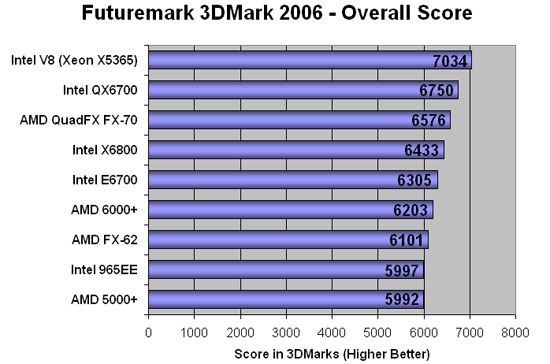 The overall score on Futuremark 3DMark 2006 didn't increase that much, but there was a noted 250 point gain over the Intel QX6700 system.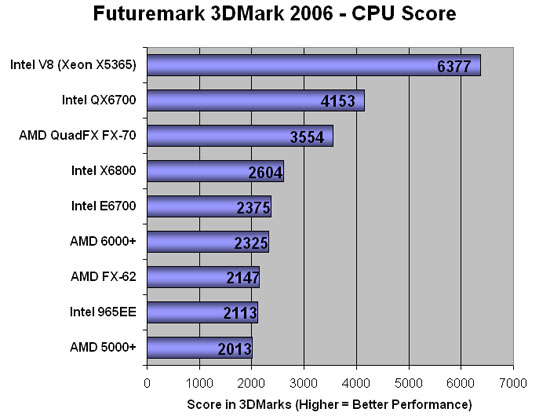 While the overall score from the test didn't show a significant difference the CPU test showed that the pair of Intel Xeon 5365 processors kicked some serious ass and scored over 2,000 points higher than any othe processor. The AMD FX-62 processor that was just launched a year ago on May 23, 2006 for $1031 can only score a third of what a pair of these Xeon processors can do. It's amazing how far processors have evolved over just the past year.
Power Consumption
Since power consumption is a big deal these days, we ran some simple power consumption tests on our test beds. Both systems ran with the same memory, power supplies, case fan, video card and hard drive model. To measure idle usage, we ran the system at idle for one hour on the desktop with no screen saver and took the measurement.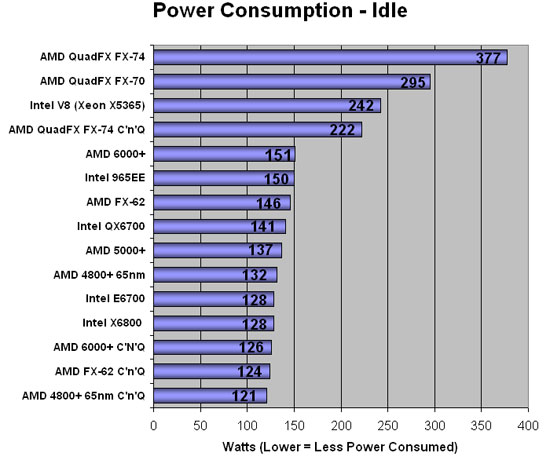 When it came to idle power consumption, the AMD Athlon 64 X2 6000+ consumed the more than any of the other processor on a single socket platform that we tested. By enabling AMD's Cool'n'Quiet feature we were able to go from consuming the most to nearly the least amount of power! AMD really has made strides with idle and power consumption for those that enable Cool'n'Quiet (C'n'Q in the charts) in Windows. AMD's 65nm Brisbane-based 4800+ processor took the overall lead when it came to having the best power consumption. When it comes to the QuadFX and V8 systems, these dual socket platforms obviously consume more power as they have another power hungry processor to keep running. Another reason for the large jump up is due to the chipsets that the motherboards use on the QuadFX and V8 platforms, so remember not all the Watt increase is due to the CPU alone.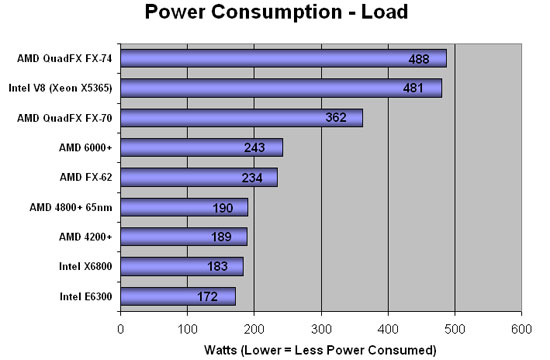 The core voltage on the Intel Xeon 5365 processor is 1.4125V, which is high compared to other Core 2 desktop ptocessors. Actually, this is a higher Vcore of any other existing processors with Core micro-architecture. As a result, the typical heat dissipation of Xeon X5365 has also increased to an all time high of 150W. This high heat dissipation reminds us of the times of NetBurst, at least in the server segment, especially since the TDP of those Xeon processors didn't exceed 130W. The TDP on the Xeon 5365 is 150W while the Xeon 5355 processor has a TDP of only 120W. Even with a TDP of 150W each the pair of Xeon 5365 processors consumed less power than the AMD QuadFX FX-74 system that just happened to also be running 3GHz processors. Intel suggests using at least an 850W power supply when building a system like their 'V8' demo machine and seeing how we are reaching 500W without putting a load on the GPU this is great advice.
**TIP** If you are interested in saving even more money every month try switching to an Active PFC power supply!
Final Thoughts and Conclusions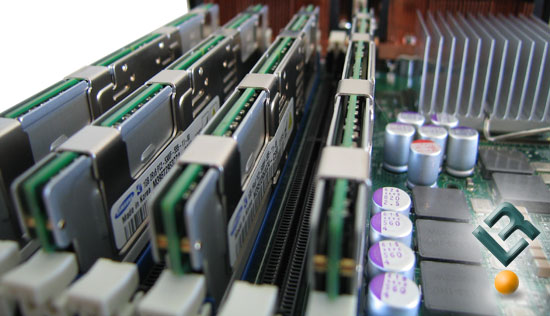 After using the Intel Workstation Board S5000XVN with a pair of yet-to-be-released Xeon X5365 'Clovertown' processors, its safe to say that this is by far the fastest system that we have ever built or used. The 'V8' incarnation that Intel showed off is not the average grocery getter, it is the muscle cars of computing. This system is reserved for those power users that don't care about how many Watts of power are consumed or how expensive this system will end up being, as this is about having the best performance and nothing more.
Having eight cores increased performance dramatically on multi-threaded applications where all of the cores can be put to use. For single-threaded use this system is no different than that Core 2 Duo that is more than likely already inside your system as long as it's running 3GHz with a 1333MHz FSB of course. The future of computing is headed towards multi-threaded applications, so down the road support for eight cores shouldn't be a big deal or even shocking.
While 'V8' isn't a product line that Intel offers, it would be interesting to see if they come out with a workstation board that has two PCI Express x16 slots for Tesla computing now that Intel has to get chummy with NVIDIA after the whole AMD/ATI ordeal. If they come out with a motherboard that supports two GPU's as well as the upcoming 45nm quad-core processors that we showed you a couple weeks ago, a 'V8' system might just be the ultimate system for gamers and enthusiasts alike for some time to come unless AMD can counter it with their FASN8 platform.
When the upcoming AMD FASN8 with quad-core CPUs on K10 micro-architecture comes out to replace the QuadFX with dual-core CPUs things might get interesting, but only if AMD can increase the clock frequency on their upcoming processors. At Computex just a couple weeks ago, we looked and couldn't find any AMD 'Barcelona' processors over 2GHz on the current processor stepping. Intel seems to have something to counter every move AMD makes and by the time AMD's FASN8 comes to market Intel will have 45nm Penryn quad-core processors that feature improvements like Intel's SSE4 instruction set. SSE4 is not just another new instruction set as it will really help multimedia programmers by offering better compression, which will improve the size of video files. This is a big deal with how fast computer users are moving into multimedia applications.
What's next for Intel? The beat goes on with 32nm silicon processor technology that will ramp up after Nehalem is out the door. After the Penryn and Nehalem 45nm processors are in production get used to hearing about Westmere and Sandy Bridge, which make up Intel's 32nm family!
Legit Bottom Line: Without even lauching a product line, Intel has been able to make AMD's QuadFX platform look like weak sauce thanks to their 'V8' demo systems.