Quad-Core Processors Arrive
It's only been a few months since Intel slaughtered AMD?s reign on enthusiast desktop processors by releasing the Core 2 Duo family of processors, but it seems that Intel wants to see AMD squirm a little more and is launching the world's first quad-core processor. The Intel Core 2 Extreme Processor QX6700 is undoubtedly aimed at the power user and just like any other Intel Extreme processor will set you back $999, like Extreme Editions have always been. Intel will keep the current Intel Extreme X6800 'Conroe' processor around and the two will coexist for a while as some may want the extra clock speed versus the extra cores. As time goes on having more cores will lead to better performance across the board, so dual-core processors are already looking ?dated? as applications taking advantage of four or more cores are starting to appear on the horizon.
Understanding how Intel came up with the Core 2 Quad processors is quite simple as Intel took two 'Conroe' cores from a Core 2 Duo processor and put them in a single 775-land multi-chip processor package (MCP) to provide much improved levels of performance of multi-media applications and multi-tasking usage models that take advantage of multiple cores. If we said that the majority of software applications on the market today takes full advantage of four or more cores it would be a lie, but the list of applications supporting four cores has been getting better as seen below.
Games Supporting 4+ Cores:
THQ Supreme Commander

Remedy Alan Wake

Valve Half-Life 2: Episode 2

Epic Unreal Engine 3

Ubisoft Splinter Cell: Double Agent
Multimedia Applications Supporting 4+ Cores:
Autodesk 3DSMAX 8 and 3DSMAX 9

Adobe After Effects 7/8

Adobe Premiere Pro 2/3.0

Adobe Encore DVD 2.+

Adobe Photoshop CS2

Maxon Cinema 4D v10 (TBD)

Pinnacle Studio dv 10

Quicktime Pro 7.1

XMPEG with DIVX 6.2

DVD Shrink 3.2

Pov Ray 3.7 Beta

Sony Vegas 7.0

Steinberg- Yamaha Cubase v4.5

TMPGEnc 2.524
Since many of the games and applications that support four or more cores are unreleased it is hard to look at the true potential of the Intel QX6700 processor. Legit Reviews has actually benchmarked the QX6700 with Intel last month and by using many of the above applications found that it was very impressive and showed a significant increase in performance. Since many of these applications have been covered this review will cover the standard benchmarks that LR has run for years to show how this flagship processor does on a wide variety of applications to better form an opinion on quad-core processors.
Intel Core 2 Extreme QX6700 Features
Since the overall pin count and the integrated heat spreader (IHS) has not changed the Intel quad-core processor looks like any other LGA 775 processor from the top, but when you flip it over some differences can be seen. The general features of quad-core are shown in the table below.
| | |
| --- | --- |
| QDF# | QUPE |
| Product Code | HH80562PH0678M |
| Core Frequency | 2.66 GHz |
| System Bus Frequency | 1066 MHz |
| TDP | 130W |
| Brand ID | INTEL CORE 2 EXTREME |
| Processor Number | QX6700 |
| Stepping | B-3 |
| # of CPU Cores | 4 |
| L2 Cache | 8MB (2 x 4 MB) |
| CPUID | 06F7 |
| Core to bus ratio limit | 10:1 |
| Max processor input voltage (VID) | 1.350 V |
| PECI Enabled | Yes |
| Enhanced Intel SpeedStep Technology (EIST) | Yes |
| Extended HALT State (C1E) Enabled | Yes |
| Execute Disable Bit (XD) Enabled | Yes |
| Intel 64 Technology | Yes |
| Intel Virtualization Technology | Yes |
| Package / Socket | FC-LGA775 |
Getting To Know Kentsfield
The Intel Core 2 Extreme quad-core processor is the ideal desktop processor for those who want an outstanding multi-media and gaming experience. Designed for gamers and PC enthusiasts who perform multiple complex tasks simultaneously, the Intel Core 2 Extreme quad-core processor provides exceptional performance for highly threaded digital media creation software and ultra realistic games.
For experienced enthusiasts, the Intel Core 2 Extreme quad-core processor bus ratio locks (overspeed protection) have been removed. This offers added technical flexibility in tuning the system?even beyond the specification limits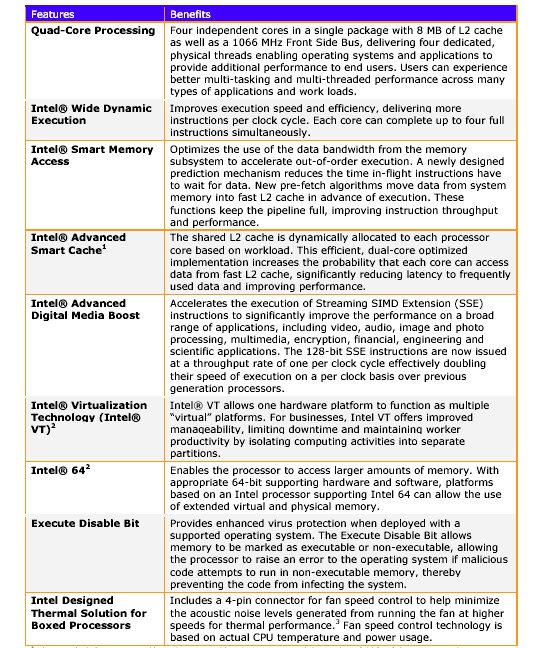 Intel Core 2 Extreme quad-core processors are equipped with a new Digital Thermal Sensor (DTS) that enables efficient processor and platform thermal control. Thermal sensors located within the processor measure the maximum temperature on the die at any given time. Intel Quiet System Technology, included in the Intel 975 Express Chipset family, uses the DTS to regulate the system and processor fan speeds. The acoustic benefit of temperature monitoring is that system fans spin only as fast as needed to cool the system, and slower spinning fans generate less noise.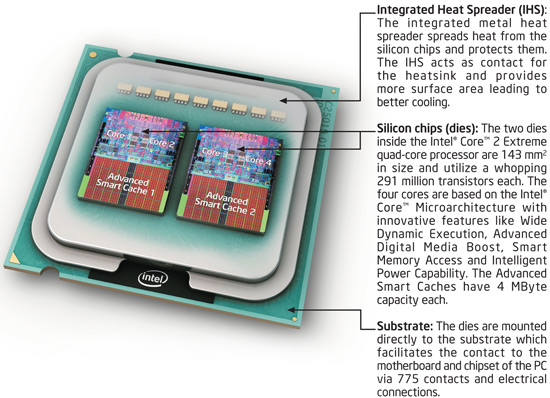 PC users are running multiple, intense software applications simultaneously, increasing demand on hardware resources. In the office, PC usage has changed from data entry and word processing to e-Commerce, online collaboration and an ever-increasing need for continual security and virus protection. In the home, interests have shifted from low-bandwidth photos and Internet surfing to downloading and viewing high definition videos, as well as advanced photo and video editing. The Intel Core2 dual and quad-core processor was developed to meet all these demands.
The Test System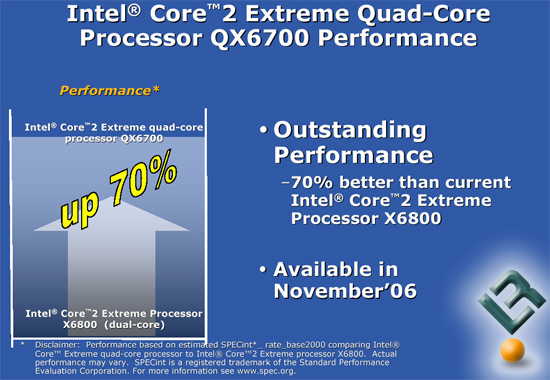 According to Intel the Core 2 Extreme Processor QX6700 will perform up to 70% better than the Core 2 Extreme Processor X6800 that LR reviewed just a number of months ago. Legit Reviews will put the Intel Core 2 Extreme Processor QX6700 up against many of the latest and greatest processors from AMD and Intel to see how it does on our test bench with the applications that we get to pick and setup how we like.
Testing Procedure:
All testing was done on a fresh install of Windows XP Professional build 2600 with Service Pack 2 and DirectX 9.0c. All benchmarks were completed on the desktop with no other software programs running. All of the modules were run in dual channel mode! The memory on the Intel and AMD test platforms with DDR2 memory was run with Corsair PC2-6400C3 memory running 4GB at 3-4-3-9 2T timings at 800MHz. except for the Intel quad-core system as it was run at 3-3-3-9 thanks to improved memory performance on Bad Axe 2. The memory on the AMD DDR1 motherboard was running 2GB at 400MHz with 2-3-2-6 timings. The ATI X1900XTX video card used CATALYST 6.6 public drivers.
Here is the AMD Scoket 939 Test platform:
AMD Test Platform

Component

Brand/Model

Live Pricing

Processor

AMD Athlon 64 FX-60/4800+

Motherboard

ASUS AN832-SLI Deluexe

Memory

Corsair PC-3200

Video Card

ATI X1900XTX

Hard Drive

Western Digital 250MB

Cooling

Corsair Nautilus 500

Power Supply

Thermaltake 750W

Operating System

Windows XP Professional
Here is the AMD Scoket AM2 Test platform:
AMD Test Platform

Component

Brand/Model

Live Pricing

Processor

AMD Athlon 64 FX-62/5000+

Motherboard

ASUS AN832-SLI Deluexe

Memory

Corsair PC2-6400C3

Video Card

ATI X1900XTX

Hard Drive

Western Digital 250MB

Cooling

Corsair Nautilus 500

Power Supply

Thermaltake 750W

Operating System

Windows XP Professional
Here is the Intel Test Platform:
Intel Test Platform

Component

Brand/Model

Live Pricing

Processor

All LGA775 Processors

Motherboard

Intel D975XBX rev304

Memory

Corsair PC2-6400C3

Video Card

ATI X1900XTX

Hard Drive

Western Digital 250MB

Cooling

Corsair Nautilus 500

Power Supply

Thermaltake 750W

Operating System

Windows XP Professional
Here is the Intel Quad-Core Test Platform:
Intel Quad-Core Test Platform

Component

Brand/Model

Live Pricing

Processor

All LGA775 Processors

Motherboard

Intel D975XBX2 rev303

Memory

Corsair PC2-8888 Dominator

Video Card

ATI X1900XTX

Hard Drive

Western Digital 250MB

Cooling

Corsair Nautilus 500

Power Supply

Thermaltake 750W

Operating System

Windows XP Professional
Let's move on and take a look at the testing!
Sisoft; Sandra 2007
Sisoft; Sandra 2007:
SiSoftware, founded in 1995, is one of the leading providers of computer analysis, diagnostic and benchmarking software. The flagship product, known as "SANDRA", was launched in 1997 and has become one of the most widely used products in its field. SANDRA is used by almost 400 world-wide IT publications, magazines, review sites to analyse the performance of today?s computers.
Multi-Core Support: As well as SMP (multi-processor) and SMT (multi-threading/Hyper-Threading) support we have added multi-core support for future AMD and Intel CPUs. The benchmarks have been optimised to schedule the optimum number of threads on the optimum (virtual) CPU on both multi-core and Hyper-Threaded computers.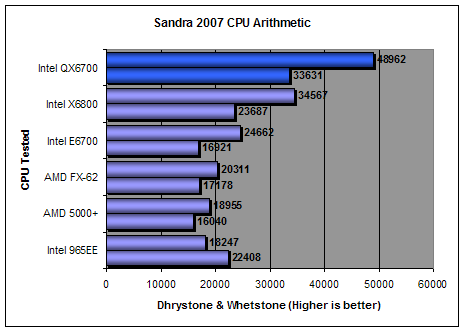 Talk about your sick scores! Those QX6700 scores are just incredible! Even the E6700 does not come close to mathing its big brother here, though it does come in second, leading the FX-62, 5000+ and the 965EE respectively.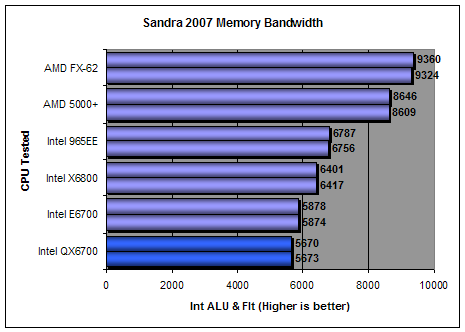 Our Memory badwidth results should be no surprise. The the memory controllor on the AMD chip, it continues to show its muscle here. It is interesting to see that the 965EE scores better than both the X6800 and E6700 in Sandras bandwidth bench.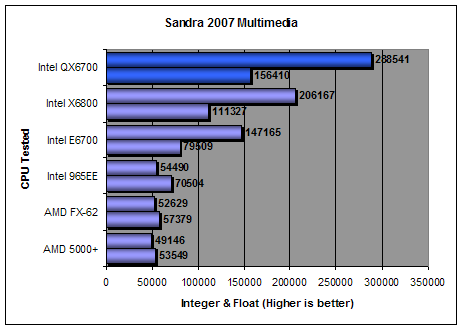 In Sandra's Multimedia test, we see another huge gulf in the results between the new Core 2 Duo chips and the rest of the pack. The 965EE comes in a distant third, with the two AMD chips following even further behind.
World Bench 5 Testing
WorldBench 5 runs on PCs using the Home, Professional, Media Center, and Tablet PC versions of Windows XP. Fifteen applications (counting the components of Office XP), make up the WorldBench 5 suite.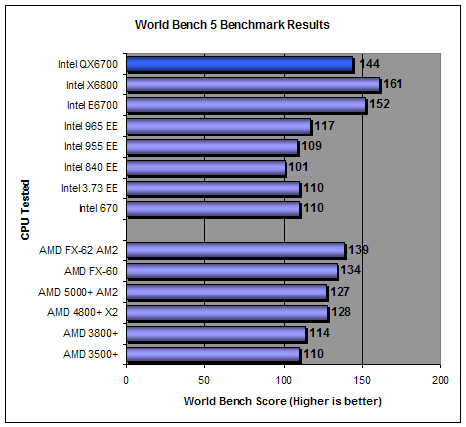 ACD Systems; ACDSee PowerPack 5.0: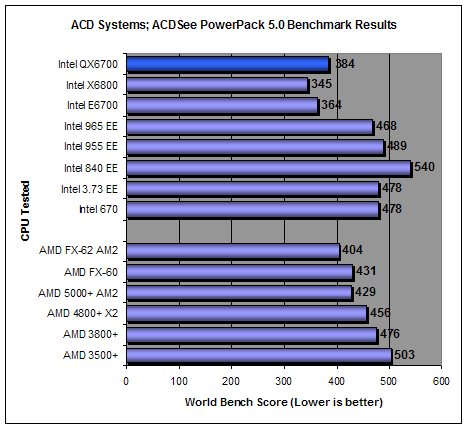 Discreet 3ds Max 5.1 (DirectX):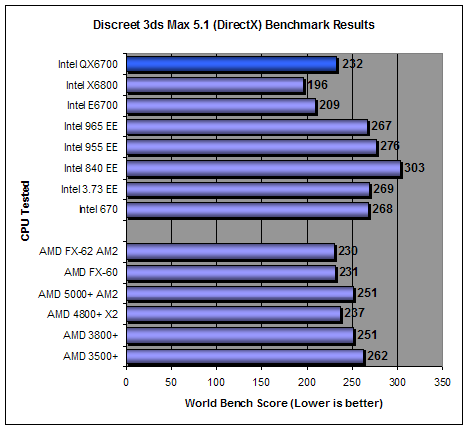 Discreet 3ds Max 5.1 (OpenGL):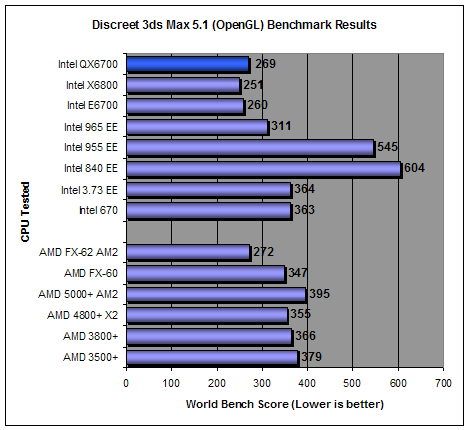 Adobe Photoshop 7: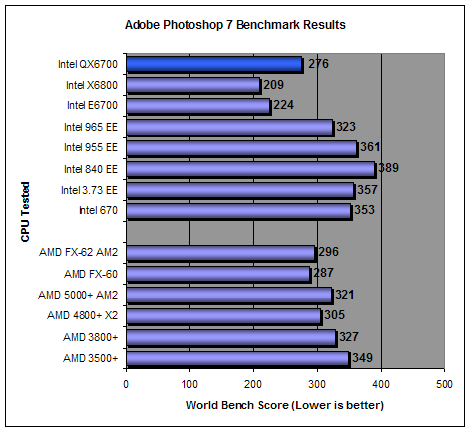 WorldBench 5 Continued
Adobe; Premiere 6.5: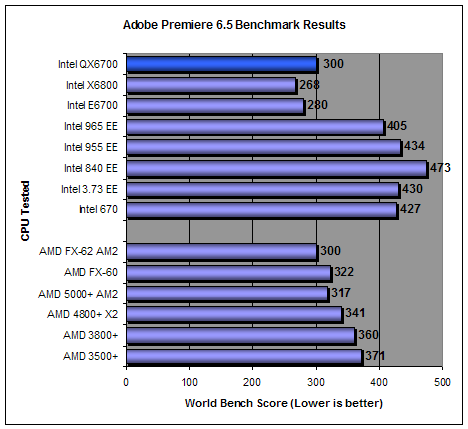 Firefox; Mozilla 1.4: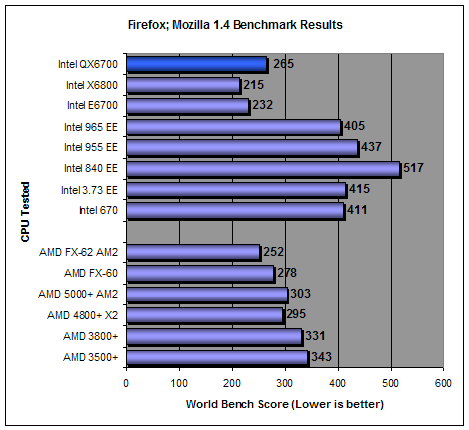 MusicMatch Jukebox 7.1: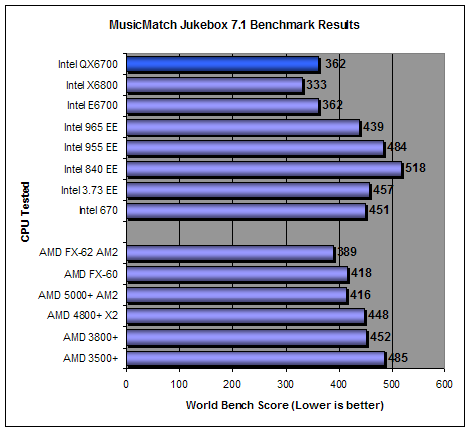 Nero Express 6: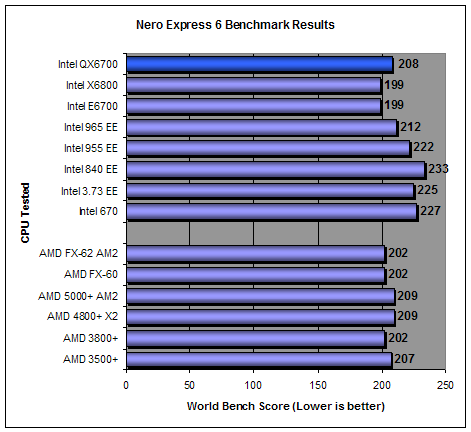 Multitasking; Mozilla and Windows Media Encoder: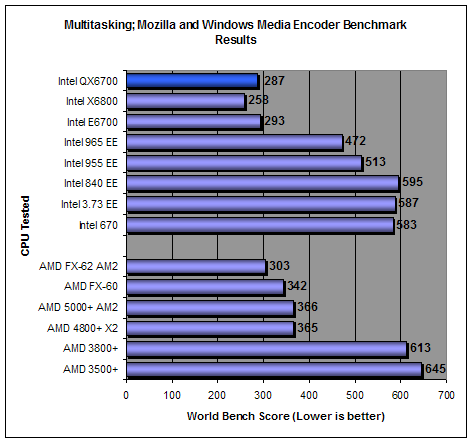 WorldBench 5 Continued Again
Microsoft Office XP with SP-2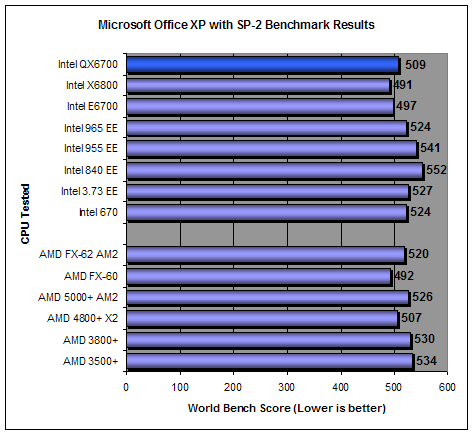 Roxio VideoWave Movie Creator 1.5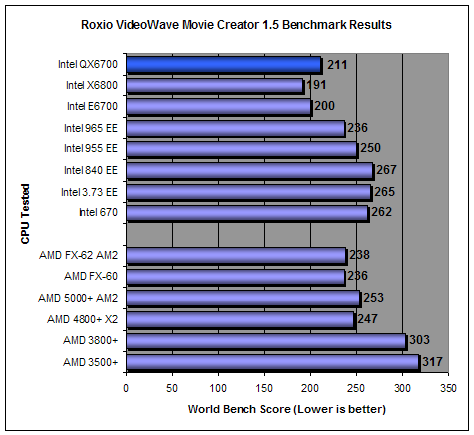 Microsoft Windows Media Encoder 9.0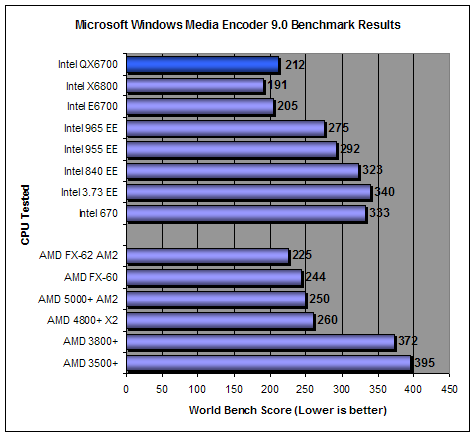 WinZip Computing WinZip 8.1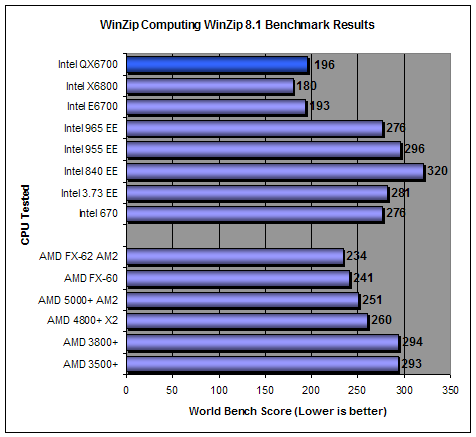 POV-Ray 3.7 Beta 13a
Processor Performance on Pov-Ray 3.7 Beta 13a:
The Persistence of Vision Ray-Tracer was developed from DKBTrace 2.12 (written by David K. Buck and Aaron A. Collins) by a bunch of people (called the POV-Team) in their spare time. It is an high-quality, totally free tool for creating stunning three-dimensional graphics. It is available in official versions for Windows, Mac OS/Mac OS X and i86 Linux. The POV-Ray package includes detailed instructions on using the ray-tracer and creating scenes. Many stunning scenes are included with POV-Ray so you can start creating images immediately when you get the package. These scenes can be modified so you do not have to start from scratch. In addition to the pre-defined scenes, a large library of pre-defined shapes and materials is provided. You can include these shapes and materials in your own scenes by just including the library file name at the top of your scene file, and by using the shape or material name in your scene. Since this is free software feel free to download this version and try it out on your own.
The most significant change from the end-user point of view between versions 3.6 and 3.7 is the addition of SMP (symmetric multiprocessing) support, which in a nutshell allows the renderer to run on as many CPU's as you have installed on your computer. This will be particularly useful for those users who intend purchasing a dual-core CPU or who already have a two (or more) processor machine. On a two-CPU system the rendering speed in some scenes almost doubles. For our benchmarking we used version 3.7 as all of the processors we are testing today are dual-core.
Once rendering on the object we selected was completed, we took the score from dialog box, which indicates the average PPS for the benchmark. A higher PPS indicates faster system performance.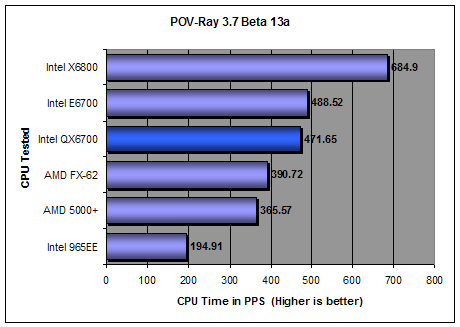 The pixel rate counter (PPS) in POV-Ray is based off of the number of pixels rendered in the current frame divided by the total amount of time spent on the whole animation. This gives the effect of dividing the true pixels per second by the current frame number. With POV-Ray 3.7 Beta 13a we are able to look at a recent SMP benchmark to judge the differences between AMD and Intel dual-core processors. The benchmark shows that the Intel Core 2 Extreme Processor X6800 is over three times faster than the previous generation Intel Extreme Edition processor. The old Pressler core is no match for Conroe in this benchmark! In a benchmark that AMD used to own it is now getting beat. The quad-core processor that we are looking at today comes in right next to the equally clocked E6700.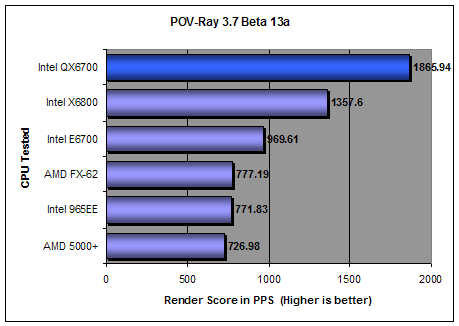 Looking at the overall render score the winner is clear by a long shot. The Intel Core 2 Extreme processor QX6700 blows the other processors away and more than doubles the performance levels seen on the AMD FX-62 processor.
POV-Ray Real-Time Raytracing
The morning the Intel QX6700 article was to be posted Legit Reviews was e-mailed by one of the developers over at POV-Ray to see if LR could include real-time raytracing in our performance analysis of Kentsfield. After spending a bit of time to get the beta software to work correctly LR has some of the only real-time raytracing numbers available for Conroe and Kentsfield.
E-Mail From POV-Ray -- I thought I might ping you about an experimental feature we've added to the POV-Ray SMP beta: real-time raytracing. It's mostly useful to folks who have multi-core systems and in fact is something that I've wanted to do for years but the hardware just wasn't there (at least not in the consumer price range). It works best on a kentsfield or later, but a core 2 duo should be sufficient if you don't mind sub-10fps frame rates.
If you want to try it out it please feel free to grab it from: http://www.povray.org/beta/rtr/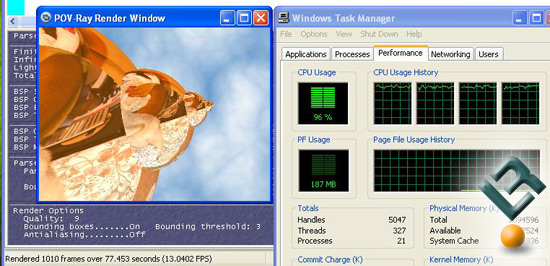 This experimental software by POV-Ray was a welcomed addition to our testing and was able to spread the work load across the four processors as seen above. The number that is used to gauge performance is shown in the status bar at the bottom of the main window as seen in the above image of with Intel Core 2 Extreme QX6700 taking care of the rendering.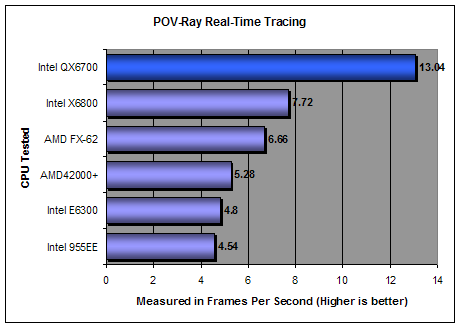 We managed to test a number of processors in the hours before the offical launch and the performance results were pretty bold. The previous flagship dual-core processors from AMD and Intel averaged out to be around 7 frames per second, but we found that quad-core could do real-time tracing at just over 13 frames per second. If you think 13FPS is impressive be sure to check out the overclocking section were the numbers get even better.
Super Pi and ScienceMark 2.0
Super Pi Mod Version 1.5 XS:
Super Pi calculates the number Pi in this raw number crunching benchmark. The benchmark is fairly diverse and allows the user to change the number of digits of Pi that can be calculated. In this benchmark we ran Super Pi to 1 million places, 4 million places, and 32 million places.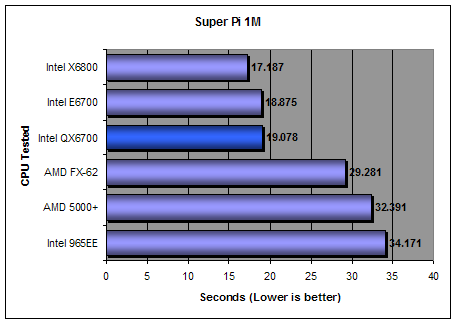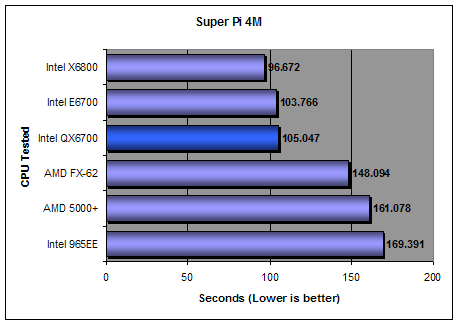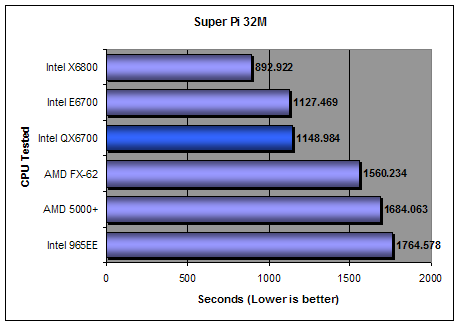 Probably some of the most jaw-dropping results that we saw with the Core 2 benchmarks happened to be in the Super PI tests. As you know, one of the big challenges between enthusiasts is to get the lowest SuperPi times possible. Many have used extreme means (read: cooling, like water, Dry Ice and Phase Change) to do this. As you can see in the results, the Core 2 Duo just blows everything else out of the water and core 2 quad fails short here, but that's because it runs at a lower clock frequency. In the 1M places bench, the X6800 comes in at just over 17 seconds. This is incredible! What makes it even more incredible is that this is a little over 41% faster than the fastest AMD CPU is able to do! We see similiar results in the 4M and 32M tests as well, where the X6800 continues to lead the pack, with nothing from AMD even coming close!
ScienceMark 2.0 Beta:
Science Mark 2.0 is an attempt to put the truth behind benchmarking. In an attempt to model real world demands and performance, ScienceMark 2.0 is a suite of high-performance benchmarks that realistically stress system performance without architectural bias. For the Memory Testing, higher numbers represent better performance. On the remaining tests, lower seconds represent better performance.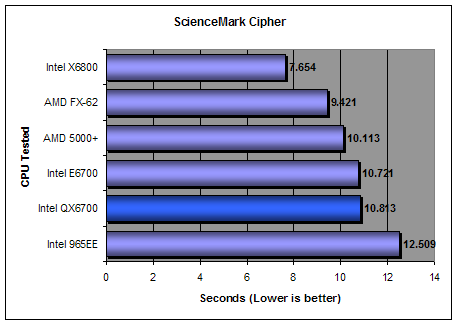 Primordia "calculates the Quantum Mechanical Hartree-Fock Orbitals for each electron in any element of the periodic table." We ran the benchmark on default using Argon as our element.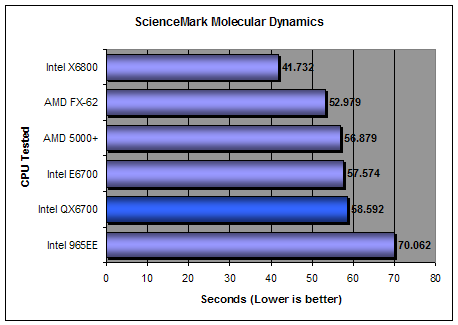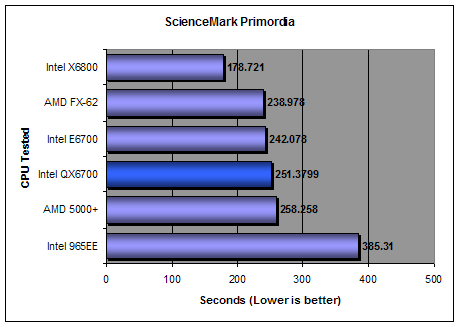 As you can see, our Sciencemark results show that processor frequency is all that matters in Sciencemark and the E6700 and QX6700 both score nearly the same as both are 2.66GHz processors. Cipher and the Molecular Dynamics are led by the X6800 Core 2 Duo, followed by our AMD chips, the FX-62 and the 5000+.
CineBench 2003
MAXON; CINEBENCH 2003:
CINEBENCH 2003 is the free benchmarking tool for Windows and Mac OS based on the powerful 3D software CINEMA 4D R8. The tool is set to deliver accurate benchmarks by testing not only a computer's raw processing speed but also all other areas that affect system performance such as OpenGL, multithreading, multiprocessors and Intel's new HT Technology. Again, higher Frames/Second and lower rendering time in seconds equal better performance.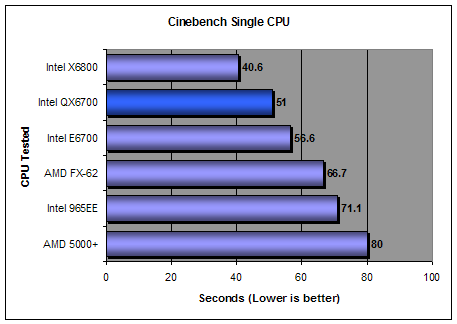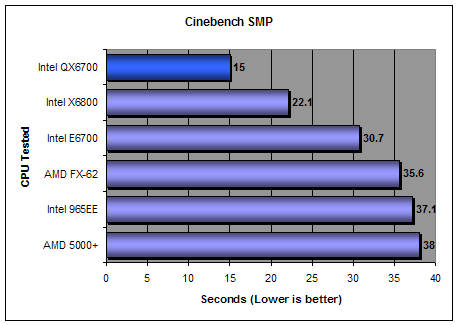 Our Cinebench results show again how the X6800 just reigns supreme over anything green (meaning AMD), completing our benchmarks at a 39% faster pace in the single CPU benchmark thanks to it's high clock frequency. When SMP is enabled and all the cores are used the Intel Core 2 Extreme Processor QX6700 shows its stuff and completes the benchmark in just 15 seconds. The QX6700 finished 20.6 seconds before the leading desktop processor from AMD. The same scene can be rendered twice on the QX6700 before the FX-62 finishes the first run!
WinRar v3.61
RARLAB - WinRar v3.61 has a multithreaded version of the RAR compression algorithm, which improves the compression speed on computers with several CPU, dual core CPU and processors with hyperthreading technology. Multithreading is enabled by default, but you can disable it in "General" part of "Settings" dialog.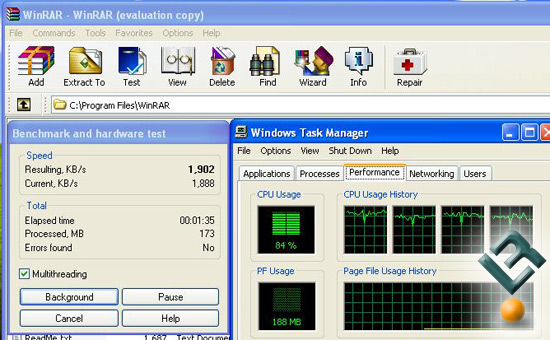 When we ran WinRAR on the Intel Core 2 Extreme Processor QX6700 we noticed that it used roughly 80-84% of the 2.66GHz quad-core processor, so it makes for a decent SMP benchmark. Before we take a look at the multithreaded testing results let's take a look at the single threaded performance chart.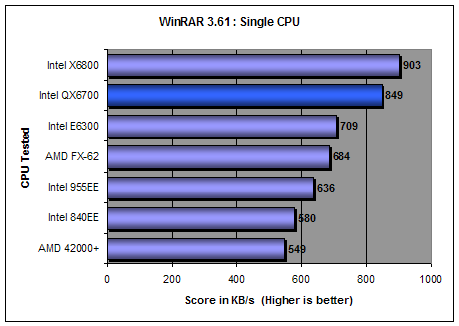 When running WinRAR v3.61 on a number of processors it was noted that Core 2 processors took the lead once again.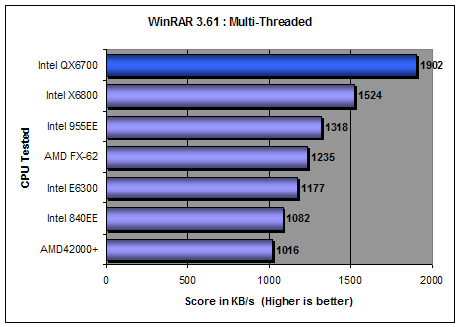 When SMP was enabled the performance greatly improved on all of the processors. The Intel Core 2 Extreme QX6700 processor easily took the lead thanks to the fact that it had four cores and passed up the X6800 that had the highest score in the single core test.
Futuremark 3DMark06
3DMark 2006 v1.2.0
3DMark06 includes an array of 3D graphics, CPU and 3D feature tests for overall performance measurement of current and future PC gaming systems. With this broader design approach, 3DMark06 has become the benchmark of choice for all PCs with top-of-the-line graphics hardware and CPUs. 3DMark06 is the first product from Futuremark using the AGEIA PhysX software physics library in two very complex, game-like threaded CPU tests conceived to measure properly performances of single processor, multi-core and multiple processor systems in next generation of games. In addition to using real-time physics, both CPU tests also employ multi-threaded artificial intelligence algorithms. By combining the results of the two CPU tests and four graphics tests, 3DMark06 enables users to get a 3DMark score which reflects the overall gaming performance of their PC.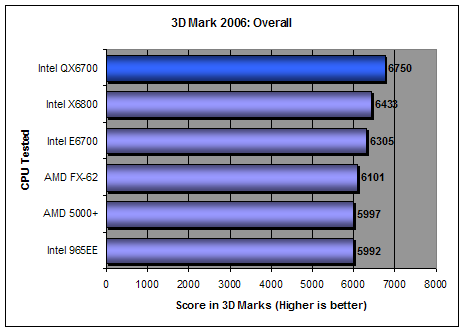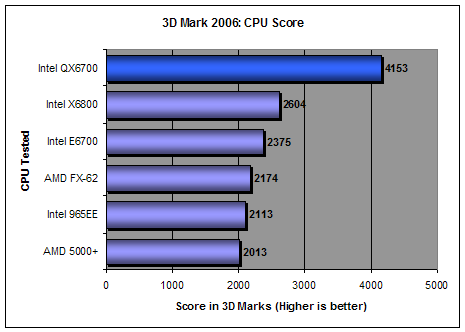 3DMark06 is threaded and the performance results directly show that. The CPU test is impressive with the Intel Core 2 Extreme QX6700 scoring 1549 points more than the Intel X6800 processor and 1979 points more than the fastest AMD desktop processor on the market today.
Comanche 4 and Quake 4
NovaLogic; Comanche 4:
The Comanche 4 benchmark demo is a unique benchmark as it represents a real-world gaming experience. It contains the single player Eagle's Talon mission from the game as well as a detailed cinematic. This DirectX 8.1 benchmark demo measures your system's performance in the standard frames per second format. This game is very old, but even today it's one of the best gaming benchmark to show raw CPU performance.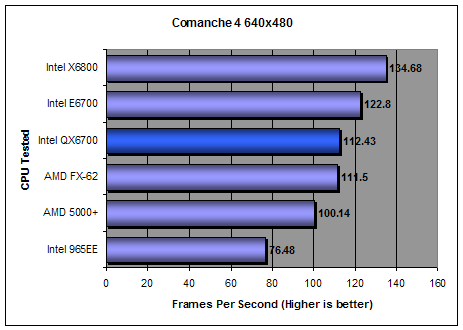 As we look at our gaming results, we need to remember that all of the cpus that we tested have more than enough power to run any of todays games at very playable and eye-pleasing settings. But as well look at them, it is hard not to see the facts that are before us: Core 2 Duo is to the gamer in 2006 what the A64 was to the gamer at its release. There was a WOW! factor that many said could never be duplicated, but we are here to say that it has not only been duplicated, but surpassed with the Core 2 Duo.
Here in the Comanche 4 test, we see what we have seen in every other test, in that the Core 2 Duo takes the top spots. The E6700 trails its big brother by 12 fps, but leads the FX-62 by 11fps. The Intel 965EE follows everyone else, as we have seen in all the results so far.

ID Software; Quake 4 v1.2
ID Software?s QUAKE 4, developed by Raven Software, takes players into an epic invasion on a barbaric alien planet in one of the most anticipated first person shooters for 2005. Even today in 2006 Quake 4 is played by professional gamers around the world in the fames World Series of Video Games (WSVG) and still one of the most played first person shooters on the market today.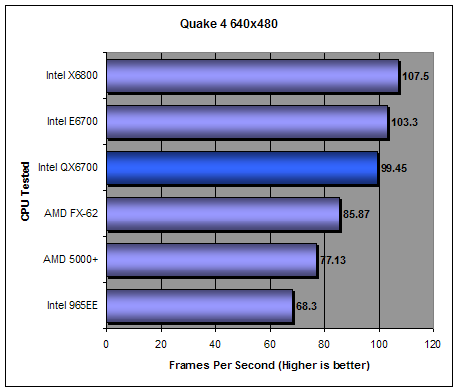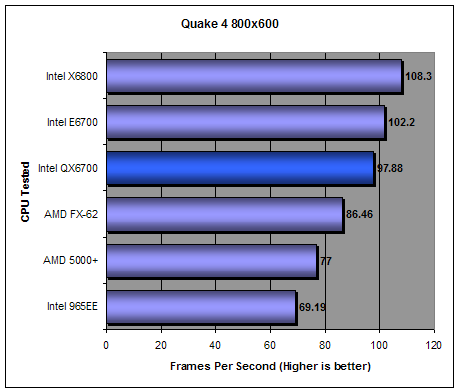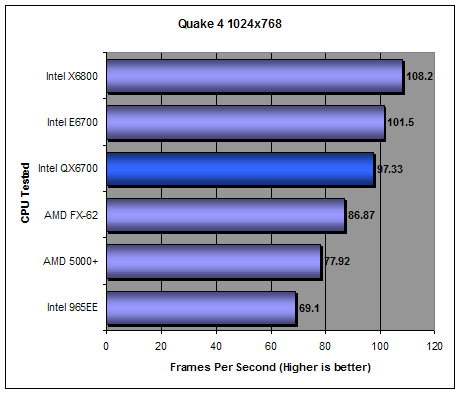 As we change resolutions in Quake 4, we really do not see much difference in the fps, but it is clear that the Intel QX6700 doesn't fair as well at the equally clocked Intel Core 2 Duo E6700 processor. Since games often love memory bandwidth it's possible the lower memory bandwidth that we observed with Sandra 2007 is now playing a direct role in the performance numbers we observed here.

Curious about the results we monitored the CPU usage and with SMP enabled in the game the only cores used on the CPU for the most part were 2 and 3. It's clear that current SMP game titles like Quake 4 with the latest patches don't take advantage of more than dual-core processor.
F.E.A.R.
Sierra; F.E.A.R w/ v1.0.7 patch:
F.E.A.R. (First Encounter Assault and Recon) is a first-person close-quarters combat game for the PC. The story begins when a paramilitary force infiltrates a multi-billion dollar aerospace compound, and the government responds by sending in Special Forces. The group loses contact with the government when an eerie signal interrupts radio communications--and when that interference subsides moments later, the team has been destroyed. That's where you come in. As part of a classified strike team created to deal with threats no one else can handle, your mission is simple: eliminate the intruders at any cost, determine the origin of the signal, and contain the potential crisis before it gets out of control.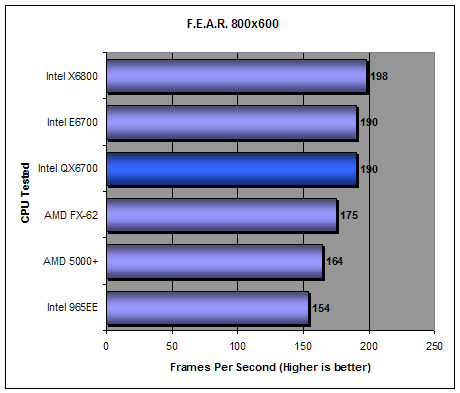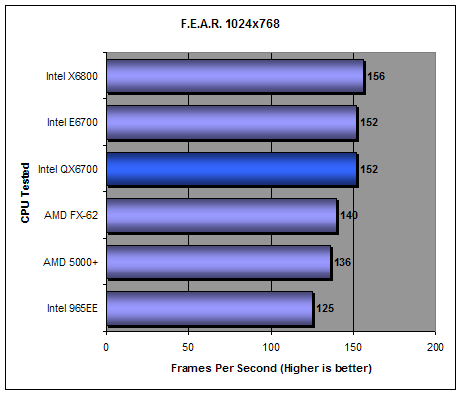 Unlike our Quake 4 results, our F.E.A.R. results show us that our scores are affected by the changes in resolution. By while each cpu's scores are affected, the outcomes of how each cpu did against the others remained the same as the X6800 took top honors, followed by the E6700/QX6700, the FX-62, 5000+, and bringing up the rear is the 965EE. This was the scenario at each resolution.

Looking at the CPU usage during F.E.A.R. benchmarking we again see that a couple cores have the majority of the work load, but it does seem to be spread across three cores versus the two that was observed in Quake 4 testing. In the end having three cores sharing the load might have helped as this time around the QX6700 and the E6700 performed the same in our F.E.A.R. benchmark test.
Power Consumption
Since power consumption is a big deal these days we ran some simple power consumption tests on our test beds. Both systems ran with the same memory, power supplies, case fan, video card and hard drive model. To measure idle usage we ran the system at idle for one hour on the desktop with no screen saver and took the measurement. For our 'load' readings we ran the system under partial load by running a custom video game demo on all of the processors. This simulates real world use as the majority of our readers play video games.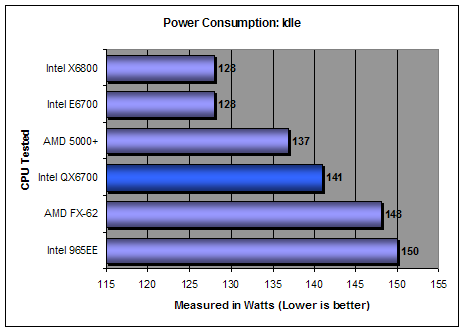 When it came to idle power consumption the Intel Core 2 Extreme QX6700 consumed more than the other Conroe processors, but that makes sense as the QX6700 processor has two conroes inside. The AMD FX-62 used 8W more power than the Kentsfield, so a dual-core FX-62 still consumes more power than the quad-core Intel processor.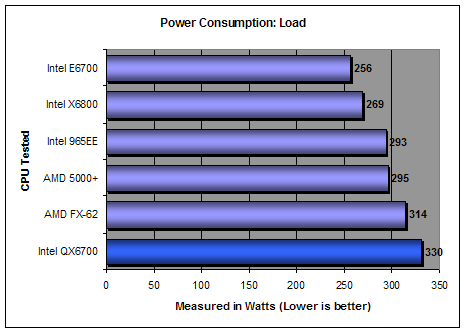 Under load the Intel X6700 uses the least amount of power followed by the faster clocked Intel X6800 and then the Intel 965 Extreme Edition processors. The AMD Athlon 64 64 FX-62 used to consumes 16W less power than the Intel QX6700 while running the first test of 3DMark06.
**TIP** If you are interested in saving even more money every month try switching to an Active PFC power supply!
A Brief Look At Temps
Our press kit didn't include the retail HSF, but we didn't want to publish an article on Quad-Core without some temperatures. We used a heat sink that Intel sent out and ran the fan on it at 100%. Let's just say running this fan at 100% isn't something you want to do all the time, but we figured it would keep the numbers fair.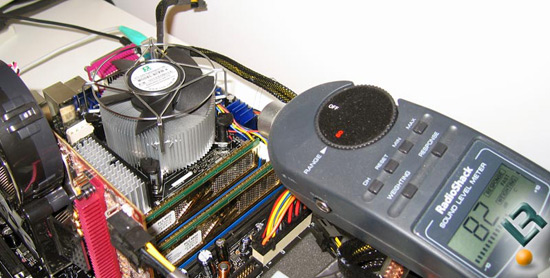 Using the Intel D975XBX2 'Bad Axe 2' motherboard we ran the Intel Core 2 Extreme Processor X6800 and the Core 2 Extreme Processor QX6700 to see how the additional core impact performance. To get the load temperatures we ran four instances of Super Pi and set the affinity for each run in Windows for the cores required for each to be at full load. Since each processor has a different number of cores we added up the temperatures and divided by the number of cores present to get a single number.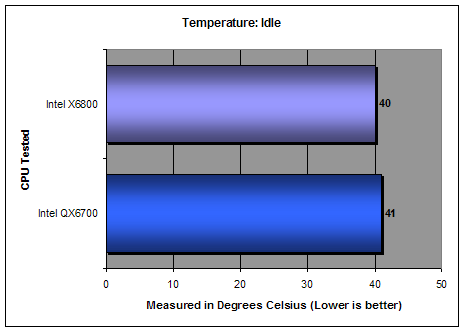 At idle the X6800 and the QX6700 both were close to being the same.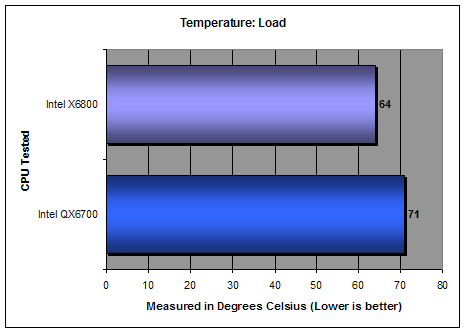 At stock frequencies and voltages we observed the that the QX6700 was roughly 7C warmer than the X6800 when under 100% load. Not too bad, but if one of these $999 processors is in your future we highly suggest water cooling!
Overclocking The Intel QX6700 Kentsfield CPU
As previously the Intel Core 2 Extreme QX6700 comes clocked at 2.66GHz and it's performance is impressive to say the least, but that doesn't mean you can't get more out of it. We used the Corsair Nautilus 500 water cooler to help keep the four cores cool and then tried to overclock our Stepping 7 QX6700 processor.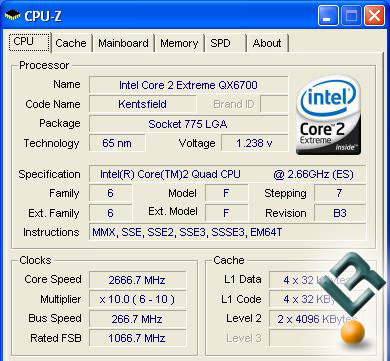 Using the Intel D975XBX2 motherboard and BIOS version 2214 we set off to overclock the processor.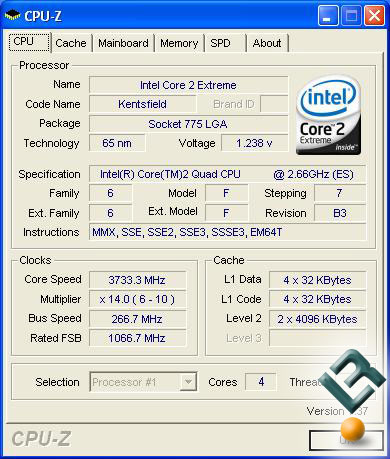 After cranking up the voltage on the processor from 1.35V to 1.55V we were able to reach 3.73GHz, which is an overclock of 1067MHz.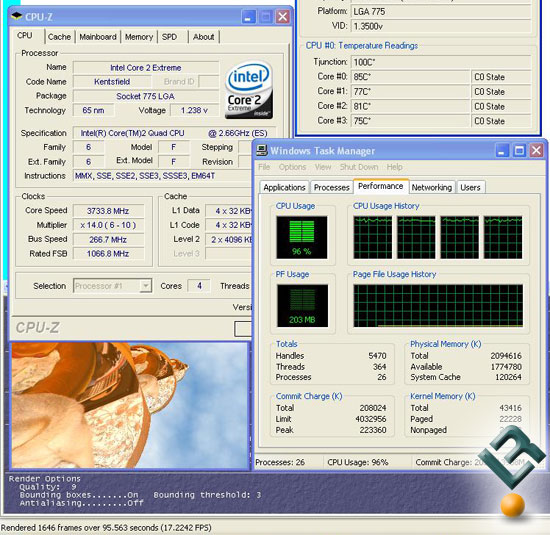 In terms of performance we ran POV-Ray and tried out some Real-Time Raytracing as the application supports four cores and the results were amazing. The stock Intel Core 2 Extreme QX6700 scored just over 13 frames per second, which was impressive, but something that overclocking could improve. By overclocking the processor by more than 1GHz the rendering was averaging 17 frames per second, which is a 38% performance increase over the processor settings right out of the box. We were going to push the QX6700 processor more, but if you notice the temperatures we were seeing even with water cooling we backed off and will save that for another day. Pushing the $999 Intel Core 2 Extreme beyond 3.73GHz when it was hitting 85C on some of the cores is just not sane and we were more than pleased by hitting 3.73GHz.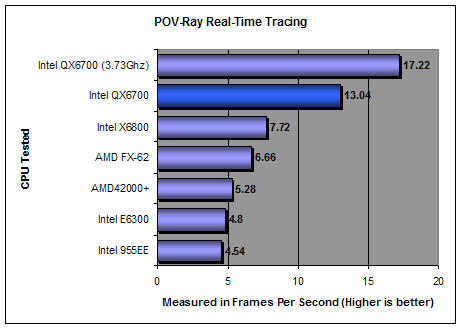 To do this overclock justice we graphed the above results and the overclocked quad-core is a monster. The AMD Athlon 64 FX-62 doesn't stand a chance as quad-core procesors start to really shine when overclocked.
Final Thoughts and Conclusions
This makes the fourth article that Legit Reviews has written covering the Intel Core 2 Extreme QX6700 processor, so if we missed something please reference the previous articles. The original Core 2 Extreme QX6700 Processor benchmarking article has by far more threaded applications in it, so if SMP is your thing it is highly suggested that you go back and read the previous article.
Previous Articles on Legit Reviews That Feature The QX6700:
- Intel Officially Announces Quad-Core Processors
- Intel Shows D975XBX2 BIOS and QX6700 Overclocking
- Benchmarking The Core 2 Extreme QX6700 Processor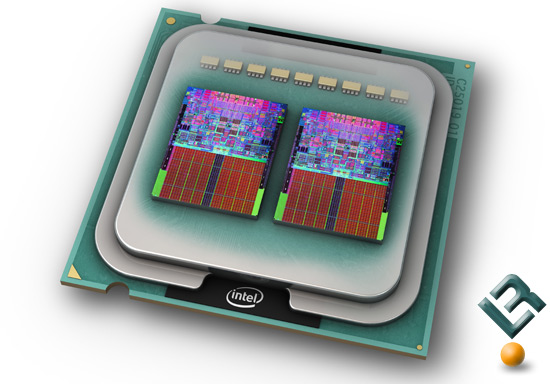 Intel has been cranking out impressive processors during 2006 and it looks like Intel has any intentions of bringing that to an end any time soon. The first Intel quad-core processor looks to be a winner in a number of ways, but the most important is the fact that many motherboards that have the i975 Express chipset need nothing more than a BIOS update to enable quad-core support. When it comes to applications that take advantage of four cores no other desktop processor from AMD, or even Intel for that matter, come close to the performance levels that we have recorded with quad-core.
AMD will be launching their 4x4 platform later this month and after looking at the performance numbers they need that launch to go smoothly as their FX-62 processor got knocked out by Core 2 Duo back in July and now we have witnessed the Intel Core 2 Quad destroy the FX-62 WWF style. It's amazing how the tables can turn after years of AMD domination and it's clear that Intel doesn't want to let go of that lead.
The Intel Core 2 Extreme QX6700 is the processor to have if you own several applications that take advantage of four or more cores as the performance impact from having additional cores is significant. If the applications you use are not optimized for more than two cores then it's our suggestion to save your dime as the rest of the quad-core processors from Intel will be launching in 2007 and by then more games and applications will be taking advantage of the four cores. Not to mention the fact that Microsoft might find a way to release Windows Vista in 2007, which means many of our readers will be needing an upgrade within the next year.
The Intel Core 2 Extreme QX6700 processor is without a doubt a monster. Having the ability to overclock more than 1GHz beyond its specifications is a clear sign that Intel has figured things out and that quad-core processors are only going to get better in the future.
Legit Bottom Line: Intel has unleased quad-core processors into the world and the Intel Core 2 Extreme Processor QX6700 is without a doubt the fastest desktop processor when it comes to applications that support four or more cores. In short the QX6700 is Quad-Zilla!