More Booth Features
The last few days, we have been giving you the highlights of what has been happening as we see it. However, at Quakecon, there is always more to hear about when tons of vendors interacting with over 6,000 attendees! On that note, here is what we saw on the second day...
Intel's mobile team is out in full force and has every size laptop you could think of on display for the gamers to use. They supplied a bunch of Intel-blue beanbags for guests to sit on while watching a select few play games or surf the internet on their demo laptops.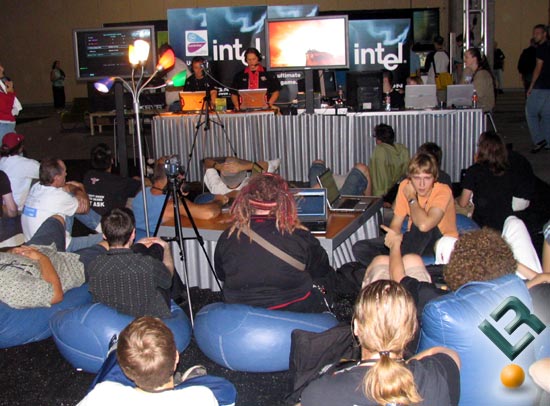 Kingston Technology has also been here this year. They have a simple and straight to the point booth where they have knowledgeable staff marketing their system and flash memory. They brought along a couple modded cases, just like they always do, and ran them overclocked showing off the latest in DDR1 and DDR2 HyperX memory. Kingston also was telling gamers that 1GHz HyperX memory is on the way, so get ready for some blazing fast memory from the red head team here in the next quarter.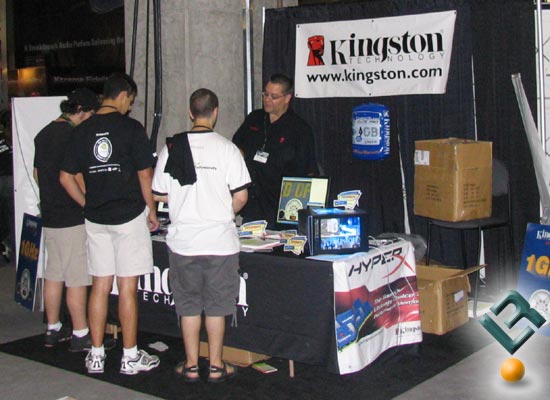 Creative has been out in full force showing off their new Fatal1ty gaming audio solution: the Sound Blaster X-Fi. They have two sound rooms and a spectator section for the Fatal1ty challenges that all have surround-sound setup to show the abilities of this sound card. This card comes in three different tiers:
"Vanilla" X-Fi - the standard card with no bundle other than drivers.
"Midrange" X-Fi - the exact same standard card with a 3.5" drive bay filler that contains your audio-related ports for easy access.
Fatal1ty X-Fi - sound card contains 64mb of onboard X-Ram for improved gaming performance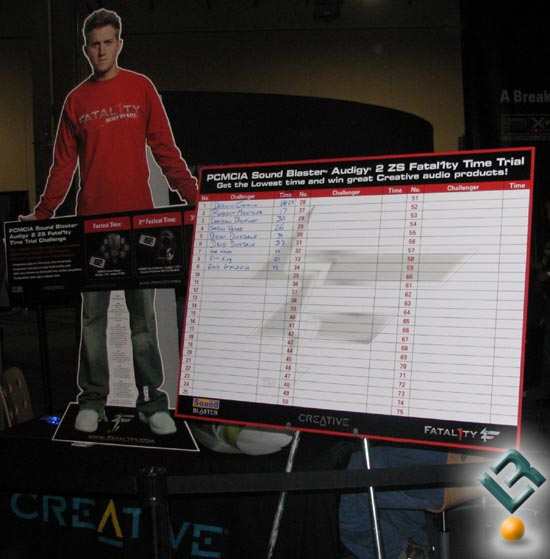 The Aerocool booth has been very busy. One thing I have noticed is that there have been a lot of pre-teen children visiting this booth. This is probably due to the fact that one of the easiest and cheapest ways to enhance the looks of your case is to add a cool LED fan, so Aerocool gives computer-savy kids an easy Christmas wish to give to their parents!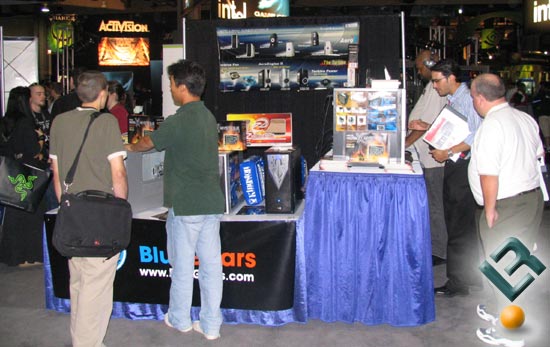 Activision is always busy during Quakecon. This time around, I snagged a few shots of the new Spiderman game demo in action. This shot shows a Spiderman competitor throwing cars around like tin cans!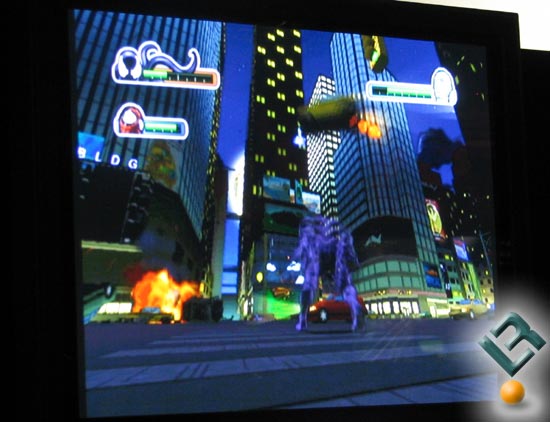 And last, but definitely not least, the tournament section is never quiet! Last night, tournaments were still going on around 2am! By day 2, it must start getting tough to focus on fragging after almost 48 straight hours of video-game action!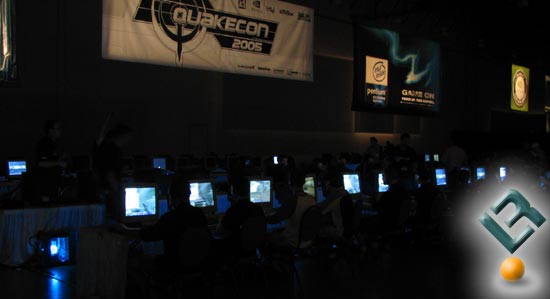 I'm sure we will see more booth and tournament coverage tomorrow! So stay tuned!
Case Mod Madness
So you wish you were here, well we wish you were here too. But since you?re not and we are we are going to do our best to show you the best of the LAN. We spent a good portion of our day just combing through over 3,000 Bring Your Own Computers, looking for the best of the best.
I can?t even imagine how much time and work went into this case, all the custom paint, embossing, cutting, and even the etching in the glass. If you can?t tell from the picture its Tolkien elvish engraved in the side.
Just looking at this case gives me wood? well more like a splinter. Still its nice to see people moving out of traditional materials and using different stuff.
MHz on tap? Damn sure! I never got the chance to ask what is running in there but I would guess that?s it?s a VIA C3, as I have yet to see a Pentium M motherboard that small.
While this is nothing special the quality of the cutting was very good. This kid has some of the best dremel work at the LAN.
Caution Lanparty at work. That DFI Lanparty SLI complements the construction paint scheme and diamond plate very well.
Old school is in, DK is back on the block, and this guy makes sure you know it. Yes its functional and boots to windows.
In an attempt to prove that size doesn?t matter this guy may take the prize. This may be the smallest form factor PC at the lan. He even took the time to fold the ribbon cables and route them under the motherboard to keep them from blocking air flow.
I think this case is haunted.
More Case Mods...
While this is not the most attractive case I have seen it still must have taken some time to construct, so props for that.
What more can I say, this one follows the same theme.
I always like it when a person can pull a whole case together with color. Notice that the black and orange theme is consistent through the whole case.
Look, M?a it?s a double wide. Impressive case with lots of room.
When it comes to flames this one takes the cake. Its both painted and cut to look like the speed demon it no doubt is.
Simple, classic and well executed dremel work.
Here at LegitReviews we always like it when art crosses into our realm. This case does a nice job of bridging that gap.
Did we cover case mods yet?
So, by now you might think we like people who make custom cuts, well your right, and this one deserves some space on our site. A very steady hand must have cut this case.
One of the most impressive modds at Quakecon, this military theme is carried through the case to the mouse, keyboard, and monitor. What can I say, this guy deservers mad props for such a good mod.
Nothing says I got game like water cooling, and when you add 3 huge fans to the top of your case you know that water is keeping his CPU nice and cool.
Lots of people think of computers and nothing more than a tool, well here is proof; the elusive tool box computer.
If you thought my LCD in the front of my case was cool check out this. That?s a full CRT.
?Go ahead try to break my computer?
When air cant cool you?re CPU enough then you can always use a water fountain phase change to get your water sub ambient.
Or you could be like this guy and find the largest radiator you can.
You know they can mod when the HD has its own window.
That is all that Legit Reviews has for our readers today. Things are in full swing here at Quakecon and it seems like the gamers are having a blast. A few people on the network have over a Terabyte of drive space and have already pulled 500MB off the network and had more than that downloaded from their boxes. We might just have to take out notebooks down to the floor to get in on the crazy file sharing!
Till next time!