Cooler Master CM Storm QuickFire XT Mechanical Gaming Keyboard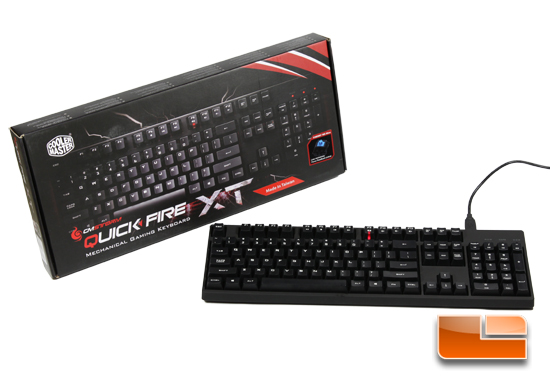 Cooler Master, a premier computer case and cooling manufacturer, has made quite a presence in the mechanical keyboard market. While long time keyboard enthusiasts bide their time looking for legacy IBM Model Ms and Filco keyboards, the CM Storm QuickFire keyboards have helped to bring new recruits to the mechanical keyboard camp. Like most other Cooler Master products, QuickFire keyboards have gained a reputation for their affordability, durability, and straightforwardness.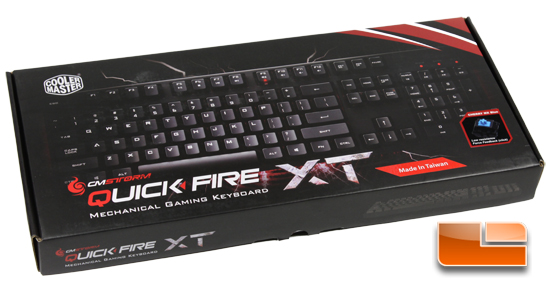 Compared to our other mechanical keyboard reviews, there won't be as much to talk about because the QuickFire XT isn't banking on premium features. Appreciably, this makes for a more reasonably priced mechanical keyboard. For a "computer keyboard", the QuickFire XT is still quite expensive and appropriately, it was apparent upon unboxing that it's not cheaply constructed.
There are four types of QuickFire XT keyboards each featuring a different Cherry switch. As summarized by Cooler Master:
CHERRY MX Blue: Low resistance; force feedback (click)
CHERRY MX Red: Very low resistance; linear feedback
CHERRY MX Brown: Medium resistance; force feedback (bump)
CHERRY MX Green: Strong resistance; force feedback (click)
The QuickFire XT with Blue switches can be found for $89.99 shipped on Amazon and is the model we have for review. Otherwise, the choice if switches is a matter of personal preference.
Aside from the selection of Cherry switches, all QuickFire XT models carry the same features including multimedia keys, Windows key disable, and detachable braided cable.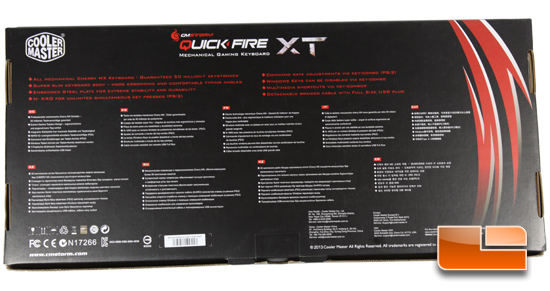 CM Storm QuickFire XT Features and Technical Specifications:
All mechanical Cherry MX Keyboard - Guaranteed 50 million+ keystrokes
Super slim keyboard body – more ergonomic and comfortable typing angles
Embedded Steel plate for extreme stability and durability
N- KRO for unlimited simultaneous key presses (PS/2)
Command rate adjustments via key-combo (PS/2)
Windows Keys can be disabled via key-combo
Multimedia shortcuts via key-combos
Detachable braided cable with Full Size USB plug
Dimensions: 440(L)x132(W)x29(H) mm / 17.3(L)x5.2x1.1(H) inch
Weight: 1100 g / 2.43 lbs
Warranty: 2 Years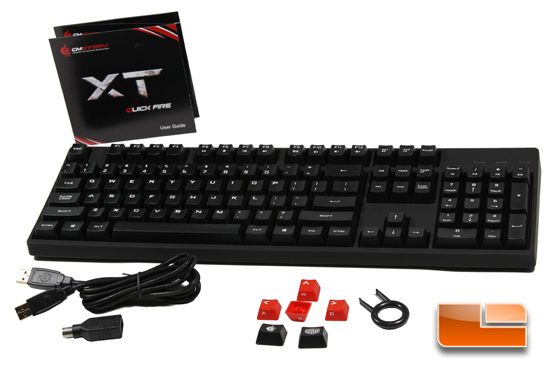 Inside the box, the QuickFire XT keyboard package includes a user guide, four red arrow keycaps, alternate modifier keycaps, a keycap puller, a braided USB cable, and a USB to PS/2 adapter. Now, let's take a look at the keyboard!
Looking Closer at the Quickfire XT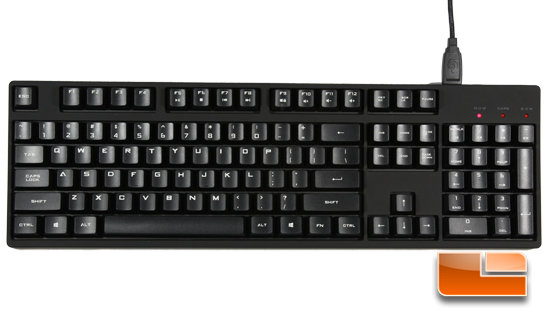 The QuickFire XT has a standard 104 key layout with dimensions of 17.3(L) x 5.2(W) x 1.1(H) inch / 440(L) x 122(W) x 29(H) mm and weighs 2.43 lbs. (1100 g.) The keyboard enclosure is made of plastic with a matte coating that feels like smooth rubber. The finish hides dust and fingerprints very well and gives a nice grip when picking up the keyboard.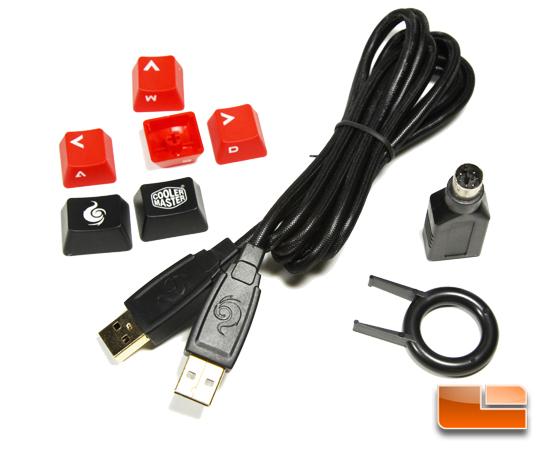 We're giving a closer look at the package contents which are four red arrow keycaps, alternate modifier keycaps, a keycap puller, a 1.8 m braided USB cable, and a USB to PS/2 adapter.
When the QuickFire XT is plugged in with USB, only six keys can be pressed at a time though that's more than adequate for most applications. The PS/2 adapter allows a seemingly unlimited number of keys to be pressed simultaneously. Either interface doesn't have key ghosting issues.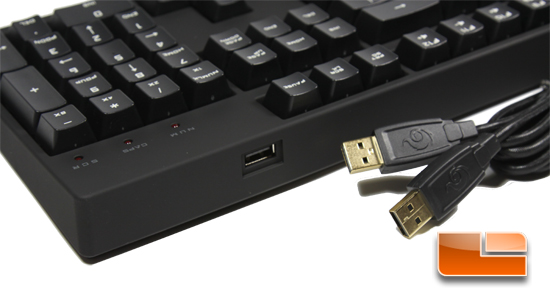 The 1.8 m (6 ft) braided USB cable is detachable allowing for easy transportation of the QuickFire XT. The cable's thinness and flexibility makes it easy to cable-manage.
Indicators for Caps Lock, Num Lock, and Scroll Lock are illuminated by red LEDs.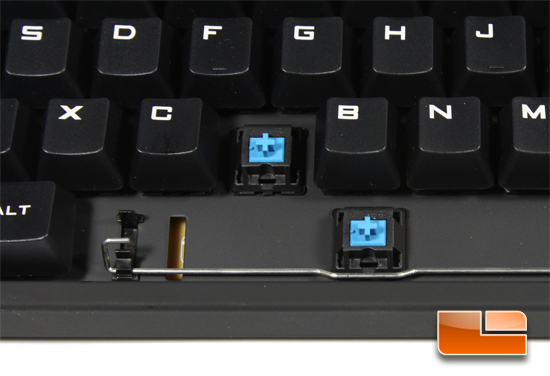 The QuickFire XT is a fully mechanical keyboard, available in four different Cherry MX switch types. We have the Blues which are fantastic for typing. The other three types available to QuickFire XT buyers are Red, Brown, and Green. This is huge to those who have a definite preference for a certain switch. Those unfamiliar with mechanical keyboard switches may want to take a look at Overclock's mechanical keyboard guide.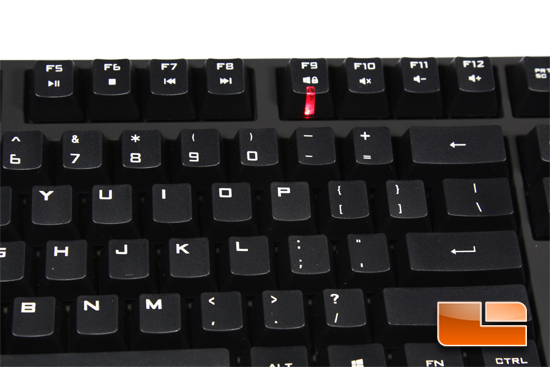 Some F-keys have alternate functions as multimedia keys when the FN modifier key is pressed. F9 + FN toggles "game mode" during which a red LED underneath F9 is illuminated and the Windows keys are disabled. This is valuable to gamers who make the mistake of interrupting their game by accidentally pressing the Windows key.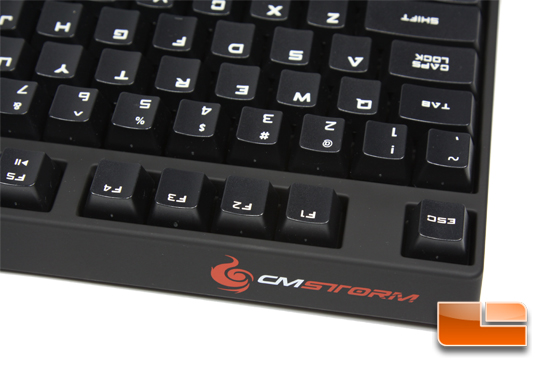 The QuickFire XT enclosure takes a minimalistic approach. The thin bezel and toned appearance is very presentable at a workplace. The branding on the QuickFire XT is largely out of sight on the edge facing away from the user.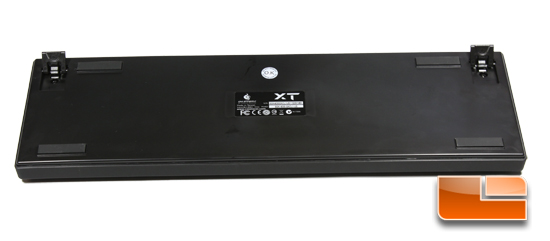 The underside of the QuickFire XT is standard. Four rubber grips provide substantial friction on surfaces and two risers can be flipped out to tilt the keyboard.
Using the Quickfire XT and Conclusion
As expected with mechanical keyboards, typing on the QuickFire XT was an overwhelmingly positive experience as a result of Cherry's switch mechanism. Individuals have their own preferences and so it's not fair to rate or rank the switch types. Cooler Master avoids the issue of forced switch selection by making the QuickFire XT available in four Cherry MX switches.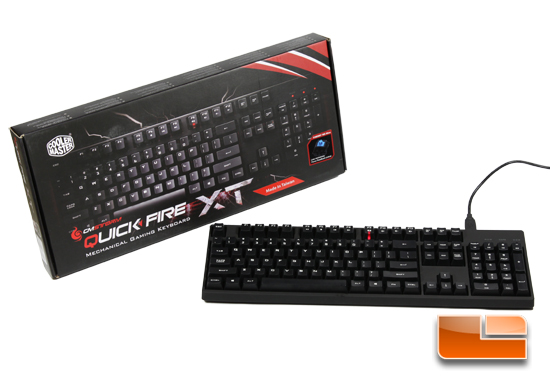 Moving past the switches, there's much to like about the QuickFire XT. The internal metal plate to which the switches are mounted, gives the keyboard a good amount of heft and rigidity which simulates density to an otherwise cheap feel. Yet, this keyboard's plastic enclosure is more than injection molded plastic. Its matte surface not only disguises the plastic feel, but does a fantastic job of hiding dust and fingerprints. The minimalistic enclosure and subtle branding gives the QuickFire XT an inoffensive appearance suitable for workplaces while still being a tank of a keyboard.
Priced $80-110 on Amazon at the time of writing, the QuickFire XT is in a weird place competing against other and older CM Storm QuickFire keyboards as well as the SteelSeries 6Gv2. However, the QuickFire XT is a new product and its prices are expected to find some equilibrium in the meantime. It's already much more affordable than many mechanical keyboards if that's some consolation.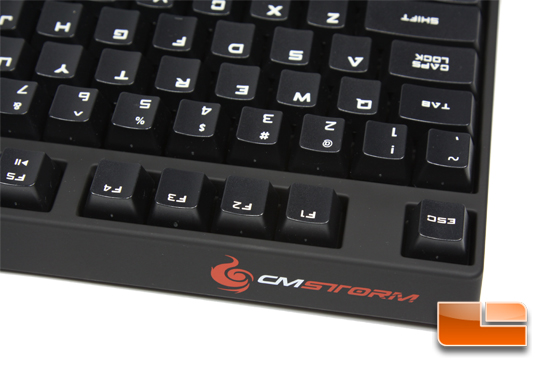 I'm totally recommending the QuickFire XT because it's a no-nonsense mechanical keyboard without too many bells-and-whistles. If all you want is a mechanical keyboard without the backlights, macros, USB passthrough, and cup holders for what you conclude is a reasonable amount of money, then by all means consider this keyboard or even buy it.
Legit Bottom Line: Cooler Master's QuickFire XT mechanical keyboard is sensible, solid, and affordable plus it's available in a selection of popular Cherry MX switch types.