Kingston Launches Huge 512GB Flash Drive
We were shocked last week when we learned that Kingston Digital announced the DataTraveler HyperX Predator 3.0 USB Flash drive series. Why? Because the DataTraveler HyperX Predator 3.0 became the world's largest-capacity USB 3.0 Flash drive! This drive also happens to perform well with 240MB/s read and 160MB/s write speeds when used on a USB 3.0 ports. If you often find yourself deleting data off your Flash drive to free up storage space, then this is the drive for you! Right now Kingston offers the HyperX Predator USB 3.0 drive in 512GB and 1TB capacities (coming soon).
We were excited when the Kingston HyperX Predator USB 3.0 512GB Flash Drive (DTHXP30/512GB) showed up for testing this week. This USB 3.0 Flash Drive offers massive storage for on-the-go users and has an MSRP of $1750 and a street price of $800.74 plus shipping.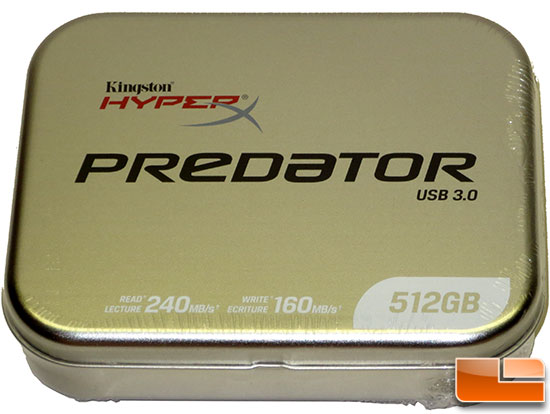 The retail packaging for the HyperX Predator is really nice as you get a large metal tin to store the drive along with all its accessories. Not too many USB keys come with storage tins, so this was unexpected, but nice to see for a drive that costs nearly $1000!
Kingston HyperX Predator 3.0 Features and Specifications:
Highest capacities: uncompromised data storage to carry your digital world on a portable USB drive
Highest performance: unparalleled speeds to save time while transferring content rich data
Zinc alloy metal casing: resilient protection for data in a cutting-edge design
HyperX valet keychain: exclusive accessory for a stylish twist to portable storage
Guaranteed: five-year warranty and free technical support for added peace of mind
Speed

USB 3.0: 240MB/s read and 160MB/s write
USB 2.0: 30MB/s read and 30MB/s write

Backwards compatible with USB 2.0
Capacities: 512GB, 1TB (later in Q1)
Dimensions:

without key ring: 2.8346" x 1.0606" x 0.8268" (72mm x 26.94mm x 21mm)
with key ring: 3.4854" x 1.0606" x 0.8268" (88.53mm x 26.94mm x 21mm)

Operating Temperature: 32°F to 140°F (0°C to 60°C)
Storage Temperature: -4°F to 185°F (-20°C to 85°C
USB 3.0: latest USB standard guarantees backwards compatibility with USB 2.0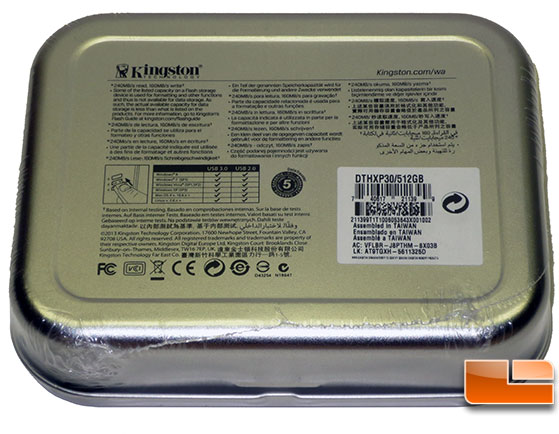 The back of the retail packaging lists the key features of the DataTraveler HyperX Predator as well as the warranty information (5-years) and the serial number of the drive. There is a URL on the back of the box that goes to www.kingston.com/wa, but the box doesn't say what that URL is. We went to there and found it is the Kingston Technology Warranty landing page.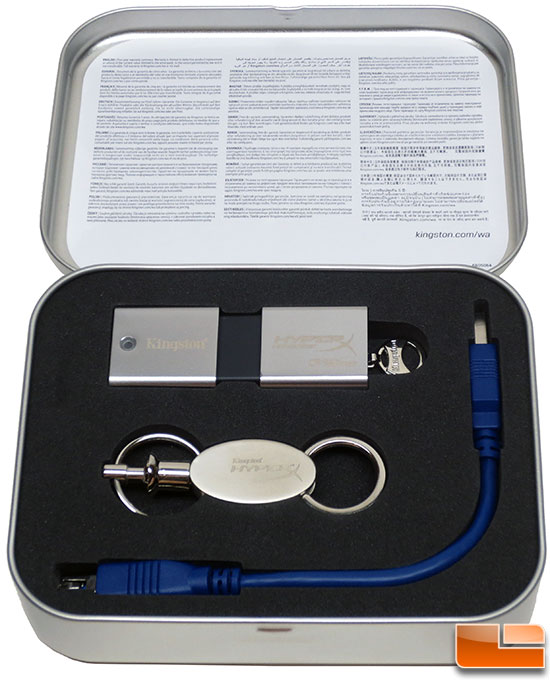 Inside the retail packaging is a very nice accessory bundle and of course the drive itself. The HyperX valet key chain is very nice and looks like something that you'd actually be able to use and not just throw away. The included USB 3.0 extension cable might be odd to include, but since this USB drive is so thick it can't fit in really tight USB port locations and you have to use this extension. Kingston really thought this bundle out and included everything that you'd need to properly use this drive!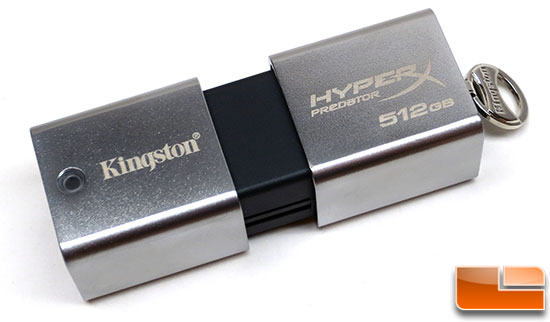 The Kingston DataTraveler HyperX Predator 512GB Flash drive is a fairly big thumb drive as it is 72mm x 26.94mm x 21mm without the key ring. The drive housing has two silver aluminum blocks on each end with one that slides to unveil the USB 3.0 port on one end of the drive. The black middle section is made from plastic and contains all the components that make this drive work.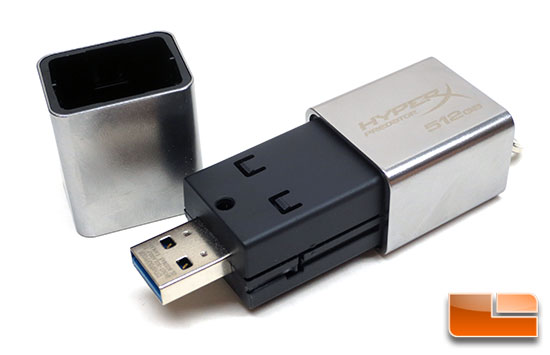 We tried to take the DataTraveler HyperX Predator apart, but stopped when we were told that Kingston would eventually send over internal shots and when the drive wouldn't easily come apart. The metal surfaces of the drive do show finger prints, but can be easily wiped off with a cloth.
01/29/2013 Update: Kingston has sent over pictures of the inside of this drive for us!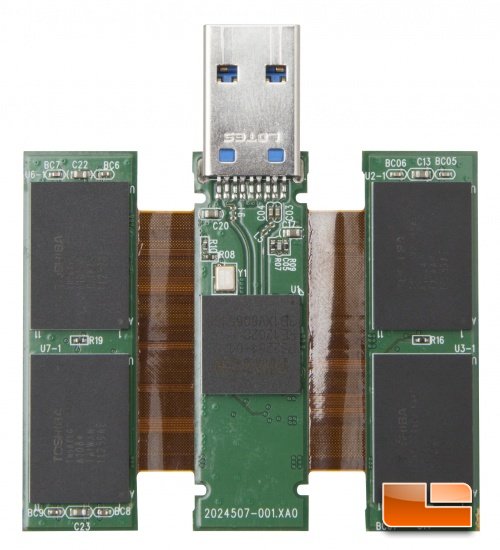 There are actually three different PCBs for this 512GB drive and they are folded accordion style for space saving reasons. Kingston informed us that they are using a Phison controller and Toshiba 19nm NAND Flash on the 512GB drive. In total there are eight 64GB Toshiba 19nm NAND Flash chips used. The 1TB drive that is launching later this quarter will likely use different NAND. Kingston is still working on developing the 1TB drive, but Legit Reviews was told that it would likely be using Micron NAND Flash.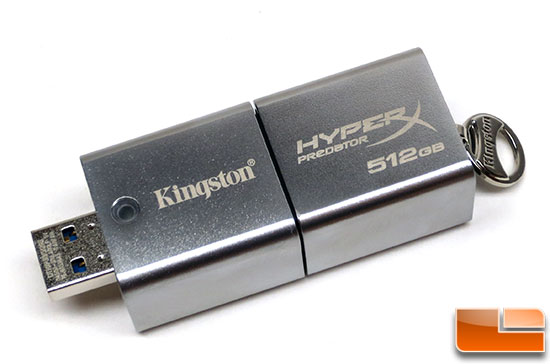 One side of the drive has the Kingston company name and product branding (shown above) and the other side is blank. Kingston also placed a blue LED activity light on the branded side of the drive for you to see when it is in use. When the drive is ad idle the light is not on, which is nice for those that often leave a USB drive plugged in.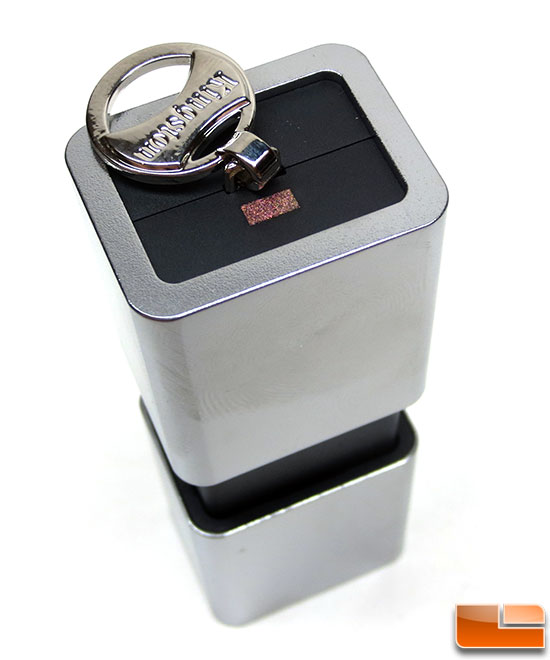 The key ring on the DataTraveler HyperX Predator is metal that has been crimped on to a steel loop that goes into the body of the drive. We really like the all metal design, but don't like the fact that the ring is just crimped on! At $800.74 plus shipping, this is not a drive that you'd ever want to lose! We also noticed that Kingston has some anti-counterfeiting measures on the key ring end of the drive.
Now that we know the basics of the drive we can get to performance testing!
Test System and Capacity
Test System and Software Setup
To try out the Kingston Flash Drive we will us using an Intel Z77 platform on the integrated Intel SuperSpeed USB 3.0 interface. If you would like to know more about this mini-ITX test system you can read an article on how to build it yourself here. We used Intel USB 3.0 driver version 1.0.5.235 for testing.
Legit Reviews Intel Z77 Test System Parts List:
Intel Core i7-3770K Ivy Bridge Processor - $349.99
ASUS P8Z77-I Deluxe mini-ITX Z77 Motherboard - $199.99
EVGA GeForce GTX 670 SuperClocked - $419.99
Cubitek Mini ICE ITX Case - $169.99
Kingston HyperX 480GB SSD - $669.99
Western Digital Caviar Black 2TB Hard Drive - $214.00
CoolIT Eco II 140 Liquid Cooler (thanks to Maingear)
Samsung Slimline 8x DVD Burner - $23.99
StarTech Slim Optical 5.25" Drive Bay Adapter - $26.99
StarTech Slimline SATA to SATA Adapter Cable - $8.99
2 x 140mm High Static Pressure Fans - $30
AFT PRO-37U USB 3.0 3.5" Media Card Reader - $54.99
Corsair AX 650W Gold PSU - $149.99
Windows 7 Ultimate 64-Bit - $189.99
Capacity:

When we plugged in the Kingston HyperX Predator 512GB Flash Drive for the very first time we found the drive was totally empty and formatted for use right out of the box.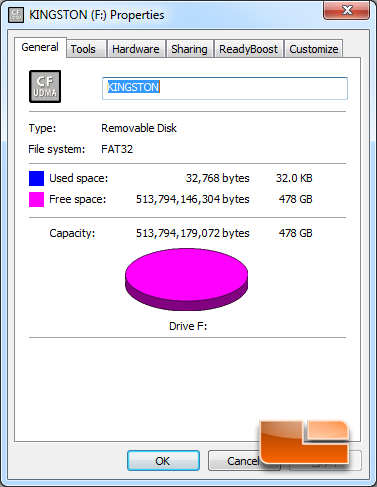 The total useable capacity of this 512GB drive is 478GB. The conversion from physical GB to the virtual GiB is why there is a difference. You can see that that the drive uses the FAT32 file system.
Synthetic & Real World Benchmarks
CrystalDiskMark 3.0.2d x64:
CrystalDiskMark is a small benchmark utility for drives and enables rapid measurement of sequential and random read/write speeds. Note that CDM only supports Native Command Queuing (NCQ) with a queue depth of 32 (as noted) for the last listed benchmark score. This can skew some results in favor of controllers that also do not support NCQ.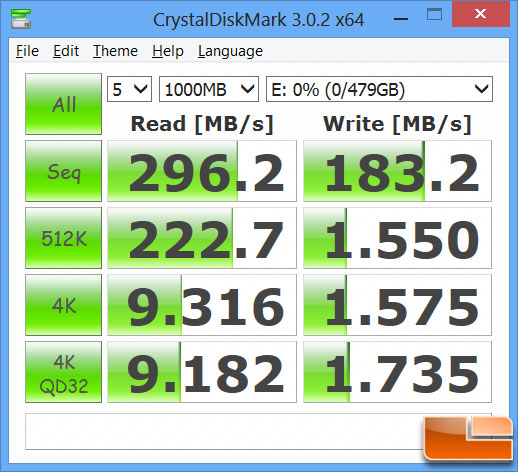 Benchmark Results: CrystalDiskMark showed that we hitting 296MB/s read and 183MB/s write on the sequential test! Not bad considering that the drive is rated at 240MB/s read and 160MB/s write! The 512K and 4K write speeds aren't that impressive, but this is a USB Flash Drive and not a storage drive!

ATTO v2.47:
ATTO is one of the oldest drive benchmarks still being used today and is still very relevant.. ATTO measures transfers across a specific volume length. It measures raw transfer rates for both reads and writes and places the data into graphs that can be very easily interpreted. The test was run with the default runs of 0.5kb through 8192kb transfer sizes with the total length being 256mb.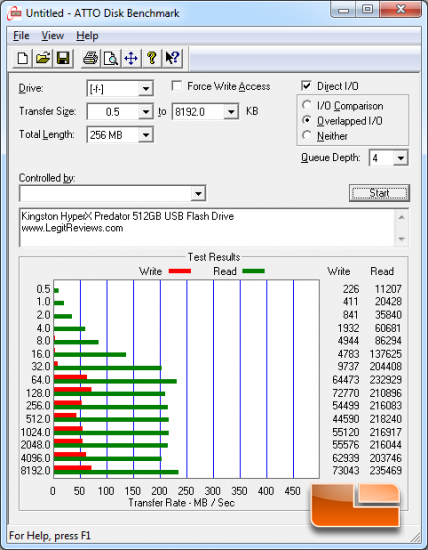 Benchmark Results: The Kingston HyperX Predator 512GB USB 3.0 Flash drive was able to hit 235MB/s read and 73MB/ write speeds in ATTO with the default benchmark settings. The write speeds weren't that impressive in this benchmark and were far lower than the advertised speed rating.

Check Flash v1.16.2:
Check Flash is a multi-purpose flash drive testing and maintenance tool. This utility allows for error checking, speed tests, and much more.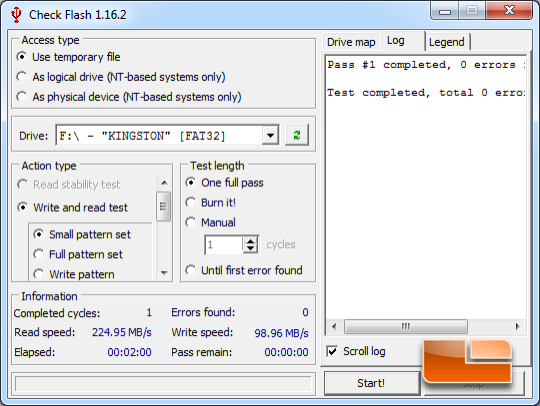 Benchmark Results: Check Flash showed that we averaged 224.95MB/s read and 98.96MB/s write on the speed test. It also didn't find any errors on the 512GB drive, which is good news.
Real World File Transfer Tests
TeraCopy is a compact program designed to copy and move files at the maximum possible speed and features a timer that works great for review purposes as we can easily show you time differences between different file transfer scenarios. TeraCopy also uses dynamically adjusted buffers to reduce seek times and has asynchronous copy speeds up file transfer between two physical hard drives. Let's see what the Kingston HyperX Predator 512GB Flash drive can do when moving around a 551MB folder containing 178 images taken at CES 2013 on our Canon PowerShot Elph 320HS digital camera!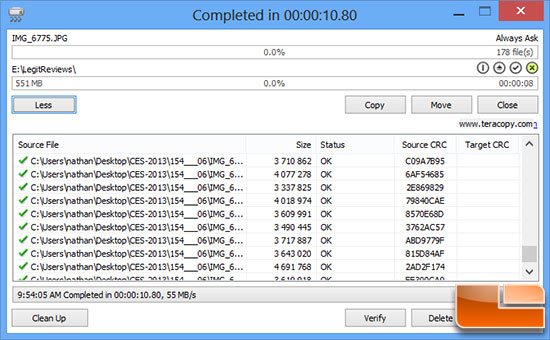 The very first test that we ran was to see how long it took to move the 551MB file directory from the SSD on our system to the Flash Drive. The file transfer took 10.8 seconds to complete and averaged 55MB/s transfer speeds writing from the system to the DataTraveler HyperX Predator. ATTO showed 55MB/s write speeds at a number of file sizes, so this real world test confirms those synthetic benchmark results!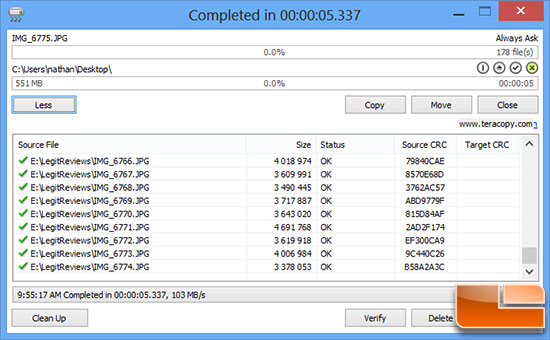 The next test we ran was to copy the 551MB directory from the Flash Drive to the desktop of our test machine. This is a test of the read speeds and we noticed that the performance increased a103MB/s and that it took just 5.4 seconds to move the files over.
Not bad performance numbers as you'll be wanting fast transfer speeds when you have 512GB of data on a Flash drive!
Final Thoughts and Conclusions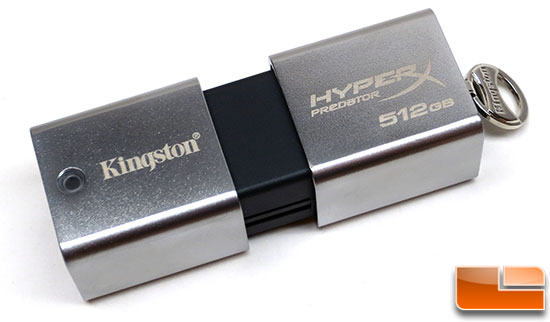 At the end of the day, we found the Kingston DataTraveler HyperX Predator USB 3.0 512GB Flash Drive (DTHXP30/512GB) to pretty damn impressive. When we started Legit Reviews in 2002 we were reviewing 8MB and 16MB USB 2.0 drives and here we are more than ten years later reviewing 512GB USB 3.0 Flash drives! The need and functionality of USB Flash drives have not changed over the past decade, but the capacities and speeds they are available at keep increasing every year!
When it comes to performance, Kingston says this drive has 240MB/s read and 160MB/s write speeds when used on a USB 3.0 ports. We saw sequential read and write speeds well above the speed ratings in benchmark utilities like CrystalDiskMark, so this drive is fast!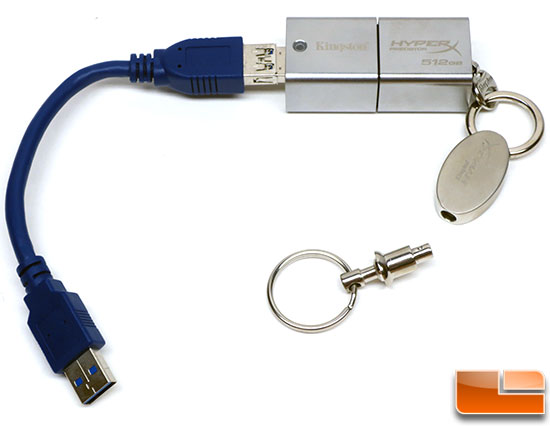 If you are looking for gobs of storage space the DataTraveler HyperX Predator 512GB or 1TB drives should have plenty of room and are pretty darn fast thanks to the SuperSpeed USB 3.0 data interface. The only real downside to a drive this large is the price tag. At $800.74 plus shipping on Amazon, this drive isn't going to be for the average home user, but rather enthusiasts and business users that have a need for such a device.
The Kingston DataTraveler HyperX Predator 512GB is well constructed and it feels good when in your hand. Our only complaint with the drive is that it shows finger prints, but that shouldn't be a deal breaker! If something should ever go wrong with this drive it is backed by a five year warranty along with Kingston's tech support where can quickly get help or an RMA started between the hours of 6am to 6pm PT.
Right now there are no other 512GB USB Flash drives on the market, so if you need a drive with this much capacity this one is easily recommended!
Legit Bottom Line: The Kingston DataTraveler HyperX Predator USB 3.0 512GB Flash drive is big, fast and expensive, but it does exactly what it is supposed to do!