Ready, Set, Hike!
The Pepcom Digital Experience event is a side event at CES for media for companies to display their latest technology related products. Although much smaller than the CES show, they pack in a lot of great content and theres always a lot to see.
Every year, they have some sort of theme for the event and this year, since it coincided with the BCS Championship game, it was football themed.
Cheerleaders greeted us as we entered (after the long check in lines) and we were off!
For the record, the Notre Dame portion of the ice sculpture had less of a meltdown than the actual team on the field did.
Blue mini footballs were abound as football players wandered the area. Let's have a closer look at some of the notable products we saw.
ViewSonic 4K, Tech21 Cases
ViewSonic 4K Monitor:
One of the most exciting and new things in televisions and displays is 4K resolution or ultra high definition as it's commonly referred to. While the images look fantastic they are currently very expensive and outside of cost, there's very little content available on the television side of things. For a computer monitor, that changes as it's much easier to use the resolution to its fullest off of a PC and photo editing on one of these babies will surely be a interesting experience.
While the 32" VP3280 monitor above that ViewSonic was displaying is not yet available, they expect to have it available sometime early this year. The roadblock at this point is being able to offer them at a price point that won't give consumers sticker shock. Nevertheless, the display was pretty amazing and we can't wait to get our hands on one to play with!
Tech21 Impactology Cases - Impact Shield and Explorer:
A booth display that grabbed our attention with what looked like a vat of orange goo turned out to be a chemical concoction designed for impact resistance inserted in to mobile device cases, which Tech21 terms Impactology. This is made of D3O Impact Material which is a composed of a non-Newtonian polymer with an intelligent molecular structure. For most applications, the molecules flow freely, but instantly upon shock or impact they lock together . This absorbs the impact and spreads it evenly across the surface of the material making it a great solution to protect electronics and even more valuable assets. As an example, various military have adopted the technology to increase impact protection for the soldiers.
The Impact Shield cases will go on sale in the first quarter and will run roughly $35 depending on the model phone they fit - which is a decent variety. The Explorer case is waterproof up to 2.5 meters and will also be on sale in the first quarter with an MSRP of roughly $100.
The show was well attended!
Amped Wireless 802.11ac, Samsung Series 7, and Monster Gaming Headset
Amped Wireless' Next Generation 802.11ac WiFi Gear
Amped Wireless recently introduced their 802.11ac family of products to the world. These include everything from routers, to range extenders, to wireless adapters.

Just to give you a quick overview, if you are unfamiliar with 802.11ac, it is an upcoming standard that allows for superior bandwidth over the current 802.11 a/b/g/n standards. 802.11ac works on the 5GHz band and can provide up to gigabit speeds over WiFi. This is great for the wireless networked home or office that is streaming video, sharing files, or just your every day downloading and browsing of the internet.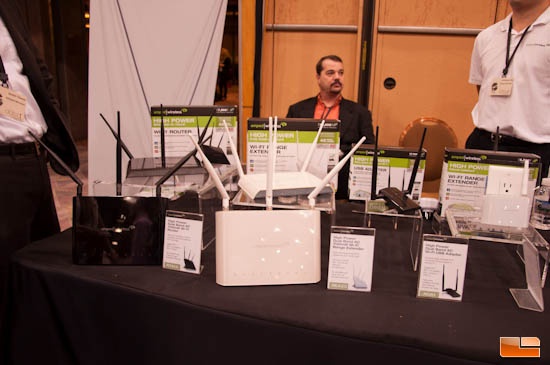 The first product that was introduced was the RTA15 802.11ac wireless router. This high power, 700mW router, has three high gain antennas and 10 power amplifiers. This amount of power and amplification should provide plenty of range for your home or office.
Amped's solution to get you these crazy fast speeds is to use the ACA1 wireless adapter. This device runs on a USB 3.0 interface and will give you ultra-fast connectivity to your desktop or laptop PC.
One other little item that somehow stuck out, was the company's TAN1 adapter for Windows 8 tablets or laptop. This little adapter is just meant to clip onto the top or side of your device, to keep it up and out of the way, while utilizing a standard or micro USB port. There is no additional software to install, so that makes this little adapter simple and easy to use.
High Power Wi-Fi Amplifiers for improving Wi-Fi transmitting capabilities
Low Noise Amplifiers for improving Wi-Fi receiving capabilities
High Gain Antennas
Adjustable clip to accommodate all tablets and cases
Connects via USB 2.0 or micro USB connector
Provides up to 3x the range of embedded Wi-Fi adapters
The TAN1 wireless adapter will be available early 2013.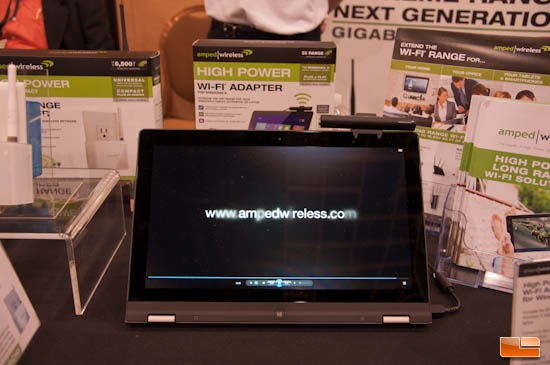 Samsung Teases Series 7 Chronos and Ultrabook
At Pepcom's event during CES 2013, we got a chance to take a look at the recently announced Samsung Series 7 Chronos and Ultrabook.

The Series 7 Chronos (770Z5E) was quite the beauty to look at. The 15.6", 10-finger multi-touch screen looked absolutely beautiful. When looking at Chronos' display, you're looking at 300nits of full HD (1080p) goodness. The general Windows 8 interface on this laptop was a pleasure to work with, as it was rather fluid and swift. Quite honestly, one would probably expect that from the Intel Core i7 CPU that is packed inside.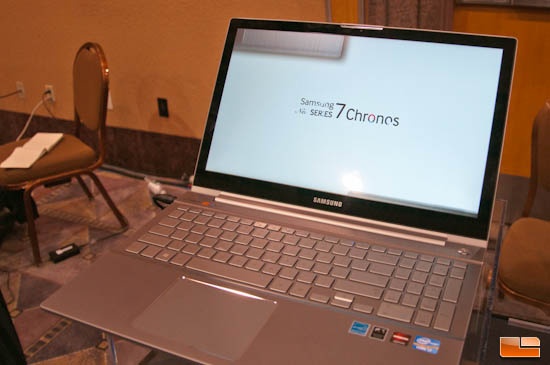 Look for the Chronos with up to 16GB of RAM, 1TB HDD, and the AMD Radeon 8870m with 2GB of GDDR5 memory. The best thing to look forward to in this laptop is the 11 hour battery life. That is an absolutely fantastic number to see!
The next in line was the Series 7 Ultra (730U3E), which is the first Ultrabook in the Series 7 line. This ultrabook packs a 10-finger multi-touch 1080p display, just like the Chronos, but is just a little bit brighter at 350nit. It comes complete with an Intel Core i5/i7, with the 1GB AMD HD8570m graphics processor. You will also get up to a cool 256GB SSD for your storage. There wasn't much hands-on with this one, but it was definitely nice and light, which is listed at less than 3.5lbs.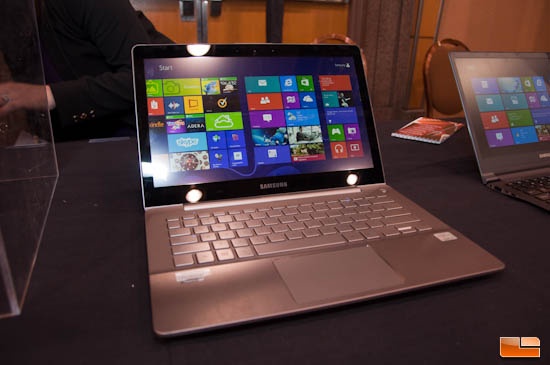 Unfortunately there is no concrete availability.
Monster Pairs Up With EA For Gaming Headset
The same guys who bring you the famous line of cables for your audio and video needs, bring you the EA SPORTS MVP Carbon by Monster. These headphones have a suggested retail of $269.95, so they are likely out of reach for many gamers' budgets.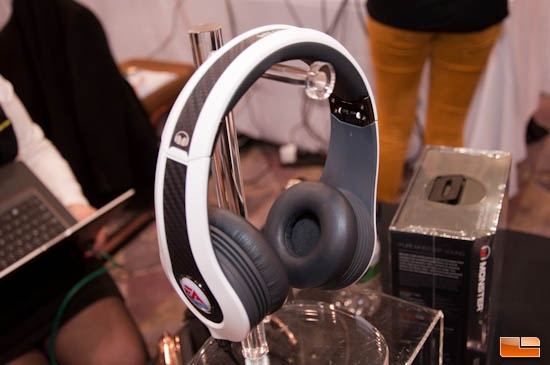 The headphones have a very comfortable feel. The on-ear portion is very soft and light on your ears, that you shouldn't have to worry about them squeezing your head too much. The headphones are so light to the touch, that I almost felt like I was going to break them. Rest assured, the wonderful person at Monster restored faith in me that they are quite flexible, and indeed they are from what she demonstrated.
Speaking of flexibility, these headphones will work seamlessly between your PC, Xbox, Playstation 3, or Nintendo Wii and Wii U consoles.

Monster pointed out that these headphones do not have multiple speakers for surround sound, but instead they use sophisticated sound processing method to do this. Monster calls this method High Definition Headphone Surround (HDHS).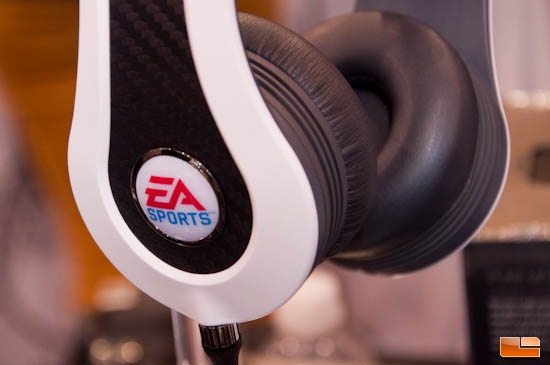 These headphones do have folding earphones, so it will make taking them on the go very simplistic. The shot below does not show off the microphone, but there is a spot that it can plug into on the underside of the headphone.
According to Monster, these headphones will also be available in both black and white, beginning February 2013.
Seagate Wireless Plus, LEGO Mindstorms EV3, and Arrayent Connect
Seagate's On-The-Go Wireless Plus Portable HDD and Central Storage
Seagate had two new products to show us at this year's Pepcom. The two products in question are the Wireless Plus mobile device storage and the Central shared storage unit.
The Wireless Plus device is a very cool idea! It has a 1TB HDD inside, and allows you to use it wirelessly to share media and content. It does not work off of Bluetooth like some may expect, but it works off of standard WiFi. The Wireless Plus creates its own WiFi network, so there is no need to be connected to the internet to use it. It is just a simple load up what you want on it, throw it in your backpack, briefcase, purse, or pocket, and connect your devices to it via Android or iOS software.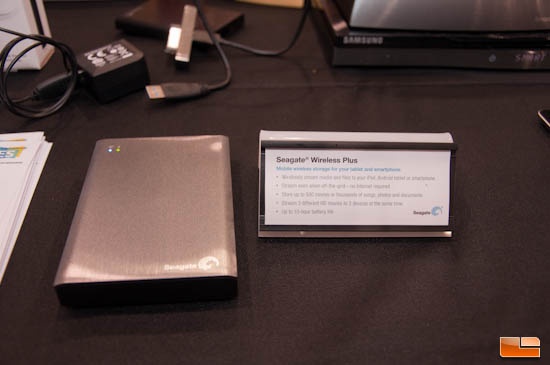 The Wireless Plus will be shipping in 1-2 weeks, with a suggested retail of $199.99.
Seagate also has another great product available, called Seagate Central. This device is the first storage device to feature a smart TV app, to access your files on the big screen. This app will work on either Android or iOS. You'll be able to access your movies and music from home networked devices, or even on-the-go out on the road. Seagate Central can even be a central (pun not intended?) hub to back up your PC or Mac to.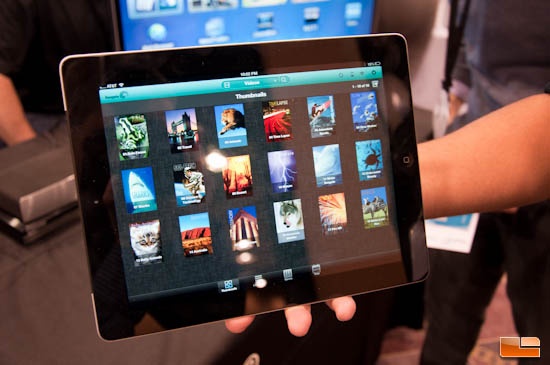 Seagate Central will be available in 2TB, 3TB, and 4TB sizes. They will carry an MSRP of $189.99, $219.99, and $259.99 respectively, and will be available in March 2013.
LEGO Mindstorms Education EV3 – For Fun, Or For Education?
Taking a break from all of the serious gadgets out there, we take a look at the LEGO Minstorms Education EV3. Wait a minute; didn't I just say we are going to take a break from the serious stuff? Well, yes and no. These gadgets are definitely meant to be a serious learning tool, but you can still have a lot of fun with them.
LEGO Mindstorms is the third generation of LEGO education products, which is designed for classroom use. The devices you construct are going to be connected via Bluetooth. The gentleman that I spoke with at LEGO showed me a color sensor in reflective light mode, and the data that it displays on the screen. He also showed me a few motion activated constructs, which had ultrasonic sensors to detect movement and they can react from there.
LEGO MINDSTORMS Education EV3 kit is now available for preorder for £269.99 to £323.99 and will ship Fall 2013.
Check out the video below for a demo of their products.
Never Be Left Wondering About Your Home, With Arrayent Connect Platform
With today's smart phones doing just about everything but your laundry, comes the desire to control your home while on the go. Home automation is becoming very large, as people would like to be able to do just everything with a smart phone. Arrayent said they have teamed up with many major brands, including First Alert, LiftMaster, Chamberlain, and Whirlpool, to connect your home to your smart phone.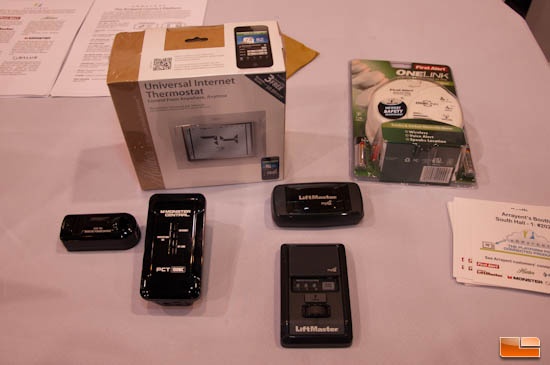 Speaking with the Arrayent reps, they demonstrated some very practical uses for their products. There is the First Alert smoke alarm, that when triggered, can send you a text message alerting you of such. Then there is a power strip that lets you control whether the power strip is on or off, all while controlling it from your smart phone. Of course you've got the internet connected thermostat, for a cool $99. They've even integrated themselves into a garage door opener, to tell if the door was left open or not. This kit can even tell you when the last time the garage door was opened or closed last. LiftMaster has a kit available with purchase of a new opener, or you can even add on the kit to an existing opener.