Silverstone Strider Gold Evolution 750W PSU Introduction
Silverstone might be a new company, about to celebrate their 10th birthday a few months from now, yet their rate of growth has been astounding. The company started off as a high quality case manufacturer but their vast success allowed them to quickly diversify into other segments of the market. Thus, today Silverstone produces not only cases but also power supplies, cooling related products and accessories. It is one of their most popular PSUs which we will be having a look at today, the ST75F-G Strider Gold Evolution 750W, a fully modular design aiming to please very demanding users. We will find out whether it succeeds or not in this review.
Even though Silverstone initially focused their corporate strategy on computer cases and case-related products, ironically their very first products were two power supplies, the pioneers of the Strider range of products. They have come a long way since then, with many revisions and upgrades to their products.
| | | |
| --- | --- | --- |
| Model | Watts | Price |
| Silverstone Strider Gold | 550W | $109.99 |
| Silverstone Strider Gold | 650W | $129.99 |
| Silverstone Strider Gold Evolution | 750W | $149.99 |
| Silverstone Strider Gold Evolution | 850W | $168.99 |
| Silverstone Strider Gold Evolution | 1000W | $209.99 |
| Silverstone Strider Gold Evolution | 1200W | $239.99 |
The Strider Gold Evolution 750W power supply unit which we will be having a look at today is a fully modular design, 80Plus Gold certified and boasts great performance alongside with low noise operation for $149.99 plus $11.60 shipping, a competitive price for what Silverstone claims this product to be capable of.
Manufacturer's features
80 PLUS Gold certification with high efficiency 88%~91% at 20%~100% loading

Ultra silent 139mm Air Penetrator fan with fluid dynamic bearing

FF141 magnetized fan filter included

100% modular cables

750W (850W peak power) 24hour fully continuous power output with 40C

operating temperature

Class-leading single +12V rail with 62A

Strict ±3% voltage regulation and low ripple & noise

Japanese main capacitors

Dual EPS 8pin with multiple PCI-E 8pin and PCI-E 6pin connectors support

Support ATX 12V 2.3 & EPS 12V
Manufacturer's specifications
Model No.

SST-ST75F-G Evolution

Max. DC Output

750W (Peak 850W)

Load Range

| | | | | | |
| --- | --- | --- | --- | --- | --- |
| | +3.3V | +5V | +12V1 | +5VSB | -12V |
| Max.(Amps) | 22A | 25A | 62A | 3.5A | 0.3A |
| Min.(Amps) | 0.3A | 0.3A | 0.1A | 0.1A | 0A |
| Range (%) | ±3% | ±3% | ±3% | ±5% | ±10% |
| Line Reg.(%) | ±1% | ±1% | ±1% | ±1% | ±1% |
| Ripple(mVp-p) | 50mV | 50mV | 120mV | 50mV | 120mV |

combined +3.3, +5V

150W

combined +12V

744W / 62A

Input Voltage

90V~264V

Input Frequency Range

47Hz ~ 63Hz

PFC

Active PFC.(PF>0.95 at Full Load)

Efficiency

88%~91% at 20%~100% loading

MTBF

100,000 hours at 25°C(at Full Load)

Operating temperature

0°C ~ 40°C

Protection

Over Current Protection
Over Power Protection
Over Voltage Protection
Over Temperature Protection
Under voltage protection
Short Circuit Protection
No Load Protection

Connectors

1 x 24 / 20-Pin Motherboard connector (550mm)
1 x 8 / 4-Pin EPS / ATX 12V connector (750mm)
1 x 8 / 4-Pin EPS / ATX 12V connector (550mm)
2 x 8/6-Pin PCIE connector (550mm)
2 x 6-Pin PCIE connector (550mm)
8 x SATA connector (600mm / 150mm / 150mm/150mm)
6 x 4-Pin Peripheral connector (600mm / 150mm / 150mm)
2 x 4-Pin Floppy connector (600mm / 150mm / 150mm / 150mm)

Color

Black (scratch resistant and lead-free paint)

Cooling System

Ultra silent 139mm Air Penetrator fan with fluid dynamic bearing

Noise Level

17dBA-28dBA

Dimension

150 mm (W) x 86 mm (H) x 180 mm (D)

Weight

3.075 kg

Certification

80 PLUS Gold

Other
Unboxing the ST75F-G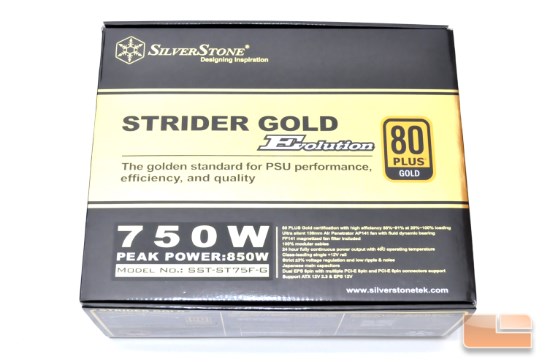 The ST75F-G power supply comes supplied in a large, strong cardboard box. Inside the box we found the power supply well protected by walls of polyethylene foam and a thick nylon bubble bag. Even though there virtually isn't any artwork on the box, half of the box is glossy gold; it might be a little kitschy but it certainly draws a lot of attention.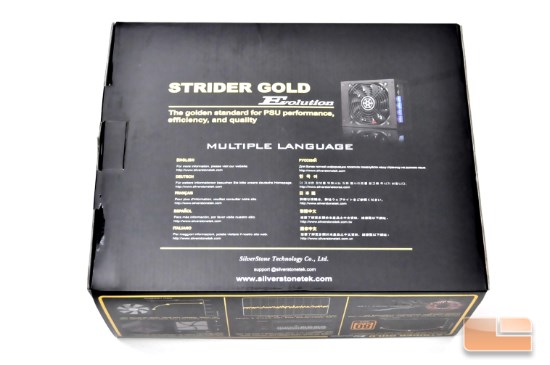 Only links to the manufacturer's website and support e-mails can be found at the rear of the large box. Silverstone decided to move all of the specifications, features and marketing hype to the four sides of the box.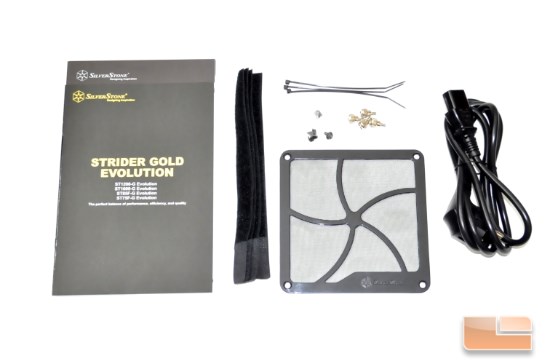 Those who will purchase the ST75F-G power supply will also receive an almost perfect bundle. Inside the box we found an excellent manual, four black mounting screws and a second set of thumbscrews, an A/C power cable, a set of high quality cable straps, a few basic cable ties and a magnetic 140mm fan filter which can be used on the PSU or any other fan of similar size. The only thing that is missing is a bag for the modular cables.
External Design of the ST75F-G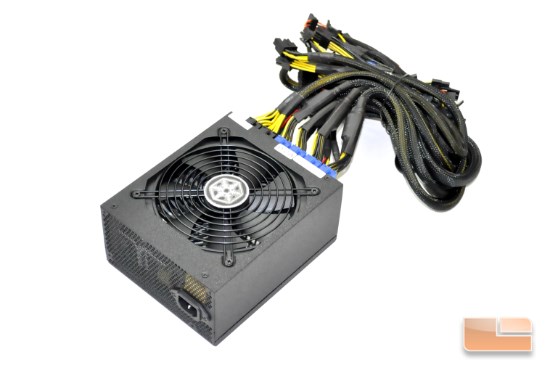 Silverstone supplies the ST75F-G PSU with all of its modular cables attached, a display which is somewhat frightening as the space which the unit occupies seems excessive, even if it is not any greater than that of any other similar unit. The steel body of the unit has been sprayed with a textured grey paint and Silverstone placed a metallic badge with the company's logo over the cooling fan's engine, but that is about as far as aesthetic and functionality improvements go regarding the body of the unit itself.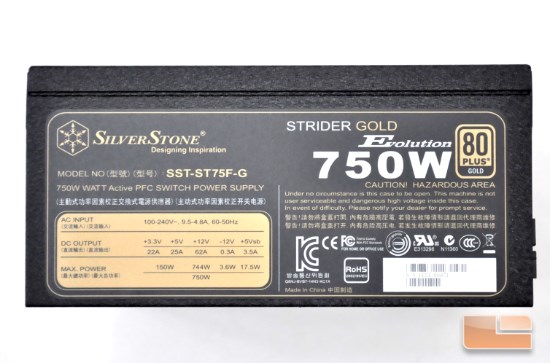 Strangely, Silverstone placed the sticker with the electrical specifications of the ST75F-G on the side of the power supply, a spot usually reserved for decorative stickers. The sticker will be visible if the side panel of the case is windowed over the PSU compartment area.
Instead of decorating the sides of their power supply, Silverstone engraved their company name and logo on the top side of the ST75F-G. This will be visible if the PSU compartment is at the bottom of the case and the power supply is installed with its fan facing downwards, if the case is very well lit of course.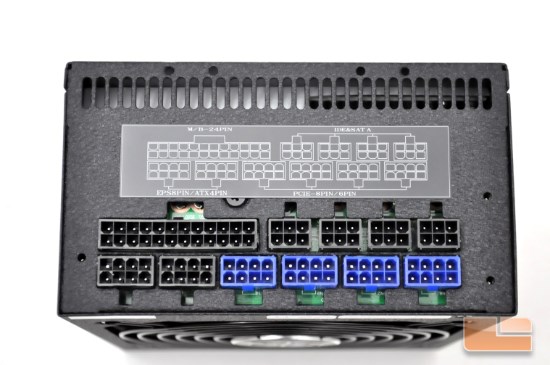 The rear of this power supply is quite busy, with eleven connectors for the modular cables placed tightly next to each other in two rows, a sticker with a basic legend indicating for which cable is each connector meant for and even a row of vents to eliminate warm air pockets inside the body of the power supply. Users need to be careful because the four blue PCI-E cable connectors are similar to the black EPS 8-Pin connectors and, even if the cables are keyed and will not fit without significant force, equipment will be damaged if the wrong connector is used.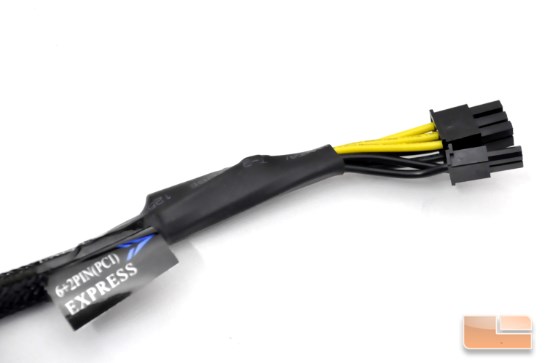 In order to reduce electronic noise which is relatively common with high performance VGA cards, Silverstone installed 2200uF capacitors on the PCI-E connectors of this unit. Although it certainly is a welcomed feature, the capacitors also add bulk, fortunately not very close to the end of the cable.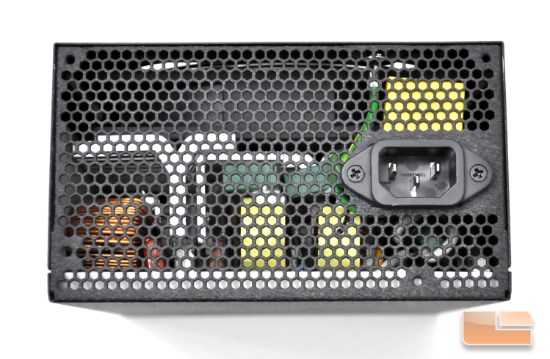 The front side of the Silverstone ST75F-G power supply is entirely plain and we do mean entirely; only the A/C receptacle can be found, with not even a simple on/off switch. Such a switch is not really necessary with units of that level but it is good to be there, even if only to turn the PSU off when you are not planning to use the system for prolonged periods of time in order to stop it from unnecessarily wasting energy.
A look inside the ST75F-G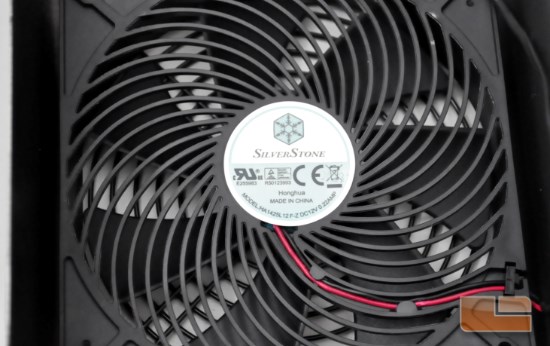 Silverstone heavily advertises their own "Air Penetrator" 139mm fan they installed inside the Strider Gold Evolution, claiming that it can enhance the thermal performance of the power supply severely by guiding airflow into a column. This is achieved by the spiraling grid which also doubles as a fan guard and, according to Silverstone's demonstration videos, it does really work. But will air guidance do any good inside a power supply? We will find that out later, during our thermal testing.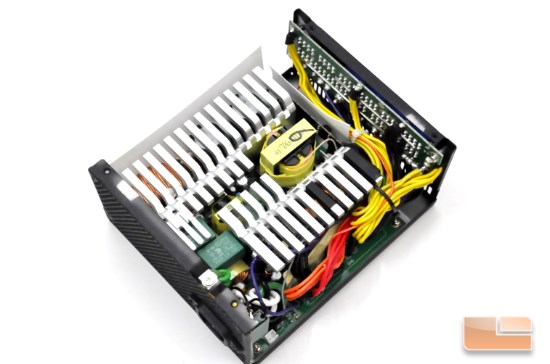 The OEM behind the Silverstone ST75F-G power supply is Enhance and the design is very popular among manufacturers for units of that size. The distinctive feature of this particular design is not the topology or and special features but the very large aluminum heatsinks instead. The manufacturing quality is very good but everything is very tightly packed together, as the heatsinks and the internal cables take a lot of space.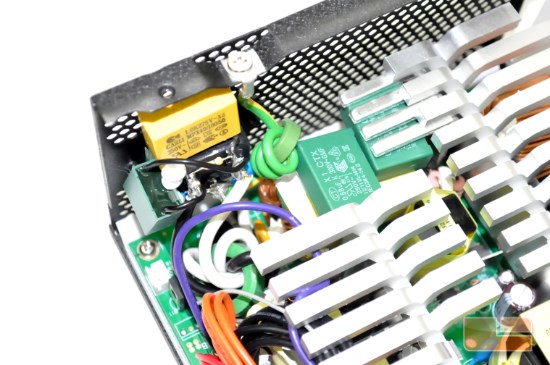 The filtering stage begins at the behind of the A/C receptacle and continues onto the main PCB. We counted four Y capacitors, four X capacitors, two filtering chokes and a MOV; more than enough components for a good filtering stage. There is also a simple glass fuse hidden below the tightly packed components.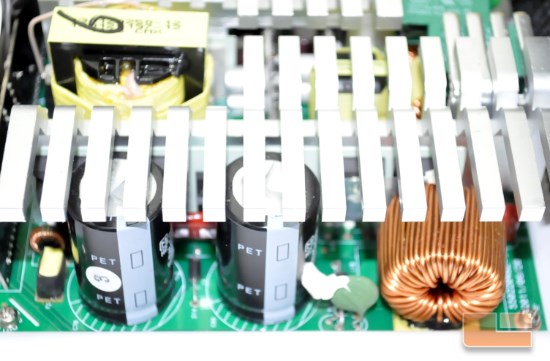 Two Matsushita 270uF/420V 105°C capacitors can be seen next to a large coil, forming part of the APFC circuit. The active PFC components, two transistors and a diode, are on the main heatsink, alongside the two switching transistors which form the primary side inversion circuit.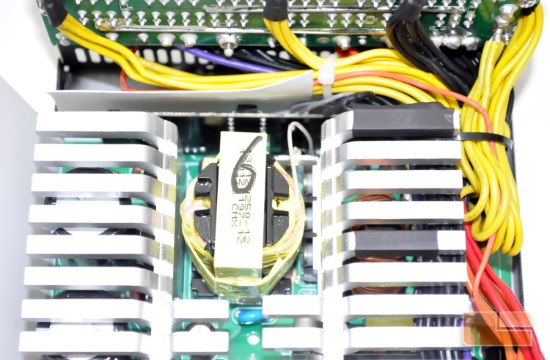 Unfortunately, the secondary side is excessively crowded, to the point that one cannot take a proper picture of the design. The synchronous rectifier comprises of four transistors which are installed on the large heatsink. Below the heatsink, two DC to DC conversion boards generate the 3.3V and5V lines. All of the secondary capacitors are supplied by Nippon Chemi-Con, another renowned Japanese manufacturer. Unfortunately, the design is using cables to bring the power to the vertical PCB which holds the modular connectors, which cables do take a lot of volume inside the unit.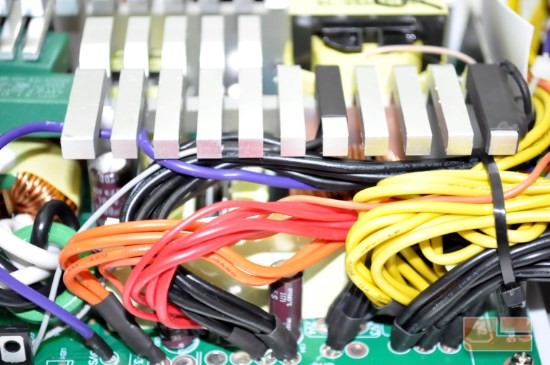 Test Setup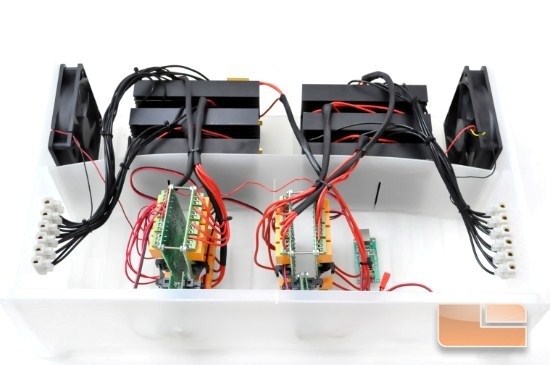 In order to be able to effectively and efficiently test any computer power supply unit, we developed and constructed our own proprietary testing station. Our testing station consists of a number of power resistors and small capacitors, which in turn are connected to a RS485 electronic relay array which allow our load to be controlled through computer software alone.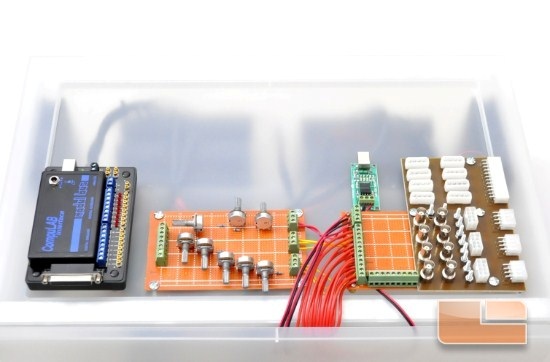 When accuracy and speed are of critical importance, a simple multimeter or voltage meter is not sufficient for the task. To ensure the quality of our testing, an USB laboratory interface is being used to continuously monitor and record the readings of all voltage lines simultaneously. For ripple measurements, an oscilloscope is necessary and we chose the USB Instruments Stingray, the most widely used oscilloscope amongst low voltage PSU engineers and testers.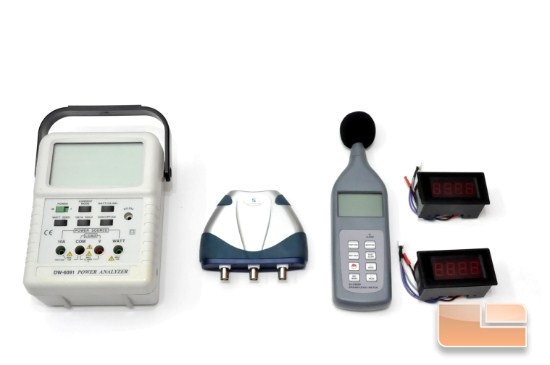 For accurate testing and repeatable results, a stable power input is also required. Thus, we are providing power to our test samples through a 3kVA VARIAC which allows us to control the input voltage of our test samples and also perform efficiency tests under both 110V AC and 230V AC input. A Lutron DW-6091 is also being used, monitoring the input voltage, real and apparent power, power factor and amperage.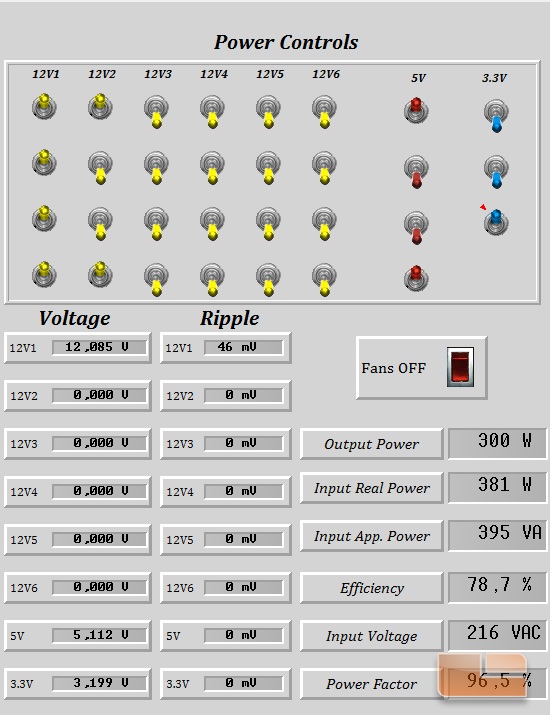 A power supply testing procedure would not be complete without thermal and acoustics tests. For our acoustics tests we are using a SL-5868P digital sound level meter, placed 1 meter away from the unit (DIN standard). Two PT100 sensors and their respective displays are being used to monitor the ambient temperature and the exhaust temperature of the unit.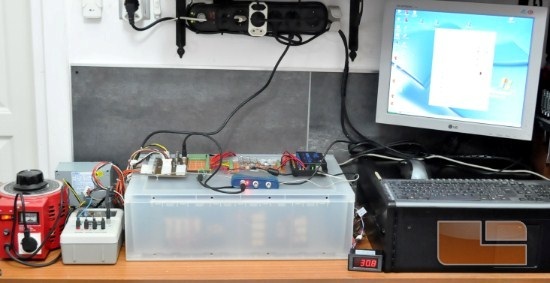 Testing results (Regulation & Ripple)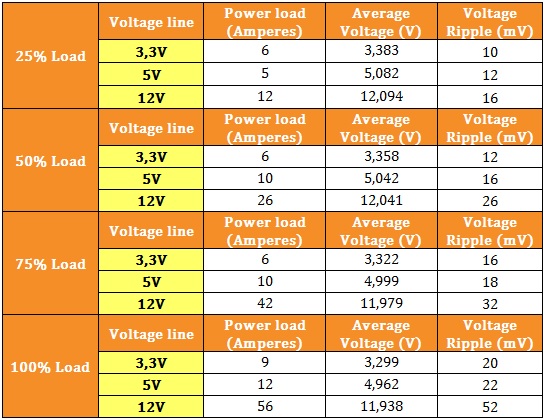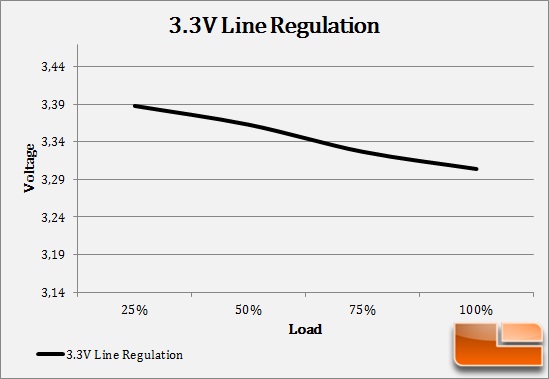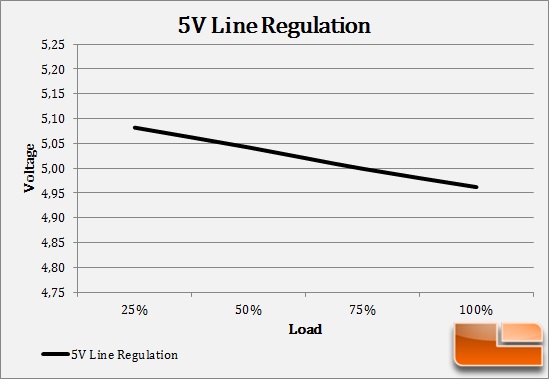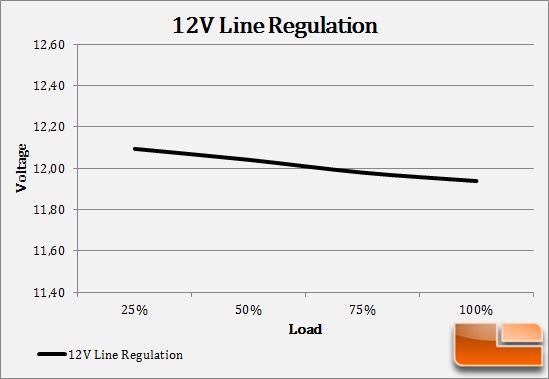 The electrical performance of the Silverstone Strider Gold Evolution 750W power supply is better than average, yet it did not manage to surprise us. Voltage regulation is tight on the 12V line, barely reaching 1.4%, but not as tight on the 3.3V/5V lines, where it goes up to 2.5%. Ripple suppression is good as well, with the maximum ripple displayed under full load being 52mV, less than half of the 120mV design limit but not astounding by today's standards.
Testing results (Efficiency, Noise & Thermal)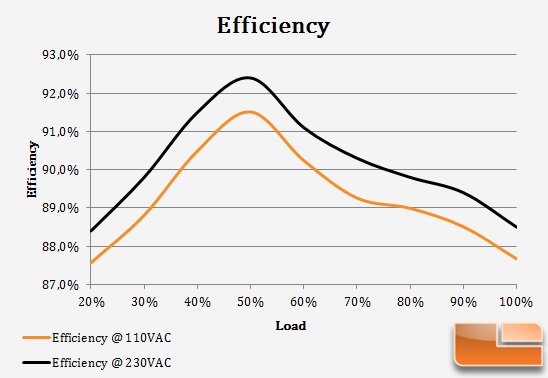 The Silverstone ST75F-G easily honors its 80Plus Gold certification, reaching well over 92% efficiency at 50% load when powered by a 230VAC source and 91.5% efficiency if the input A/C voltage is reduced to 110VAC. The efficiency remains above 88.4% when the unit is powered from a 230VAC source and over 87.6% if the A/C voltage is reduced down to 110VAC.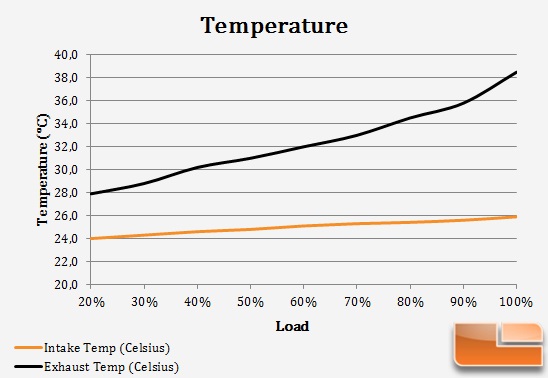 The thermal performance of the ST75F-G was mediocre, with the temperature delta going over 12°C at full load, a significant difference considering the cooling system and efficiency of the power supply. Although the temperature is not very high, it is considerably greater than that what we would expect any similar unit to reach. However, there is a perfectly reasonable explanation, as you will find out in the next paragraph.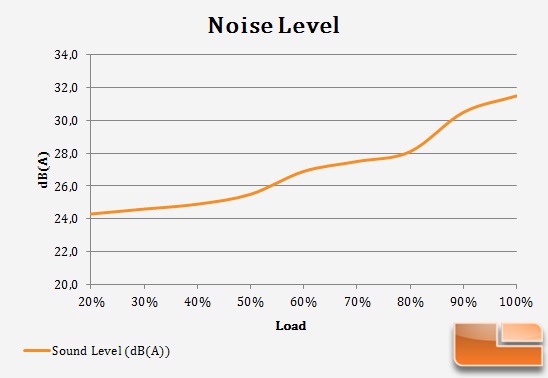 The very conservative cooling profile which Silverstone programmed in the thermal controller of the ST75F-G power supply explains the mediocre thermal performance. It would appear that as long as the temperatures are within safe limits, the controller does not even bother to speed up the fan. As a result, the ST75F-G remains entirely quiet even when heavily loaded, reaching audible levels only if the load exceeds 90% of the unit's capacity.
Conclusion
Silverstone is very serious about their high performance products and the Strider Gold Evolution 750W power supply is no exception to that statement, being capable of doing everything an enthusiast would expect from a 750W power supply and even more. However, we cannot claim that there is no room for improvement, although any modifications could also affect the retail price of the unit and, in extend, its competitiveness as well.
Enthusiasts have come to expect high quality products from Silverstone and the ST75F-G is no exception. Even though the base design of this power supply is old, Enhance did a very good job upgrading its performance to modern standards and for a fully modular design. There are quirks, such as the tight placement of components and cables beneath and around the very large heatsinks, but the ST75F-G is very solidly made and the components used are of great quality as well.
The appearance of the ST75F-G is relatively simple, with only the classy paint job and the fully modular design separating this unit from generic builds. The round fan grill is generic and uninteresting (assuming that the magnetic dust filter is not installed on the PSU) and the bulky cables are simple, color-coded cables with normal black sleeving covering them. Nevertheless, simple does not mean that the ST75F-G is bad looking at all, only that it will not really stand out inside a case, which might be a good thing for people who want to focus their aesthetic theme elsewhere.
Performance-wise, the ST75F-G power supply really excels when it comes to low noise operation, being capable of maintaining comfortable operating temperatures with a minimal level of airflow, allowing the power supply to remain almost entirely silent even if it gets heavily loaded. This in turn has a negative impact on the thermal performance of the unit but not on a level that we would even bother complaining about. Naturally, the efficiency of the ST75F-G is very good and on par with the 80Plus Gold certification which the power supply bears; nothing more, nothing less. When it comes down to electrical performance, both the voltage regulation and ripple suppression figures were good but not impressive, at least not as impressive as the very low acoustic levels.
Legit Bottom Line: A simple summary of the points above suggests that the Silverstone Strider Gold Evolution 750W (ST75F-G) power supply is a well-balanced and high quality product, easily justifying its competitive retail price of $149.99 plus $11.60 shipping at the time of this review.