Samsung Galaxy Note II Phablet
When Samsung launched the Galaxy Note Smartphone last year, the sheer size of the phone shocked many consumers. The Galaxy Note was hands down the largest smartphone that we have ever seen. It measures in at 5.75-inches long, 3.25-inches wide, and just under half an inch thick. When we first started using the device, we found it to be at the upper edge of comfort, and that it would just barely fits in a pair of jeans. It was like Samsung was creating a device for people like Shaquille O'Neal or something!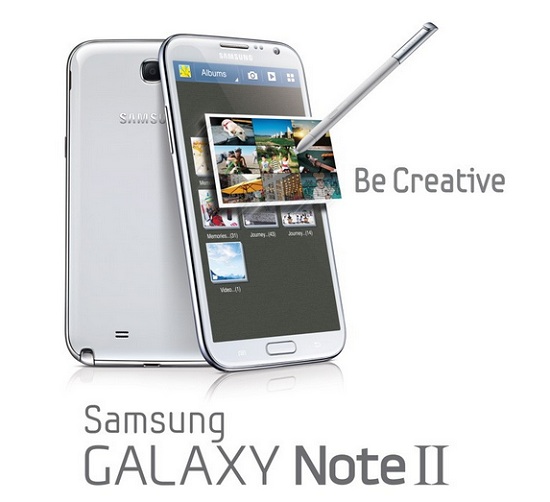 That said, Samsung sold over 10 million Galaxy Note smartphones in the first nine months alone. It turns out that people really loved the size of the device and that the Galaxy Note includes a stylus, which Samsung called the 'S Pen'. The hardware specs weren't bad either as the most popular version of the phone shipped with a peppy dual-core Qualcomm Snapdragon S3 (APQ8060 1.5 GHz) processor with the Adreno 220 GPU and 1GB of RAM. Top that off with a 5.29" HD Super AMOLED display with RGBG-Matrix (Pentile) and a nice 1,280 x 800 (WXGA) resolution that is protected by Gorilla Glass and you have a winner on your hands. Samsung has done a great job with this phone over the past year when it comes to software support and has rolled out many updates. For example the phone originally launched with Android 2.3.6 (Gingerbread), but depending on the region, has rolled out Android 4.0 (Ice Cream Sandwich) and Android 4.1 (Jellybean) to customers. While the Galaxy Note has no doubt been a success for the company, it is time to move on and Samsung recently announced the successor to the Galaxy Note, the Galaxy Note II.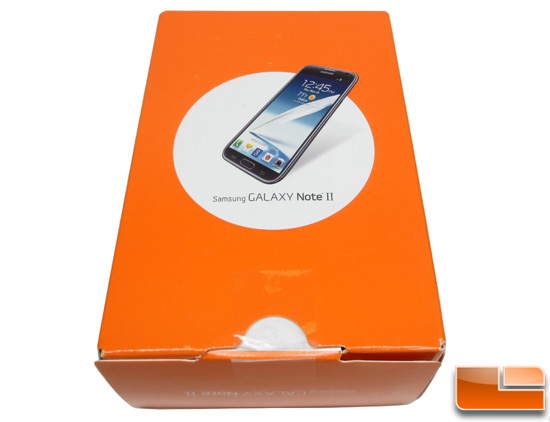 The Galaxy Note II keeps smartphone uses the same design principles, but Samsung has pretty much improved upon all areas of this phone. For starters the screen has gotten LARGER! The Galaxy Note II uses a 5.55" HD Super AMOLED S-Stripe RGB (3 subpixels/pixel) (non-PenTile) with a 1,280x720 resolution. We love the fact that the phone now uses a 16:9 aspect ratio rather 16:10 like before and has a more common 720p resolution! The Galaxy Note II weighs in at 180g and measures 151.x x 80.5 x 9.4mm (HxWxD). This means that it is slightly thinner than its predecessor at, albeit heavier by 2 grams.

Inside the hardware has greatly improved with a quad-core 1.6 GHz Exynos 4412 processor, 2 GB RAM and a 3,100 mAh capacity battery. It also comes with an improved S Pen that has more features and a new ergonomic design compared to the original. When it comes to software, you'll find Google's Android 4.1.1 (Jelly Bean) operating system.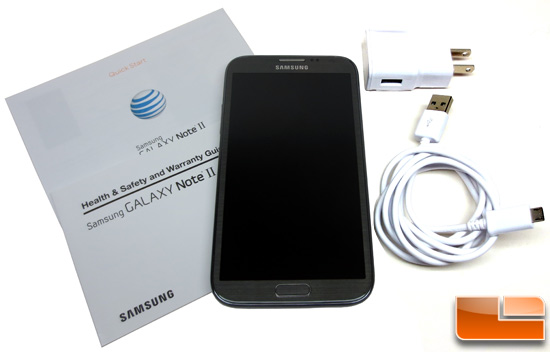 The Galaxy Note II is available in two colors - Titanium Gray and Marble White. We will be looking at the Titanium Gray 16GB model on the AT&T mobile network. It should be noted that 16/32/64GB models will be available and all feature removable storage, which means there is a microSD slot on the phone that allws you to add up to 64GB of memory. Inside the retail packaging you'll find the wall charger, USB cable, quick start guide and the warranty guide.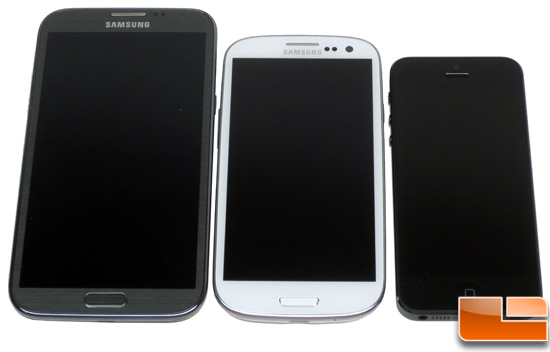 The Galaxy Note II is a very large device and to show this we took a photo of the Note II (far left) sitting next to the Samsung Galaxy S III and the Apple iPhone 5 (far right). As you can see the Note II is much larger and we were left wondering if this device should be considered a smartphone, tablet or a new hybrid? Many have called it a 'phablet', but since Samsung markets it as a smartphone we will be calling it that!
Let's take a closer look at the Note II!

Galaxy Note II External Features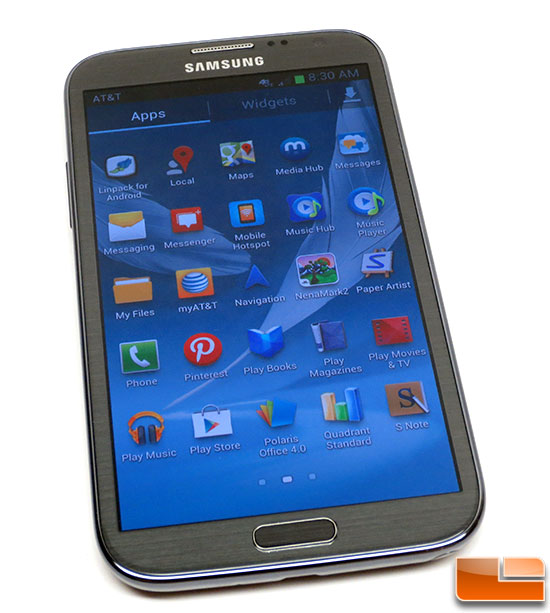 The Samsung Galaxy Note II looks very familiar as it basically looks like a larger Samsung Galaxy S III smartphone. With physical dimensions of 151.1 mm x 80.5 mm x 9.4 mm the Note II is rather large, but still manages to fit in your pocket. This is one of those devices that you need to go into a local phone carrier retail location and physically pick it up and use to see if you'll like it. If you have small hands or short fingers this might not be the right phone for you!

Let's take a look around the Smartphone and show you some of the features.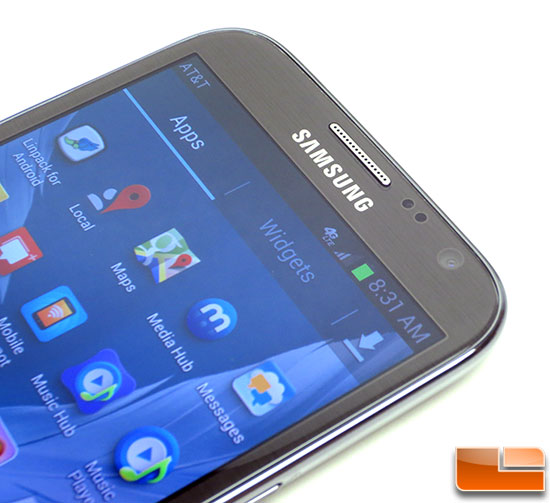 Along the top edge of the Samsung Galaxy Note II we have a hidden LED notification light on the left side, the earpiece, light & proximity sensors, and then the 1.9-megapixel front facing camera. The front facing camera shoots video at 720p@30fps. You can use this camera for video calls and vanity shots. Lately, we've been seeing many using a mirror app to fix makeup or their hair with this camera.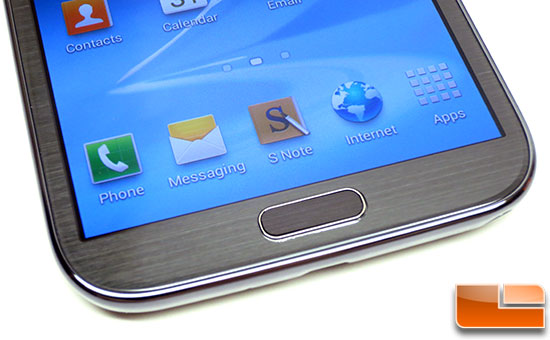 The Galaxy S III has a physical home button located smack dab in the middle along the bottom edge of the Smartphone. On each side of the home button are the capacitive menu and back keys, which have a soft white glow during use. The home button also activates the S Voice app by double tapping it, and it also activates the multi-tasking menu by executing a long press. By pressing and holding the home button and the power button at the same time you can take a screen shot.


Speaking of the power button, it is located on the ride side of the smartphone.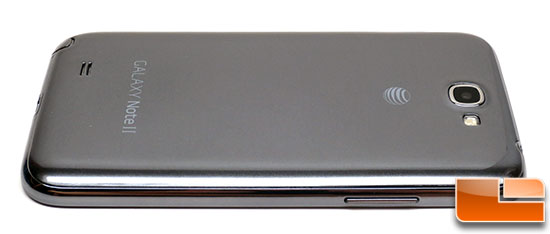 On the left side of the phone you have the volume rocker and that is it. The only three physical buttons on this phone are the power, volume and the Android home button!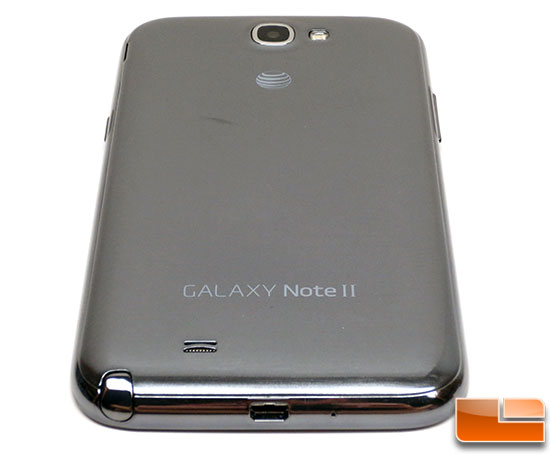 Along the bottom edge of the Galaxy Note II you'll fine the tiny hole for the microphone, microUSB charging and data transfer port, S-Pen slot and the speaker.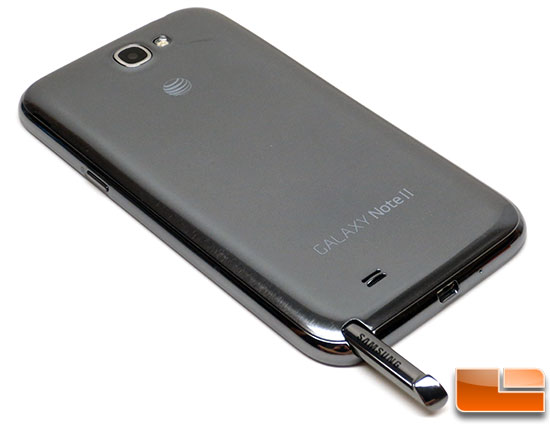 To remove the S Pen (stylus) you just pull it out and start using it. The Note II detects when you pull the stylus out and launches the S Pen page for you to start working.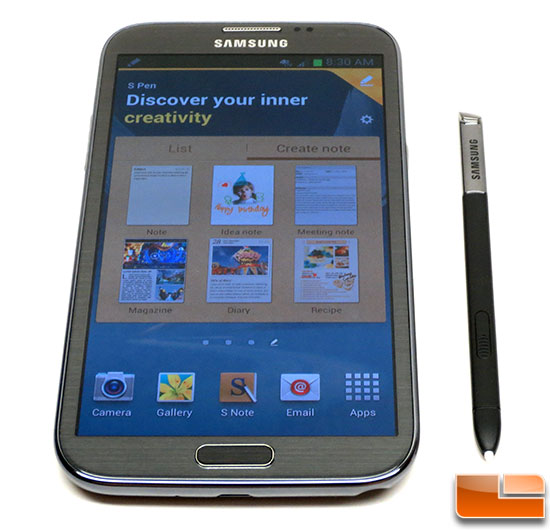 Here is a look at the S Pen and the page that comes up on the screen when the stylus is removed. As you can see it contains shortcuts to various S Note templates. This is a nice feature and saves you from having to search for something to launch. The headphone port also works like this, so when you plug in a pair of headphones it detects them and launches the multimedia player. Having a smartphone that anticipates your next move is very nice and something you get used to quickly.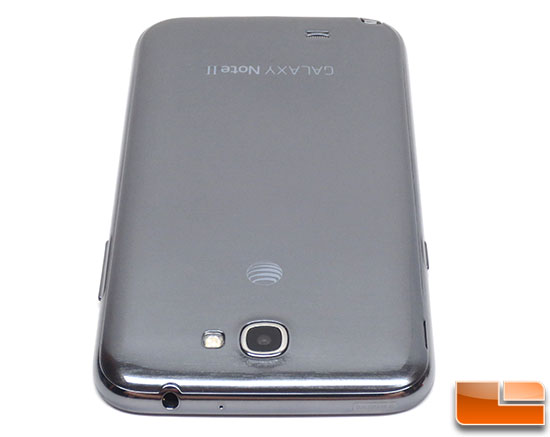 Along the top edge you'll find a 3.5mm headset jack if you would like to use a wired headset to listen to music. The Samsung Galaxy Note II also features Bluetooth 4.0, so you can easily connect wireless bluetooth devices as well. Speaking of wireless technologies, this phone supports Wi-Fi 802.11 a/b/g/n, GPS, Wi-Fi Direct, Bluetooth 4.0 LE (Low-Energy), TV output, AllShare Case along with Near-Field Communication (NFC). NFC is a emerging technology that is starting to take off thanks to Google Wallet, Samsung TecTiles and more.

The back of the phone has a rear facing 8-megapixel auto-focus camera that's able to shoot 1080p videos. The default resolution for the images are 3264x2448 pixels and the HD videos are shot at 1080p@30FPS. You can simultaneously shoot HD video and record images. This camera has 4x digital zoom and has a decent LED flash as well. The back plastic has a high gloss finish on it that resembles brushed metal again. It looks pretty good, but we have learned that the gray finish shows more finger smudges than the white version.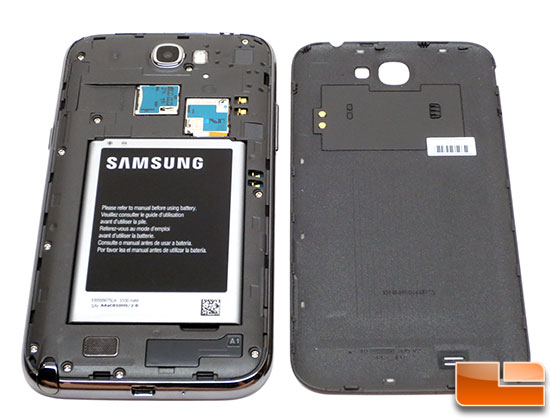 Removing the back plastic cover is simple and once removed you can see the Li-ion 3,100 mAh battery, microSIM slot, and microSD card slot. The Note II has expandable memory, so you can install up to a 64GB microSD card for additional storage space. The Near-Field Communication (NFC) hardware is embedded into the handset's back cover, which is rather odd and why the batter cover has two copper posts on it. If you like to buy larger aftermarket batteries that comes with a new cover you'll lose the NFC functionality as it is sonic welded to the cover.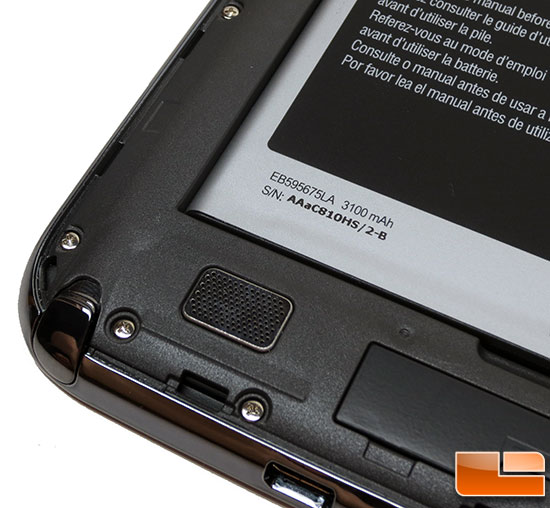 Here is a closer look at the 3100 mAh 3.8V Li-ion battery that is rated at 11.78 Wh. AT&T rates the Note II as having 15 hours of talk time and a standby time of up to 12.5 days. Notice the speaker just below the battery. It doesn't look like much, but this speaker was found to be quite good, even at full volume. When playing music we found it to be offer crisp sound and did not have the distortion that you'd expect with the volume all the way up!
The build quality of the Samsung Galaxy Note II appeared good with no glaring defects or issues. When you hold the Note II in your hand it feels nice with good weight balance. Now that we have taken a tour of the Note II we can run some benchmarks to see how it performs!

Galaxy Note II Software & OS
The Galaxy Note 2 comes with Android 4.1.1 (Jelly Bean) and uses the Samsung TouchWiz user interface on top of that for enhanced functionality. Samsung is the number one smartphone maker in the world in terms of unit shipments, so they should have plenty of user feedback as to what customers want.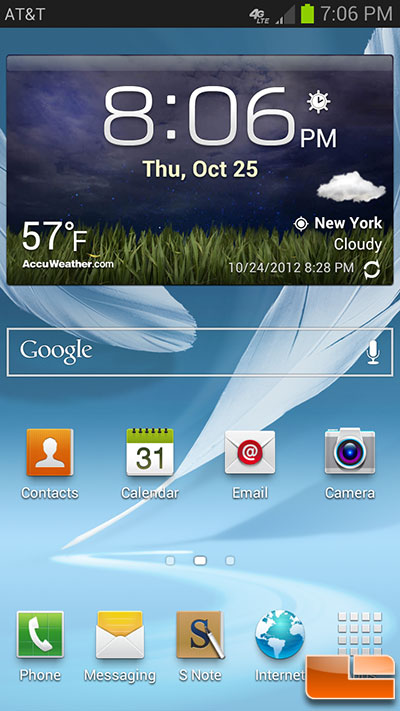 The Galaxy Note II home screen should be familiar to any Android user and to the left and right you'll see screens that have widgets and shortcuts to many common apps.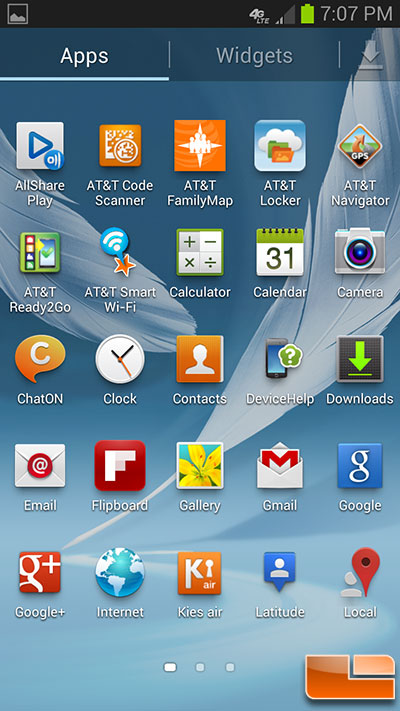 The display and responsiveness are brilliant and the touch experience is to touch is excellent excellent on the 5.5" Super AMOLED display on the Note II.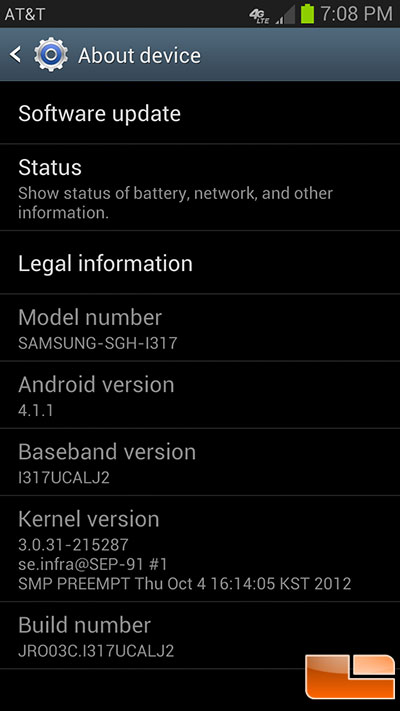 Here is a look at the 'About Device' menu that shows the Android and Kernel version of the Note II that we are reviewing.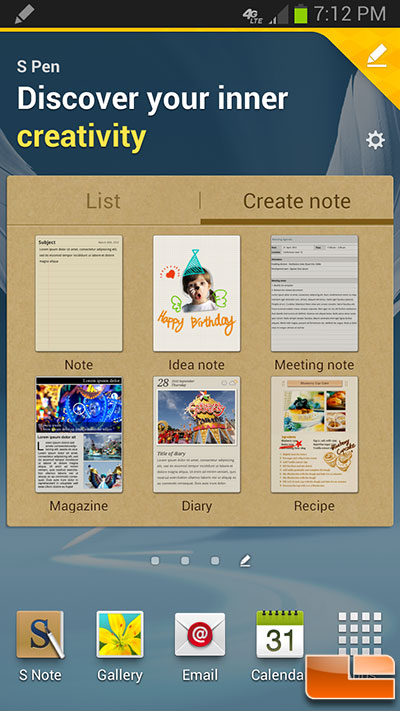 When you remove the S Pen from the device, the Note II automaticallyes launch the S Pen menu which offers access to S pen apps. We found that the Note app is convenient for jotting down quick notes, especially during a phone call or when you are out and about.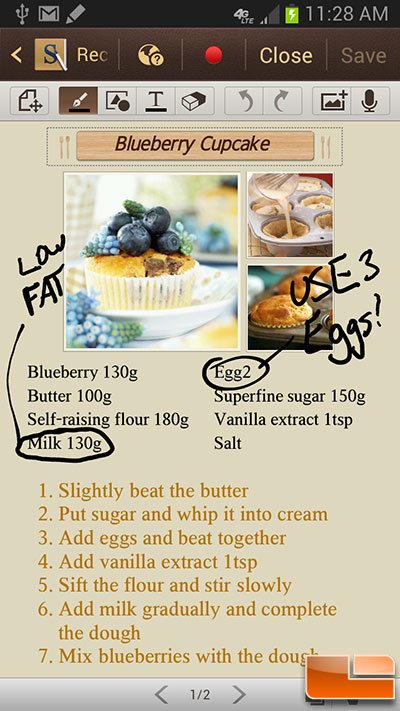 Using the recipe template is easy and you it is fun to be able to write notes on existing recipes! Being able to take notes and drawing is pretty amazing and one of key selling points of this smartphone.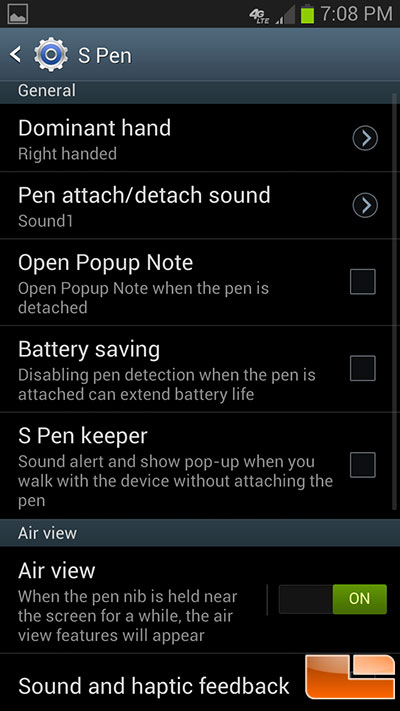 The S Pen settings are excellent and allow you change your dominant hand and there is even an alert that lets you know if you start walking with the device and the S Pen is not not attached to the device. This is a very nice feature that keeps you from forgetting the S Pen!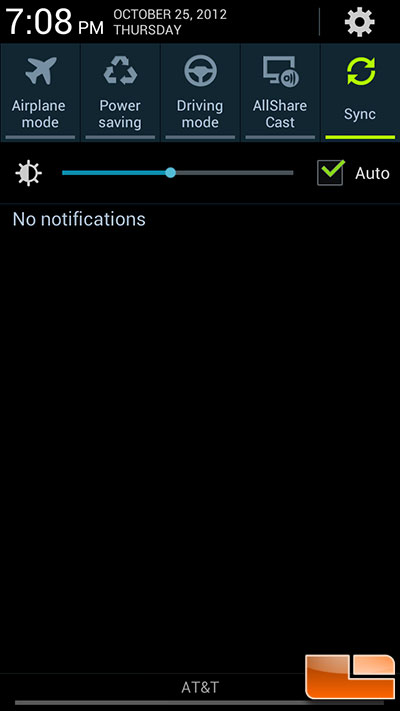 Pulling down the top menu you find the usually options, but also driving mode and AllShare Cast. AllShare Cast allows you to share data wirelessly. For example you can buy the Samsung AllShare Cast Dongle (EAD-T10UDEGXEU) and connect it to your HDTV to enable the streaming of content from your Samsung Galaxy S3 or Galaxy Note II. The dongle plugs into an HDMI port on your TV set and photos and videos can then be streamed to the TV via Wi-Fi from your Smartphone. Pretty cool stuff and easy to enable and disable.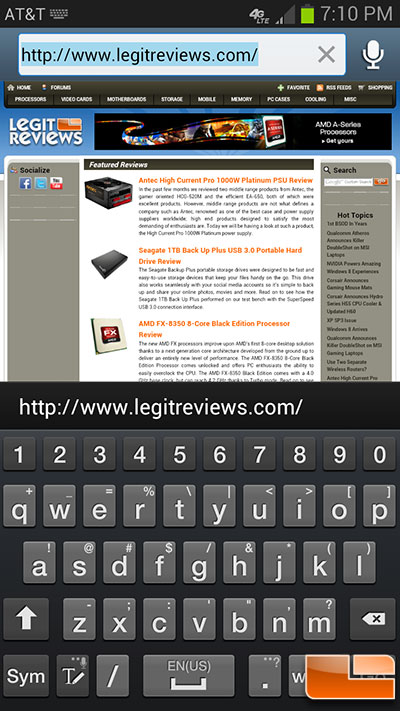 Here is a quick look at the standard English keyboard layout when browsing the web with the integrated browser.

It should be noted that there is virtually no lag when dragging items, pinch to zoom is fluid and responsive, and movies launch without much lag at all. Samsung accredits this to the quad-core processor and 2GB of RAM being used on the device. The Galaxy Note II is very fast and runs like a smartphone should!
Galaxy Note II CPU Benchmarks
We tested the Motorola Atrix, Motorola Droid Razr Maxx, Samsung Galaxy S II, Galaxy S III, Galaxy II Note and the Apple iPhone 5 Smartphones.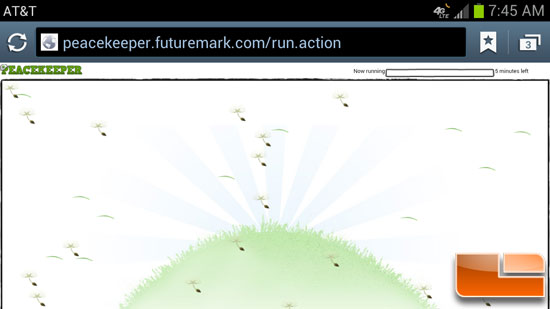 Peacekeeper is an online benchmark from Futuremark that realistically simulates the load placed on the browser by common JavaScript functions as used by popular, modern websites. For users who prioritize speed and performance, Peacekeeper helps answer the question of which browser or tablet is the best for them.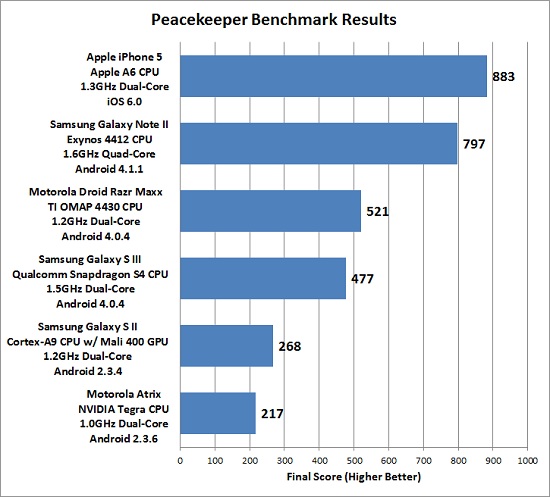 The Apple iPhone 5 and the Samsung Galaxy Note II performed great in browser benchmarks!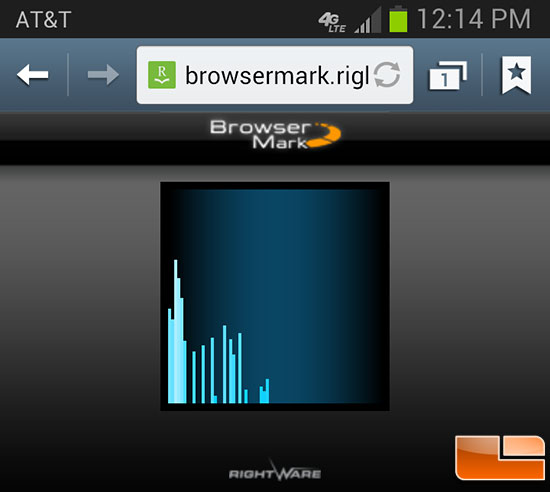 Another very popular web based browser benchmark is Rightware's popular Browsermark that provides tests to measure browser performance in the context of JavaScript, HTML5, WebGL, CSS and many more.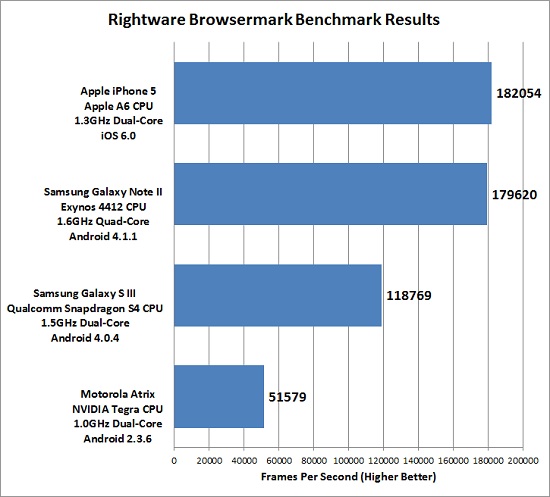 Browsermark showed the performance gap between the iPhone 5 and the Galaxy Note II being even closer, but you can clearly see they are ahead of the rest.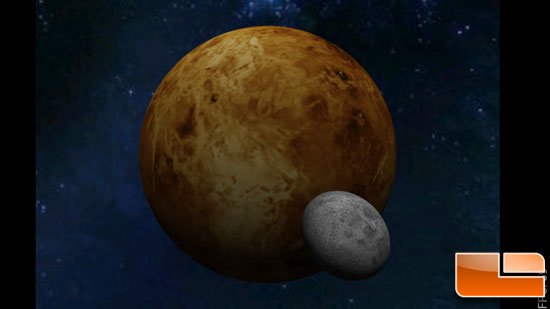 Quadrant is a CPU, I/O and 3D graphics benchmark. The Standard Edition requires an Internet connection to compute benchmark results and is supported by ads, but that should be fine for most users. We used version v2.1.1 for benchmarking the tablets.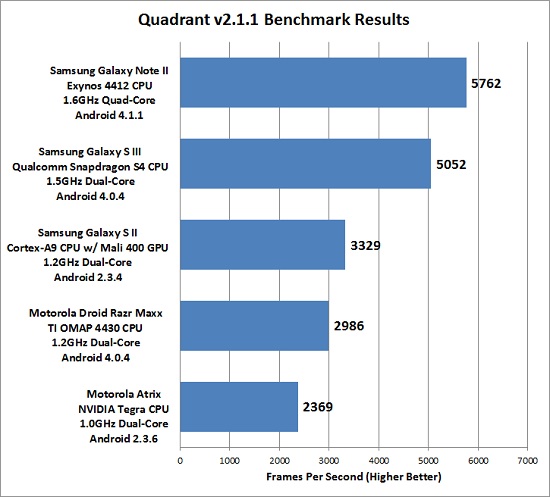 Quadrant showed that the Samsung Galaxy Note II was the fastest Android smartphone that we have ever benchmarked thanks to the impressive 1.6GHz quad-core processor with 2GB of RAM!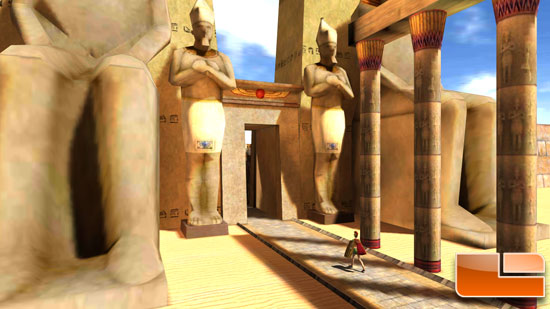 GLBenchmark 2.5.1 is an OpenGL ES 2.0 benchmark that we are using for the very first time since you can run it in offscreen mode, which means that you can test devices at the same resolution no matter what the screen size really is. The majority of the tests focus on graphic resources, measuring the quality and performance of the underlying OpenGL ES 2.x implementation. The benchmark, among other features, contains high-level 3D animations; low-level graphic measurements; a possibility to create personalized benchmarking suites by changing settings.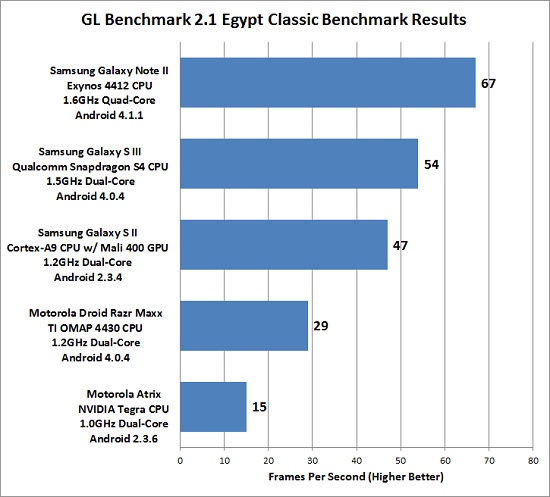 When it comes to this OpenGL ES 2.0 performance the winner by a long shot is the Galaxy Note II at 67 FPS. This phone has a great graphics processor inside and plays games really well! If you are curious about the new GLBenchmark 2.5 Egypt HD benchmark, you'll be happy to know that the Galaxy Note II scores 17 FPS.

The Galaxy Note II is a very powerful smartphone that 4x faster on average than phones like the Motorola Atrix that was released in Feb 2011. Seeing such a significant performance increase in just two years is amazing and gives people a reason to update their smartphone!

Galaxy Note II Camera Testing
The Samsung Galaxy Note II uses an 8 megapixel rear facing camera, so we wanted to check it out.

We fired up the camera and the user interface is pretty straight forward and familiar. You have the ability to switch between pictures and videos with the slider on the right and you have all your usual buttons for the flash, effects and settings on the left side.

We went into the effects menu and found that you have a number of shooting modes to pick from.

When it comes to shooting modes you have single shot along with best photo, best face, face detection, panorama, share shot, HDR, beauty, smile shot and low light.

The 8-megapixel camera facing out the back takes large 3264 x 2448 images and is said to have a zero-lag shutter. This is a crop of an image of the flag that flies locally. Even though it was blowing in the wind it looks crisp and without bad blurring.

The wide variety of colors on these flower posts caught our attention so we snapped this picture on auto. Everything came out crisp and focused.

Taking a picture through a wire fence is tough on camera sensors, but the Note II was able to do a fair job of this 2013 Mustang GT 5.0 convertible!
Samsung Galaxy S III 4G LTE Testing
This review wouldn't be complete if we didn't try out the 4G LTE wireless speeds on the AT&T network as that is one of the most important things with any 4G LTE smartphone!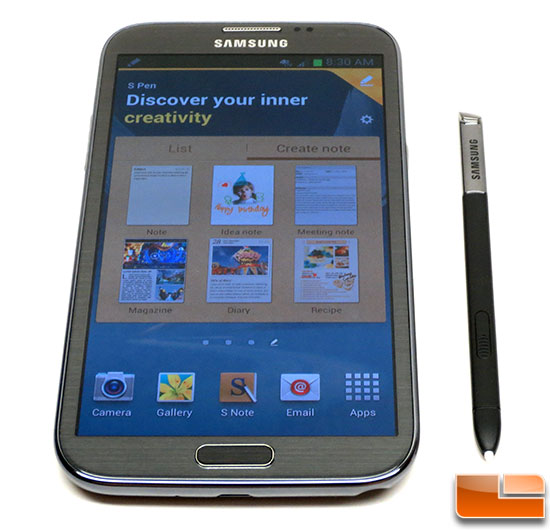 At our office we get 4G LTE service with three to four bars on the signal strength. We downloaded the Speedtest.net App to check how our upload and download speeds were on the Galaxy S III.

When we fired up and ran the app we found that with the auto-selected server we were getting roughly 11 Mb/s down and 13 MB/s up. These very good 4G LTE speeds and show how well the AT&T service is in the metro St. Louis, Missouri area. AT&T has invested more than $2.1 billion from 2008 to 2011 in improving the wireless network in St. Louis and it looks like it is really paying off. If we get full signal we regularly get ~30MB/s down and ~15 MB/s up around the metro area and the data transfer speeds are amazing.
AT&T 4G LTE Data plans for Smartphones:

DataPlus - $20 monthly access for 300MB monthly allowance
DataPro - $30 monthly access for 3GB monthly allowance
DataPro - $50 monthly access for 5GB monthly allowance and mobile hotspot

When you buy a Samsung Galaxy Note II from AT&T you have a choice between the three data plans. If you go over your allowed bandwidth usage you are charged more. For example if you go over the 300MB allowance on the DataPlus plan you will be billed $20 for each additional 300MB used. If the allowance on a DataPro plan is exceeded, an additional 1GB is automatically provided at a rate of $10 for each additional 1GB. As you can see data plans can get very pricey and when your download and upload speeds are over 10MB/s!
Samsung Galaxy S III Flash Memory Speed Tests
Before we conclude our testing on the Samsung Galaxy Note II we wanted to see how fast the phone could read and write to the microSD card and its own internal storage. One of the main selling points of Android smartphones is that nearly all of them have expandable storage. We wanted to see how fast the phone could read and write data to this interface.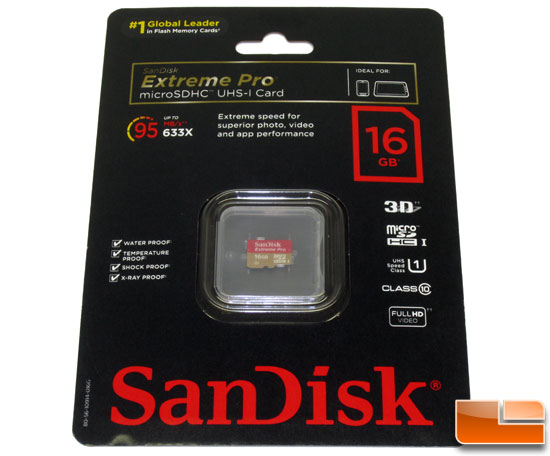 For testing the microSD slot we will be using the SanDisk Extreme Pro microSDHC UHS-I 16GB memory card, which just happens to be the astest microSDHC memory card in the world. This card is class 10 and UHS Speed Class 1 rated (UHS-104). With a read speed of 95 MB/sec it means that this card is speed rated at 633x for those looking for CompactFlash IDE emulation speed numbers. The write speed isn't much slower at 90 MB/sec or 600x. These are impressive ratings and this card should be able to easily handle full HD video and blazing data transfer speeds.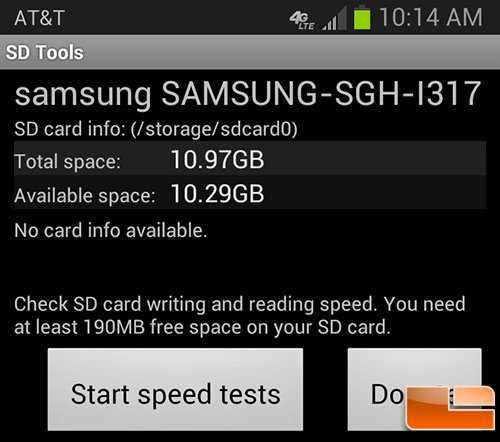 Keep in mind that we are testing the Galaxy Note II 16GB version. The total space available for use on this device was 10.97GB. We ran the SD Card Tester v1.0.5 App and found that it worked great on the Samsung Galaxy Note II Smartphone.
With the file size set to ~2500MB the benchmark showed the internal storage had write speeds at 18.36 MB/s and read speeds at 34.15 MB/s.

We then used a custom path to mount the SanDisk Extreme Pro microSDHC UHS-I memory card and 17.39 MB/s read speeds and 12.05 MB/s write speeds. These speeds are slower than what the rated speed of the microSDHC card is capable of and slower than the internal speeds of the phone. So, just a heads up that a high-end enthusiast microSD card might not be needed, but a Class 10 card would be fully used as read and write speeds are over 10MB/s.

Final Thoughts & Conclusions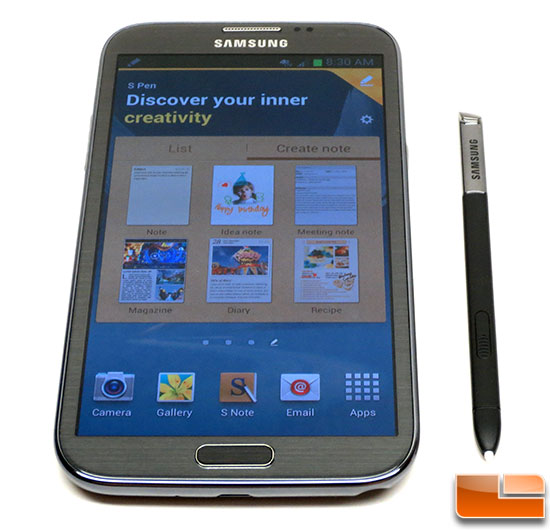 We have been using the Samsung Galaxy Note II smartphone as our primary device for over a week and we must admit that it is growing on us. At first it feels too big, but you do get used to it after time. That said, it still isn't going to be for everyone. If you have no desire to use the stylus and don't use much data (you're someone who makes a lot of voice calls), then this phone was not designed for you. This phone was created from the ground up for those that are primarily data driven. The Samsung Galaxy Note II also has a ton of features and settings to learn, so be prepared to learn some new things with the Note II as it is unlike anything you've ever used before.

If you like using a stylus the S Pen on the Galaxy Note II will most certainly impress you. We love the ability to write on the calendar, crop images, take notes and airview is awesome. The Galaxy Note II can detect the S Pen when it's help a centimeter from the screen with something called airview. You can preview a video file, slim through a photo gallery and adjust the video timeline without even touching the screen. Samsung has some pretty revolutionary features on the Note II that you will love. The S Pen and NFC are our two favorite features.

At the end of the day the Samsung Galaxy Note II smartphone has amazing performance, excellent battery life, a large 5.5" display, and unique features like S Pen and NFC. If you like the size then this is one device that is worth trying out. The Samsung will be available on the four major carriers in the United States. That means you can get this phone on Sprint, T-Mobile, AT&T, Verizon, and even smaller carriers like U.S. Cellular will have the Note II. AT&T will be offering the Galaxy Note II for $299 with a 2 year contract.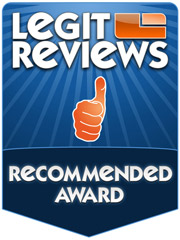 Legit Bottom Line: The Samsung Galaxy Note II is pretty damn big, but the performance and features help justify having a larger device!