The Bruce Lee Flash Drive!
Sine 2005, Boston-based design house Mimoco has been blending contemporary characters with the USB Flash drives to add some spice to an often boring device. Mimoco appears to be doing well as the company continues to blend the Art Toy underground and the uber geek tech crowd. Mimoco is best known for their flagship collection of MIMOBOT designer USB flash drives. These character-based USB Flash drives range include Star Wars, DC Comics, Hello Kitty, Transformers and even legends like Einstein and Bruce Lee. Prices generally start at $11.95 for 4GB capacity drives and go up from there, so you can easily have some fun without having to break the bank.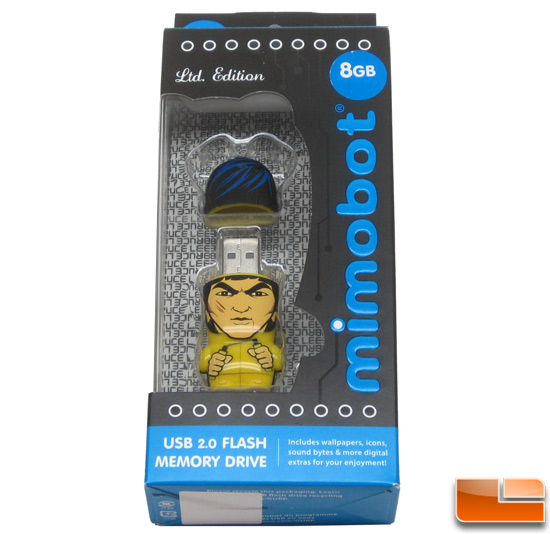 Mimoco debuted the Legends of MIMOBOT series earlier this year and so far you can get
Einstein
or
Bruce Lee
character based storage drives. Bruce Lee was and still is the most influential martial artist of all time, so it only makes sense that he becomes part of the Legends of MIMOBOT series.
The Bruce Lee Mimobot series is available in 8GB, 16GB, 32GB, & 64GB capacities with the prices being $19.99, $29.99, $39.99 and $69.99. All of the drives are backed by a 1-year warranty. Mimoco sent over the 8GB Bruce Lee Mimobot for us to take a closer look at.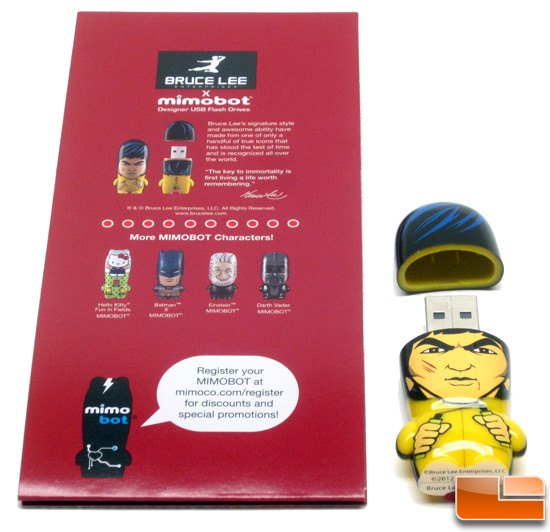 Inside the retail box you'll find the MIMOBOT along with some marketing material. This drive comes with a 96.0MB zip folder on it that has Bruce Lee-themed wallpapers, icons, video, and avatars, and MimoByte sound software that plays sound clips each time Bruce Lee MIMOBOT is inserted or ejected from one's computer. You don't have to use any of it if you don't want to, but it is there if you do. The wallpapers come in 6 sizes and start out at 320x240 for mobile devices all get as large as 1920x1080.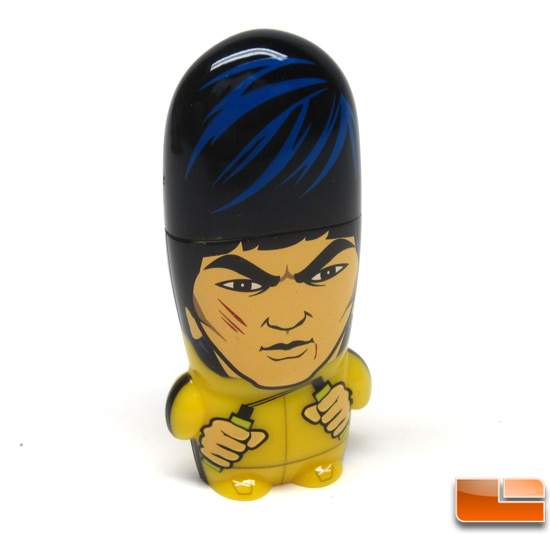 The Bruce Lee MIMOBOT is about 2.5" tall and 1" wide with a weight of 0.375 ounces or 10.6 grams. The front of the drive has Bruce Lee on it wearing a yellow tracksuit, nunchucks, and cuts he got from the final battle of the movie, Enter the Dragon.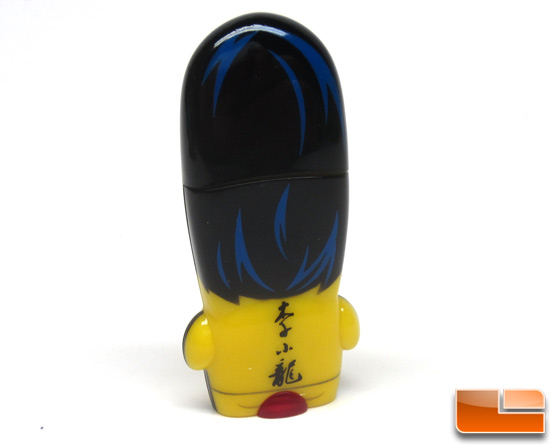 The back of the USB Flash Drive is pretty simple with some Chinese characters and a red tab that glows when the drive is active.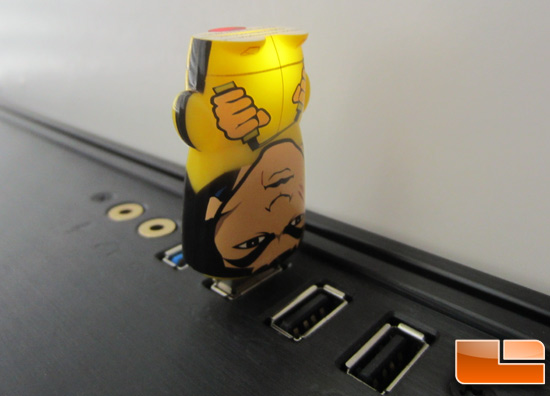 The entire lower half of the USB drive glows when it it plugged in, so the little red part is kind of pointless. The one thing that it does help is giving the Mimobot some stability.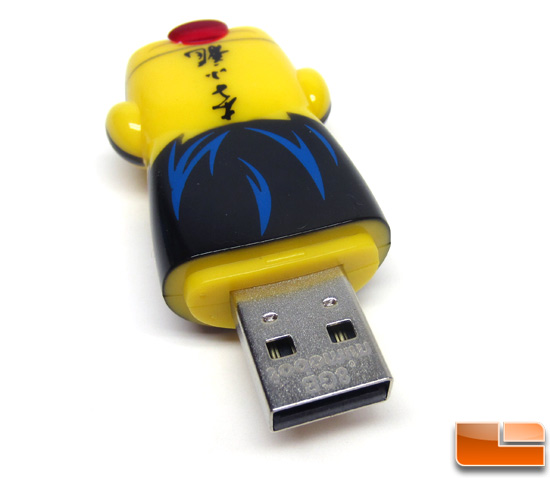 The Bruce Lee Mimobot uses a High-Speed USB 2.0 interface, so we don't have high hopes for performance when it comes to these USB Flash Drives. It should also be noted that there is no place to attach a keyring or lanyard and no place to store the cap when it is removed. Just a heads up to those that easily lose caps and Flash drives!

Are these more of a novelty or are these enthusiast class drives? Let's go on to the next page to see how they perform.

Test System & Capacity
Test System and Software Setup
To try out the Bruce Lee Mimobot 8GB USB 2.0 Flash Drive we will us using an Intel Z77 platform on the integrated Intel SuperSpeed USB 3.0 interface. If you would like to know more about this mini-ITX test system you can read an article on how to build it yourself here. We used Intel USB 3.0 driver version 1.0.5.235 for testing.
Legit Reviews Intel Z77 Test System Parts List:

Intel Core i7-3770K Ivy Bridge Processor - $349.99

ASUS P8Z77-I Deluxe mini-ITX Z77 Motherboard - $199.99
EVGA GeForce GTX 670 SuperClocked - $419.99

Cubitek Mini ICE ITX Case - $169.99

Kingston HyperX 480GB SSD - $669.99
Western Digital Caviar Black 2TB Hard Drive - $214.00

CoolIT Eco II 140 Liquid Cooler (thanks to Maingear)

Samsung Slimline 8x DVD Burner - $23.99

StarTech Slim Optical 5.25" Drive Bay Adapter - $26.99
StarTech Slimline SATA to SATA Adapter Cable - $8.99
2 x 140mm High Static Pressure Fans - $30

AFT PRO-37U USB 3.0 3.5" Media Card Reader - $54.99

Corsair AX 650W Gold PSU - $149.99
Windows 7 Ultimate 64-Bit - $189.99
Capacity:
When we fired up the Bruce Lee Mimobot Flash Drive for the very first time we found a number of files already on the drive. As we mentioned in the introduction this drive comes with wallpapers, sound clips and more, so these are the files for those applications. The total useable capacity of this 8GB drive is 7.52GB. The conversion from physical GB to the virtual GiB is why there is a difference. You can see that 100MB is used to hold the Bruce Lee extra content and that the drive used the FAT32 file system.

Performance & Conclusion
CrystalDiskMark 3.0.1c x64:
CrystalDiskMark is a small benchmark utility for drives and enables rapid measurement of sequential and random read/write speeds. Note that CDM only supports Native Command Queuing (NCQ) with a queue depth of 32 (as noted) for the last listed benchmark score. This can skew some results in favor of controllers that also do not support NCQ.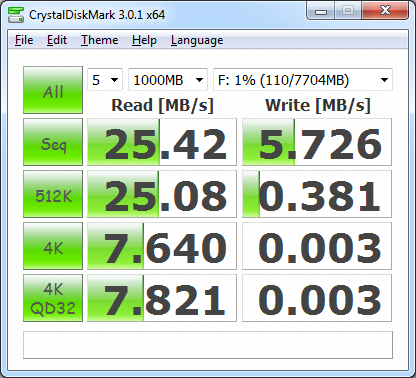 Benchmark Results: CrystalDiskMark showed that we hitting 25MB/s read and 6MB/s write on the sequential test. Not the fastest USB Flash Drive by any means, but remember this is not a high-end enthusiast class product where fast transfer speeds are a must.

ATTO v2.47:
ATTO is one of the oldest drive benchmarks still being used today and is still very relevant.. ATTO measures transfers across a specific volume length. It measures raw transfer rates for both reads and writes and places the data into graphs that can be very easily interpreted. The test was run with the default runs of 0.5kb through 8192kb transfer sizes with the total length being 256mb.
Benchmark Results: The Bruce Lee Mimobot USB 2.0 Flash drive was able to hit 25.5MB/s read and 5.7MB/ write speeds in ATTO with the default benchmark settings.
Check Flash v1.16.2:
Check Flash is a multi-purpose flash drive testing and maintenance tool. This utility allows for error checking, speed tests, and much more.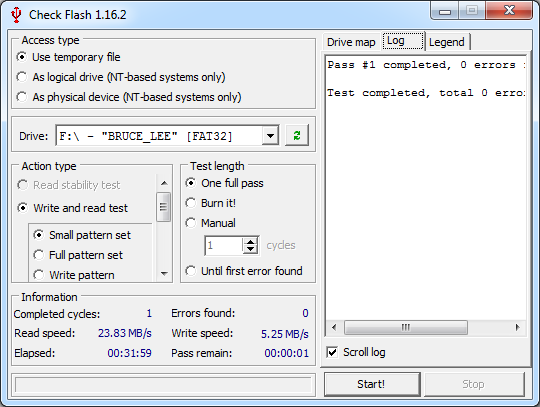 Benchmark Results: Check Flash showed that we averaged 23.83MB/s read and 5.25MB/s write on the speed test. It also didn't find any errors on the drive, which is good news.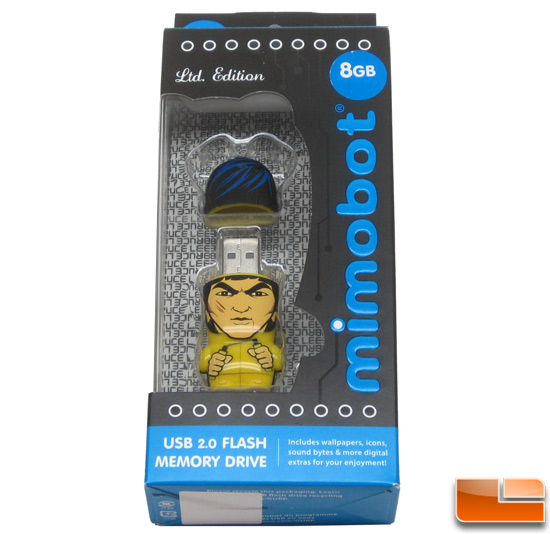 Final Thoughts and Conclusions:
The Bruce Lee Mimobot USB 2.0 Flash Drive is certainly a conversation starter and something that is pretty epic, but the performance of the drive was lacking. What about cost? The Bruce Lee 8GB Mimobot costs $19.99 and UPS Ground shipping is $8.94. That puts the total price of the Bruce Lee Mimobot to $28.93!

Having to pay $28.93 for an 8GB High-Speed USB 2.0 Flash drive that has 25.5MB/s read speeds and 5.7MB/s write speeds is a bit crazy. The Newegg Shell Shocker deal today was a 32GB USB 3.0 Flash Drive with Read/Write speeds of 70/40 MB/s for just $19.99 shipped! So, as you can see the Bruce Lee Mimobot is not a speed demon by any means and you are paying extra for the artwork and the royalties for the character being depicted on the storage drive. If you are a collector of USB Flash Drives or love Bruce Lee and want this drive as a conversation piece then it is worth it, but from a cost, warranty and performance perspective there are better solutions out there.

Legit Bottom Line: If you are looking for a conversation piece the Bruce Lee Mimobot USB 2.0 Flash Drive is a must, but this is not the drive to buy if you plan on using it often to move large amounts of data.