Building A Budget PC For Under $300 Shipped
Are you looking to build a budget PC, but have a limited budget to work with? We have had a number of readers and businesses that we consult with looking for new systems that will save power and be faster than the systems they currently have. When we started to look into low cost Do-It-Yourself (DIY) systems we found that you could easily build an AMD Llano system for less than $300. And when we say under $300, we mean with shipping included!

You would think that for under $300 we would have to cut corners and use knock off brands, but that is not the case here. We are using the top of the line AMD A8-3870K APU and an OCZ Vertex Plus R2 60GB Solid-State Drive (SSD) into this system. The one corner that we did cut is the operating system. Most people that are upgrading an older PC are okay with using the license they still have, so that should be an issue. Microsoft Windows 8 is coming out later this year, but not too many people are looking forward to that.
Rather than just showing you how to build the system and show you a few benchmarks and call it a day, we wanted to show you a real world problem that a company was facing. A local business wanted to upgrade an office full of computers that they purchased back in 2004. The power supplies in the systems were failing due to leaking capacitors and some of the hard drives were starting to fail with over 50,000 hours of up time. Back in the day they spent over $1500 for these systems. They were custom built by the company that uses the propitiatory software that runs only on Windows XP 32-bit. These systems were built with Intel Celeron 2.0GHz single core processors along with 80GB IDE hard drives, 1GB of memory and an AOpen H340A slim ATX case with a 200W TFX power supply.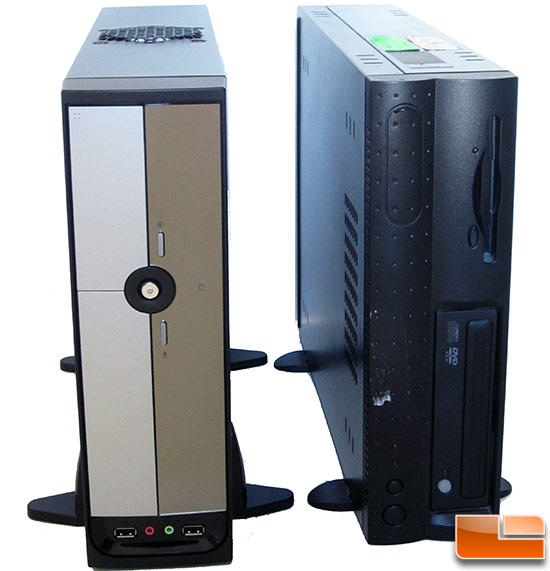 The only requirements that the business had was that they wanted to stay with MicroATX slim desktop cases, have a system that felt faster and that they needed to stay with Windows XP. It appears the software developers have not been able to successfully get their code to work on Windows 7 or they are just too lazy and live off the licensing fees that they get each year. Building up a new system that would perform much better than the old ones shouldn't be an issue at all!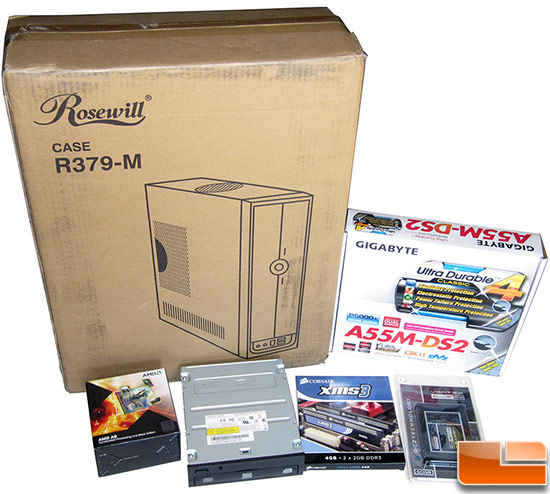 For our budget mainstream system we went with a Slim microATX case called the R379-M by Rosewill. This case comes with an ATX12V Flex 300W Power Supply, which is more than enough for our mainstream build. The Gigabyte GA-A55M-DS2 is one of the lower cost AMD A55 chipset powered boards on the market. Since we didn't need USB 3.0, SATA III 6Gbps or plan on overclocking we were fine with the reduced features on this board. We are going to be running Windows XP 32-bit, so a 4GB kit of Corsair XMS3 1333MHz DDR3 memory was more than enough and the price was right at $22 for the kit. With only about 10GB of space being used on the storage drive the OCZ Vertex Plus R2 60GB SSD was selected along with the lowest cost optical drive we could find.
These parts add up to $279.94 before any taxes and shipping expenses. If you live in a state that doesn't not get hit with Newegg taxes the shipping charges would be the total up to $286.92. You can easily trim this price down if you wanted to by using a different case or removing the $23 DVD writer as not everyone needs optical drives in this day and age. If you didn't need the optical drive you are looking at $264 shipped for this build!
Let's take a closer look at the hardware and get this system built!

The Processor, Motherboard and Memory
One of the best bangs for your buck these days is an AMD Llano APU. AMD has been slashing prices on these processors and just last week slashed the price of the AMD A8-3870K down to just $101. These Accelerated Processing Units (APUs) are aimed at entry level to mainstream systems and is perfect to power our mainstream build.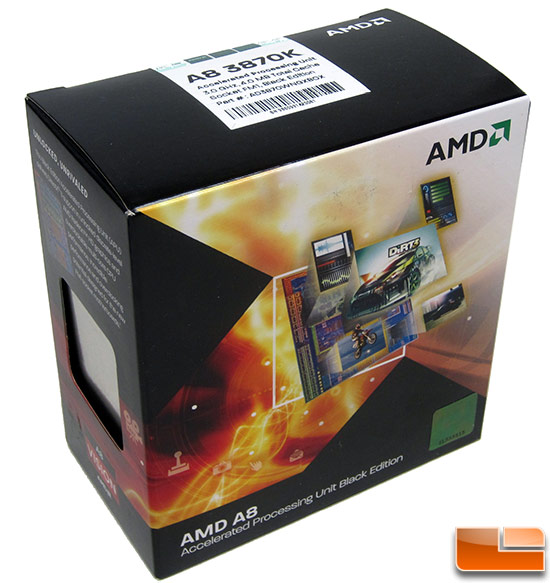 The AMD A8-3870K Black Edition is a quad-core processor that runs at 3.0GHz and has a 100W power rating. The AMD A8-3870K has 4MB L2 cache and has a Radeon HD 6550D GPU for great 3D graphics performance. This GPU has 400 Radeon (shader) cores with that run 600MHz. This processor is also multiplier unlocked, hence the Black Edition name, for easier overclocking.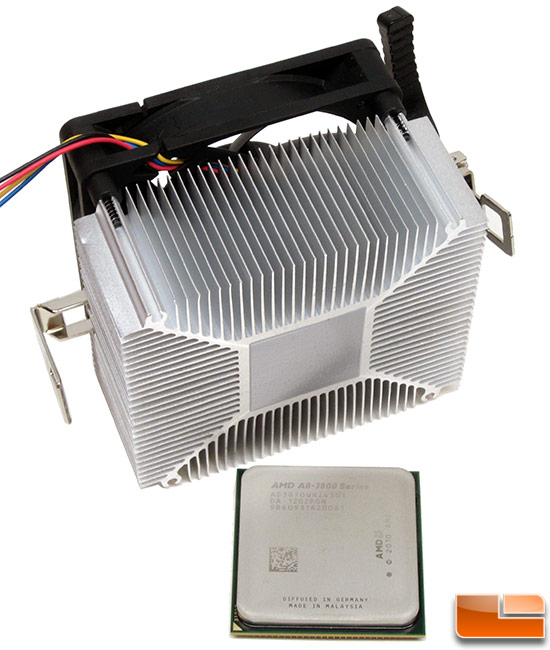 The AMD A8-3870K Black Edition retail boxed processor comes with a CPU cooler. As you can see from the screen shot above the CPU cooler is rather small and comes with thermal compound already applied to the base of the cooler. All you need to do is seat the processor in the socket and pop on the CPU cooler and secure it with the one lever! Before you do that you need to have a motherboard!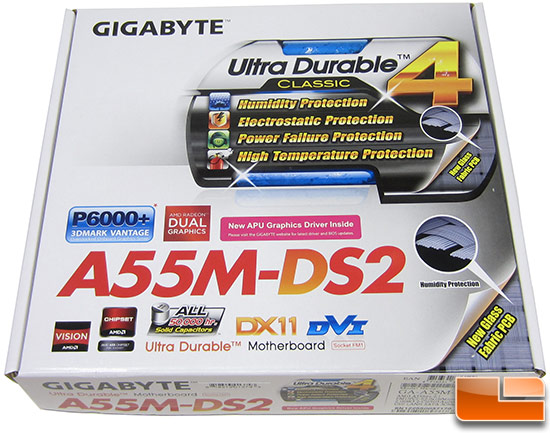 To power this system we went with the Gigabyte A55M-DS2 motherboard. When this board came out in 2011 it used to be $64.99 plus $8 shipping, but can now be found for just $49.99 shipped after rebate. We don't need cutting edge features like USB 3.0 ports or SATA III 6Gbps hard drive connections, so the AMD A55 chipset and the Gigabyte A55M-DS2 was perfect for our build.
Just because this is a $50 motherboard don't think you don't get a ton of nice features. For example this is an Ultra Durable 4 board and features glass fabric PCB that protects the board from humidity damage. It also features all solid-state capacitors and comes with a pair of SATA cables.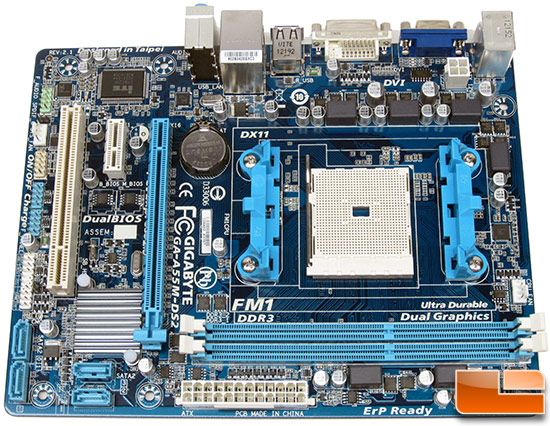 The Gigabyte GA-A55M-DS2 rev 2.1 motherboard is a very small board that measures in at 225mm x 174mm. A standard mATX board is 244mm x 244mm, so Gigabyte went smaller than the standard here! As you can see from the photo above you have two DDR3 memory slots, four SATA II ports, one PCIe x16 slot, a PCIe x1 slot and a old school PCI slot. Along the left side of the board you have front audio header, another 4pin PWM fan header, COM header, a pair of USB 2.0 headers, the front panel headers and 4x SATA 3Gbps.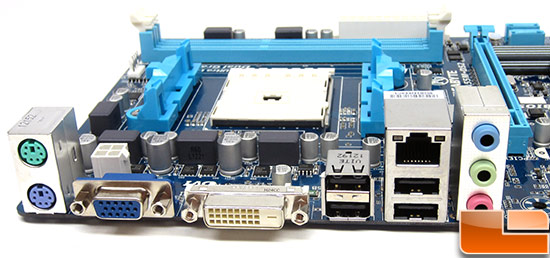 The rear I/O has two PS2 ports (1x mouse 1x keyboard), D-SUB (VGA), DVI-D, four USB 2.0 ports, Realtek Gigabit LAN and 3x audio jacks (Line In/Line Out/Microphone).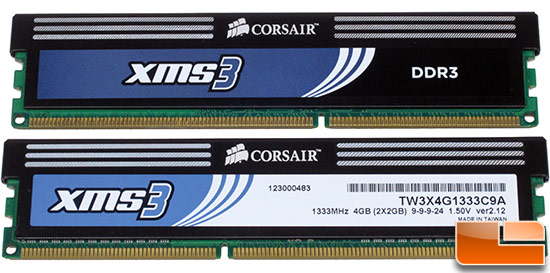 When it comes to memory we wanted to spend around $20 and found that you can get the Corsair XMS3 4GB (2x2GB) TW3X4G1333C9A G kit of memory for just $21.99 shipped after a $10 rebate. This dual channel memory kit runs at 1333MHz and features CL9 timings (9-9-9-24) at 1.50V. With a lifetime warranty and a $22 price tag it is hard to go wrong with a memory kit like this.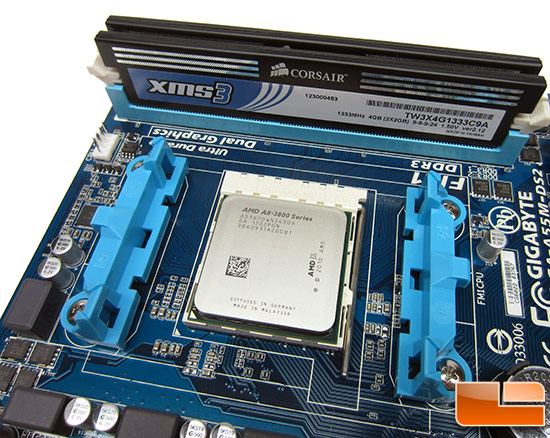 To install the memory and processor you just need to make sure they are lined up so the pins match and secure them in place.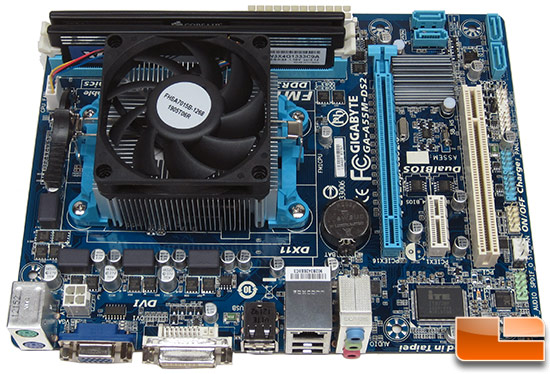 The last step is to align the CPU cooler and to latch that down to the motherboards CPU socket tabs. Now we are ready to install everything into the case!

The SSD and Slim ATX Case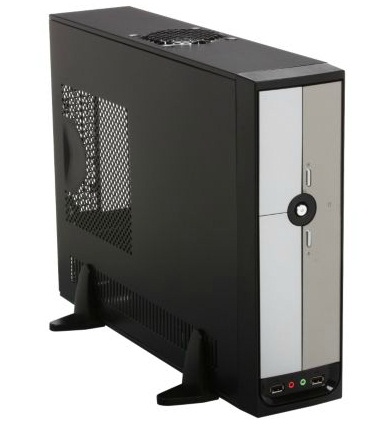 For this build we needed to use a slim microATX case, so the Rosewill R379-M was given the nod to house the components. This case measures in at 17.0" x 12.8" x 3.9" and is made with thick 0.8mm SGCC Steel. Inside there are 3 drive bays and 4 low-profile expansion slots. Up top you'll find a single 80mm 3-pin case fan and down on the front panel you'll see two USB 2.0 ports along with audio ports.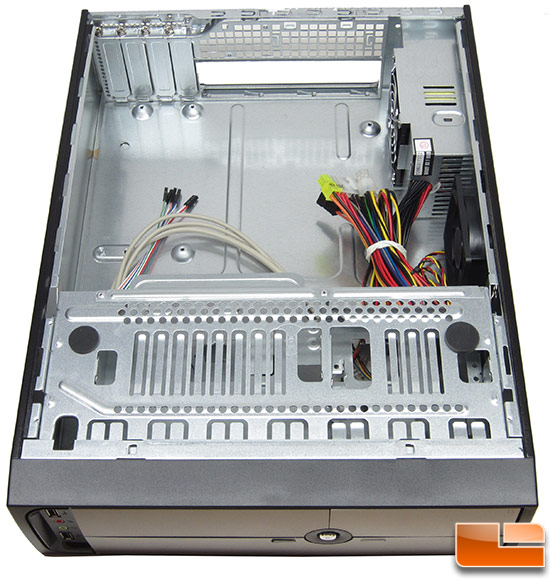 Inside there is a 300W power supply that acts as a second exhaust fan. A spring loaded door covers the 3.5" drive slot, and the CD slot is next to that. The drive cage pulls completely, so if you don't need it you can simply remove it from the case.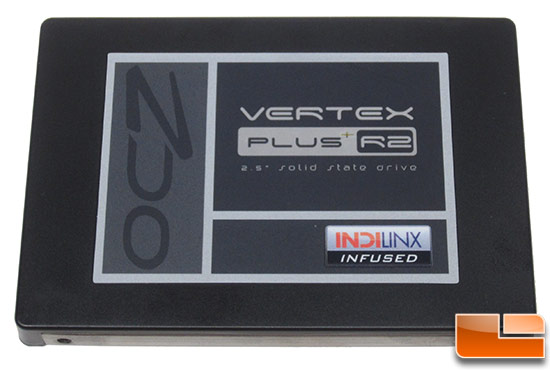 The two parts that we haven't talked about yet for this build are the SSD and optical drive. We went with the lowest cost SATA DVD burner that we could find, so not too much to say there. When it comes to the SSD we did a bit research and found that OCZ had the best deal on a 60GB SATA II 3Gbps SSD and it was be ideal drive to upgrade the old IDE 80GB drive in the prior system. The OCZ Vertex Plus R2 uses an Indilinx controller and has a peak sequential read speed of 180MB/s and a write speed of 80MB/s. Pretty impressive speeds considering that this SSD runs just $29.99 shipped after a $20 rebate. At that price you are paying $0.50 per GB, which is great!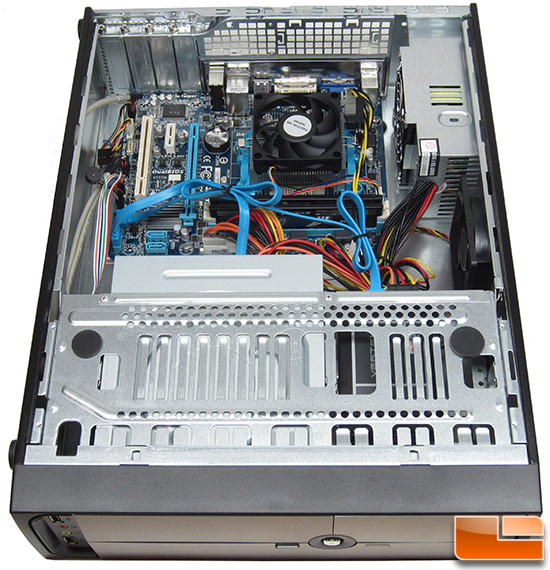 Here is a shot of everything installed and wired up into the Rosewill R379-M MicroATX case. There was plenty of room for all the wiring and everything was super simple to assemble. The entire PC took under 15 minutes to build from start to finish and we were not rushing. There was not a place to mount the SSD, but we were able to use one of the many holes in the mounting plate and the 2.5" drive was able to be secured. The eject button for the optical drive wasn't the best and was the biggest gripe that we had with this chassis.

Test Systems, PCMark05, 3DMark06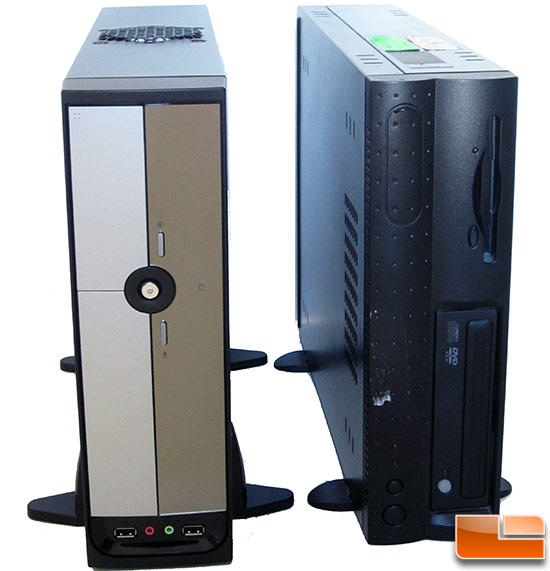 Pictured above are the two systems that we will be comparing the performance of. On the left is the AMD Llano APU system that we just built and on the right is a custom built system from 2004.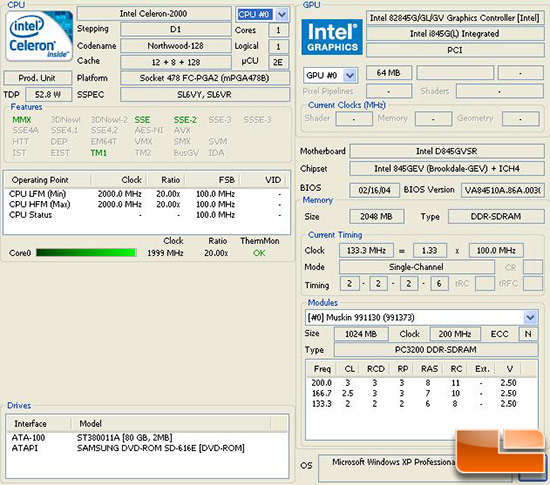 The system from 2004 is running an Intel Celeron single core 2GHz 'Northwood' processor with 2GB of Mushkin DDR 266MHz memory. The graphics are being handled by the Intel 845G chipset, so we have integrated graphics. We updated all the drivers on this system and applied all the updates available for Windows SP3.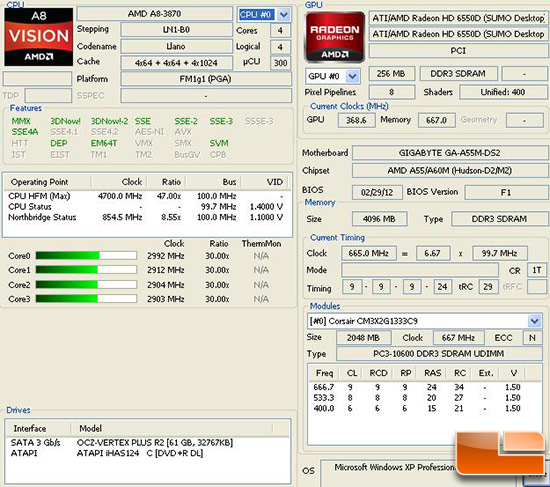 We just showed you all the parts to our sub $300 AMD LLano system, so we won't cover them again. Everything registered correctly in Hardware Info (HWiNFO) and can be seen in the image above.

Intel Celeron System From 2004: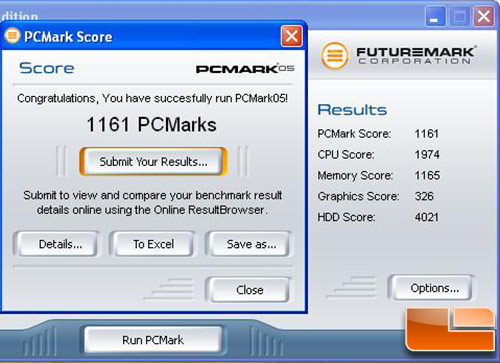 AMD Llano System From 2012: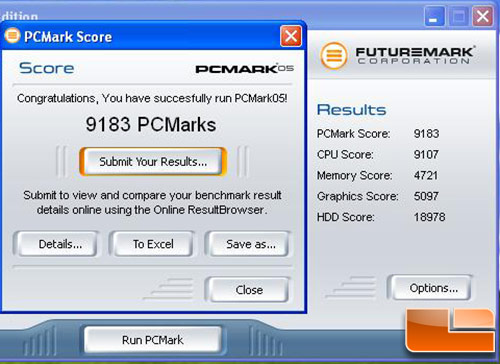 PCMark05 is a great benchmark to use for overall system performance on Windows XP and we found some big differences between the two systems. The system from 2004 scored 1161 PCMarks and the AMD Llano system that we just built today scores 9183 PCMarks. It's a bit ironic that there are 8 years that separate these two systems and there just happens to be an 8x performance difference between the two!

If you look at the advanced test details you'll see even bigger performance differences. For example the AMD Llano system has 15 times better graphics performance! The HDD score was up nearly 5x, which is also pretty darn impressive.
Intel Celeron System From 2004: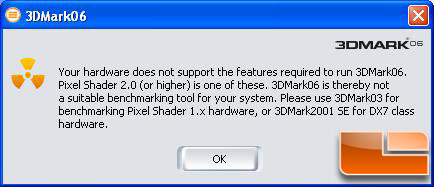 AMD Llano System From 2012: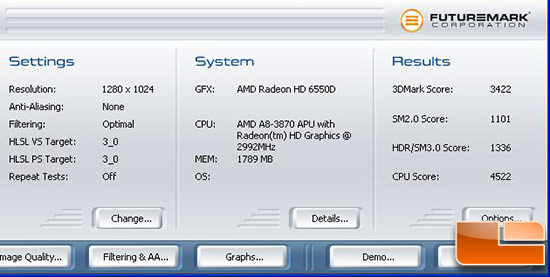 Benchmark Results: The Intel Celeron 2GHz with Intel 845G graphics was unable to run 3DMark06 since that GPU is unable to support pixel shader 2.0 applications. The AMD Llano APU packs a full DX11 supporting GPU inside, to is had no problems with 3DMark06 and turned in an impressive score of 3422 3DMarks. Not bad for integrated graphics!
Memory and Hard Drive Performance
Intel Celeron System From 2004: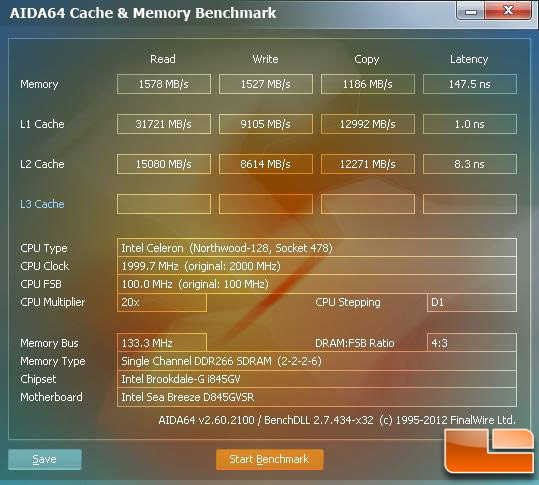 AMD Llano System From 2012: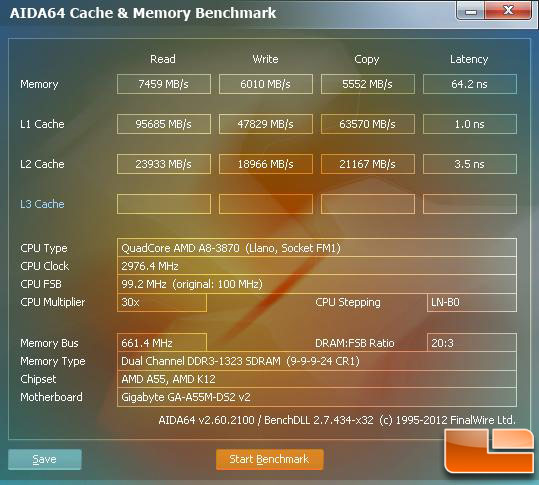 Benchmark Results: AIDA64 showed the AMD A8-3870K processor with the dual-channel DDR3 1333MHz memory with CL9 timings had roughly 7.3GB/s read and 5.5GB/s read speeds. The Intel Celeron 2GHz processor with single channel DDR 266Mhz memory had just 1.5GB/s of read and write memory bandwidth. Notice that the DDR 266MHz memory was running with 2-2-2 timings! Remember when high-end memory back then used to run at 400MHz at 2-2-2 timings? As you can see we have a 5x improvement in read memory bandwidth in the new system. and the latency is reduced by more than half.

Intel Celeron System From 2004: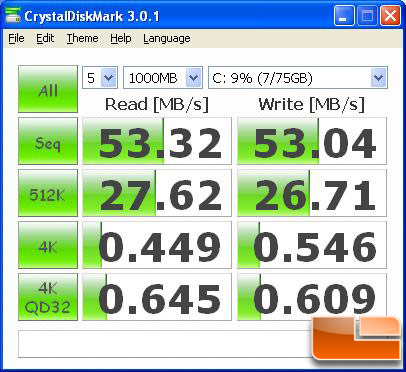 AMD Llano System From 2012: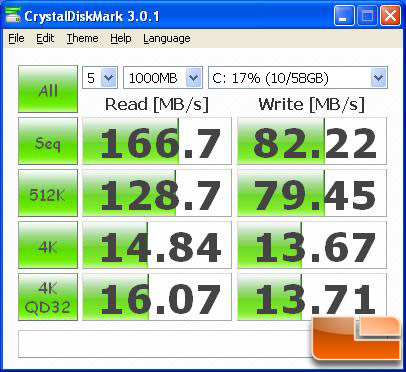 Benchmark Results: CrystalDiskMark showed the old 80GB IDE hard drive ran at 53MB/s on the sequential read and write tests. The new OCZ Vertex Plus R2 was much faster with a sequential read speed of 166.7MB/s and a write speed of 82.22MB/s. The other significant difference is in the random 4K read and write numbers. We went from ~0.5MB/s to ~14MB/s, which is a 28x performance improvement!

Intel Celeron System From 2004: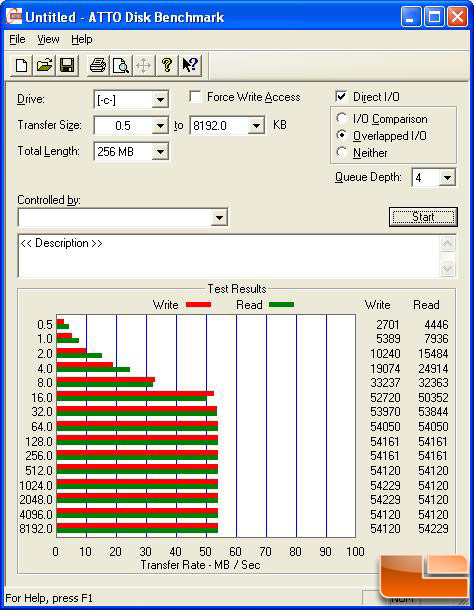 AMD Llano System From 2012: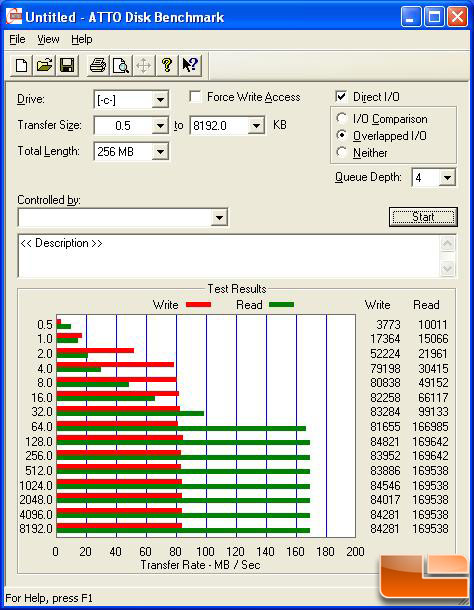 Benchmark Results: ATTO 2.47 showed the old 80GB IDE hard drive ran at 54MB/s on the sequential read and write tests. The new OCZ Vertex Plus R2 60GB SSD was hitting 170MB/s and a write speed of 84MB/s. OCZ rates the Vertex Plus R2 60GB SSD as having a peak sequential read speed of 180MB/s and a write speed of 80MB/, so we are close to these numbers.
Boot Speed and Power Consumption
Windows Boot Times
Windows start up/shutdown time is always something people are interested in and when updating a PC that is old it is one of the most noticeable areas of improvement. We will be using an application called BootRacer to objectively measure the startup times of the two systems


Intel Celeron System From 2004: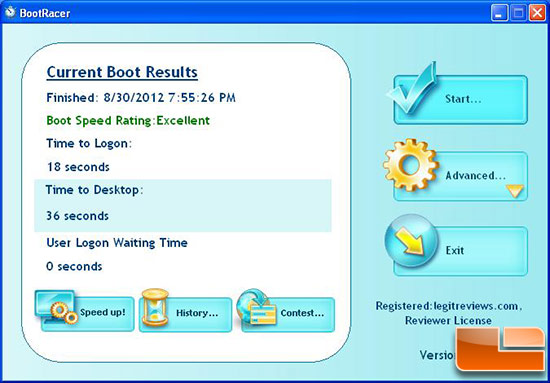 AMD Llano System From 2012: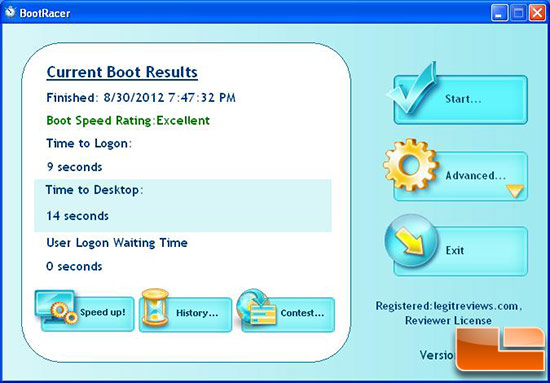 Benchmark Results: Interestingly enough both systems came back with an excellent boot speed rating, but the time to desktop results were very different. On the old system from 2004 we were getting to the desktop in 36 seconds and on the new system that we just built we were getting there in 14 seconds. This is a 2.5x improvement in boot times. Windows XP is known to boot quick, but the SSD in our new system made it even faster!

Power Consumption
One of the goals of this build was to have a new small form factor system that was very power efficient, yet powerful. Let's take a look and see how we did.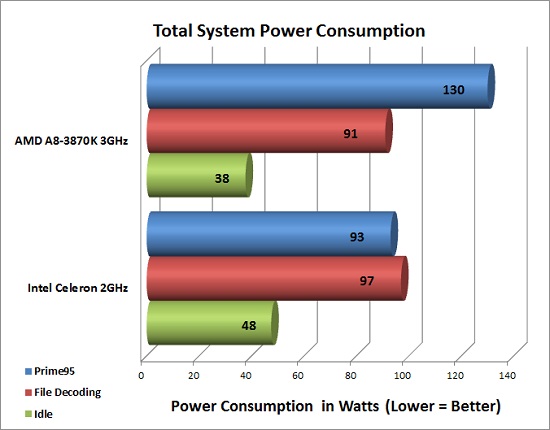 Benchmark Results: We weren't exactly sure how we would fair when it came to power consumption as the Intel Celeron 2Ghz processor was a single core processor that didn't use that much power to start with. The system from 2004 used 47.5 Watts at idle versus the 37.7 Watts of the AMD Llano A8-3870 Quad-Core 3Ghz processor! This is a decrease of roughly 10W, which is a 21% power savings at idle! We ran the file decoding test in PCMark05 and found that the AMD system used 6 Watts less power as well! For typical daily tasks and at idle the new system was hands down the winner by a significant amount. When we fired up Prime95 32-bit we found the AMD A8-3870K to use more power than the older system though as it peaked at 130 Watts in the torture test. The Intel Celeron powered system hit just 93 Watts, which is less than file decoding as the hard drive likely wasn't being used.

Final Thoughts and Conclusions
If you are looking to build yourself a new PC and want to spend less than $300 you can easily do it with enough money left over for a quick bite to eat at a fast food restaurant. We were able to build up a PC with an AMD Llano A8-3870K Black Edition processor and an OCZ Vertex Plus R2 60GB SSD that ran fast and was very energy efficient. Not bad considering we were on a strict budget! This system can easily perform mainstream tasks like web browsing and office work with ease and can even do some light gaming.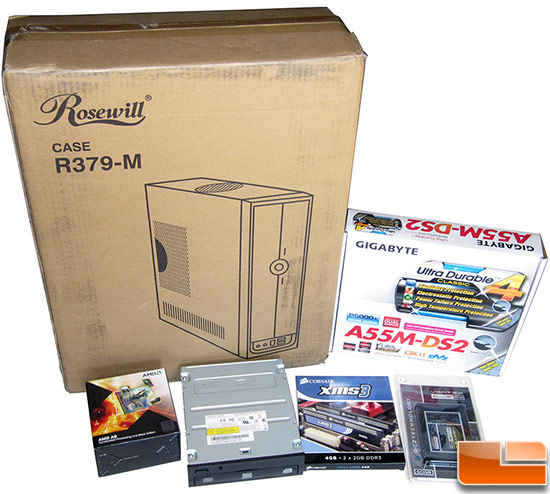 Our build came together very nicely and we didn't have any major complaints with any of the components that we used for this PC. We did notice that the 80mm fan was a bit loud because it was spinning at nearly 3,000 RPM. We downloaded and installed Gigabyte's Easy Tune 6 utility to adjust the fan speeds.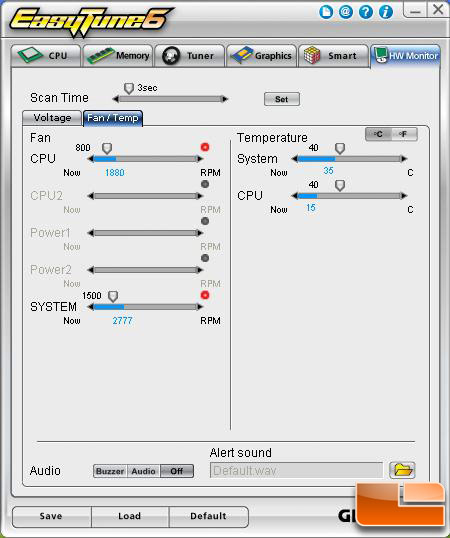 After downloading and installing the utility we quickly found out you can't adjust the System Fan header on the Gigabyte A55M-DS2 motherboard. We also noticed that the utility was incorrectly reading the CPU temperature because it reported the CPU at 15C when the room temperature was 26C. We tried overclocking the memory from 1333MHz to 1600MHz, but were unable to get the motherboard to save our manually set memory timings. We tried to use the easy overclock option in the BIOS and the board failed to successfully boot. The Gigabyte A55M-DS2 was a solid board with default settings, but keep in mind it is a $50 motherboard. You don't get all the manual settings that you want and not all the utilities work like they should. We brought this up with Gigabyte and they confirmed the system fan was not adjustable and is looking into the other issues we found. We went to update the BIOS on the A55M-DS2 rev 2.1 motherboard, but the Gigabyte website only shows rev 1.0, 1.1 and 2.0 motherboards. It looks like our revision is so new that is it not listed on their website!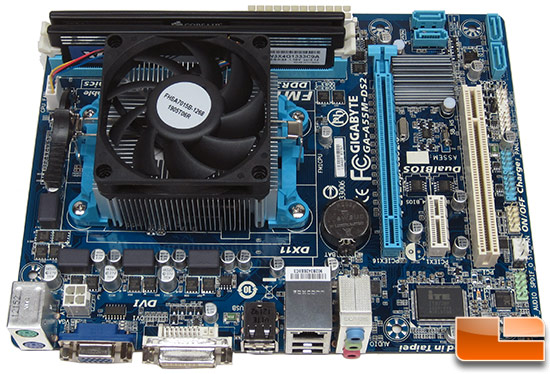 If you are looking into building a new system and don't want to break the bank we hope that you enjoyed this guide/review. We thought it would be interesting to build up something new and compare it to something older as we don't go that far back that often. If you haven't updated your PC in a long time and want to, we you learned easy and cost effective it is. Plus, you get an increase in overall system performance, which helps you become more productive and have a more enjoyable experience! You can also get power savings as new hardware is built with power efficiency in mind and with much better components.
Legit Bottom Line: You don't have to break the bank to get a nice upgrade to that PC you've had for way too long!