Prolimatech Lynx CPU Cooler Review
Prolimatech, founded in 2008, is still a relatively new company. Specializing in CPU coolers, they've produced two of the best high performance coolers on the market, the Megahalems and Super Mega. For a company that has specialized in mainly high performance coolers, it's nice to see them producing more low-end affordable coolers as a part of their product list.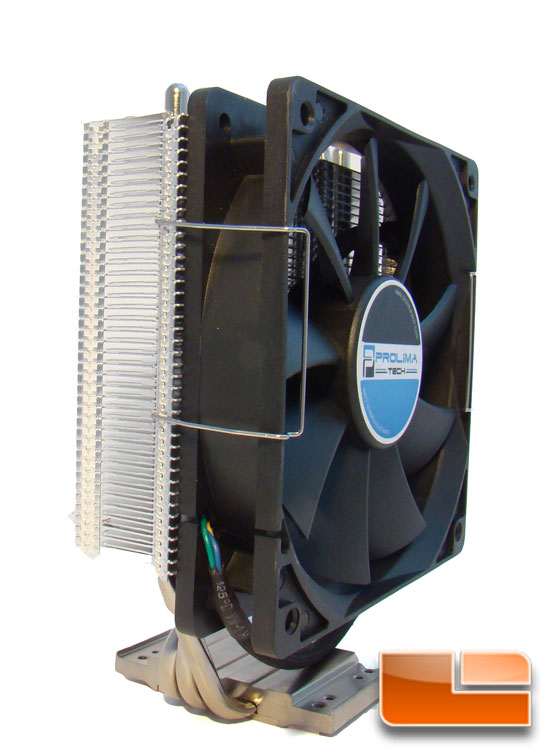 Today we'll be taking a look at the Prolimatech Lynx CPU cooler. As far as I can tell, this cooler is not available for purchase in the United States, but we asked Prolimatech and were told that the MSRP is $34.99. That being said, this cooler is aimed for the lower range of the market. The Lynx is currently the baby of Prolimatech's family of rather large coolers. Sporting just three nickel-plated copper U-Shaped heat-pipes and a slim figure, not to mention an affordable price, the Lynx looks to be a great replacement for any stock cooler. Let's take a look.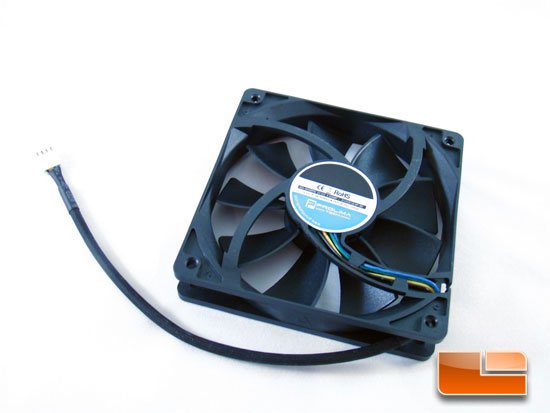 Like most coolers in its class, the Lynx is boxed with a sleeve bearing 120mm fan that produces around 57 CFM. The fan is plain black with no LEDs. The Prolimatech stickers on the front and back along with the black sleeved cable give this fan a nice clean look. This fan is capable of speeds between 800 and 1600RPM. A 4-pin PWM (Pulse Width Modulation) connector is used to allow for varied speeds depending on your fan profile/CPU temperature.
Prolimatech Lynx Features:
Three high quality nickel plated heatpipes for effective heat.
Equipped with one 120x120x25mm PWM fan (800~1600 rpm).
Option for adding 2nd fan to maximize cooling performance.
Flexible mounting kits for Intel socket LGA 1155/1156 and AMD AM2/AM2+/AM3.
Compact tower cooler, perfect for small chassis.
Prolimatech Lynx Specifications:
Heatsink Dimension: 118mm X 70mm X 159.5mm (LxWxH)
Heatsink Weight: 400 g (heatsink body only)
Fan: 120 x 120 x 25 mm Black PWM fan
CPU Platform: Intel Socket LGA 1156/1155 & AMD Socket AM2/2+/3/3+
Warranty: 2 years
Unboxing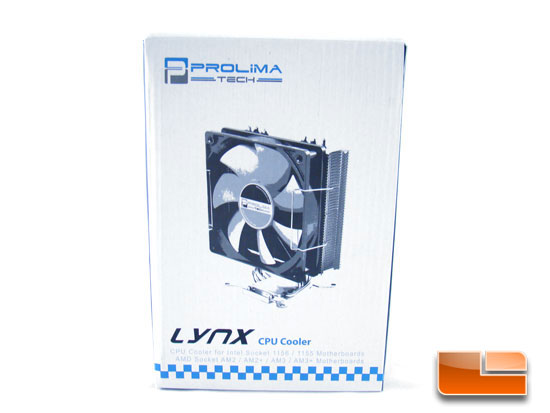 For starters, the entire box is cardboard with no plastic viewing windows. The front of the box features a large picture of the cooler with a fan attached. The supported sockets are listed at the bottom of this side.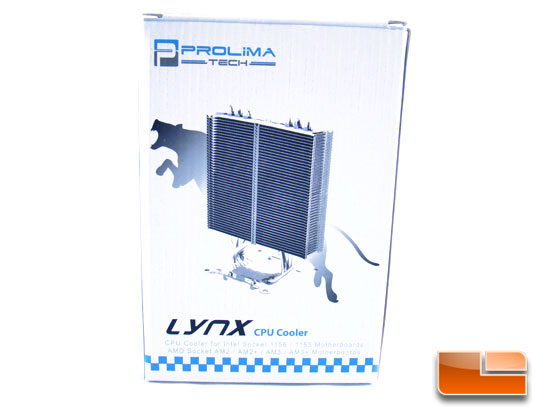 The back of the box is almost identical to the front. The cooler is pictured without a fan and has a silhouette of a lynx behind it. Again, the supported sockets are listed.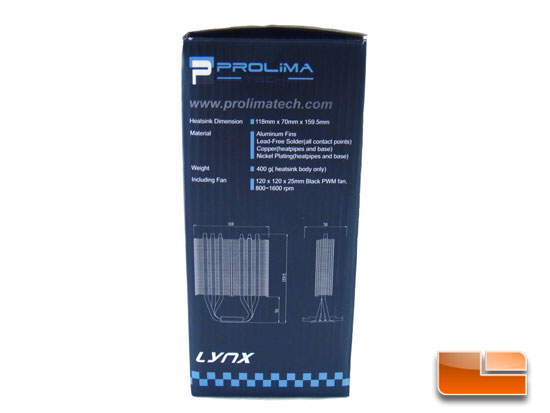 The first side includes a picture of the cooler with its dimensions labeled. The cooler's dimensions, features and specifications are all printed above.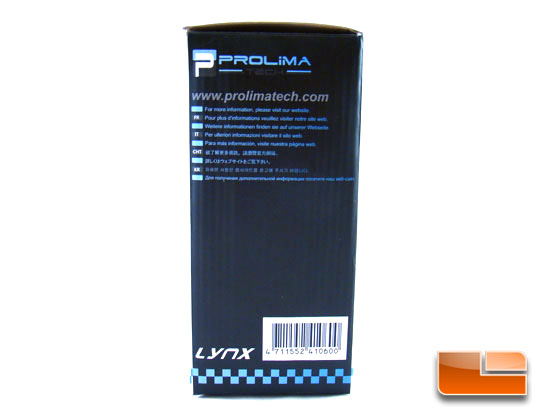 The final side is fairly plain with text referring to Prolimatech's website for more information.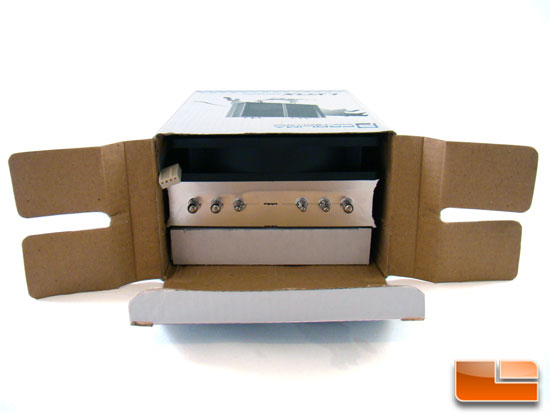 Upon opening the box, we can see that the cooler is sandwiched between the fan and the box of accessories. The packaging would be sufficient in protecting the cooler in just about any reasonable fall or tumble it might take on its journey since the cooler does not touch any of the corners.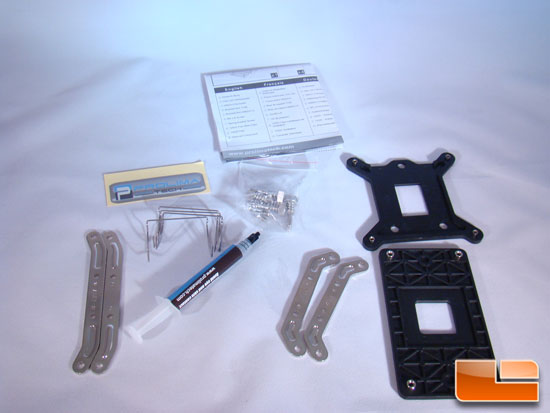 The accessories box included installation instructions, mounting hardware, thermal paste and a Prolimatech sticker. The included mounting hardware is simple and sturdy, with one set for Intel sockets and one for AMD. An extra set of clips has been included so that a second fan may be mounted on the cooler.
External Impressions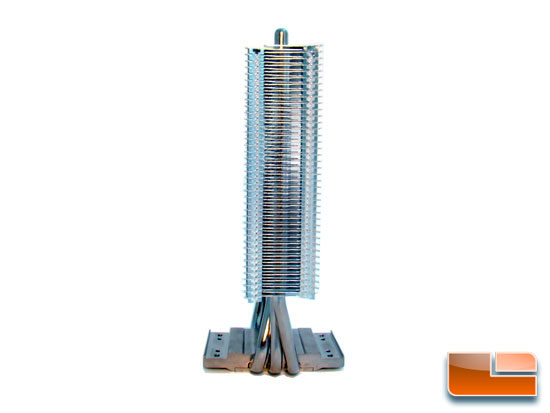 For the Lynx, as well as its older brother the Panther, Prolimatech has used half-fins (About 40 per side on this model). Each of these fins is directly soldered to the heat-pipes in the center.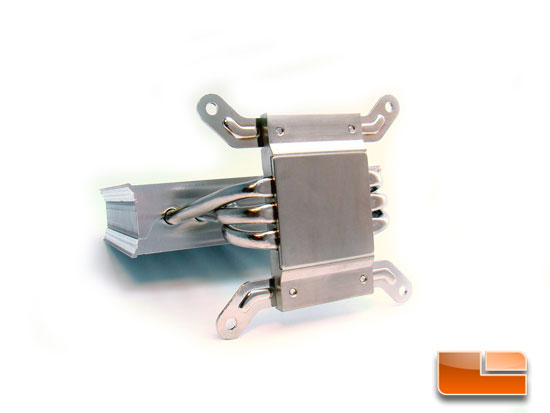 The Lynx features a solid nickel-plated copper base. The base is flat, but does not have a mirrored finish. Taking a look at the top and bottom of the base, you'll be able to see the socket 1155/1156 mounting equipment that we've selected for this build. These are secured by two small Phillips head screws each in the visible holes from the top.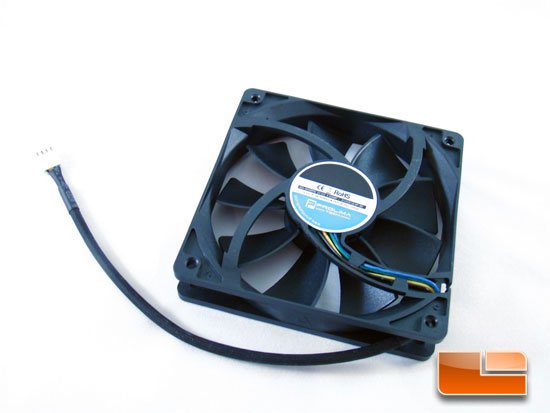 The included fan is a standard size 120mm fan, measuring 120 x 120 x 25mm (LxWxH). At its minimum RPM (800), this fan only produces 15dBA, which makes this fan nearly silent. Prolimatech claims that at its maximum RPM (1600) the fan should never make any more than 35dBA. I'd like to note that I could not hear this fan over any other fan in my case at any given time, load or idle.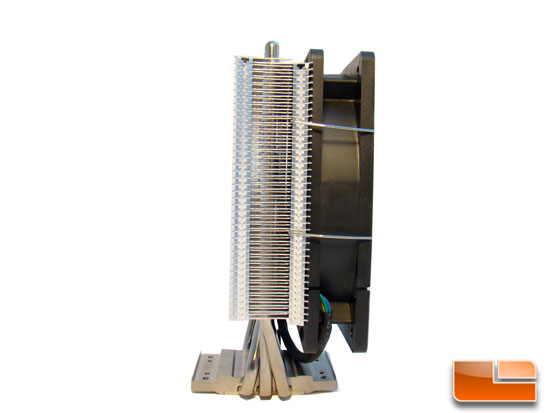 Taking a look at this cooler with the fan installed, we can get a feel for how small this cooler is. The mounting clips for the fan were easily installed, sliding between any of the fins and then clamping down of the fan on each side for a nice tight fit.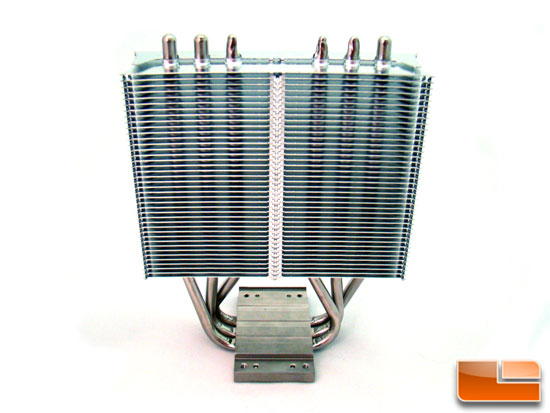 This view gives us a look at the cooler in its entirety. The nickel plating on the heat-pipes and base tie into the aluminum fins completing the strong, solid look of this cooler. Looking at the base, we see four holes on each side. The inner two are only a mm or two deep and are filled by small bumps on the bottom of each mounting arm to keep them sturdy. The outer two are filled by two small Phillips head screws that lock the mounting arms in place.
Lynx HSF Installation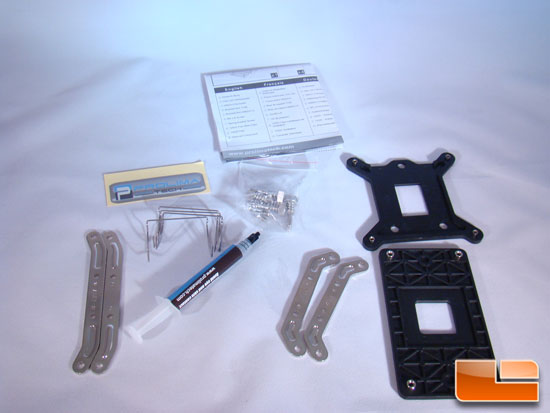 The first step in the installation of the Prolimatech Lynx is to select the mounting hardware for your socket. This is simple; if you've purchased this cooler you should have either an Intel socket 1155/1156 which use the same mounting pattern, or an AMD socket AM2/AM2+/AM3/AM3+ which all use the same mounting pattern as each other. I've got an Intel i5 2500k, so I'll be using the 1155 mounting hardware for this review. Once you've got the right hardware, you'll want to screw the mounting arms onto the top of the base using the provided Phillips head screws on each.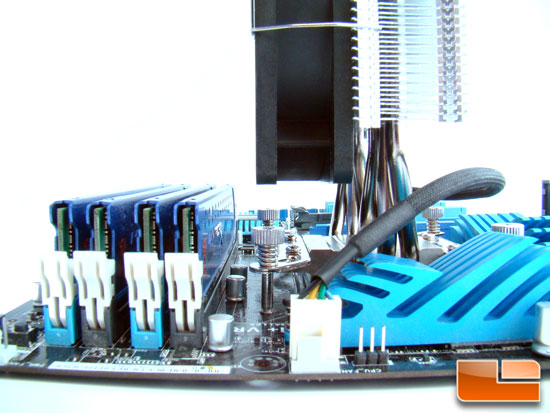 The next step in installation is to place the correct back-plate on the back of the motherboard. This may be difficult to do inside a case, so I'd suggest removing the motherboard for this step since the back-plate does not have an adhesive to keep it on. Finally, with the back-plate in place, you'll place the cooler on your CPU and begin inserting the provided mounting screws. These screws have springs on them to help provide secure and consistent pressure on the whole CPU. Start in one corner and insert the screws diagonally from there, tightening a little bit on each until they have all been sufficiently tightened. The screws are ridged on the edges to provide grip when tightening, but in the end I used a Phillips screwdriver to tighten them all of the way.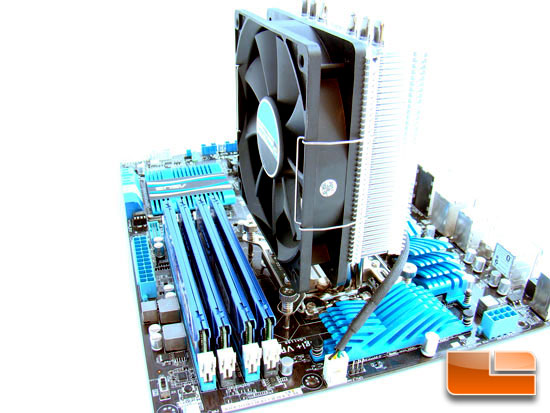 As you can see, RAM clearance is not an issue with this cooler. This view gives you a look at the Phillips head holes on the top of each screw, and a better view of the small screws used to hold down the mounting arms. Overall, this was a very easy installation.
Test System & Benchmarking
Today we will compare the Prolimatech Lynx to the Intel stock cooler.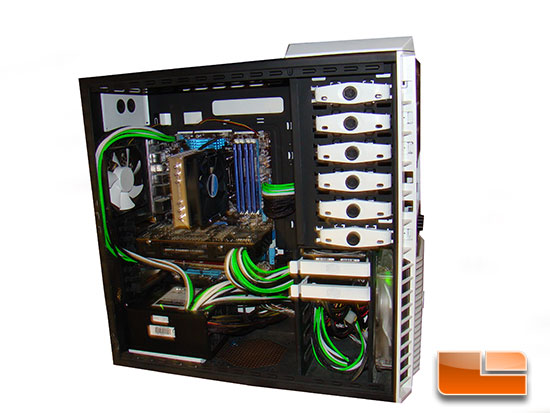 Intel Test Platform
Component
Brand/Model
Pricing
Processor
Intel Core i5-2500K 'Sandy Bridge'

Click Here
Motherboard
ASUS P8P67 'Intel P67'



Memory
Kingston HyperX 16GB DDR3 1600MHz
Click Here
Video Card
XFX Radeon HD 6950 1GB

Click Here
Hard Drive
OCZ Agility 2 64GB SSD

Click Here
Power Supply
PC Power & Cooling Silencer 750W PSU

Click Here
Chassis
Cooler Master HAF 932

Click Here
Operating System
Windows 7 Professional (64bit)
Click Here
These are the specs for the test system.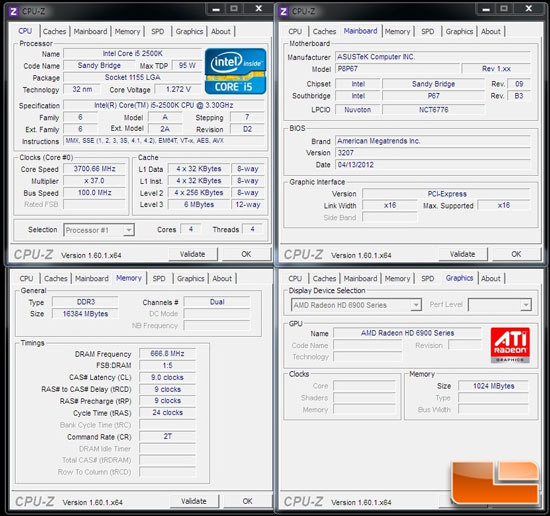 I will be using CoreTemp to monitor all temperatures. Idle temperatures were recorded after leaving the computer idle on the desktop for 30 minutes. After 30 minutes of running Prime95 on the "Blend" setting, load temperatures were recorded. Each test was done three times to ensure that all temperatures are correct. The CPU was tested at stock speeds with turbo enabled. Temperatures shown will be the average of all four cores. Arctic Cooling MX-2 thermal paste was used instead of the provided paste.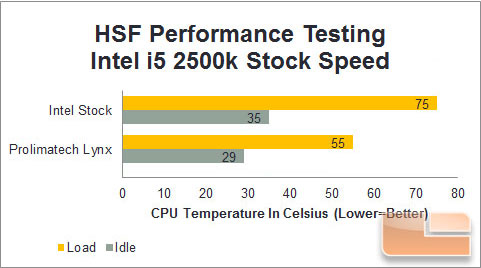 It was no surprise to me that this cooler would best the stock cooler. At stock speeds, the stock Intel cooler didn't stand a chance. The Lynx went above and beyond my expectations for a three heat-pipe cooler. Rolling in at just 55 degrees Celsius under full load, this cooler kept my CPU both cool and quiet.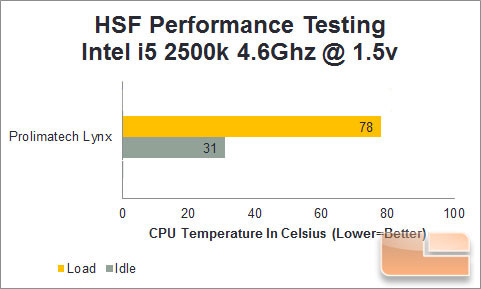 I figured that this cooler was small to do any serious overclocking, but I went ahead and tried a reasonable overclock at 4.6GHz at 1.5v. I was very surprised to find that the Lynx actually out-performed the old bulky Coolermaster V8. This proves that more heat-pipes don't always make a difference. Prolimatech has put some serious care into the design of this cooler.
Final Thoughts and Conclusions
I was happy to see that the smallest of Prolimatech's CPU cooling family still packed a punch. I believe that Prolimatech hit their target with this cooler. The Lynx HSF offers a solid upgrade from a stock cooler without breaking the bank. The Lynx is a small, affordable cooler that performs very well for its price. Installation was simple and easy, with almost no instruction required. With an additional fan installed, this would be a killer cooler for how small it is!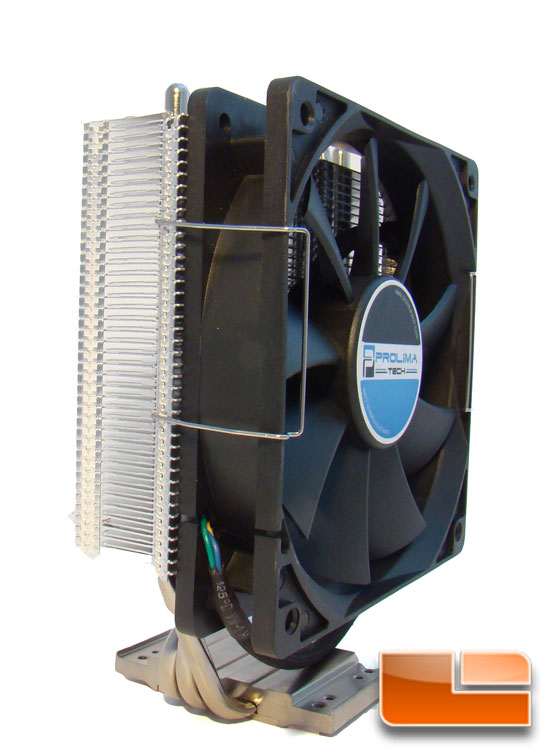 If there was one thing that I would change, it would be to put adhesive on the back-plates. An adhesive back-plate would allow for in-case installation, rather than having to remove the whole motherboard. I noticed that it took a large amount of pressure for the springs on the mounting screws to compress enough so that I could screw them into the back-plate. I hadn't mentioned this before because I don't necessarily consider it a con. The more pressure the better, and I was certainly satisfied with the tight mount.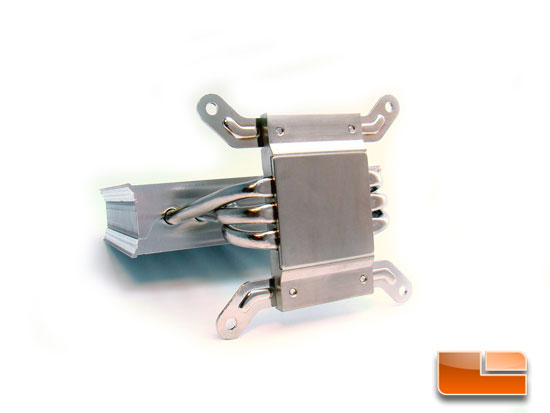 Again, being priced at $34.99, the Prolimatech Lynx provided great price to performance. This cooler is a great option to replace your stock cooler, with some headroom for a mild to moderate overclock as well.
Legit Bottom Line: Prolimatech has given PC users another well-built cooler, this time with a lower price in mind. The Lynx is everything I've come to expect from Prolimatech, but in a smaller, quieter package.