Spire Coolgate 2011 - Small But Mighty
Since 1998 Spire has been manufacturing and providing cooling solutions for computer manufacturers worldwide. Initially they specialized in OEM (original equipment manufacturer) and ODM (original design manufacturer) products, though as of late they have branched off into the enthusiast segment of the computer market. Spire has designed and produced products ranging from cases to power supplies and aftermarket cooling products.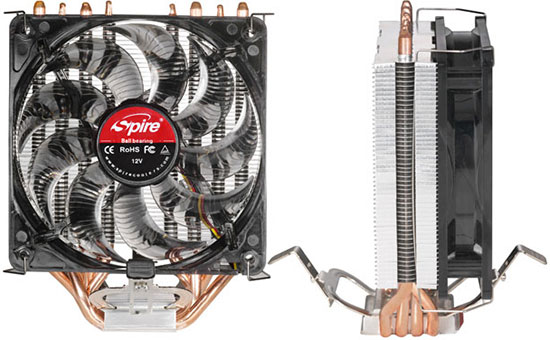 Today we're going to be looking at the Spire Coolgate 2011 CPU cooler. This cooler is currently priced at just $34.29 or £21.86. The Coolgate 2011 is designed to be lightweight, compact, quiet, and most of all affordable. With four 6mm, U-shaped, copper heat-pipes it's not designed to be the greatest aftermarket cooler on the market. More so to replace the loud, inefficient cooling solutions that ship with Intel and AMD's current CPU offerings.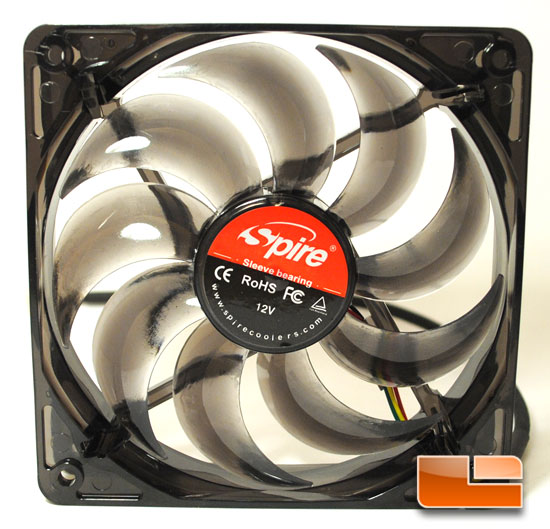 The Coolgate 2011 comes bundled with a sleeve bearing 120mm fan which has a rated speed of 800-1600 RPM and is capable of pumping out 71 CFM at 19 dBA. The included fan has a 4-pin PWM (pulse width modulation) connector. There are no LEDs on the included fan, but it is sleeved nicely so there aren't any stray wires hanging around once the CPU cooler is installed.
Spire Coolgate 2011 HSF Main Features:
Four (4) 6mm all copper U-shaped sinter-powder heat-pipes
All direct touch heat-pipes with the processor heat spreader
Straight lined heat-pipes allowing air to easily pass through
50 stacked aluminum wide fins for best surface rate
120mm (universal) BlackStar 9 blade fan design
Anti-Vibe soft fan corners, spring mounted fan clips
Supports AM2/AM3/FM1 and 775/1155/1156/1366 sockets
PWM Fan speed control management for silent computing
BlueFrost SP802 Thermal compound included
Best cooling performance on hot cpu's up to TDP 130W
3 years manufacturer limited warranty
Spire Coolgate 2011 HSF Specifications:
Model: SP996S1-V1-PWM
Materials: Aluminum fins, copper heat-pipes
Dimensions: 131×46×153 mm (L × W × H) (without included fan)
Weight: 495 Grams with included fan, 375 grams without a fan
Spire Coolgate 2011 Compatibility:
The CoolGate 2011 is conform CE/ROHS & WEEE directive and compatible with ATX and MICRO ATX platforms
Intel 775/1155/1156/1366 sockets
AMD AM2/AM2+/AM3/AM3+/FM1 Sockets
Spire Coolgate 2011 MSRP:
Spire Coolgate Unboxing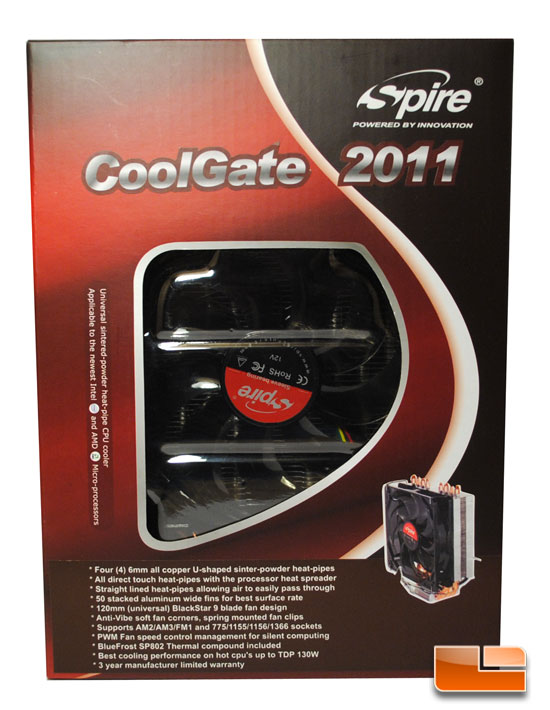 Starting at the front of the box, we can see the fan through the clear plastic front as well as a graphic of the cooler. Some of the features are also listed, such as the warranty and the sockets that are supported.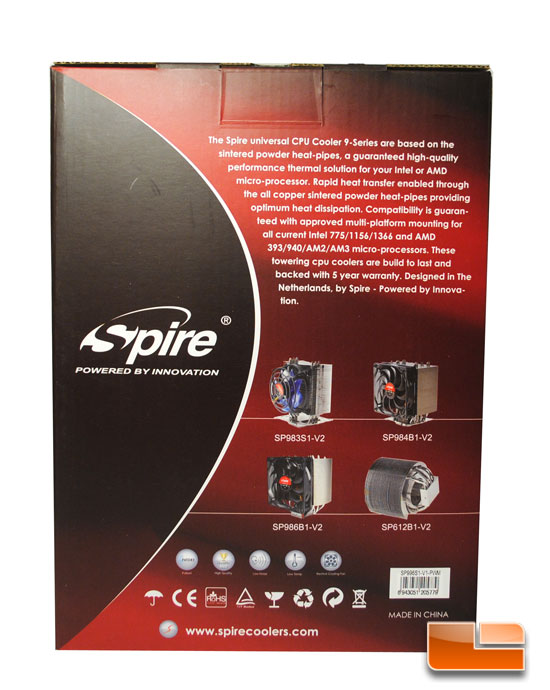 The reverse side of the Spire Coolgate 2011 box gives us some background info on this series of CPU coolers, such as mounting compatibility and letting us know about the all copper heat-pipes they use. As well as showing us a few graphics of some of their other CPU cooler offerings.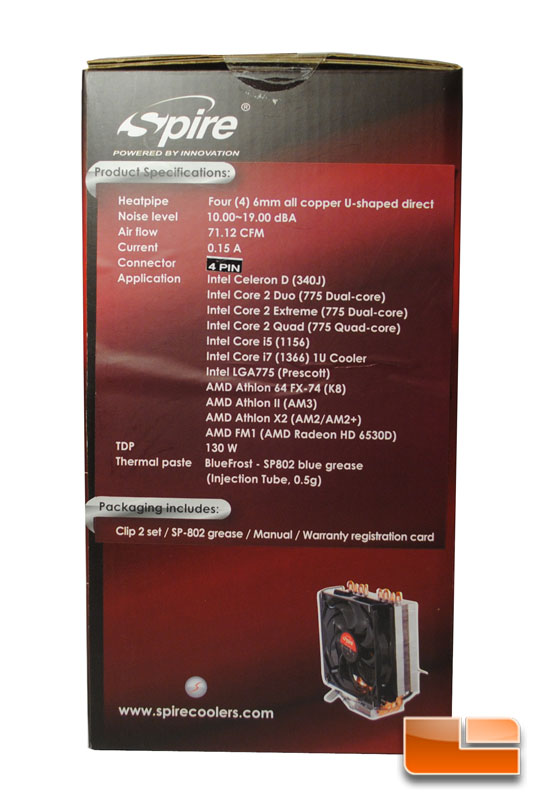 On the side of the box we are able to see some more details on the Coolgate 2011. We can see that it features four 6mm all copper U-shaped heat-pipes, as well as some info on the fan and the compatible CPUs. At the bottom we can see a list of included contents as well as another graphic, this time of the Coolgate 2011 itself.
Once I opened the box up, I found a white cardboard box at the top of the packaging. This box housed all the paperwork, mounting hardware, as well as the BlueFrost SP802 high performance thermal paste that comes with the Spire Coolgate 2011 CPU Cooler.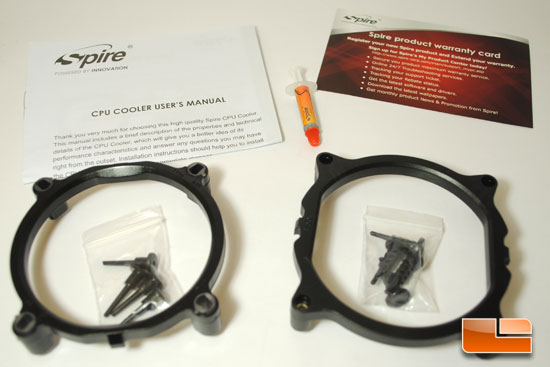 The first thing I noticed when I took the accessories box out was how light it was. You can see above why that was. The mounting hardware that is included is tool less and made of lightweight plastic. Very surprisingly, this lightweight plastic was very strong and not flimsy feeling at all. As you can see there is an install guide as well as a warranty card included.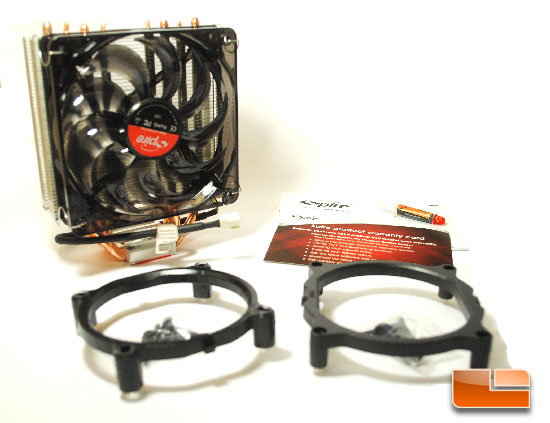 Here is everything that's included; the Spire Coolgate 2011 and the accessories.
Spire Coolgate 2011 Up Close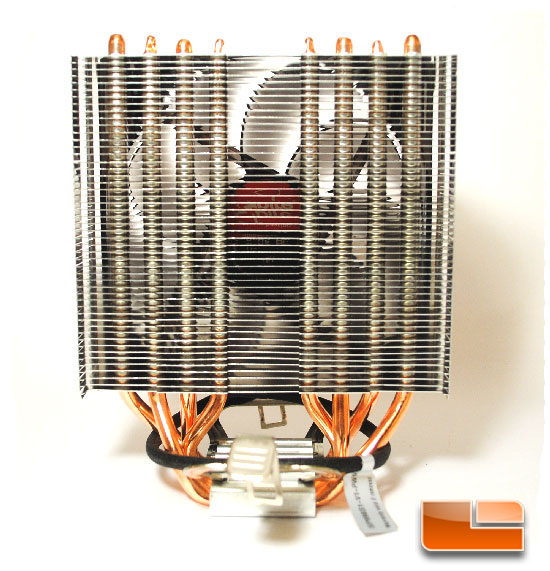 Taking a look at the Coolgate 2011 I was able to count 50 aluminum fins which are about 0.5mm thick and spaced approximately 1mm apart. The fins are soldered directly to the four 6mm copper heat-pipes.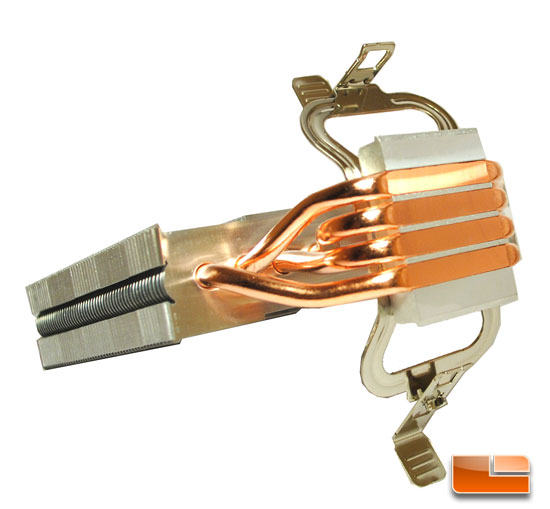 When we look at the base of the Coolgate 2011, you can clearly see that it is an HDT or heat-pipe direct touch style cooler. This means that the heat-pipes make direct contact with the CPU which means better heat transfer into the fins. You're also able to sneak a peek at the mounting system that is used by the Coolgate 2011.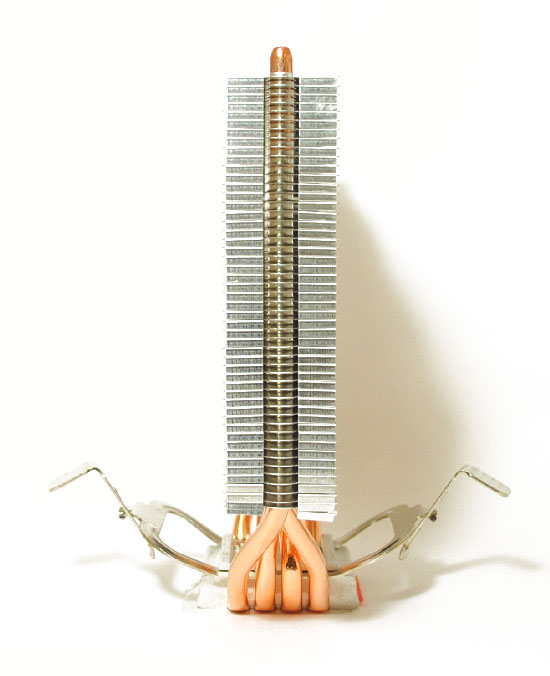 Moving around to the side of the Coolgate 2011, we are able to get a closer look at the heat-pipes. You're able to count that there are four of them and again, they measure 6mm in diameter.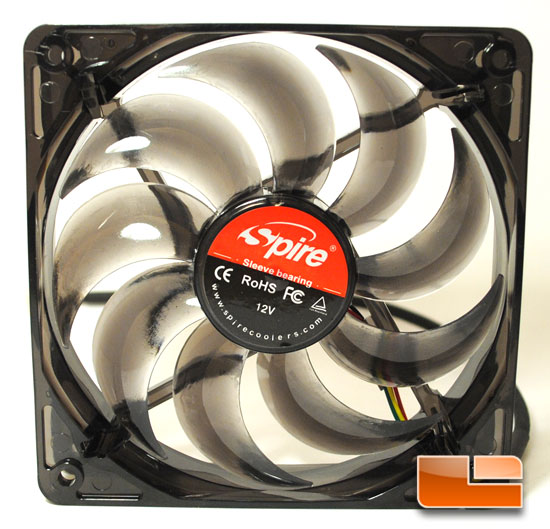 The 120mm PWM fan that is included with the Spire Coolgate 2011 HSF is called the BlackStar. The Spire BlackStar fan measures 120 x 120 x 25mm (LxWxH) and features nine blades with a sleeve bearing that has an estimated life of 30,000 hours. This fan has a rated speed of 800-1,600 RPM and at full speed it is capable of pushing 71 CFM at 19dBA.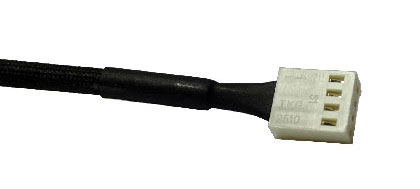 Here is a closer look at the 4-pin fan header on used on the Spire BlackStar fan. You can also see that they sleeved the cable, which is very nice.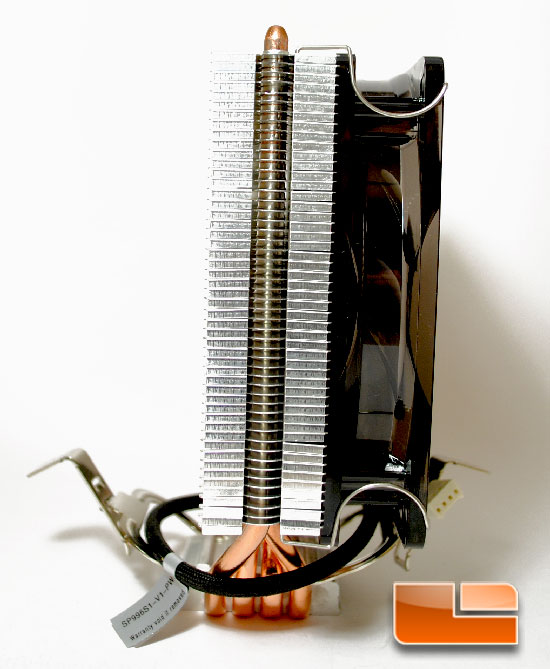 With the fan attached to the Coolgate 2011 we can see that the cooler isn't much thicker than the fan itself, which lets us know that this is far from the large, cumbersome cooler that some are used to dealing with.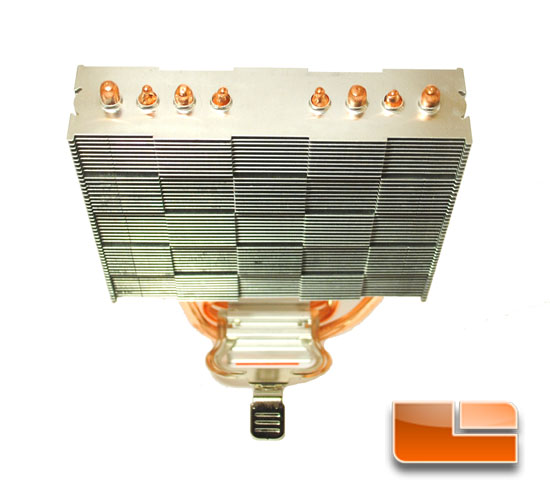 Looking at the top of the Coolgate 2011 gives us a good look at the unique pattern the fins are arranged in. This unique pattern on the fins allows for more surface area and therefore more cooling capability. This angle also gives us a look at the copper heat-pipes again.
Installing the Spire Coolgate 2011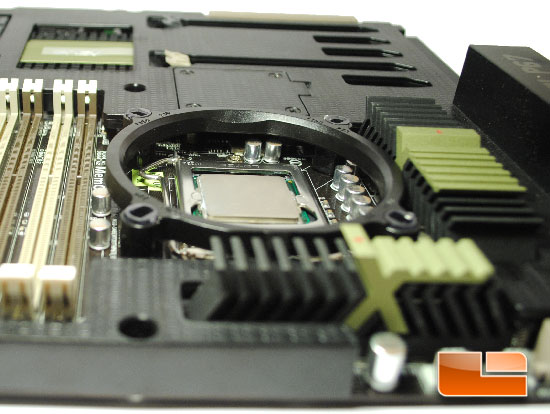 To install the Spire Coolgate 2011, you first need to pick the appropriate socket mounting hardware. In my case, I am installing into an Intel LGA 1155 socket so I chose the LGA 775/1156 bracket. In case you didn't know the mounting system for LGA 1156 and LGA 1155 are the exact same.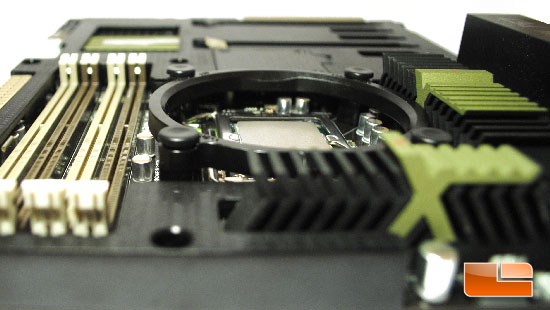 The second step is rather simple; you simply take the appropriate pushpin for your socket and press it into the mounting bracket. You can't force the wrong pushpin in the wrong bracket, so if you have to force the pin in, check to ensure you have the correct one.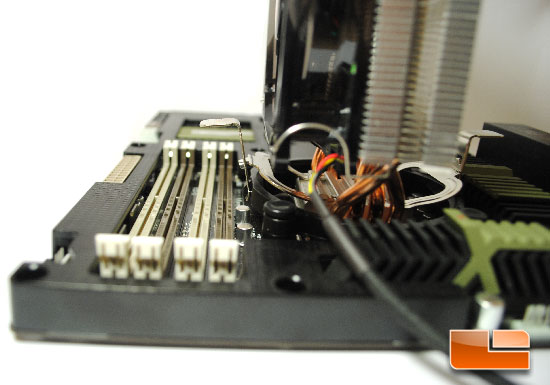 The last and final step is as simple as pushing the clips on the base of the cooler over the notches on the mounting bracket. If you're using this in an AMD system, you don't have to do anything except remove your stock cooler and clip this on just like your stock cooler attached.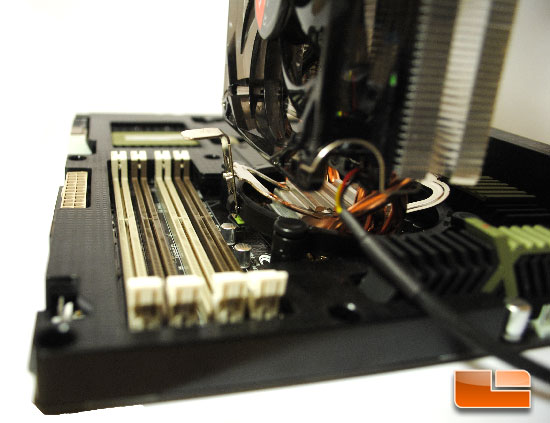 Here is a better angle for you to see exactly how the mounting clips attach to the mounting bracket. It's an extremely simple mounting system which is designed to simplify the installation procedure. With this mounting system, if you're going from the stock cooler you don't even have to remove your motherboard from the computer to install this cooler.
The Test System
Today we'll be comparing the Spire Coolgate 2011 against a few other coolers that we've previously tested.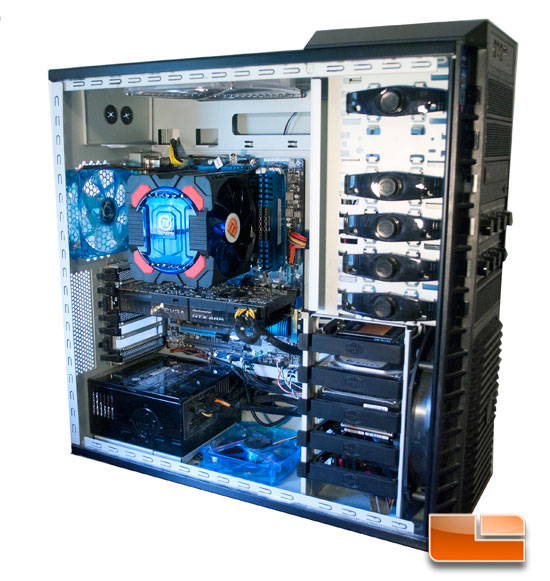 Here is a short list of the parts that make up the test system:
Intel Test Platform
Component
Brand/Model
Pricing
Processor
Intel Core i5-2500K
Click Here
Motherboard
ASUS P8P67 Pro

Click Here
Memory
Corsair Vengeance 8GB DDR3 1600MHz
Click Here
Video Card
EVGA GeForce GTX 470

Click Here
Storage Drive
Crucial C300 64GB SSD

Click Here
Power Supply
BFG Technologies EX-1000

Click Here
Chassis
Cooler Master HAF 932

Click Here
Operating System
Windows 7 Home Premium (64bit)
Click Here

Test Specs:


Here you can see the clocks and voltages that the system will be using for the overclocked tests.
For monitoring all temperatures I am using Coretemp. For idle temperatures, the computer was left unused for 15 minutes at desktop allowing it to settle. For load temperatures, prime95 was used, and ran for 20 minutes using the default "blend" setting. The CPU was tested at stock speeds with turbo enabled. Our overclocked tests were run at 4.8 GHZ using 1.46v to maintain stability. All tests were done using Arctic Cooling MX-2 thermal paste. Temperatures shown will be the average of all four cores. For those who are curious, the ambient room temperature is right at 74 degrees Fahrenheit or 23.3 degrees Celsius.
Temperature Testing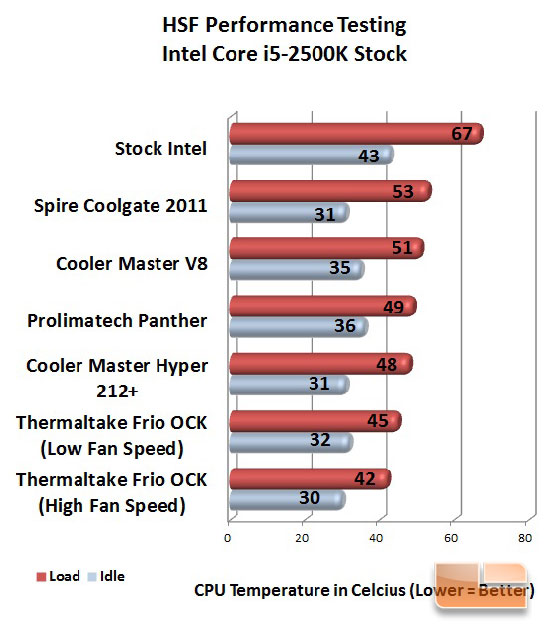 At the stock clocks on the Intel Core i5 2500k, the Coolgate 2011 manages to not only best the retail box cooler that Intel includes but also comes within just a mere two degrees Celsius of the Cooler Master V8. This is pretty impressive as the V8 is almost twice as large in weight and size as the Coolgate 2011, and it features six 6mm heat-pipes to the Coolgate 2011's four 6mm heat-pipes. Managing to keep the CPU at a cool 53 degrees Celsius isn't bad! I should also note that during the load test the Coolgate 2011 was completely inaudible. At no point was I able to hear the fan on the cooler spinning up!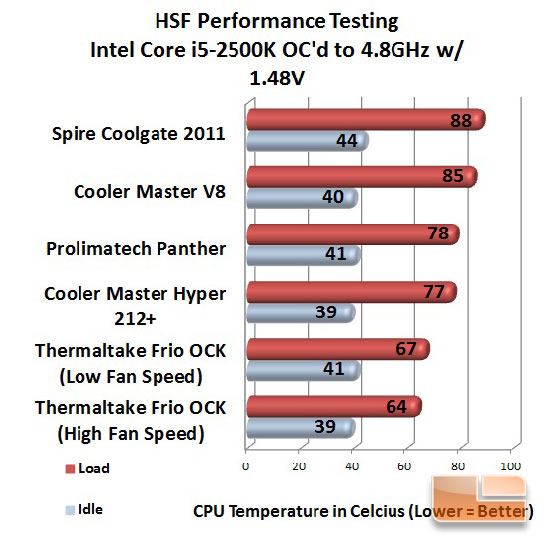 Once we take the test system up the specified overclock of 4.8GHz using 1.48v we can see that the Coolgate 2011 seemed to struggle a little bit, coming in at 88 degrees Celsius. Though, again it managed to stay within just a few degrees Celsius of the Cooler Master V8. This came as quite a shock to me, as I wasn't expecting this small cooler to perform this well! Again, even under full load the Coolgate 2011 was completely inaudible. I wasn't able to hear it over any of my other fans in my case.
Final Thoughts and Conclusions
This was my first hands on experience with a Spire product, and I can comfortably say that this little cooler definitely surprised me. I'm really not sure what was more surprising though, the fact that the install took just about three minutes to complete, or that for such a small cooler it was able to keep up with one of the larger coolers that I've tested. Coming in at just 53 degrees Celsius on full load at stock speeds, the Coolgate 2011 certainly managed to best the stock Intel cooler by a whopping 14 degrees Celsius.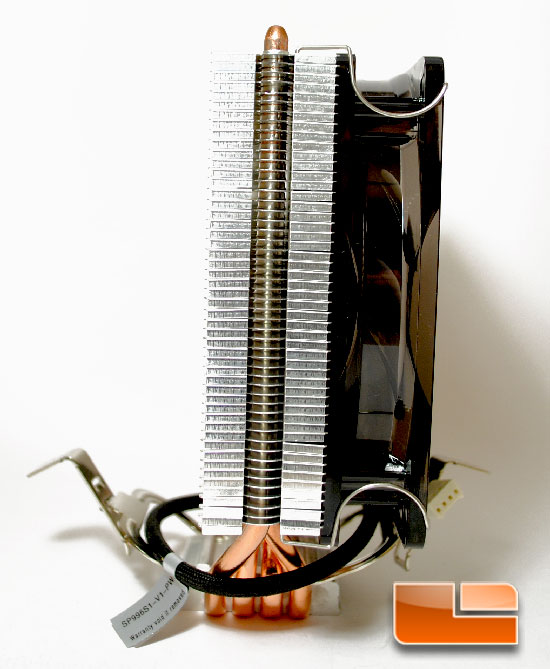 With such a small footprint, and being virtually completely inaudible the Coolgate 2011 would make the perfect replacement for your noisy stock cooler. The ease of installation is something I can't speak highly enough of. I've never come across a cooler that was as easy to install as this was. It was simply a matter of placing your mounting bracket, then inserting the correct pushpins through the mounting bracket and then clipping the Spire Coolgate 2011 onto the mounting bracket. In total it was about a three minute installation!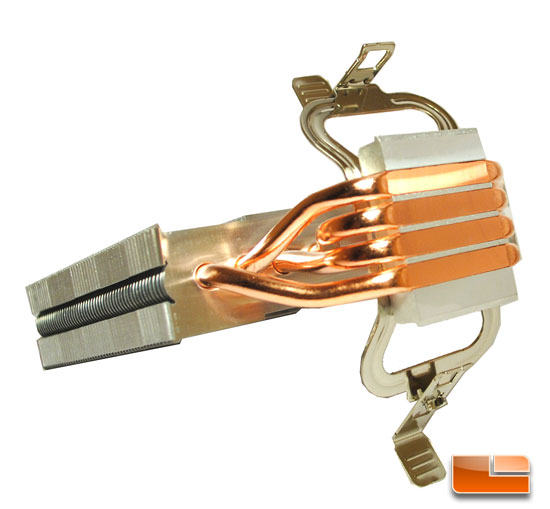 With the Spire Coolgate being priced at $34.29 or £21.86, this cooler isn't aimed to be thrown into the higher end of the enthusiast cooling market. This cooler is perfect as a stock cooler replacement for those that want a quieter and better performing solution. The fact that the Spire Coolgate 2011 was even capable of handling a moderate overclock was icing on the cake. I wouldn't recommend that you try and run such a harsh overclock as we did in our tests today, but it should easily handle something a bit milder say perhaps 4.2-4.5GHz.
Legit Bottom Line: If your main interest is to maintain a quiet machine, yet not sacrifice on performance the Spire Coolgate 2011 is definitely a CPU cooler to consider!