Patriot Javelin S4 Home Media Server first impression
I have a confession to make. I have been privately looking at purchasing a NAS (Network Attached Storage) for myself for about a year but have hesitated because they seemed a bit pricey considering most do not include the hard drives. I also wanted to put it under my desk next to my dead silent water cooled rig and the thought of the drive noise plus the cooling fan(s) had me worried that it would break my serene office quite. So like a bad boyfriend I have never committed and my storage needs have severely suffered because of it.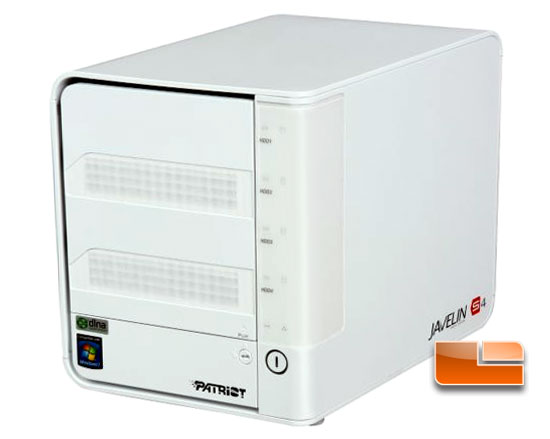 Nate and Patriot Memory to the rescue! Nate rang me up and said "I just got this new NAS and was wondering if you had time..." I cut him off with a firm "Yes yes, I would be happy to!" Now here is where I have to trust you will not mention this part to Nate. This nice shiny box is sitting in my office waiting to be tested while I worked on a few other reviews but I just could not resist the calling of "play with me, see my fancy graphics, come on you know you want too!" So yes, I actually started using the Patriot Javelin S4 Home Media Server NAS about 10 minutes after I walked into my office and before I was finished with my other review. In fact it was so amazingly easy to use with a depth of features I could never fully utilize that I couldn't stop playing with it and it might have slightly delayed finishing my last review. Remember this is just between us so do not tell Nate. Now that I have that off my chest it is finally time to justify my playing and review this bad boy.
Most of you are aware of Patriot Memory since they have been designing and manufacturing high performance enthusiast grade memory since 1985. But like other memory manufacturers they have started to move in to adjacent markets such as SSD's and even into peripherals such as memory cooling fans, USB 3.0 cards, and in the case of Patriot Memory, NAS media storage devices.
The Patriot Javelin S4 Home Media Server (P/N: PCNASJV35S4) is a four drive NAS Media Server that can deliver up to an enormous 12TB of storage (4x 3TB drives) which is the equivalent of 3 Million songs, or 3.4 Million photos, or 912,000 hours of videos which is 38,000 days worth. All of this storage potential just plugs right in to your GIG Ethernet network to be accessed from anywhere. And if up to 12TB is not enough space for you, the Patriot Javelin S4 has both eSATA and dual USB 2.0 connectors on the back to extend your storage even further. If you plug a thumb drive into one of the USB ports, the Javelin will automatically share that on the network as well. Bonus feature, plug a USB printer into one of the ports on the back of the Javelin and it will turn that into a shared network printer. The features just keep going with this unit.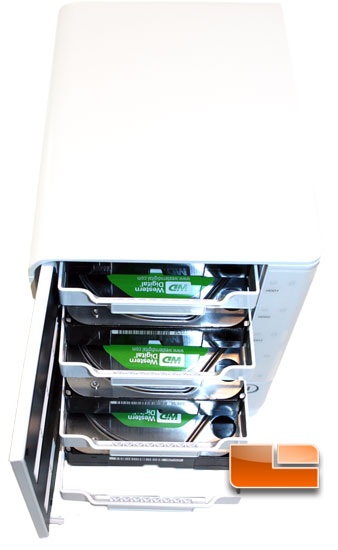 The primary feature of any RAID based NAS is some level of data fault tolerance and the Patriot Javelin S4 covers this with just about every modern RAID feature you can provide across four drives. The Javelin S4 starts by supporting RAID levels 0, 1, 5, and 10 (1+0). It also supports RAID migration to expand any RAID set you have created on the fly to a different RAID level and size simply by adding additional hard drive(s). To increase the resilience of your RAID array you can designate one of your installed drives as a "spare drive" which tells the Javelin S4 to allow it to sit idle and if one of the other drives in your RAID array fails the Javelin S4 will automatically use this spare drive to rebuild the RAID array with zero down time and all files fully accessible. If you do need to add a new drive either for expansion or due to drive failure the Javelin S4 has full hot swap support and will automatically mount the drive and begin to rebuild your array on the new drive if a drive has failed. The Javelin also has built in support for snap shot back ups on box, off box backups to another Javelin S4, and even supports APC UPS's for soft shut down upon power failure.
Why did Patriot name the Javelin S4 a home media server instead of simply calling it a NAS device? Simple, it has just about every possible media handling and connectivity solution you could ask for and some you might not have even considered. The Javelin S4 has a full music server streaming solution including the ability to create custom play lists and stream music to Windows Media Center, iTunes, a web browser, or an Android / iPhone App. There is a photo gallery solution that can even create a full photo album with an HTML file to show the photo's in one of many ways (lightbox, mooslider, etc). You simply can e-mail the folder to your friends and family to see all the images and have them presented in a great show. Video is covered from the media server and you can stream multiple 1080p streams to any device that is DLNA Certified or UPnP compatible such as an Xbox 360 in addition to your iPad, laptop, or any other device connected to the network.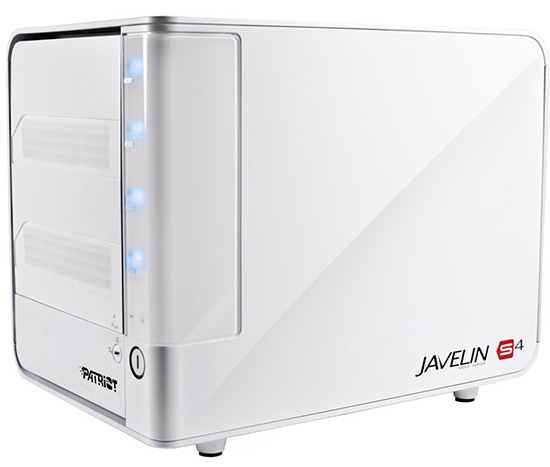 Patriot Memory Javelin S4 Home Media Server Features and Specifications:
Support up to 4 Hot Swappable 3.5" SATA II Hard Drives
RJ-45 10/100/1000 Network Port
1x eSATA and 2x USB 2.0 ports
Print server capable for USB Printers
iTunes server capable
Logitech Squeezebox Server capable (plug-in download required)
TimeMachine compatible
Integrated BitTorrent client
UPnP compatible
DLNA 1.5 Certified Digital Media Server
Web based in-browser playback (access from any PC or Mac)
Facebook Upload
Mobile media playback (Android/iOS Free APP)
Multiple user management
One Touch Backup
RAID 1, 0, 1+0 (10), 5
Full feature back up utility software (Acronis)
Applied Micro PowerPC 431EXr @ 800MHz
256MB DRAM
OS: BusyBox Unix
File System: XFS
iSCSI Target support
Web File Management Center
Web based Download Center
Schedule external drive backup/restore
Power saving features such as inactivity HDD power down
APC UPS support for soft shutdown
Both Web 2.0/Ajax Management and Client Management Utility
Supported Protocols: AFP/CIFS/SMB/NFS/DLNA/UPnP/Bonjour
Supported Operating Systems: Windows, Mac OS X, Linux
Supports Microsoft ADS; User, Group, and Quota management
NAS to NAS Replication
Snapshot Backup with Export and Restore
Wake On LAN; On/Off Scheduling; LED On/Off Scheduling
Support Bit-torrent, emule, HTTP and FTP download
MySQL and Web Server (WEBDAV)
Event Logging and Email Notification
The Patriot Javelin S4 only comes only in white and we found it for
$336.31 shipped
without hard drives. Patriot provides a
2 year warranty
which is about a year longer than most NAS manufacturers in this SOHO space.
Patriot Javelin S4 Unboxing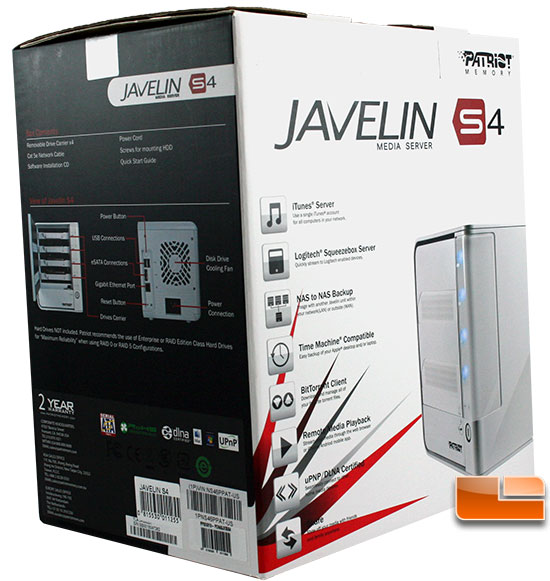 The Patriot Javelin S4 Home Media Server comes in a sturdy cardboard box with colorful graphics and specifications printed on all sides and a nice easy carry handle built into the top.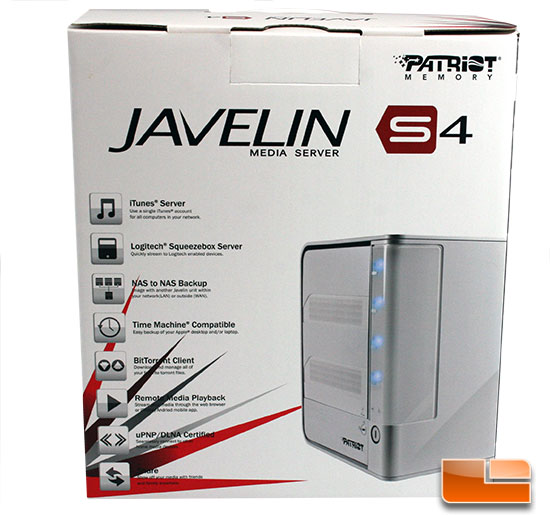 The back of the box shows the different RAID levels the Patriot Javelin S4 supports with a little detail about each.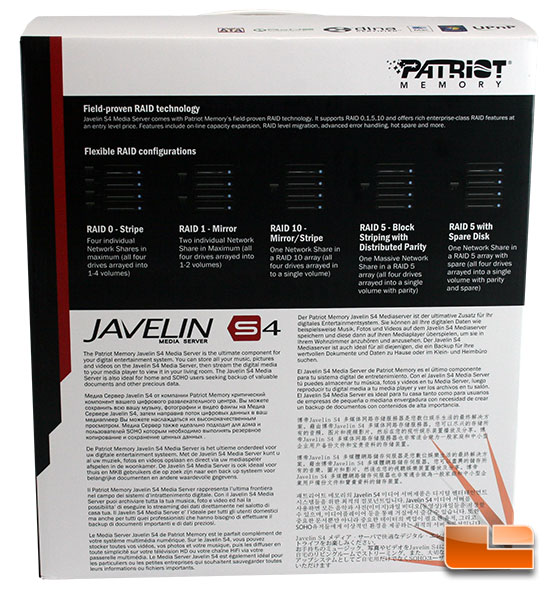 The unit comes encased in thick, tightly fitting foam to protect the shiny unit from any damage during shipping and is inside a thin foam bag to protect from scratches.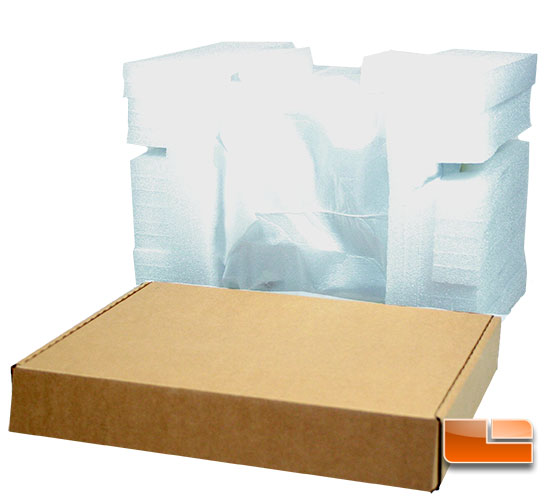 There is also a box on the side of the foam that has the quick start guide, power cable, Cat 5e cable, enclosure key, and a CD. The CD contains a PDF of the full user manual and the configuration software and backup software
(Acronis).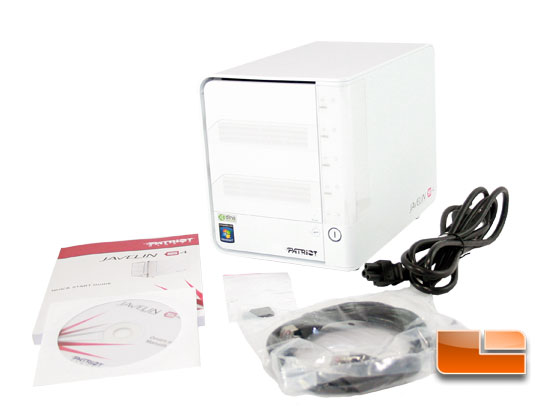 Inside the unit are four plastic trays and a baggie of screws to hold your 3.5" SATA drives. It would seem to make more sense to put these in the cardboard box instead of inside the unit where they could bounce around and possibly hurt something but that is a pretty minor nit.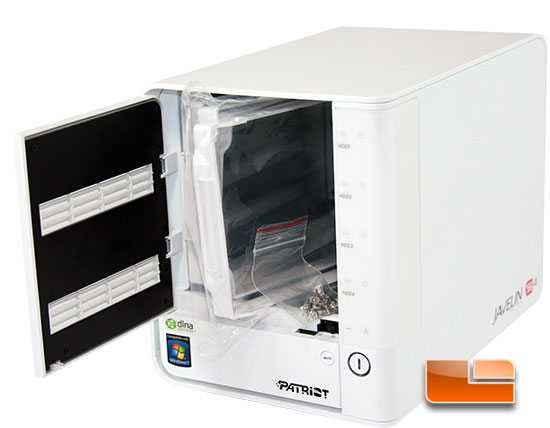 Close up of the Patriot Javelin S4 Media Server
The unit itself is 6"W (15.24cm) x 7"H (17.78cm) x 9"D (22.86cm) and made of shiny white ABS with rubberized feet. There are 5 tri-color status LEDs and 5 activity LEDs on the right side of the unit. One pair for each of the four bays and the last pair for the overall system. The status LED let you see at a glance the health of the unit either by the blinking activity of the drives and the network or by the color coding. A Red drive status LED means the drive has failed where a red system status means more serious fan, system, or power supply has failed. Amber disk status LED means the system is rebuilding that drive so performance might be degraded while amber system LED means there is a problem with the system, fan, or power supply. Finally, the blue LED status means everything is working fine for either the drives or the system.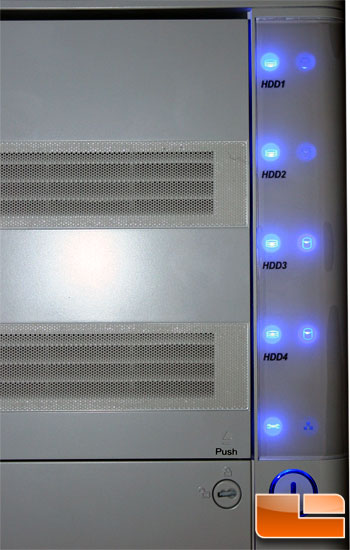 The front has a nice press to open front door with tiny perforations to allow air flow through to the back across the hot drives. This door can lock with the included metal key but a small screwdriver can turn the lock so it is more to prevent accidental access than real security.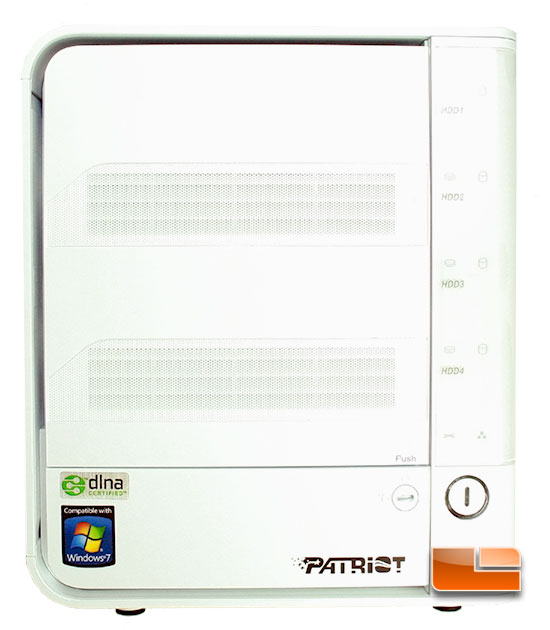 The back of the unit has the 80cm smartpower fan (automatically changes speed base on thermal load), a port to plug in the power cord (hooray for integrated PSU so no power brick!), the power button, two USB 2.0 ports, eSATA port, Gigabit Ethernet port, and a recessed reset button.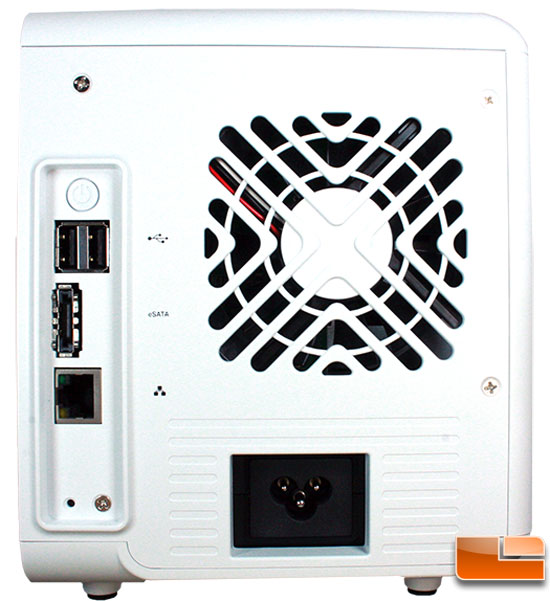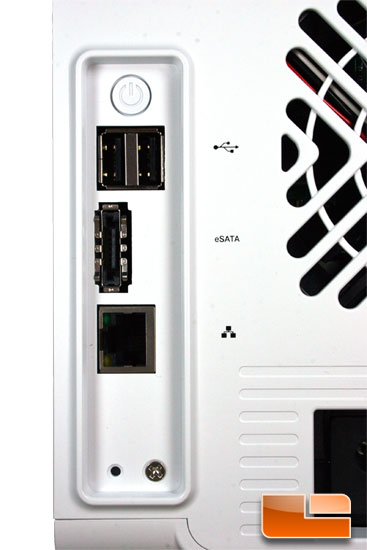 Behind the door you can see the four guides for the included HDD carriers and the combo SATA power and data connectors in the very back. These carriers make installing and removing drives a snap by easily gliding in and out of the enclosure.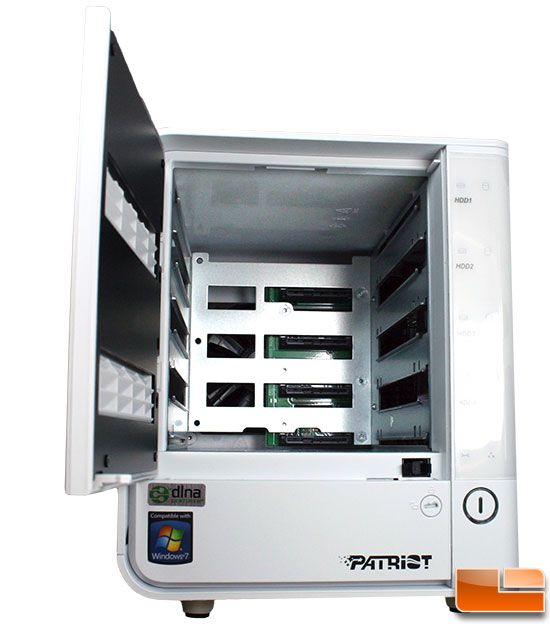 Just be aware that the Patriot Javelin S4 only supports SATA II (3Gbit/s) so spending the extra cash on SATA III (6 Gbit/s) drives will not provide you with any performance benefit. This really is not an issue because currently there is no spindle based mechanical HDD's that can saturate a SATA II connection. Even the mighty
VelociRaptor 600
tops out at 334 MB/s or 2.6 Gbp/s and those are not ideal drives for a NAS system due to low capacity and high heat.
In case you are wondering how Patriot came up with such a robust unit so quickly, well my eyes tell me it appears that the Javelin is actually the Promise Technologies Inc. SmartStor NS4600 in white with Patriot branding and a slightly lower price point. Don't get me wrong, this is not a bad thing as Promise Technologies has been in the RAID business for years and the NS4600 is a fantastic unit. It is actually one I was considering on my short list so reviewing the Javelin is a bit ironic.
Patriot Javelin S4 Configuration
As someone who has worked on large SANS frames let me tell you this box is right up there with features and is very impressive for a home unit. Management is very easy with two methods either the included software or through a web browser. The included software is very simple because it automatically locates the unit on your network and then allows you to configure the Javelin S4 with wizards or manual configuration. For more advance configuration options you can either start with the web interface (assuming you know the boxes IP Address) or connect to the web from the client software after it has found the box. The web interface is clean and based on AJAX to allow you full control over the system with real time updates. Finally If the included software or web interface do not give you enough control over the Javelin you can go to the extreme and download a plug-in from the Patriot support forums that allows you to root the box so you can directly mess around in the embedded BusyBox Unix OS. Just make sure you really know the BusyBox version of Unix and do not have any critical data on your array before you start playing around under the covers to minimize the risk of data loss.
Javelin S4 Quick Start:
The Javelin S4 is very simple to configure even if you only have the most basic understanding of computer networking. For the general user you simply fill the enclosure with one to four SATAII drives of your choosing and then plug the Javelin into power and Ethernet, preferably Gigabit Ethernet for maximum performance. Next insert the included CD and install the Javelin Dashboard software on your PC or Mac. The software will auto discover the Javelin S4 on your network and can even one click configure the device with default settings.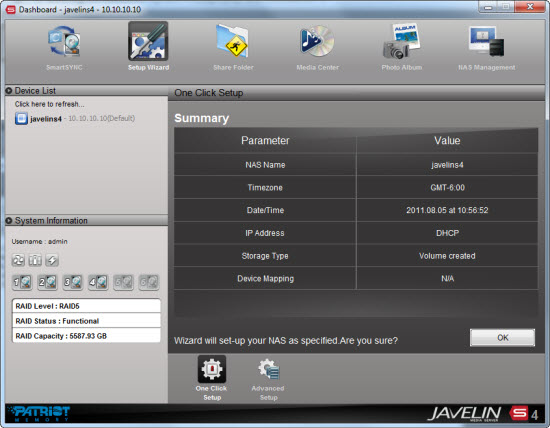 Once you have configured the Javelin S4 it will automatically map a network drive named "Public" to your computer. There are other default folders automatically created on the Javelin named Download, Music, Pictures, Upload, Videos, and WWW. Here is an example of a simple playlist I made from the music folder and the Dashboard software is streaming music to my PC.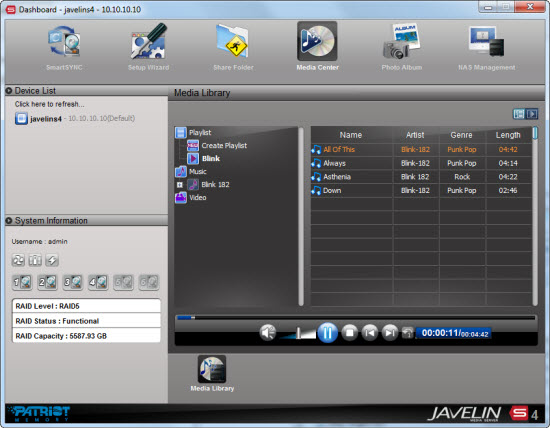 To move your data onto and off of the Javelin S4, Patriot also provides a wealth of options including CIFS for windows (map a drive), Bonjour for Mac, FTP, iSCSI Target, BitTorrent Client and Server, DLNA, UPnP, Squeezebox, and DDNS support for anywhere in the world connectivity. Many of these options are supported through the use of included plug-ins with the exception of squeezebox which you can download free from the Patriot Memory site. This means that if a new protocol is needed they can simply write another plug-in to support it. Great future proofing.
Something to point out is that these default folders are not just nice for organization, they have functions associated to them by the Patriot Javelin S4 OS. For instance the Javelin will take anything saved in the WWW folder and host it as a web server allowing you to host a web site and even supports PHP. Even nicer if your are a web dev, the Javelin has built in MySQL database so you can use the NAS as a great test server for your enterprise web sites.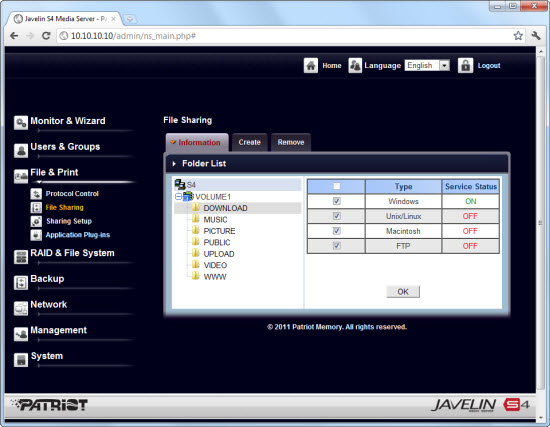 If you are an advanced user you can skip the software all together assuming you can find the IP Address the Javelin was assigned by your DHCP server. At that point you can enter a static IP and configure the rest of the parameters. For instance here is a shot of the web interface where I am configuring the four drives in a RAID set.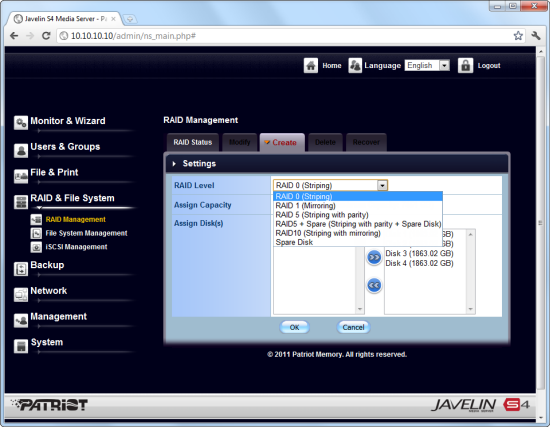 A great feature for a product at this price point is the option to use your RAID array as an iSCSI device. For those of you not familiar with iSCSI it is a protocol (SCSI) running over Ethernet that allows you to connect to a remote disk(s) as if it was connected directly to the SATA ports on your motherboard. This gives you block level access to your disk array and it simply appears as another drive letter. Why do you care for home users? Simple, there are several cloud backup solutions that have you pay one price to backup local hard drives and another price for both local and network attached such as a mapped drive. If you are mainly going to use the RAID array from a single computer, you can use iSCSI to make the entire array, up to 12TB, appear as a massive single, local hard drive and use the significantly less expensive cloud pricing. Only down side is then you would need to do a local windows based share if you wanted to give other devices on the network access to that drive. One strategy would be to split up the array and have an iSCSI portion for critical files you want to back up to the cloud and the rest of the space shared as a standard NAS share. The point is options, tons and tons of options.
If I had a complaint about the Javelin S4 it would be that the user manual is a bit confusing for the advanced features. For instance if you wanted to make this iSCSI drive you configure it under the iSCSI link in the web configuration window. However you need to think ahead and have a strategy when you first set up the RAID array. When you configure the raid array there is a box that says Maximum Capacity and defaults to the entire amount of disk space allocated. If you want a large iSCSI drive then you need to set this to a low value such as 1GB. This will leave the rest of the drive available for iSCSI. If you leave it at default such as 6705 GB here, then you cannot use that space for an iSCSI drive without deleting the whole array and starting over. Not a big deal if you know about it ahead of time, but they should explain this better in the manual.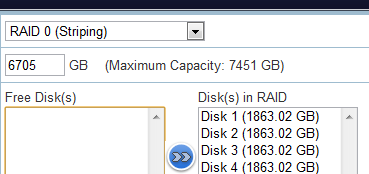 The rest of the advanced web administration is very intuitive and I did not have to even crack the manual to set up any of the other features. I could write 30 pages on setting up all the features so suffice it to say you should think about how you want to use this awesome piece of hardware before you just slap drives in and copy your critical data over. Do you want to do web dev, run iSCSI, use it as a bit torrent server or client, tie it into cloud back up? Think about how you want to use it before you configure it and you will get years of enjoyment out of such a powerful system.
Patriot Javelin S4 Test Set Up
As I confessed I have been heavily using, er I mean, testing this system for a couple of weeks and have been very happy over all. To test the performance of the Patriot Javelin S4 Home Media Server I installed 4x Western Digital 2TB 64MB
cache
Caviar Green series drives model WD20EARS. To simulate the way most people would use this system I configured the drives in a RAID 5 Array for the best blend between capacity and fault tolerance. I will not explain the differences between RAID types but note that while RAID 5 is great for this blend it is not the best for mission critical can not lose it data. RAID 1 (mirroring) or RAID 1+0 (striping + mirroring) are much better. For shear performance RAID 0 (Striping) is best but no fault tolerance. Personally I would configure it as RAID 5 for in house storage and supplemented this with a cloud based off site back up solution for items such as my kids pictures. RAID 5 is great but a flood, tornado, or fire and all of it is gone. Off site is the best overall plan but it does come with an additional cost.
The computer I used as the client side for these test was my main daily machine as I found no performance difference by using my i7 Sandybridge test system and thought this would be a bit more real world. My daily rig consists of a Intel i7 870 CPU OC to 4.3Ghz, 16GB of Corsair Vengence running at 1600 Mhz , PQI 256GB SSD, 5 WD drives in raid and stand alone, ASUS P7P55D Deluxe Motherboard with dual GigE NICs, and NVIDIA GTX470 GPU also overclocked running Window 7 Pro 64-bit.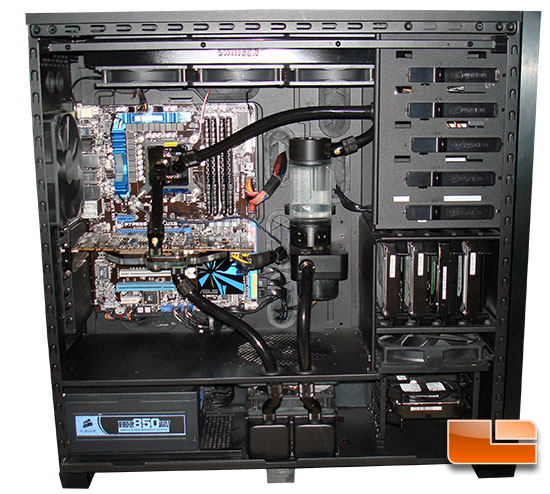 For my home network I used my Cisco Catalyst 2960C 10/100/1000 switch that supports 9K Jumbo Frames with Cat 6 wiring.

I do have a bit of a funny story that should give you food for thought as you decide which drives to utilize in the Patriot Javelin S4 Media Server. Patriot sent along a nice little reviewers pack with this unit that had a few screen shots of the performance they were getting with a WD Carvier black drive in the S4 just as a reference to say if your not near these numbers, something is wrong, call us.
Ok, fair enough, so when I started playing with the unit pre-review I grabbed two 1TB WD Green drives laying around and stuck them in the enclosure. I started running some of the benchmarks and wow, not even close. So I stuck a spare OCZ Vertex 2 LE 100GB SSD into the drive with the 1TB drives and performance was still way off. I called Nate and said, something is wrong should I call Patriot? He gave me a few suggestions and I poked around a bit more but still not getting anywhere close on performance. Finally it was time to work on this review so I went and grabbed four WD Green 64mb cache 2 TB drives to populate the enclosure and ran a test knowing Green drives are not nearly as fast as the Black series. But since the Green series are better on power, noise, and heat they are actually a better choice for a typical home NAS and should have more than enough throughput for multiple 1080p streams. Benchmarks is where they will suffer with the variable spindle speed and max around 5400 RPM but I would rather have silence and lower power than absolute maximum performance in my network.

I reran my tests again and guess what, they significantly beat the Patriot sample numbers. What the heck I thought to myself??? A quick check and I realized my old 1TB drives were a bit older than I thought and were actually SATA I drives not SATA II's like the new drives. I also occurred to me that if one drive on the back plane running at SATA I speed then they all will default to that speed and kill my performance. What was the difference? Running SATA I gave me around 14MB/s upload and 40MB/s download. However, with the new WD Green SATA II drives you can see for yourself the improvement below.


Just in case you are trying to keep track of the costs, four 2TB WD Green WD20EARS drives at
$75.99 each shipped
adds an additional $303.96 to this configuration which brings the
overall price as tested to $640.27 for 8TB of storage
. If you wanted to max it out with WD Green 3TB WD30EZRSDTL for a total of 12TB it would run you
$159.00 each shipped
or $636.00 in addition to the $336.31 for the Javelin S4 and push your total price to $972.31.
Patriot Javelin S4 Testing
***Please Note that I have 9K Jumbo Frames enabled on my network, the test PC, and the Patriot Javelin S4 so your results may vary.
Patriot Javelin S4 Upload / Download single large file:
This is a really basic test where I simply took a very large compressed file and copied it to and from the Javelin. There are a lot of variables with a test like this including performance of the data switch involved, level of compression, performance of the local and remote drives, and ability for the OS and the Motherboard to pass and queue data in and out of the TCP stack. However, it gives you a general idea of what you might get on your home network with a slight margin of error. You can clearly see that the SATA II drives were a big improvement over the SATAI 14MB/s down and 40MB/s with increases of 240% and 285% respectively.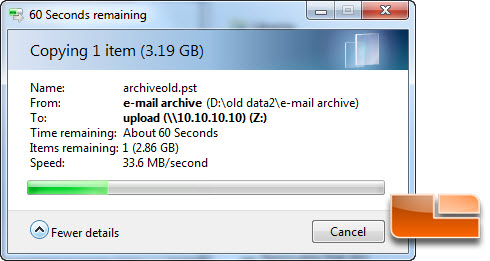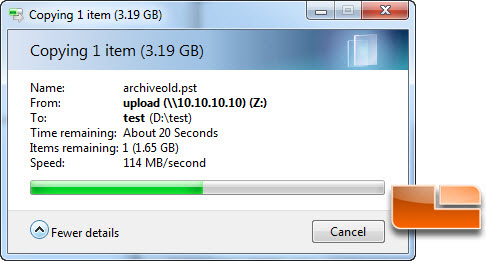 Patriot Javelin S4 Crystal Disk Mark 3.01 (64-Bit):
Crystal Disk Mark is a standard disk performance testing package that utilizes random reads and writes of different sizes to show how a disk drive(s) performs with both sequential and distributed access. As you move down the chart the drive is asked to break the data up considerably mean the heads have to move all over the drive significantly degrading performance. In this test you can start to see the impact of using the WD Green drives over the WD Black drives. The Black series would provide you with better performance, especially in writing, with the 4k and 4k with a queue depth of 32K given the 7200 RPM spindle speed but with the trade off of higher noise and heat.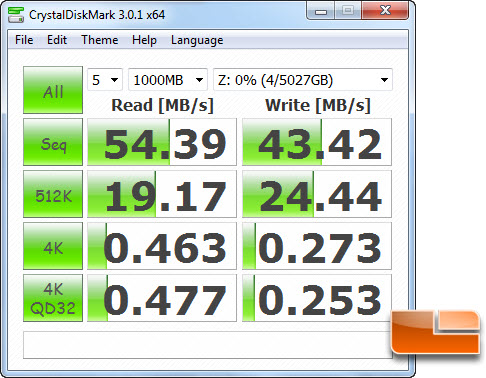 Patriot Javelin S4 ATTO Disk Benchmark v2.47:
The ATTO Disk Benchmark performance measurement tool measures your storage systems performance with various transfer sizes and test lengths for reads and writes. While this program is a bit long in the tooth it still provides a nice snapshot of performance levels for your NAS. However, on a Gigabit Network and today's modern PC's the speed and number of hard drives you are striping across has the most influence on the results. Again I would suspect if your going for maximum performance you would get better numbers running faster 7200 RPM drives.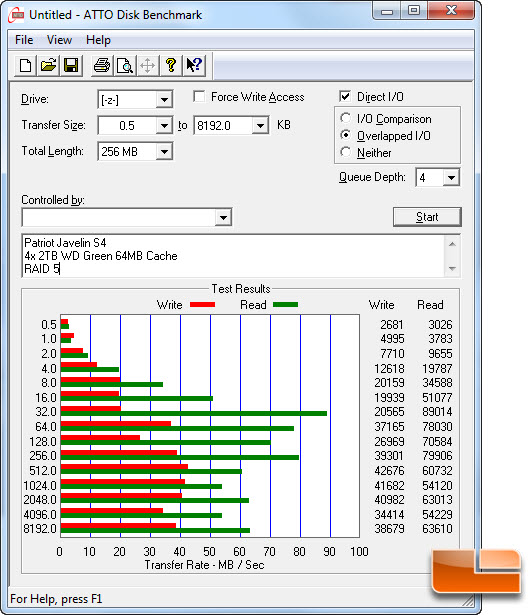 Patriot Javelin S4 Intel NAS Performance Toolkit:
For this test you have to reduce your RAM to 2GB or below or the OS will start caching the data and skew your results. I removed my 16GB Vengence kit and put in a single stick of 2GB Kingston Hyper X H2O 2133MHz for this test. For some reason I kept getting errors on the directory copy from NAS and could not resolve it so I simply did not run that test but you can still get a feel for the performance.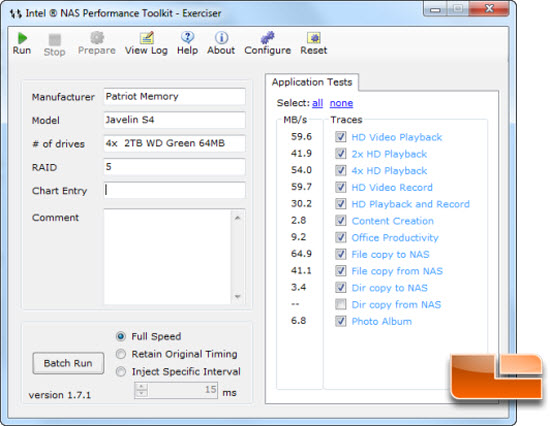 Conclusion
Given a typical blue-ray stream is approximately 4.5 MB/s, based on these tests the Javelin with the 4x WD Green drives in RAID 5 could easily support 13 simultaneous 1080p streams of video. This should cover the majority of video junkies and make you question that NetFlix subscription. Overall this is excellent performance for a remotely attached storage solution and should be able to accommodate anything you throw at the Patriot Javelin S4.
Patriot Javelin S4 Media Server Conclusion
The Patriot Javelin S4 Media Server lives up to its name of being much more than a simple NAS but a real multimedia server. The combination of up to 12TB of network based storage and the ultra simple plug and play convenience of the quick configuration wizard makes this SOHO solution perfect for someone new to the NAS market. This unit put my fears to rest of a noisy box under my desk because even with all four WD drives being hit hard with random access I was not able to hear a sound from the HDD's or the cooling fan.
As I said earlier it is pretty obvious that the Patriot Javelin S4 is simply a white re-branded version of the Promise Technologies SmartStor NS4600 unit but at
$336.31 shipped
it runs about $50.00 less expensive than the black Promise SmartStor NS4600 storage server.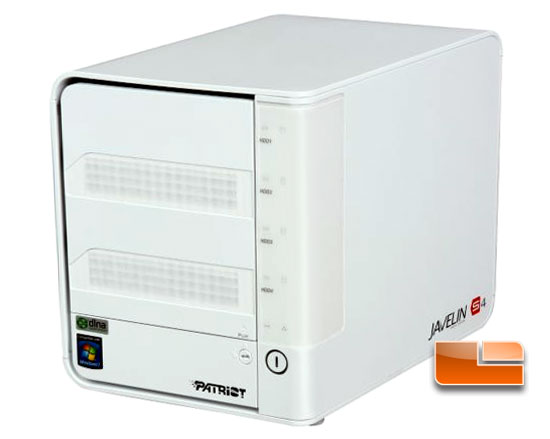 I really liked that the Javelin S4 was both a simple plug and play affair for the novice user and still offered powerful features that you do not typically find on a SOHO appliance. I also appreciated that Patriot made sure this appliance supported the latest 3TB drives, something else not all 4 bay NAS products on the market can do today. The lack of SATA III support is currently a non-issue since there are no spindle based HDD on the market today that can exceed that bandwidth. The inclusion of 10/100/1000 Ethernet helps with compatibility while providing decent bandwidth for read and write performance. Finally the amount of options and features of the Javelin S4 is almost overwhelming and very impressive at this price point.
If I had to point out anything that could use improvement on the Patriot Javelin S4 it would be better documentation for some of the advanced features. Don't get me wrong, the manuals are great for most users and features but for example I had to figure out how to modify the space allocation for the iSCSI feature through trial and error. I am sure that if you are advanced enough to understand what iSCSI provides you are probable able to work with the minimal information to get the features working. If you are considering using the iSCSI target feature I would encourage you to play around with the Javelin S4 for a bit before you settle on a configuration and start backing up data. Once you have allocated space it can be challenging to re-provision especially if you already backed up your 4TB video collection.
In the end I loved the Patriot Javelin S4 for being easy enough for the novice and feature rich enough for the pro at a very fair price point. Some might argue that you could build something similar to this with open source software such as FreeNAS but unless you already own the hardware I am not sure you could purchase a new rig with similar hardware features at the $300.00 price point. Further, I am positive it would not be as easy to use, have the same ultra small form factor, or be nearly as feature rich. Just remember that the Javelin S4 does not come with any hard drives so that will increase your overall cost.
We were so impressed by the Javelin S4 that we awarded it our coveted Editors Choice Award for Storage.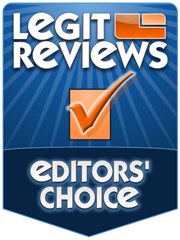 Legit Bottom Line: Great performance at a reasonable price point with so many features you would have a hard time using them all. If you are in the market for large network based storage, this is a must buy.