Memory Performance on AMD's A-Series APU
Last month Legit Reviews reviewed the AMD A8-3850 'Llano' APU and our article looks like it was well received by our readers with the exception of one thing. We've had a number of readers write in saying that it was great that we tested this platform with 1866MHz memory, but they are building budget systems and want to use 1333MHz or 1600MHz memory. It is true that we didn't look at performance numbers of AMD's A-Series APUs on the A75 chipset at 1333MHz, 1600MHz and since this platform is very budget friendly we see this as a valid point.
Legit Reviews does not want to ostracize any of our readers and pride ourselves on our no-BS straight forward and honest reviews, so we went back to the drawing board to get you the performance data you need before ordering in a new platform. We'll be using the Gigabyte GA-A75-UD4H motherboard for testing again, but since we updated the BIOS to version F3 we re-did all of the performance numbers as we did see improved performance with the new BIOS.
We also got a few questions about how the platform handles 16GB of memory and if there are any stability issues with running all four memory slots fully populated. We've seen performance gains with all the memory slots full on AMD platforms in the past, so we'll be looking at 2x4GB and 4x4GB performance as well in our test results. Not too many people will be running 16GB of memory on the Llano A-Series APU, but we found no issues in doing so with G.Skill Ripjaws

So, to reiterate what our goals are for this article one more time:

Benchmark 2x4GB memory kits at 1333MHz, 1600MHz, 1866MHz to find performance differences
Benchmark 2x4GB versus 4x4GB to see if filling all the memory slots impacts performance
See if we have any issues running 16GB of memory
This should be easy enough, so let's take a look at the test system and get right to the performance numbers.
The Test System
Before we look at the numbers, here is a brief glance at the test system that was used. All testing was done on a fresh install of Windows 7 Ultimate 64-bit. All benchmarks were completed on the desktop with no other software programs running.

The AMD Test System: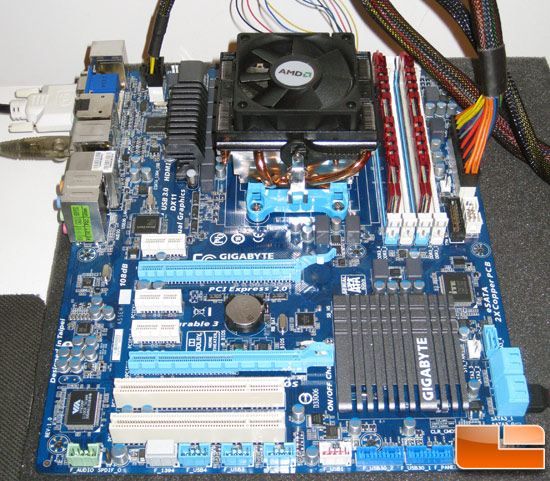 The test system was run in dual-channel memory in four configurations:

2x4GB at 1333MHz with 8-8-8-24 1T timings and 1.50V
2x4GB at 1600MHz with 8-8-8-24 1T timings and 1.50V
2x4GB at 1866MHz with 9-10-9-28 1T timings and 1.50V
4x4GB at 1866MHz with 9-10-9-28 1T timings and 1.50V

We had to relax the timings at 1866MHz as the G.Skill memory kit would not run with CL8 timings at clock frequencies this high. The nice thing about testing these memory settings is that it is all done with the memory divider in the BIOS, so the GPU and CPU clock speeds remain constant throughout the benchmarking process. The Gigabyte GA-A75M-UD4H motherboard was running BIOS F3, which was the latest build available when testing was completed. You can see all of the CPU-Z and GPU-Z information for this test platform below.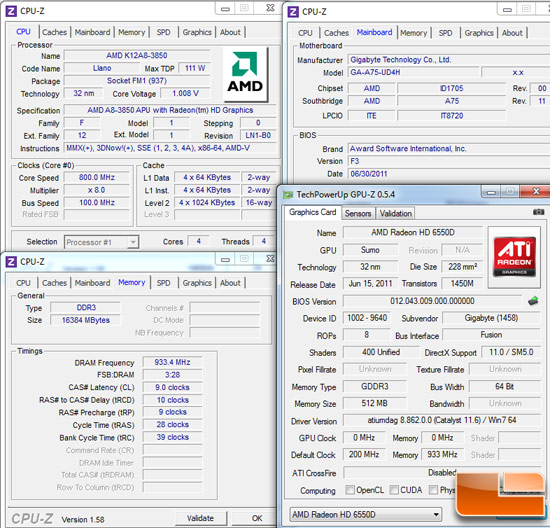 The integrated graphics comes up as Radeon HD 6550D according to GPU-Z and we used AMD CATALYST 11.6 drivers was used for testing.

AMD Test Platform

Component

Brand/Model

Live Pricing

Processor

A8-3850


Motherboard

Gigabyte GA-A75M


Click Here

Memory

8GB GSKILL Ripjaws 1866


Click Here

Video Card

n/a


Click Here

Hard Drive

Crucial C300 256GB SSD


Click Here

Cooling

AMD Retail Boxed


Click Here

Power Supply

Corsair HX850W


Click Here

Operating System

Windows 7 Ultimate 64-Bit

Click Here
Sisoft Sandra 2011 SP3
The Sisoft Sandra 2011 SP3 benchmark utility just came out a few weeks ago and we have started to include it in our benchmarking. Sandra 2011 comes with support for Virtualisation (Virtual PC/Server, Hyper-V, VMware) and GPGPU (OpenCL, DirectX 11 DirectCompute), but today we will be using the program to look at memory and CPU performance!
Results:

Our test system uses the AMD A8-3850 'Llano' APU and as you can see from the Sandra Memory Bandwidth test results the memory clock speed greatly impacts the memory bandwidth.

The 2x4GB 1333MHz CL8 memory kit was able to hit ~12.7GB/s memory bandwidth. Moving up to the 2x4GB 1600MHz CL8 memory kit we saw the bandwidth jump up to ~15.0GB/s, which is a 18% improvement over 1333MHz. The jump up to the 2x4GB 1866MHz CL9 memory kit was only 1GB/s, but we had to loosen the timings from 8-8-8-24 1T to 9-10-9-28 1T and the looser timings always hurt performance. Running the 4x4GB 1866MHz CL9 memory kit offered the most performance as once again we found that this AMD APU loved having all the memory banks occupied and with more memory lanes available for the APU the performance was able to improve.

Since we are looking at memory performance in this article we felt that memory latency needs to be looked at, so we ran the Sandra Memory Latency benchmark to see what the performance looked like.
Results:
We found that the 1333MHz memory kit had a memory latency of 86.8ns, 1600MHz was at 80.1ns and 1866MHz was 76.2ns. It was a bit odd to see the 4x4GB 1866MHz CL9 kit running slower than the 2x4GB 1866MHz CL9 kit, but the difference is not significant or a concern.
x264 HD Encoding
Simply put, it is a reproducible measure of how fast your machine can encode a short HD-quality video clip into a high quality x264 video file. It's nice because everyone running it will use the same video clip and software. The video encoder (x264.exe) reports a fairly accurate internal benchmark (in frames per second) for each pass of the video encode and it also uses multi-core processors very efficiently. All these factors make this an ideal benchmark to compare different processors and systems to each other. We are using x264 HD v4.0 for this test.

This application did fairly well when run on 4 threads, as you can see from the screen shot above. The first pass was not using all of the processing power available on the four cores, but on the second pass all 4 threads were at ~98% load.

Benchmark Results: Running the x264 HD benchmark showed that running an 1866MHz memory kit with an AMD A-Series APU means you'll get roughly 4% better performance than a system running 1333MHz memory. We are talking small differences here between all three memory speeds, but the results are measurable and repeatable.

Handbrake
HandBrake is an open-source, GPL-licensed, multiplatform, multithreaded video transcoder, available for MacOS X, Linux and Windows. It is popular today as it allows you to transcode multiple input video formats to h.264 output format and is highly multithreaded.
This workload is a 43-second HDV. The input file is encoded in Mpeg format. Video encode parameters are 23.9mbps, 1440*1080, 29.9fps. Audio encode parameters are 384 kbps, 48kHz, 2channel, mpeg audio version 1 layer 2. File size is 128MB. The workload is encoded into h.264 output format using the preset - high profile. HandBrake version 0.9.5 was used for benchmarking.

Benchmark Results:
HandBrake version 0.9.5 also showed that as memory clock speed increases that the performance of the platform does improve, but not by a significant amount on our 43 second video clip. If you were using a video clip that was an hour long you'll obviously see completion time differences that are minutes apart and not seconds apart.
Resident Evil 5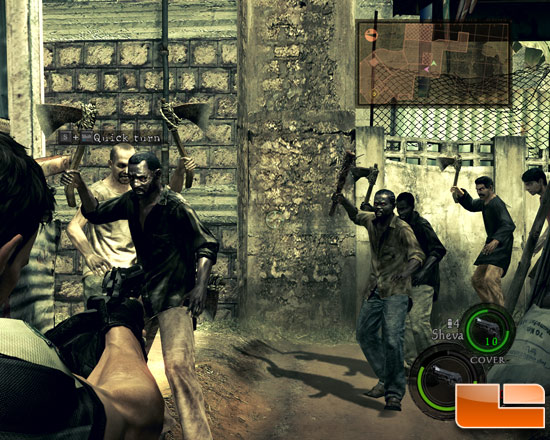 Resident Evil 5 is a survival horror video game developed and published by Capcom. Resident Evil 5 features similar gameplay to Resident Evil 4, with context-sensitive controls and dynamic cut scenes also making a return. The player can control Chris Redfield or Sheva Alomar in a similar fashion to Leon S. Kennedy in Resident Evil 4, with the same over-the-shoulder perspective.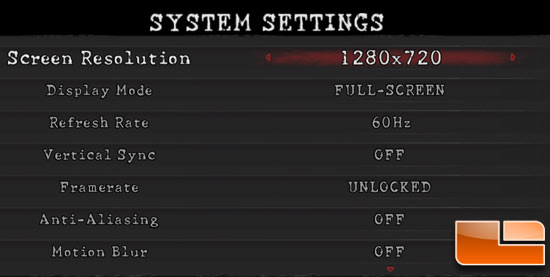 We ran the Resident Evil 5 benchmark in DX10 mode with all the image quality settings turned down, which just happens to be the default settings of the game.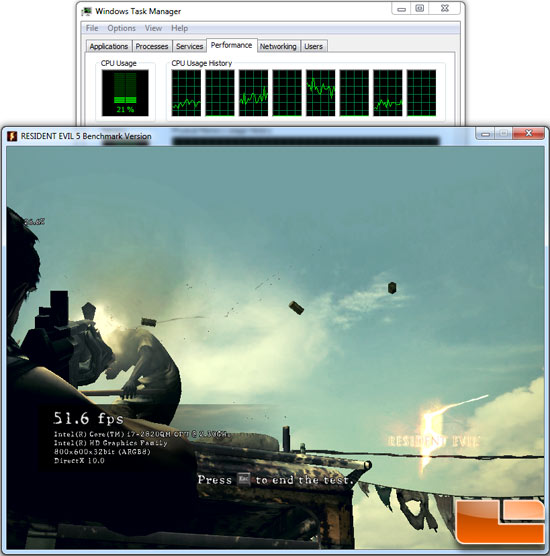 This game title runs on up to four threads as you can see from the task manager shot above that was taken on a test system that was running the Intel Core i7-2820QM processor.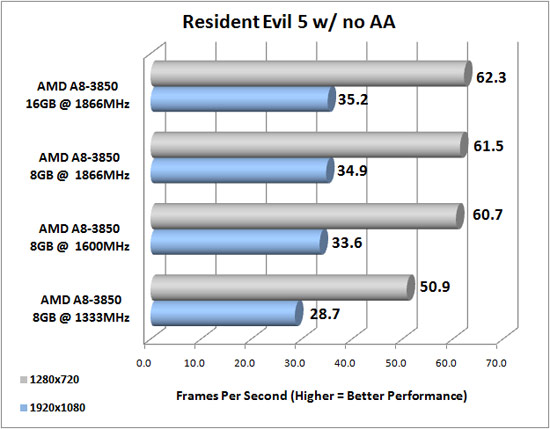 Benchmark Results:
We had a gut feeling that gaming performance would be the most impacted area when it comes to performance across different memory speeds on the AMD A-Series APU and we found that to be very true. Running the 2x4GB 1333MHz CL8 memory kit we were able to get 50.9FPS at a resolution of 1280x720. Switching to the 2x4GB 1600MHz CL8 memory kit we saw performance jump up to 60.7FPS, which is a performance difference of more than 19% and we could really notice a difference in other game titles as well. The move up to 1866MHz CL9 memory bumped up performance around 1FPS, which isn't nearly as impressive as the jump from 1333MHz to 1600MHz. Populating all four of the memory slots with the 4x4GB 1866MHz memory kit once again shows that running four DDR3 memory modules does help boost performance over running just two DDR3 modules. This is true for all memory speeds in case you are wondering.

S.T.A.L.K.E.R.: Call of Pripyat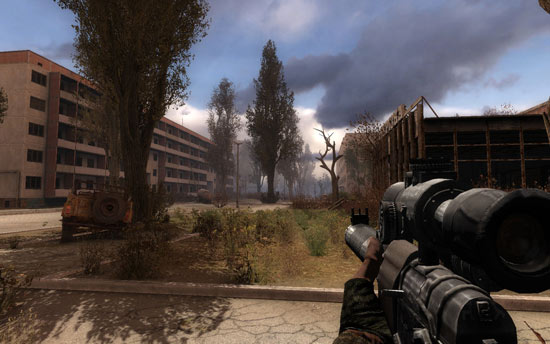 The events of S.T.A.L.K.E.R.: Call of Pripyat unfold shortly after the end of S.T.A.L.K.E.R.: Shadow of Chernobyl following the ending in which Strelok destroys the C-Consciousness. Having discovered the open path to the Zone's center, the government decides to stage a large-scale operation to take control of the Chernobyl nuclear plant.
S.T.A.L.K.E.R.: Call of Pripyat utilizes the XRAY 1.6 Engine, allowing advanced modern graphical features through the use of DirectX 11 to be fully integrated; one outstanding feature being the inclusion of real-time GPU tessellation. Regions and maps feature photo realistic scenes of the region it is made to represent. There is also extensive support for older versions of DirectX, meaning that Call of Pripyat is also compatible with older DirectX 8, 9, 10 and 10.1 graphics cards.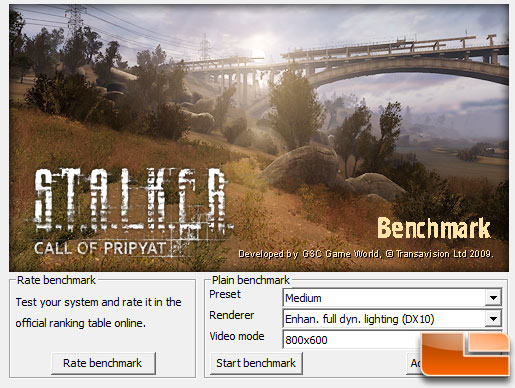 The game S.T.A.L.K.E.R.: CoP has no internal benchmarking tools built into the game engine, but they do have a standalone benchmark available that we used for our testing purposes. The screen capture above shows the main window of the benchmark with our settings. Notice we are running Enhanced Full Dynamic Lighting "DX10" as our renderer. Under the advanced settings we disabled tessellation, MSAA and ambient occlusion.

S.T.A.L.K.E.R.: Call of Pripyat looks to only be threaded for one CPU core as you can see from the Windows Task Manager screen capture that was done during a benchmark run.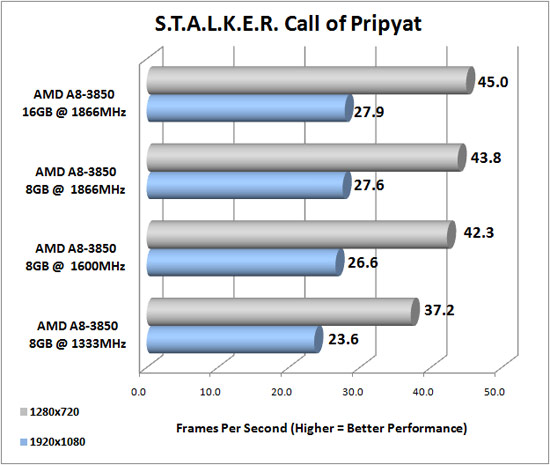 Benchmark Results: S.T.A.L.K.E.R.: Call of Pripyat has results similar to Resident Evil 5 and shows a significant performance jump from 1333MHz to 1600MHz. More performance was seen moving up to 1866MHz, but again it was just around 1FPS again at respectable gaming resolutions like 1280x720 and 1920x1080.

Final Thoughts and Conclusions
We are very happy that the readers of Legit Reviews wrote in and asked us about how memory performance scales with clock frequency on AMD's A-Series APU. We learned a good deal about this platform by doing more memory specific testing and we are happy to report back that we found no stability or performance issues on our test platforms at any of the clock frequencies and even with 16GB of memory stuffed into this platform.

We found that the memory bandwidth ranges from 13GB/s to 16GB/s with typical dual channel memory kits on our AMD A8-3850 APU and Gigabyte A75-UD4H motherboard. This difference doesn't sound that great, but a 3GB/s increase when dealing with 13GB is a very nice 23% performance increase. Most of this performance gain is seen when moving up from a 1333Mhz to a 1600MHz memory kit is where you'll see the largest performance jump. For example 2x4GB 1333MHz CL8 memory kit was able to hit ~12.7GB/s memory bandwidth, but the 2x4GB 1600MHz CL8 memory kit has ~15.0GB/s of memory bandwidth, which is a very nice 18% improvement over 1333MHz. Loading up all of the boards memory slots with four memory modules rather than just two modules did result in a slight performance boost that was noticed in nearly all of the benchmarks that we ran. Some areas like video encoding offered minimal performance gains though, so if you just surf the web and rip a video here and there a super fast 1866MHz memory kit isn't necessary.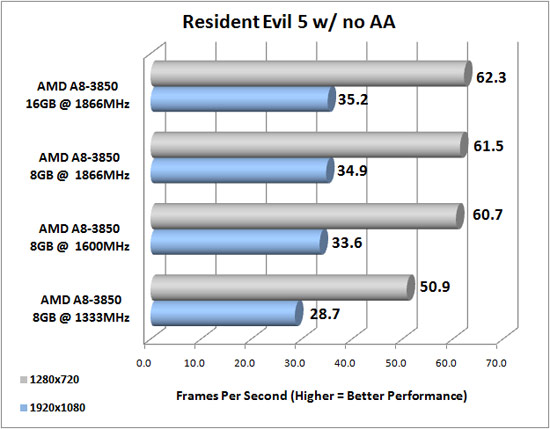 We also saw over a 20% gain in performance in gaming benchmarks, so if you ever plan on playing games with an A6-3650 or A8-3850 APU then you'll most certainly want to invest in a 1600MHz or 1800MHz memory kit. Since the AMD A-Series APU and A75 chipset are all about being budget friendly, you'll want to get a memory kit at a good price too.
The Lowest Priced 8GB (2x4GB) Memory Kits on Newegg Today:

At this time the best bang for your buck clearly a 1600MHz memory kit as it performs much better than a 1333MHz kit and actually costs less after a rebate. The 8GB G.SKILL Ripjaws X Series 1866MHz memory kit that we used for this review normally retails for $84.99, but is available in a Newegg Shell Shocker deal right now at a great price of $69.99 shipped. If you want to get the most performance from this platform running 1866MHz is the best method, but you'll have to pay a premium for memory that fast. Not too many surprises to be found here. As you might have guessed having memory at higher clock speeds and having more memory in the system resulted in faster performance numbers!
The AMD A8-3850 APU is an impressive little processor that certainly won't break the bank. For example if you wanted a budget beater system you can get away with a processor, micro-ATX motherboard and a 8GB 1600MHz memory kit for under $260:
Shopping List:

ECS A75F-M2 FM1 AMD A75 motherboard - $62.98

AMD A8-3850 Llano 2.9GHz APU - $139.99

8GB ADATA XPG Gaming Series 1600MHz memory - $54.99

Grand Total: $257.96 shipped after two rebates
We hope that this review helped you figure out what the best memory speed is for this platform! We enjoy listening to reader feedback and when we can we will do our best to running the benchmarks that you request!

Legit Bottom Line: The AMD A8-3850 APU in our test system performed better when we increased the memory clock frequency and we were happy to see 20% gains in the gaming benchmarks.