Introduction/specs
TTGI USA (aka Super Flower) builds some of the best budget power supplies on the market. Their TT-520W was very popular in overclocking circles several years ago, and it's predeccsseor the TT-550W 4-fan mirrored model featuring a 55A - 5.5V rail, and 22A - 12V rail can be found for under $75. As the industry changes so too does TTGI and their newest line-up is a Switching Modular PSU line offering 2, 3, 4-fan and 14cm-fan models. They are all ATX/BTX compatible with an included adpater for ATX boards, and a PCI-ex graphic card power cable, also standard. As usual the PSU arrived in great shape, and well packaged.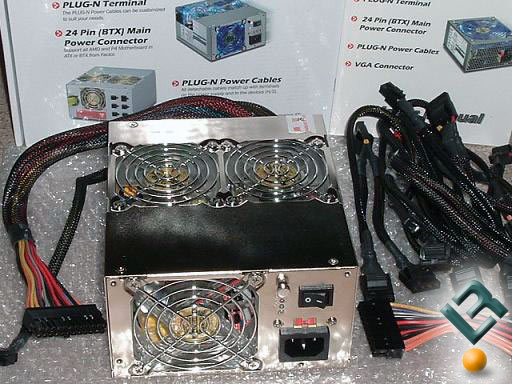 TT-600K04 Specifications (including amperes per rail):
+3.3V = 35A

+5V = 53A

+12 = 30A

Combined +3.3V & +5V = 285W

Total Combined +3.3V & +5V & +12V = 538W

Total Power 570W

Max Peak 620W

AC Input 100 ~ 120Vac 10.7A

AC Input 200 ~ 240Vac 6.2A

Frequency 50/60Hz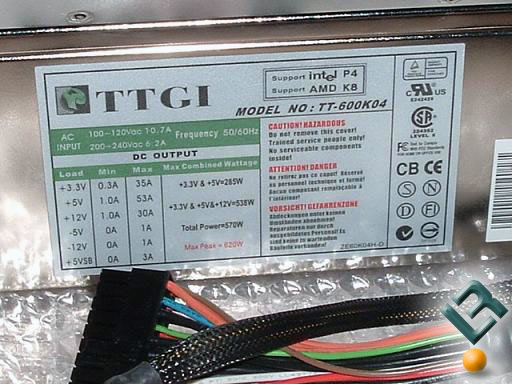 The unit features all aluminum casing and four cooling fans which provide above average ventillation aiding in exhausting case heat. On a sidenote, TTGI's 14cm PSU's are some of the best units available which also aid in case cooling. Our test unit will be evaluated in my reference Intel system based on the Abit AA8 Duramax and a Retail P4 550 (3.4GHz). Watercooling the LGA Prescott will be handled by Alphacool's Xtreme Pro Set switching out the NexXxos XP waterblock for the NexXxos BOLD block.
System Specs:
CPU - P4 550 (3.4GHz) LGA 775

Motherboard - Abit AA8 Duramax (BIOS 19)

Graphics - ATI X800 XT, 256MB PCI-ex

HDD Storage - Maxtor Diamond Max 9 Plus, SATA150/120GB

Memory - Corsair Twin-2X4300C3PRO, 1024MB pair @ CL3-3-3-6

Optical Drive - TDX CD/RW VeloCD

PSU - TTGI USA TT-600K04, OCZ PowerStream 420W BTX/ATX

Case - Thermaltake Shark

Operating System - WinXP Professional
Now that we know a little bit about the power supply lets take a closer look at the inside and the performance that it offers.
A Look Inside
I started my testing off by measuring rail voltages using a Fluke 187 digital multimeter. The PSU was plugged directly into the board where LOAD vs Idle could be measured. Thuis is much more accurate then my original method which employed a simple bridging plug and mulimeter readings. I retested following ExtremeOC's PSU testing guide.
Fluke 187 readings @ IDLE:
3.3V = 3.34V
5V = 5.21V
12V = 11.81V
Fluke 187 readings @ LOAD
3.3V = 3.31V
5V = 5.17V
12V = 11.77
The 12V rail was slightly low but still within spec, the other rails were at or above specifications. Unfortunately there's no external, nor internal access to voltage rail adjustment as on earlier TTGI model's. Removing the unit's cover exposed no "hidden" pots for rail adjustmet, but does give us a look into the build and parts quality.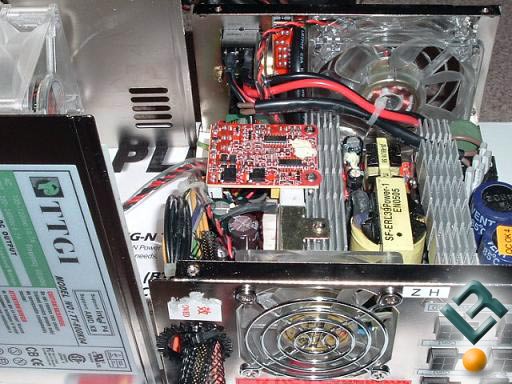 The heatsinks aren't as large as I've seen in other designs, however; with four fans the alminum heat-sinks spec'd are well suited. As stated earlier there were no voltage pots anywhere within the unit.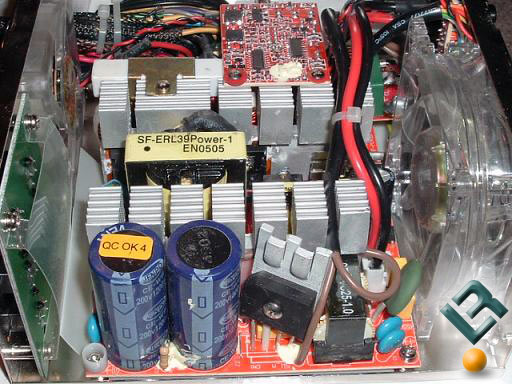 As usual TTGI spec's their PSU's with quality parts and the build quality is organized and clean. The unit runs relatively cool, even under Silent mode. There are three fan speed modes including Auto, SIlent, and Turbo adjustable via a switch located on the back of the unit. Each mode has a designated LED indicator, shown below in Auto mode. Running under Silent or Auto mode the unit is barely audible, under Turbo mode; however, it's audible although not annoyingly so.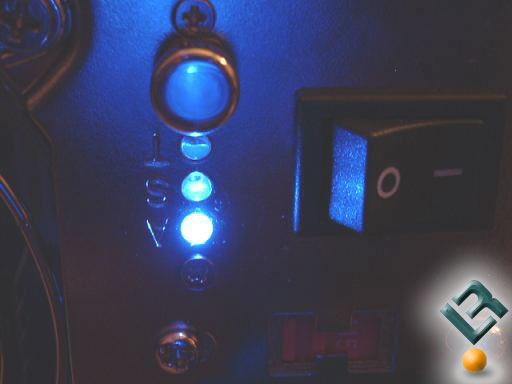 Of course the unit's primary feature is it's modular capability which eliminates the often crowded, cumbersome cabeling supllied with most PSU's. As heatsinks grow in size or enthusist's turn to H20 cooling windowed cases have become the norm, and ergonomics has become an impotant consideration for more PC-user's. The TT-600K04 offers 4-universal modular connectors, 1-SATA modular connection, and 1-VGA/HDD modular connection.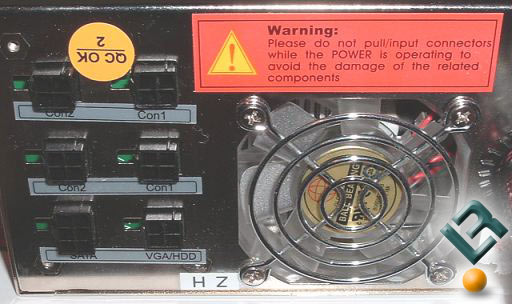 Now let's take a look at some real performance numbers using our test system and see how this PSU holds up against a power hungry Intel Pentium 4 550 Processor.
Real Testing & Finahoughts
To put the unit through it's paces I used the relatively new CPU-torture test program S&M. I've found this to be more effective then CPUBurn, or SETI and the program offers extensive monitoring features as well. I verified that the CPU was under LOAD with the Panopsys thermal-throttling and CPU LOAD utility Throttle Watch. In the screenshots below the system is running at default speed (3.4Ghz) first at Idle and then under LOAD (unfortunately S&M needs to be re-set pay no attention to it's reading of 4216MHz from the previous OC) CPU speed (purple) in real-time is also displayed by Throttle Watch just below the LOAD (green/yellow) display.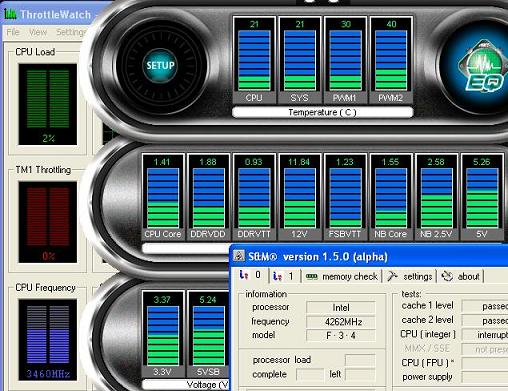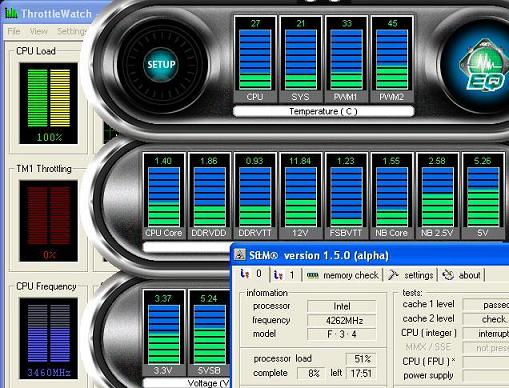 In these screenshots the Abit uGuru utility inidicates the 12V rail to be running at a steady 11.84V. This is slightly higher then the Fluke reading, and most likely indicates the inaccuracy of the BIOS and/or software readout. Next I increased the CPU frequency to 250FSB at 1:1 aspect ratio for an overclock of 4262MHz. Vcore was increased from the BIOS default of 1.375V to 1.485V to ensure the system would remain stable. Once again the screenshots indicate voltages under Idle then LOAD.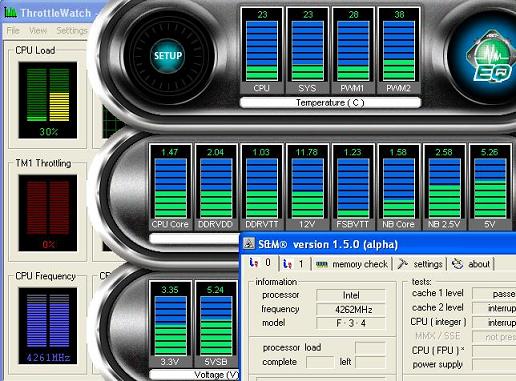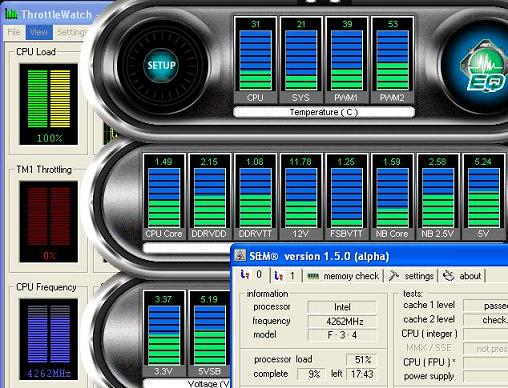 Although the 12V rail did drop to 11.78V with the CPU overclocked (it's probably slightly lower) the system ran trouble free under LOAD, without any re-booting. The system was also 3D stable. Given the fact I was running an 18V-DC OASE pump for the Alphacool H20 system, two-120mm Papst fans on the radiator, 2-120mm Tt case fans, a TDK CD/RW, Maxtor SATA and a 3.5 Floppy, the TT-600K04 held it's own quite well.
Final Thoughts & Discussion
Keith Suppe's Thoughts:
TTGI USA has given us yet another fine product at an affordable price. The unit runs virtually silent, except on Turbo mode, although I never had a need for this fan speed. While there were a few short-coming's such as the absence of rail adjustment (which would have been useful in this case), my only other concern would be the low 12V rail. The P4 550 is perhaps one of the most power hungry CPU's on the market with a Thermal Design Power rating of 115W, and maximum core amperes at 119A. Overclocked to 4262MHz the P4 550 burns approxmately 162.19W measured via CPU Power Calulator. Given these conditions the TT600K04 did perform it's job, and should be capable of driving any CPU at default speeds with complete stability. The TTGI-USA TT-600K04 is also available through Dealtime for approximately $110 under the model "Link Depot PNP-600-4F." I would like to thank Tony at TTGI USA.