EVGA GeForce GTX 560 SC Video Card Introduction
With the way the economy has been the past few years the vast majority of gamers are looking to save money yet maximize gaming performance at the same time. Last July NVIDIA launched the GeForce GTX 460 video card and not only did they release a powerful graphics card that was capable of running today's graphics intensive games, but they also released it for $199.99. In keeping with competitive pricing that is vital to this segment of the graphics market NVIDIA is ready to do it again with today's launch of the GeForce GTX 560. EVGA sent over their GeForce GTX 560 Superclocked Graphics Card (01G-P3-1461-KR) for us to try out and that is what we'll be reviewing today against the AMD Radeon HD 6850 an Radeon HD 6870 graphics cards.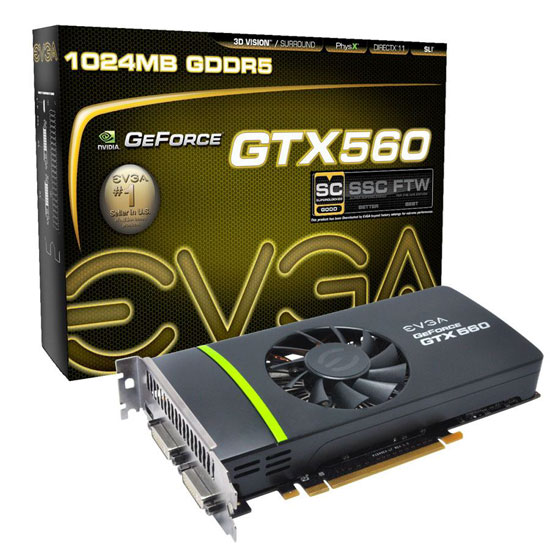 The NVIDIA GeForce GTX 560 SC (Fermi) GPU is based on the very same core as the NVIDIA GTX 560 Ti (Fermi) Video Card and comes fully equipped with 336 CUDA cores, 56 texture units and 32 ROPs. With the included 7 Polymorph Engines for proper tessellation you are now armed and ready to play some of the most advanced Direct 11 games on the market now and those in the very near future. Although it is very similar in every way to the GTX 460, instead of using the GF 104 core the EVGA GeForce GTX 560 SC (Fermi) Video Card makes use of the Fermi based GF 114 core that allows the EVGA GeForce GTX 560 SC (01G-P3-1461-KR) to obtain higher clock speeds while using less power overall. So not only will you be getting more performance, you will be getting that performance for darn near the same amount of money a whole year later.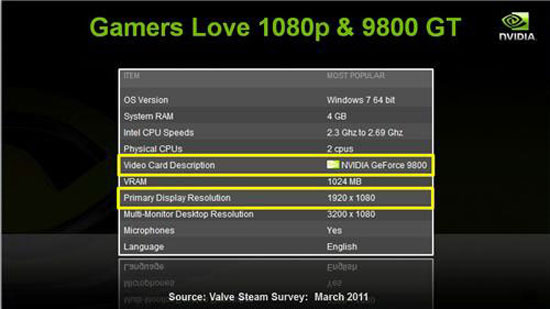 Most of the gamers today, unlike the hardcore enthusiast crowd, are making use of older cards. A good measure of this statistic is that according to the latest Steam data the most widely used GPU is by far the 9800 GT and coming in a close second is the 8800 GT. But as we all know, more and more high definition displays are becoming the norm for our gaming rigs. But the big problem here is, GPU's like the 9800 GT Graphics Card are not capable of playing the latest games at the resolutions that these monitors support, nor do they support Direct X 11 for that matter. So most of these gamers are forced to use the low to medium in game settings that deprive them of the beautiful graphics that makes these games immersive and so very fun to play.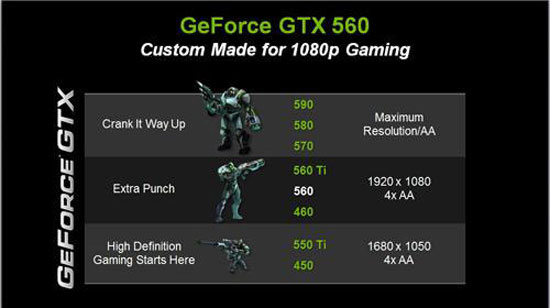 But with the release of a card like the EVGA GeForce GTX 560 SC Video Card (01G-P3-1461-KR) these gamers can actually afford to upgrade their systems and will be able to take advantage of the rich and detailed graphics that are provided by the very technologies that are built right into cards like the EVGA GeForce GTX 560 SC Fermi Video Card (01G-P3-1461) such as Direct X 11, PhysX and, of course, 3D Vision. So ask yourself, "Wouldn't it be cool to play newer games like Crysis 2 or Eve Incarna or, even better yet, the new Alice: Madness returns they way they were meant to be played?" Which is in really high detail or even, for the hardcore gamer in all of us, in 3D. One of the things we will be doing a lot today is looking at the results of the game testing we did to put the EVGA GeForce GTX 560 SC Video Card (01G-P3-1461-KR) through its paces. But it's not just the benchmarks that are important when it comes to a review or for buying a new GPU, I would have to think that during times like these price plays a huge factor in what we do and don't buy for our computers.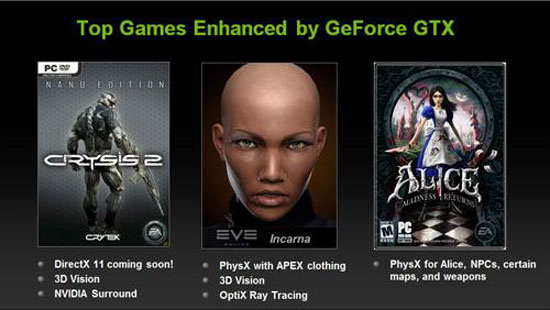 EVGA currently makes 6 different versions of the GTX 560 Series GPU:
EVGA GeForce GTX 560 Ti Maximum Graphics Edition Crysis 2
900 MHz Core Clock/4212 MHz memory clock at $269.99

EVGA GeForce GTX 560 Ti Superclocked

900 MHz Core Clock/4212 MHz memory Clock at $262.15
EVGA GeForce GTX 560 Ti DS Superclocked

900 MHz Core Clock/4212 MHz memory Clock at $249.99
EVGA GeForce GTX 560 Ti

822MHz Core Clock/4000 MHz memory Clock at $249.99
EVGA GeForce GTX 560 Ti FPB

850MHz Core Clock/4104 MHz memory Clock at $239.49
EVGA GeForce GTX 560 Superclocked

850MHz Core Clock/4104 MHz memory Clock at $209.99
With its core clock at 850 MHz and a memory clock of 4104 MHz using the new GF114 GPU core, this adds up to a really good upgrade for an older graphics card, but add in a price like $209.99 and kick in a 3 year warranty and you would have the makings of a great upgrade. EVGA is offering the ability to upgrade to a 5 to 10 year warranty when you register your card with them and they are having a promo right now as we speak for a 10 year warranty if you purchase your card in May or June. So there are two more reasons to upgrade your old video card. Our main concern with the pricing on this new video card is that you can find the NVIDIA GeForce GTX 560 Ti (Titanium) Graphics Card for $10.50 more after rebates with shipping included. The GeForce GTX 560 Ti (Fermi) Graphics Card is faster as it has more stream processors.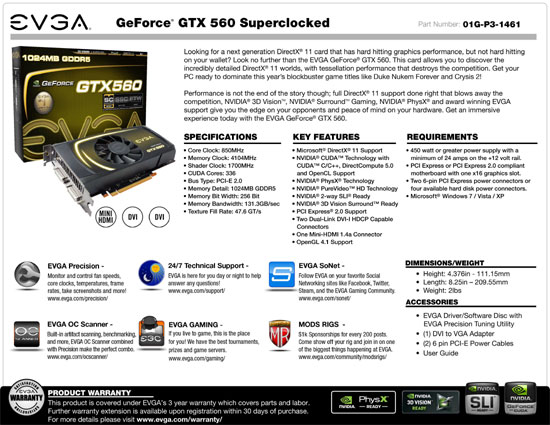 EVGA GeForce GTX 560 SC Video Card Specs:
Core Clock: 850 MHz

Memory Clock: 4104 MHz

Shader Clock: 1700 MHz

CUDA Cores: 336

Bus Type: PCI-E 2.0

Memory: 1 GB GDDR5
Memory Bit Width: 256 Bit
Memory Bandwidth: 131.3GB/sec
Texture Fill Rate: 47.6 GT/s

EVGA GeForce GTX 560 SC Video Card Features:
Microsoft Direct X 11 Support

Nvidia CUDA Technology

Nvidia PhysX Technology

Nvidia Pure Video HD Technology

Nvidia 2 Way SLI Ready

Nvidia 3D Vision Surround Ready

Two dual-Link HDCP Capable Connectors

One Mini-HDMI 1.4 Connector

OpenGL 4.1 Support

A Closer Look At The EVGA GeForce GTX 560 SC Video Card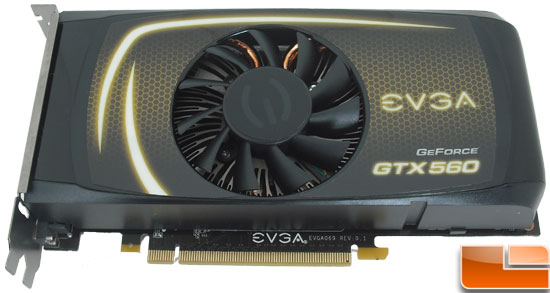 The PCB on the reference NVIDIA GeForce GTX 560 video card measures 9.0 inches in length and the card stands at 4.376 inches tall. The card is a dual-slot cooling design for maximum cooling performance. The worst thing that can happen to a performance level card is high temperatures.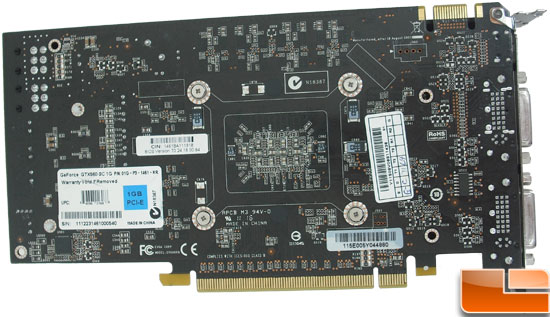 Taking a quick look at the other side of the NVIDIA GeForce GTX 560 SC video card, we don't find anything too interesting on the back. Notice that along the top edge of the GeForce GTX 560 SC one SLI connector is placed on the card. This means that SLI and 3D Vision Surround configurations are supported, but much like the Radeon 6800 series multi card setups, over a dual configuration are not possible.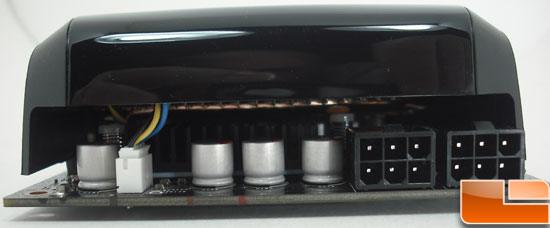 The EVGA GeForce GTX 560 SC video card absolutely needs a 500 Watt power supply with a minimum of 30 Amps on the +12 volt rail. For all of our testing we used a 750 watt PSU which was more than enough. It also requires that the power supply has two 6-pin PCI Express power connectors for proper connection. It should be noted that the NVIDIA minimum system power requirement is based on a PC configured with an Intel Core i7 3.2GHz CPU. If you want to run SLI we are not sure the exact specifications, but an educated guess would say that a 550 Watt or greater power supply would be needed.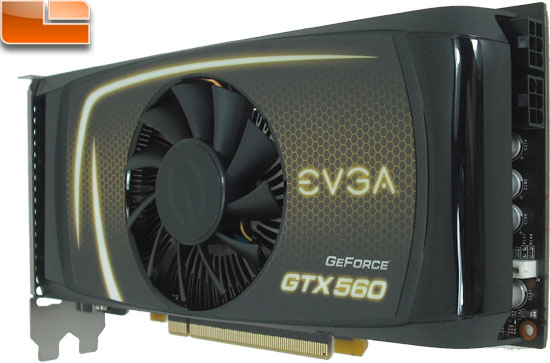 In the picture above you can see the center mounted 75mm fan that EVGA is using to keep the GTX560 SC cool. Notice that the cooling fan used on the GeForce GTX 560 SC extends past the plastic cowl. We were told it was made this way to help pull in cooler air from outside the fan shroud. This is a very interesting design and not one that we have seen on any reference card in the past decade. Under the 75mm cooling fan, NVIDIA is using a radial curved bifurcated fin heatsink design with three heat-pipes to keep the temperature of the card down at acceptable levels.

The EVGA GeForce GTX 560 SC GDDR5 graphics card has two dual-link DVI-I outputs along with a mini-HDMI output header. The EVGA GeForce GTX 560 SC features enhanced audio support over HDMI; this includes bitstreaming support for both Dolby True HD and DTS-HD Master Audio over HDMI.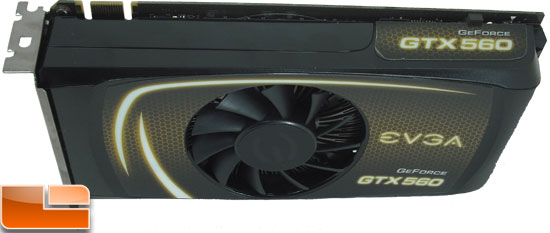 Here is a closer look at the top of the EVGA GeForce GTX 560 SC. If you recall at the start of this page we told you the GeForce GTX 560 SC is 9" in PCB length. The GeForce GTX 460 was just 8.25" long. We were told by NVIDIA that they increased the length of the PCB to have a cleaner PCB layout and in order to fit a better GPU cooler on the card as the TDP is higher on this new card.
The Test System
All tests were performed on a freshly formatted system using the Nvidia 275.20 beta driver. All system drivers and the BIOS were up to date. The memory was run in dual channel with 8-8-8-24 1T timings and nothing was overclocked; everything was running at stock speeds.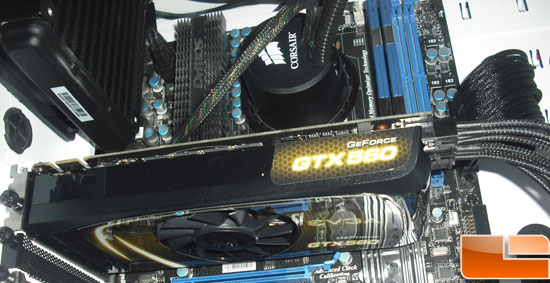 The Test System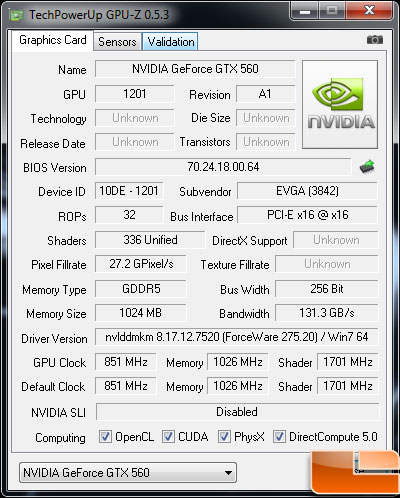 Video cards used in this review:
Batman: Arkham Asylum GOTY Edition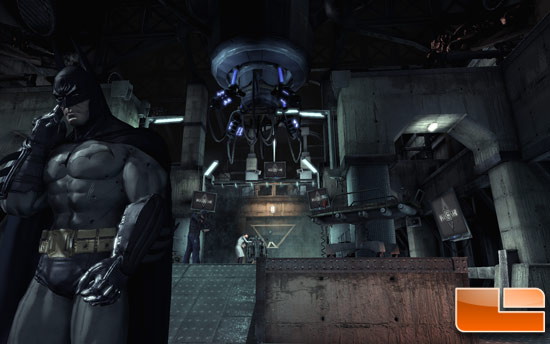 Batman: Arkham Asylum is an action-adventure stealth video game based on DC Comics' Batman for PlayStation 3, Xbox 360 and Microsoft Windows. It was developed by Rocksteady Studios and published by Eidos Interactive in conjunction with Warner Bros.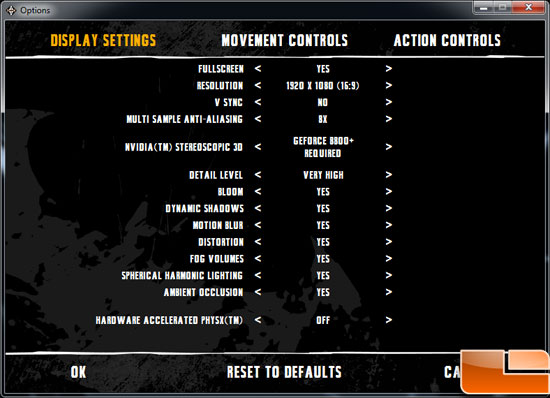 For our testing we set everything as high as it would go including Multi Sample Anti-Aliasing as we set that to 8x.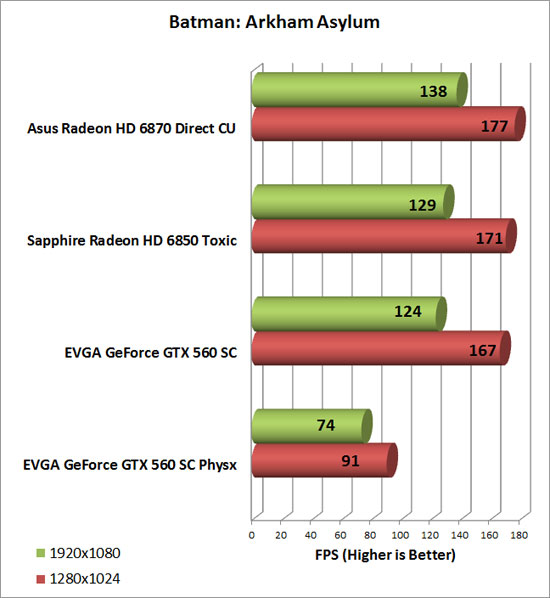 Benchmark results: The EVGA GeForce GTX 560 SC did really well in Batman: AA coming in at slightly lower numbers than the 6850, but still totally playable. I wanted to test out the Physx capabilities of the card and again it put up very respectable numbers considering the extra rendering it had to do.

Metro 2033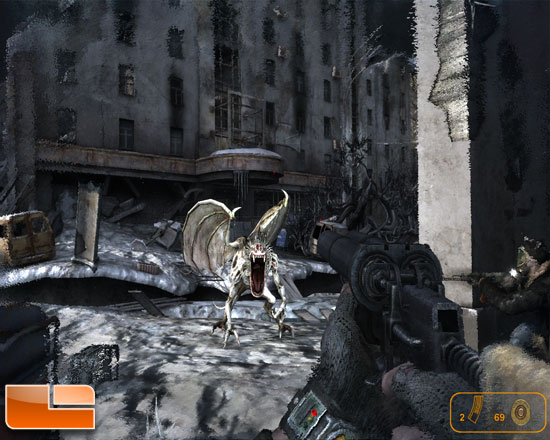 Metro 2033 is an action-oriented video game with a combination of survival horror and first-person shooter elements. The game is based on the novel Metro 2033 by Russian author Dmitry Glukhovsky. It was developed by 4A Games in the Ukraine. The game is played from the perspective of a character named Artyom. The story takes place in post-apocalyptic Moscow, mostly inside the metro station where the player's character was raised (he was born before the war, in an unharmed city), but occasionally the player has to go above ground on certain missions and scavenge for valuables.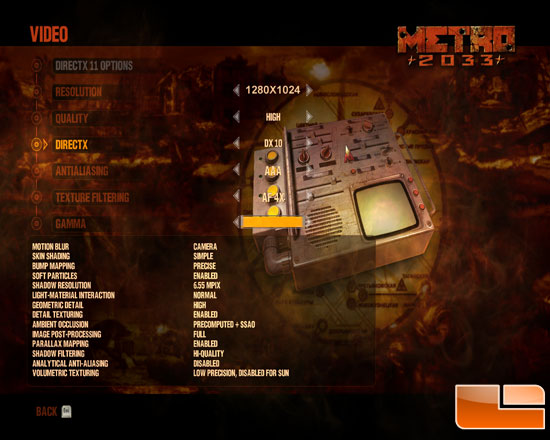 This is another extremely demanding game. Settings were left at High quality with AA and AF at highest values- x4 and AF 16x. The section of Metro 2033 tested was the Prologue with fraps polling from when you are climbing up the ladder until opening the door to exit the metro station. This section includes many features found throughout the game including four creatures which attack you before you exit the building, dense particles, ammo in cabinets, a few computer controlled sections and, of course, Miller, your first companion.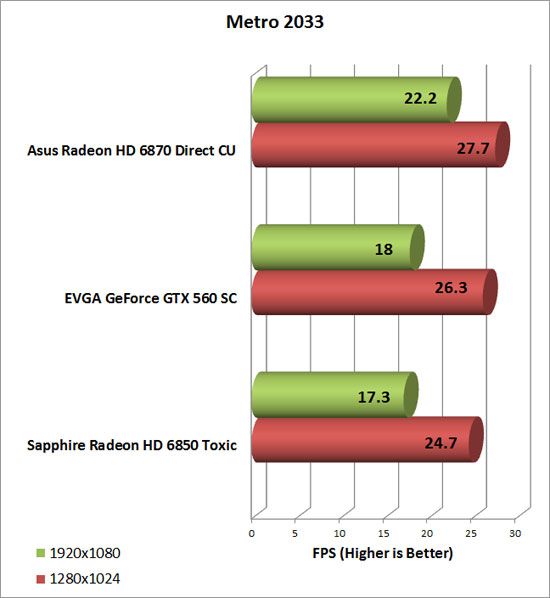 Benchmark Results: The EVGA GeForce GTX 560 SC not only bested the Radeon 6850, it gave the 6870 a run for its money. Metro 2033 is a very graphics intensive game and the EVGA GeForce GTX 560 SC showed it absolutely no mercy.

Aliens vs Predator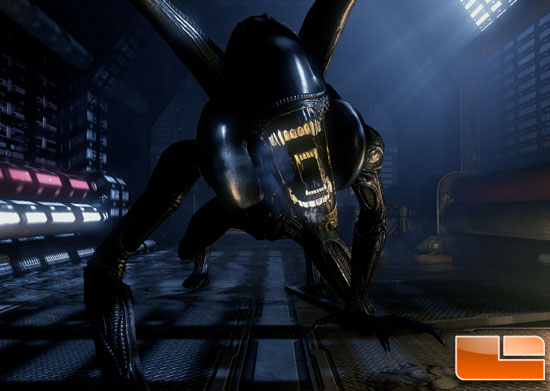 Aliens vs Predator D3D11 Benchmark v1.03 is a standalone benchmark test based upon Rebellion's 2010 inter-species shooter Aliens vs. Predator. The test shows xenomorph-tastic scenes using heavy tessellation among other DX11 features.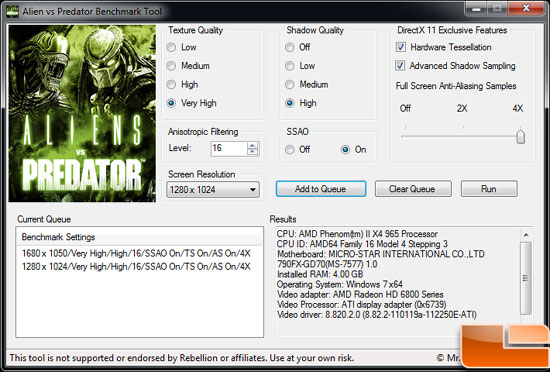 We cranked up all the image quality settings in the benchmark to the highest level possible, so we were running 4x AA and 16x AF with SSAO enabled at both 1680x1050 and 1280x1024 on all the video cards.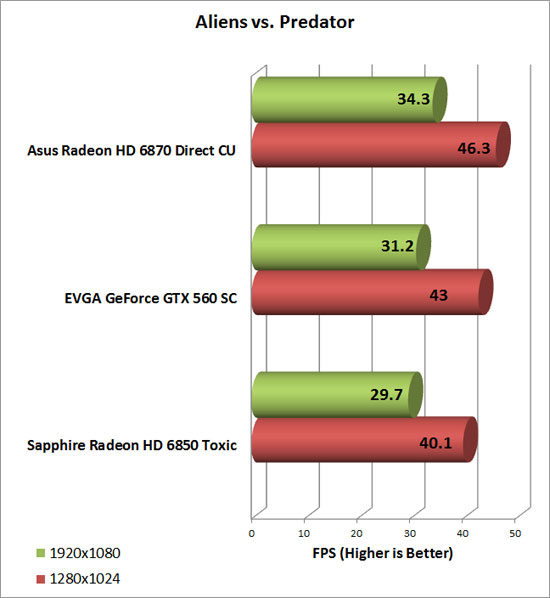 Benchmark Results: What's this? Once again the EVGA GeForce GTX 560 SC has slipped past the Radeon 6850. Although it didn't come as close to the numbers of the 6870 like it did in the last test, it still came pretty darn close with roughly a 3 FPS difference between the two.

Left 4 Dead 2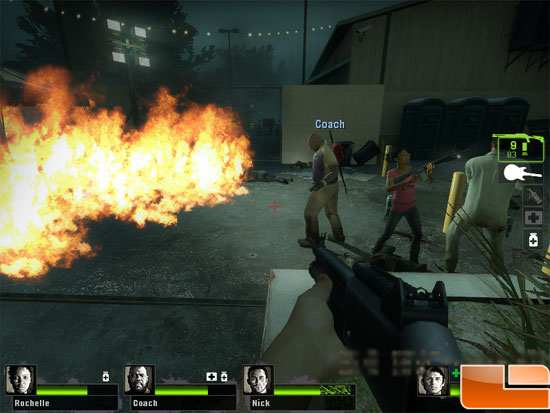 Left 4 Dead 2 is the sequel to the very popular Left 4 Dead. Not only does it have strong multiplayer gameplay, the single player campaigns are really fun to play as well.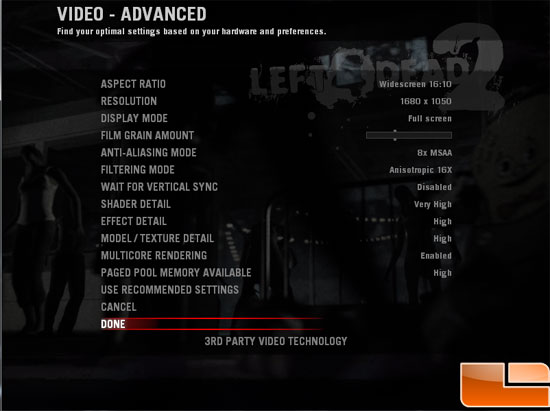 For this game we turned all of the settings as high as they could go and we set our AA at X8 and our AF at X16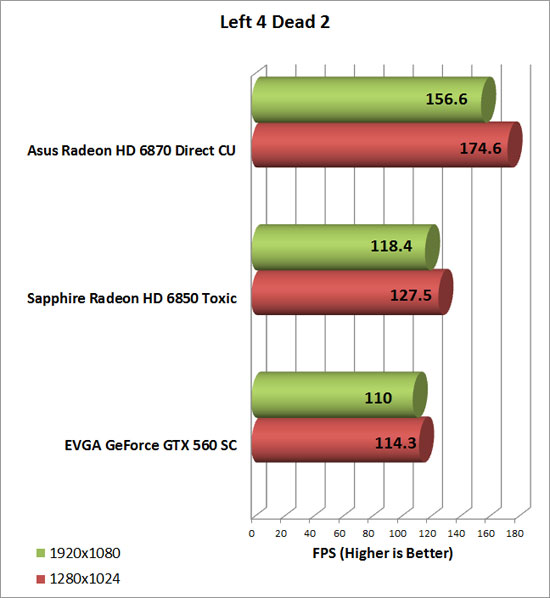 Benchmark Results: I don't know what happened here but it looks like DX 10 was not very friendly to our EVGA GeForce GTX 560 SC as the Radeon 6850 showed it who was boss; I'm not even going to talk about the 6870 as there was no comparison. Even with the lowest showing in Left 4 Dead 2 you would have no trouble at all playing the game at the highest settings without so much as a stutter.

S.T.A.L.K.E.R. Call of Pripyat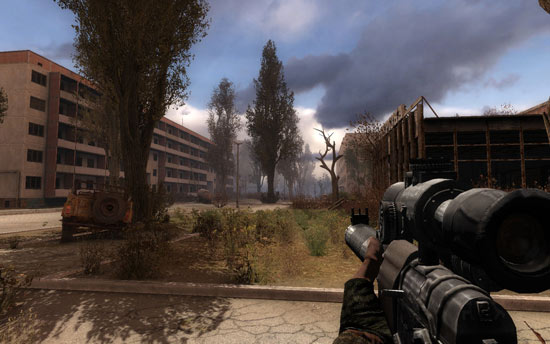 The events of S.T.A.L.K.E.R.: Call of Pripyat unfold shortly after the end of S.T.A.L.K.E.R.: Shadow of Chernobyl following the ending in which Strelok destroys the C-Consciousness. Having discovered the open path to the Zone's center, the government decides to stage a large-scale operation to take control of the Chernobyl nuclear plant.
S.T.A.L.K.E.R.: Call of Pripyat utilizes the XRAY 1.6 Engine, allowing advanced modern graphical features through the use of DirectX 11 to be fully integrated; one outstanding feature being the inclusion of real-time GPU tessellation. Regions and maps feature photo realistic scenes of the region it is made to represent. There is also extensive support for older versions of DirectX, meaning that Call of Pripyat is also compatible with older DirectX 8, 9, 10 and 10.1 graphics cards.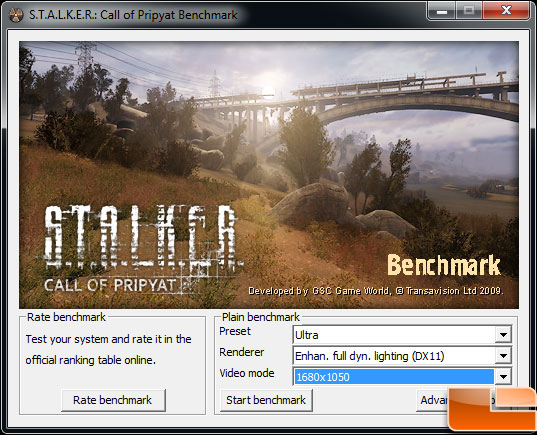 The game S.T.A.L.K.E.R.: CoP has no internal benchmarking tools built into the game engine, but they do have a standalone benchmark available that we used for our testing purposes. The screen capture above shows the main window of the benchmark with our settings. Notice we are running Enhanced Full Dynamic Lighting "DX11" as our renderer.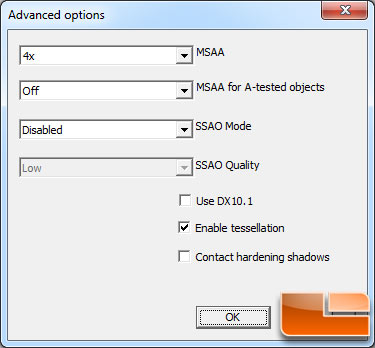 Under the advanced settings we enabled tessellation and 4x MSAA. We didn't enable ambient occlusion as we wanted to use these test settings for mainstream cards down the road and these settings should be tough enough to stress any and all DX11 enabled video cards.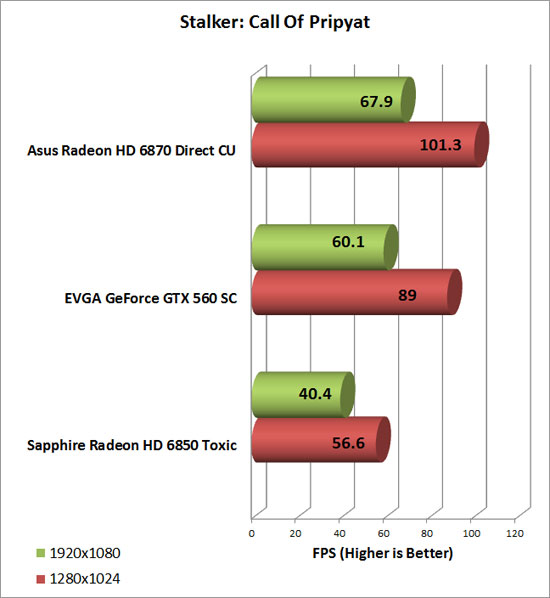 Benchmark Results: I have to admit that I did not expect the results I got here. I thought for sure the 6850 would do way better in this game, but nope. Our EVGA GeForce GTX 560 SC was able to best the 6850 by a whopping 20 FPS at the highest resolution of 1920x1080, and by 33 FPS at 1280x1024. Even at 1920x1080 the EVGA GeForce GTX 560 SC came within about 8 FPS of the Radeon 6870. Not too bad for a card that actually costs less than the 6870.

Battlefield Bad Company 2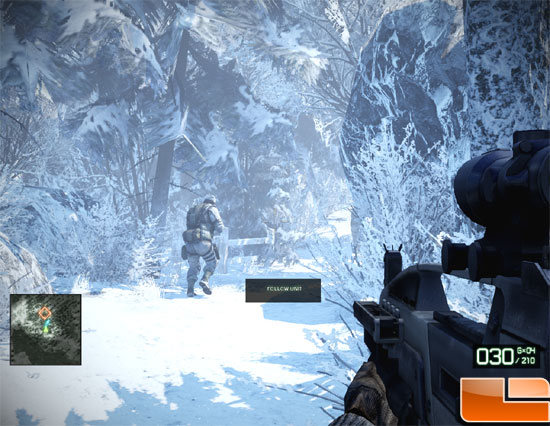 Battlefield: Bad Company 2 is the latest in a long line of Battlefield games and it is the first of the series to run on DX11, not only is this game fun to play... it looks amazing.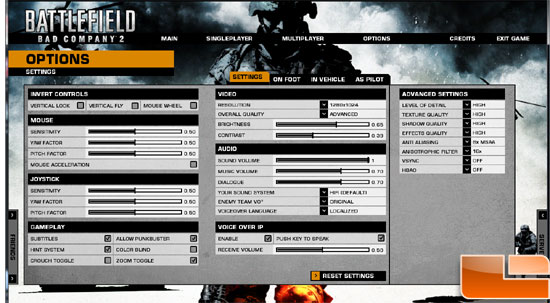 We ran BC2 with all of its graphics settings as high as they could go and we ran our tests on the map frozen from the start of the checkpoint until we reached the frozen lake bed. During this time we experienced snow drifts, combat and a good look at the sky.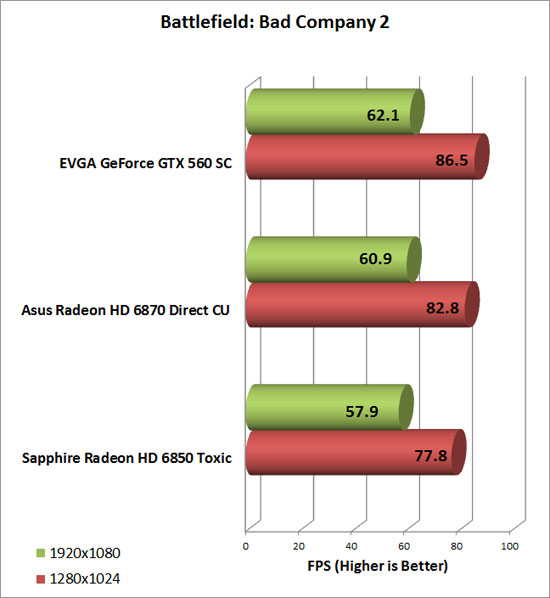 Benchmark Results: Don't ask me how, but the EVGA GeForce GTX 560 SC bested both of the other cards used in this article. At first I thought this was a fluke, but I ran the tests a total of six times and each time the results were the same. The EVGA GeForce GTX 560 SC actually outperformed the 6870 by a couple of frames. As we all know, Bad Company 2 can put some serious hurt on your video card, but not this one I guess.

3DMark 11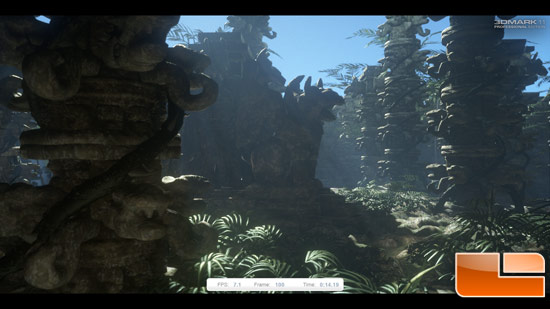 3DMark 11 is the latest version of the world's most popular benchmark for measuring the 3D graphics performance of gaming PCs. 3DMark 11 uses a native DirectX 11 engine designed to make extensive use of all the new features in DirectX 11, including tessellation, compute shaders and multi-threading.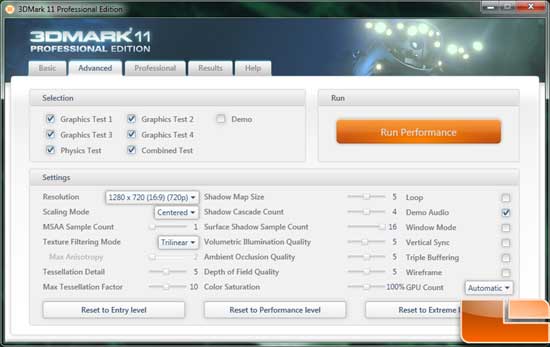 We ran our tests in both Extreme and Performance mode just to give you an idea of how the card would run in both environments.
3DMark 11 Extreme Benchmark Results: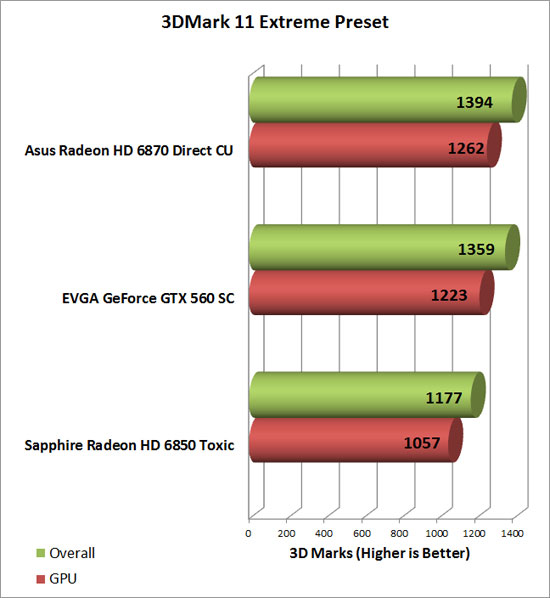 3DMark 11 Performance Benchmark Results: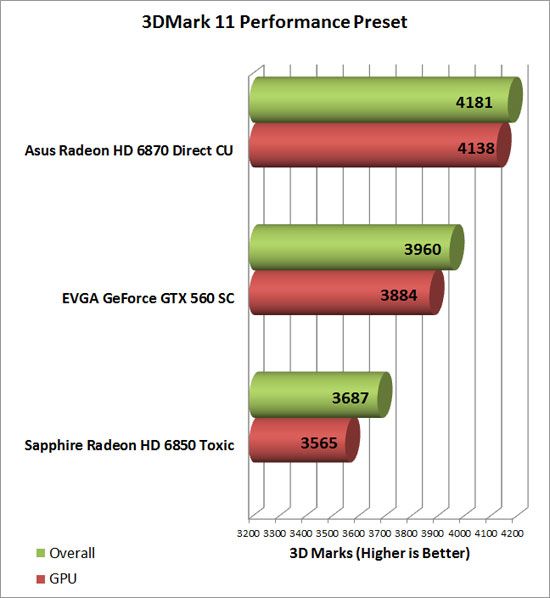 Benchmark Results: Once again we can see that the EVGA GeForce GTX 560 SC has come closer to the numbers that the Radeon 6870 put up than the numbers of the 6850. In both the Extreme and the performance presets of 3DMark11 the EVGA GeForce GTX 560 SC fell right in the middle of the pack, but had absolutely no problem taking whatever the benchmark threw at it.

Furmark 1.8.2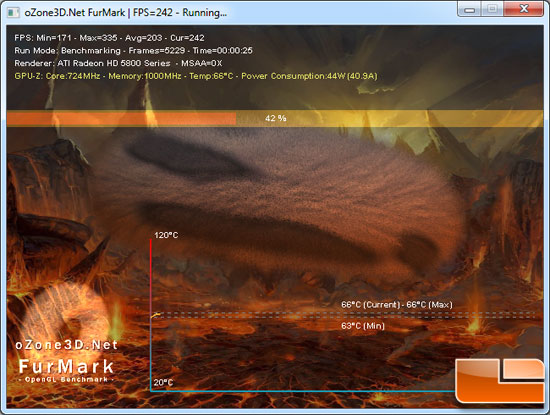 FurMark is a very intensive OpenGL benchmark that uses fur rendering algorithms to measure the performance of the graphics card. Fur rendering is especially adapted to overheat the GPU and that's why FurMark is also a perfect stability and stress test tool (also called GPU burner) for the graphics card.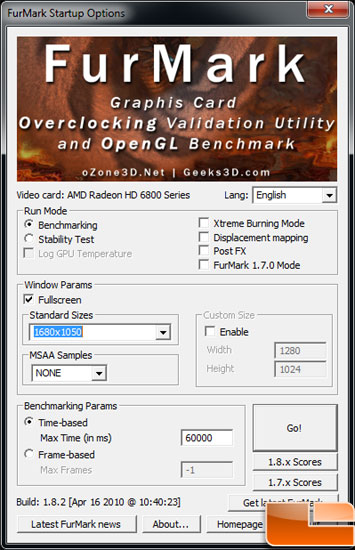 The benchmark was rendered in full screen mode with no AA enabled on the video cards.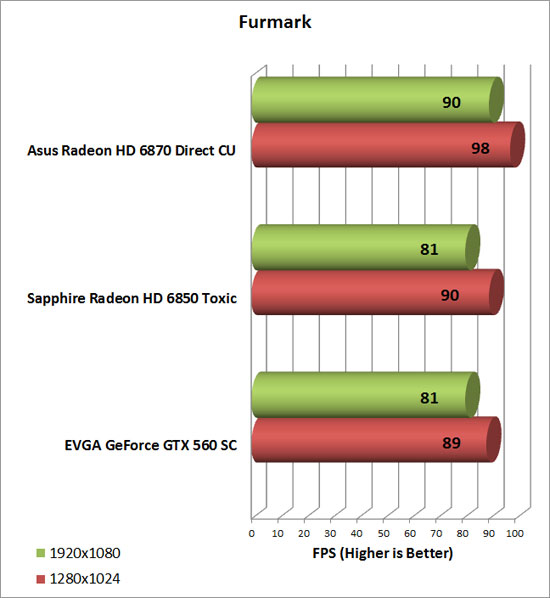 Benchmark Results: Furmark can really put a lot of stress on a card. As we can see from our results, the EVGA GeForce GTX 560 SC and the Radeon 6850 were pretty much even at both resolutions and truly weren't that far behind the Radeon 6870.

Unigine Heaven 2.5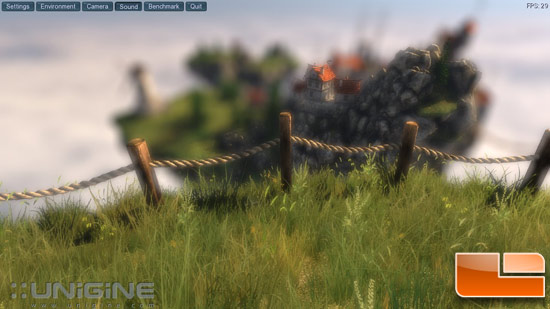 The 'Heaven' benchmark that uses the Unigine easily shows off the full potential of DirectX 11 graphics cards. It reveals the enchanting magic of floating islands with a tiny village hidden in the cloudy skies. With the interactive mode emerging, experience of exploring the intricate world is within reach. Through its advanced renderer, Unigine is one of the first to set precedence in showcasing the art assets with tessellation, bringing compelling visual finesse, utilizing the technology to the full extent and exhibiting the possibilities of enriching 3D gaming. The distinguishing feature of the benchmark is a hardware tessellation that is a scalable technology aimed for automatic subdivision of polygons into smaller and finer pieces so that developers can gain a more detailed look of their games almost free of charge in terms of performance. Thanks to this procedure, the elaboration of the rendered image finally approaches the boundary of veridical visual perception: the virtual reality transcends conjured by your hand.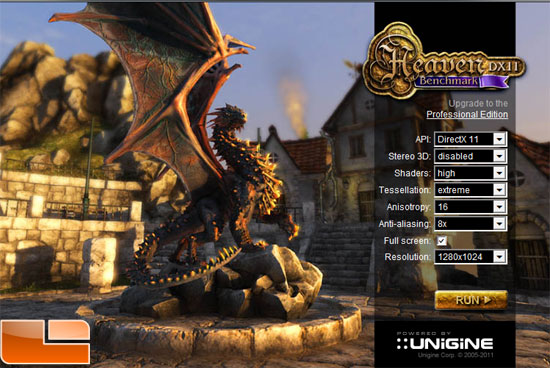 We ran the Heaven v2.5 benchmark that just recently out with VSync turned disabled, but with 8x AA and 16x AF enabled to check out system performance. We ran the benchmark at 1920x1080 and 1280x1024 to see how the benchmark ran at some different monitor resolutions. It should be noted that we ran the new extreme tessellation mode on this benchmark. These are the toughest settings that you can run on this benchmark, so it should really put the hurt on any graphics card.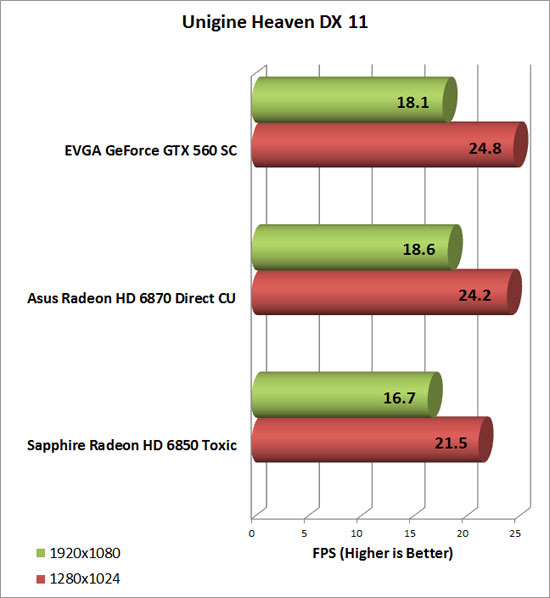 Benchmark Results: The heaven benchmark has to be one of the most beautiful benchmarks I have ever seen, but within beauty can be an unspeakable evil, and the evil is what tries to bring your video cards to a halt. But as we can see here the EVGA GeForce GTX 560 SC was having none of that as it once again put up numbers that actually rivaled the Radeon 6870. I am starting to see a pattern here.

Temperature Testing
Since video card temperatures and the heat generated by next-generation cards have become an area of concern among enthusiasts and gamers, we want to take a closer look at how the EVGA GeForce GTX 560 SC Video Card did at idle and under a full load.
EVGA GeForce GTX 560 SC Video Card Idle Temperature: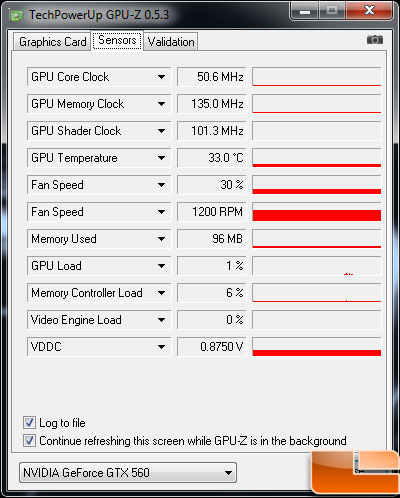 EVGA GeForce GTX 560 SC Video Card Load Temperature: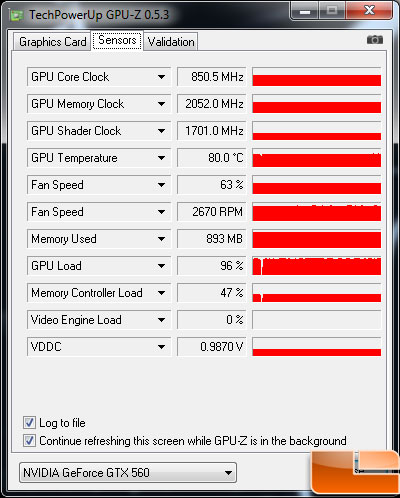 As you can see from the screen shots above, the idle state of the EVGA GeForce GTX 560 SC Video Card drops the GPU core clock frequency down to 50.6MHz and the memory clock down to 135MHz to help conserve power and lower temperatures. At idle the EVGA GeForce GTX 560 SC Video Card got all the way down to 33 degrees, the lowest of any cards I have reviewed.

We fired up AvP and ran it at 1920x1080, which was enough to put the GPU core at 100% load in order to get the highest load temperature possible.
EVGA GeForce GTX 560 SC Video Card AvP Load Temperature: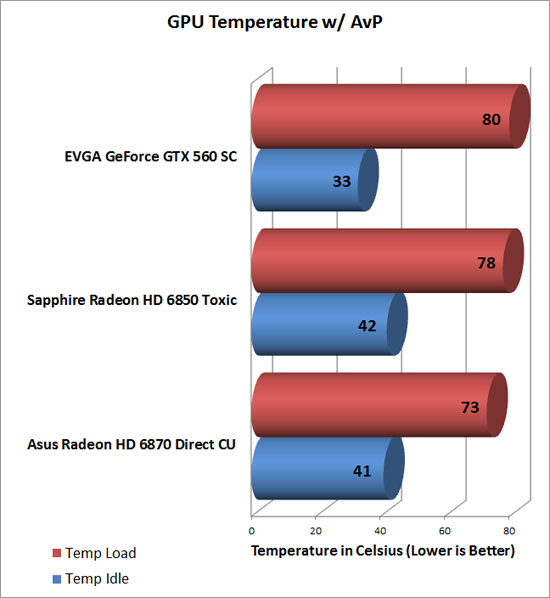 The temperatures here were fairly consistent with the other cards tested during a full load, but during idle the EVGA GeForce GTX 560 SC idled at almost 10 degrees less than the other two cards used in the testing. I was really surprised by this because the EVGA GeForce GTX 560 SC we are using is a reference model and the Radeon 6870 has a custom cooler on it and the Radeon 6850 is a retail version of the card. Usually these tests go the other way around.

Power Consumption
For testing power consumption, we took our test system and plugged it into a Kill-A-Watt power meter. For idle numbers, we allowed the system to idle on the desktop for 15 minutes and took the reading. For load numbers we measured the peak wattage used by the system while running The Aliens vs. Predator full video game at 1920x1080 resolution.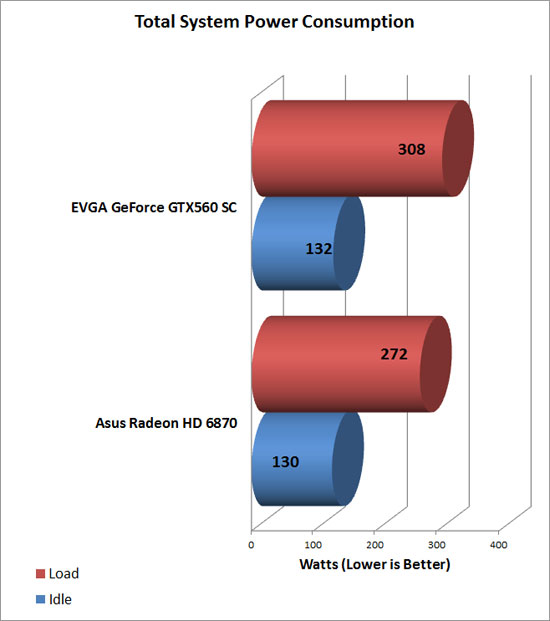 Power Consumption Results:
As you can see, running at an idle the test system draws 132 watts of power, but once we get the EVGA GeForce GTX 560 SC in game and start playing at 1920x1080 resolution it spikes up to 308 watts; that's a 176 watt difference from when the system is at idle. We are using a 750 watt PSU and that looks to be more than enough to keep the EVGA GeForce GTX 560 SC going with plenty of power to spare.

Overclocking
So now it's time to see how far we can push this card before it gives out on us. Using the EVGA Precision utility I tried to push this card to the limit all while trying not to kill it if you know what I mean.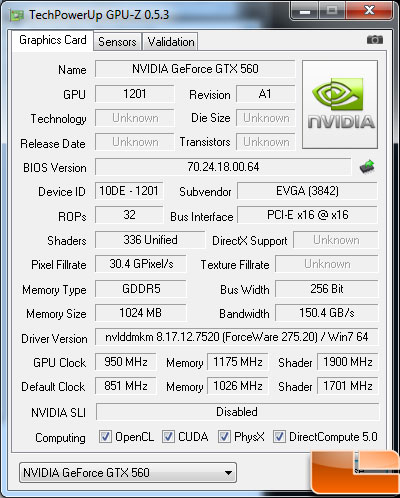 I also employed the use of the trusty Aliens Vs. Predator Benchmark because it is DX 11 capable and it can really push a video card. As you can see from the results I obtained I was able to overclock the EVGA GeForce GTX 560 SC to 950 MHz on the core, 1900 MHz on the shaders, and 1175 MHz on the GDDR5 memory. All of this and we didn't even have to tweak the voltage or anything like that.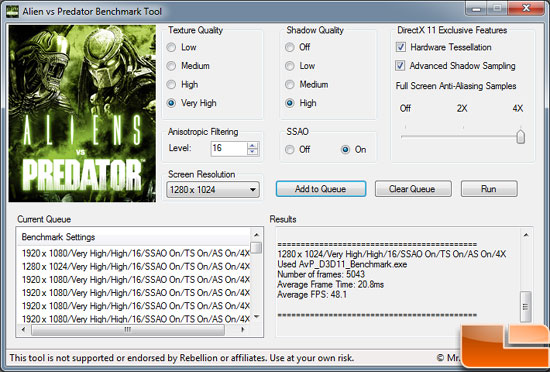 I ran the Aliens vs. Predator Benchmark to see what the difference would be with an overclock that was right at the 950 MHz mark. As you can see, there was a noticeable 4 FPS difference from its stock setting of 851 MHz for a total of a 100 MHz overclock.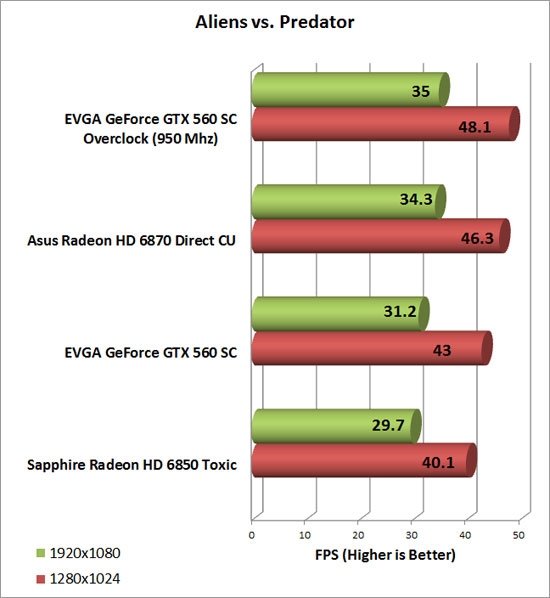 In order to test the stability of my overclock I ran the Aliens Vs. Predator Benchmark constantly for over an hour because I wanted to be very sure it was stable, and guess what? It was.
My Thoughts On The EVGA GeForce GTX 560 SC Video Card
With an 850 Mhz core speed and 4104 Mhz memory clocks, the EVGA GeForce GTX 560 SC Video Card really seems to have made a name for itself in this review. Not only is it in the same price bracket as the AMD Radeon HD 6850 and Radeon HD 6870 that we compared it to, in most tests it achieved higher scores than the Radeon HD 6850 and came very close to the results of the Radeon HD 6870 which is no easy task. Even though it has put up the highest load temperature to date in the reviews I have personally done, it also got lowest idle temperature to date as well. Remember, this is on the reference design cooler and that many of the GeForce GTX 560 designs will feature custom designed coolers!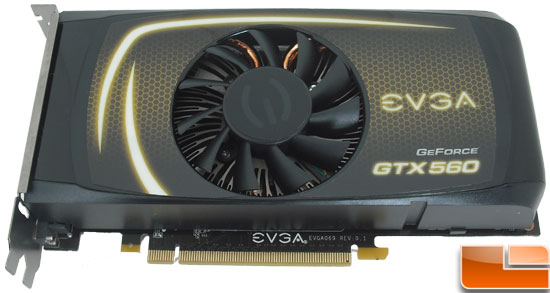 With pretty much the core architecture as the GeForce GTX 460, the EVGA GeForce GTX 560 SC is able to achieve higher clock speeds but is able to do it using less power thanks to the GF 114 Fermi core that was developed for the GTX 560 SC by Nvidia. The one true drawback is the price point of $209.99 with a 3 year warranty is the fact that you can get a full blown Nvidia GTX Ti for around $10.50 more shipped after rebates. EVGA does give you the ability to upgrade to a 5 to 10 year warranty during registration, or even better is their current promotion that gives you a full 10 year warranty if you buy the card in the months of May or June. Not too shabby if you ask me.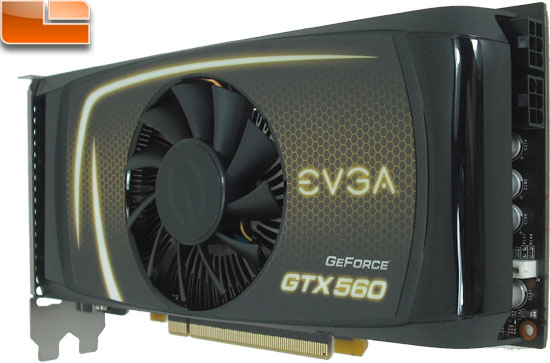 At the end of the day this is what we have. The NVIDIA GeForce GT 560 is an evolutionary improvement of the GeForce GTX 560 with all the enhancements and power saving features found on other GeForce 500 series video cards. It's not one of the most significant video card launches that we have seen in recent months, but we expect this card to do well in the market due to the price point. Right now we think it's priced too close to the GeForce GTX 560 Ti, but in the weeks an months to come the price on the card should decrease or rebates will be offered. With a small size like that it makes the EVGA GeForce GTX 560 SC not only good for a killer gaming rig but also for a great media PC for your home or office.

The Legit Bottom Line: With an alright price and performance that is on par with higher end AMD cards the EVGA GeForce GTX 560 SC is a great upgrade for an aging 9800 GT or older card. For around two hundred dollars you can enter the DX11 arena and play newer game at higher resolutions.