Local LANs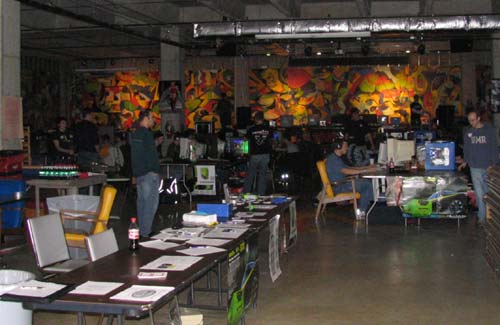 Near large cities throughout the year, there are numerous LANs on the weekends. Today Legit Reviews took some time off on a Saturday afternoon and went out to support one of St. Louis' local LANs. This 72-person LAN was put on by the folks at WarFactory. These smaller LANs are great for taking some time off from the normal work week and having the chance to get your FRAG-on!
This time around, WarFactory's LAN had a $20 per person entry fee. The winners walked away with double their money and second place got a free LAN. They played tournaments of UT2004 3v3 TDM and Counter-Strike 1.6 5v5. The winners can be found on WarFactory's main page. I must say this was a very relaxing and enjoyable event! $20 for a great time and getting to meet other local gamers is priceless!
| | |
| --- | --- |
| Room Shot 1 | Room Shot 2 |
This nice "bunker-style" concrete room was the perfect setting for some major gaming action! As I mentioned, 74 systems running and fragging is a beautiful thing! There were some pretty slick looking cases on those tables. One that comes to mind was an amature custom rig with a Mario Bros. theme. Among others, there were Unreal themes, cold-cathod lit systems, and one water-cooled system (pictured below).
| | |
| --- | --- |
| Gamers in Action | Watercooling with EXOS |
The gamers above are enjoying round 2 of the UT2004 Tournament in which they will soon take second place! Notice the Alienware laptop on the end!
| | |
| --- | --- |
| Prizes | More Prizes |
The crew at WarFactory were able to get prize donations from quite a few well-known copanies in the industry. These sponsors included NVIDIA, ATI, BAWLS, Velocity Micro, Monarch Computers, and Alienware! With the turnout at this LAN, I suspect WarFactory will be able to keep these sponsors and get new ones!
| | |
| --- | --- |
| LR LAN Rig | STEAM Woes |
We of course brought our LR LAN Rig to show off while we were there. We enjoyed talking to the gamers as they came by our setup and answered any questions they had about our rig. This time around, our rig featured the ABIT Fatal1ty AA8XE, Intel Pentium 4 3.46Ghz ES w/ 1066Mhz FSB, 1Gb Corsair XMS PC2-5400 Pro, 160Gb Maxtor 7200rpm HDD, NVIDIA 6800GT, 520W OCZ PSU w/ adjustable Volt rails, and a Thermaltake Xray (beverage holder and cigarette lighter) all encased in our Beantech Igloo 8 Aluminum Case.
The other pic above was something we noticed as we were on our way out the door. We saw a group of gamers outside the event in one of the vacant computer labs in the building which the event was being held. We walked up to them to find out what they were up to because they honestly looked suspicious. Low and behold, they were actually being pretty smart! (Just kidding!) They were trying to solve one of the biggest problems with this LAN party. This would be the infamous STEAM software! You see, for typical smaller-sized LANs, there is no internet connection; everyone is just on one, big, private network. Well, about 10-15% of the people there just happend to be at the stage where STEAM requires an internet connection to "re-validate" your account. So the result being a bunch of guys who could not play CS 1.6 for the tournament! These fellas are just stealing the building's internet connection to get STEAM to re-validate, so they can bring their rig back to the event and play CS 1.6. WHAT A PAIN!! (Take note VALVE!)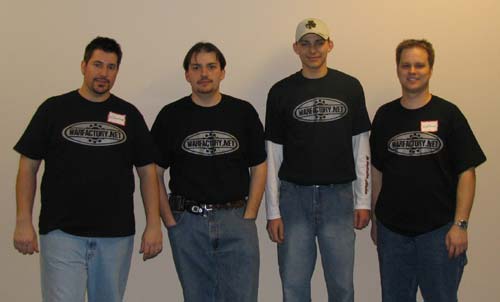 Dave Derington, Jeremy Walker, Kevin Grapperhaus, and Dan Barr
The staff of WarFactory (pictured above) was nice enough to let us talk a lot with them on how things were running and issues they were having. Of those issues, a big one was the STEAM updating issue we just talked about. They did have any power consumption problems, but there were a couple of power-strips that "popped" while we were there. Here was what Dave Derington had to say about the event after it was all said and done.
"In general, this event went fairly well. The snow reduced our headcount, but we still pulled in 72 people for the event (53 of whom had paid in advance, which is a new record for us). We had some technical difficulties that delayed the CS Tournament, which was a disappointment to me, but in general people seemed to be happy and had enjoyed themselves. Because of the low turnout, we gave all 1st place winners $40, and 2nd place winners $20, for a grand total of $500 cash handed back to attendees."
So it seems like overall, Dave thought the event went quite well, also. Now we will delve into the world of statistics and show the results of the survey we conducted while talking with the gamers!
STL Hardware Survey
While we were talking to the gamers, we took it upon ourselves to take a survey of what hardware gamers in St. Louis are using today. We were able to get a pretty random sample of 45 gamers out of the 72 in attendance for our questions.
Before I show the graphs, I'll hit on a couple of the results which is not worth making a graph. There was one system at the event that was watercooled which was watercooled by a EXOS Koolance Kit. Out of the 45 people we asked, only 5 had store-bought PCs - the rest built their own computer or had someone build it for them.
AMD or Intel Processor?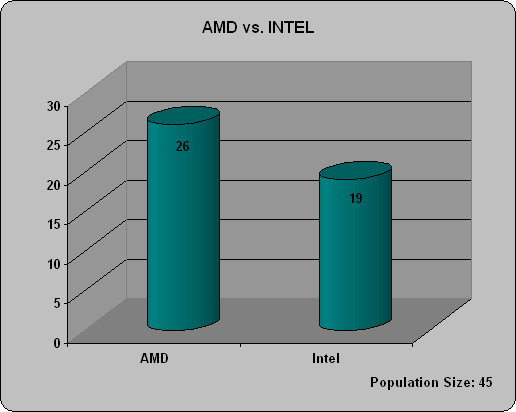 This is not too big of a surprise to me. The number one reason why was because AMD Athlon XP processors are cheap! So there is no doubt that we have some budget gamers here is St. Louis, MO.
NVIDIA or ATI Graphics?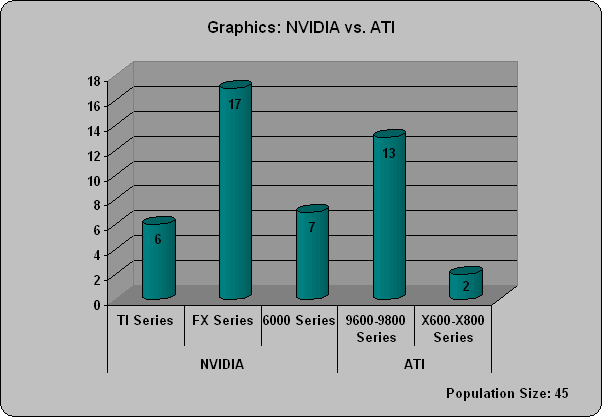 The budget crowd shows their numbers in this graphics chart as well. 30 of the 45 people we surveyed show as using the typical AGP FX Series for NVIDIA and AGP 9600-9800 Series for ATI. This means that 2/3 of the people we surveyed have purchased a new video card or system in the last year and a half, so in the next 6 months to a year, many will be ready to purchase again to update their system to keep up with more demanding games. And I would also point out that most of the FX series cards were 5700's or lower and most of the ATI cards were 9600XT's or lower, so the folks here in Missouri are definitely part of the mainstream market.
Memory Brand?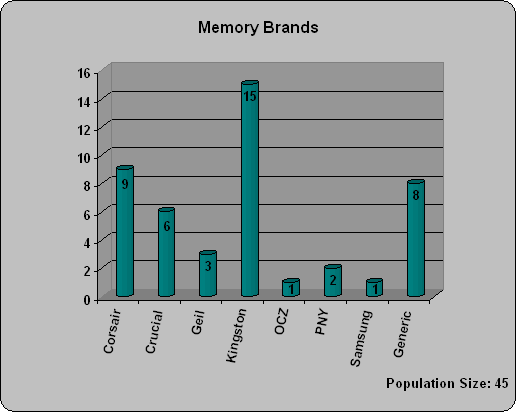 The memory brand of choice is definitely Kingston. After Kingston, Corsair and Crucial have to compete against the generic crowd for second rank!
Reference or After-Market CPU Cooling?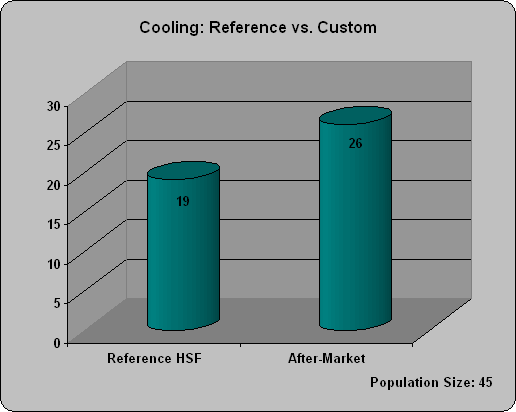 When one builds their own PC, they ususally get a heat sink with the processor; unless they choose OEM. I must say that I was a bit surprised at how many of the people we surveyed went out and purchased an After-Market CPU cooler. With the budget parts we saw in Processors and Graphics, we now see where the custom PC crowd spends their left-over pennys.
Conclusion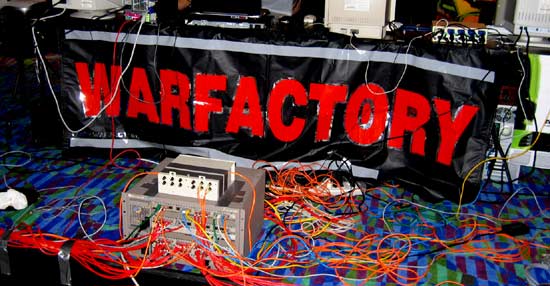 Justin West's Thoughts:
After being a hardware reviewer for over 2 years now, I must say that we get a bit spoiled by being able to experience the newest technology in computers as soon as it is released and often before it even hits the market. By taking the time to go out and support a local LAN, and gathering some valuable statistics, we now have a better idea of how we can serve our readers. We know that many of our local readers are perfect candidates for the mainstream market, while there are still a few that have the funds to grab the latest technology. I also think many companies we work with will find the information we gathered very valuable, as it will help them know what the mid-west PC market is like.
Nathan and I both started out as gamers and really had a nice time visiting with those in attendance. We answered a lot of questions but mainly just had some great conversation while we hung out and watched the gamers compete for a grand total of $500 in prise money!

Nathan Kirsch's Thoughts:
After running LAN parties in Missouri 4+ years ago it is good to see that others in the area have started and have a great following. The setting for the first Warfactory LAN of 2005 was at the University of Missouri St. Louis (UMSL) in what most would consider the Student Union building on campus. The room included some awesome art decor as seen above and allowed for a unique LAN party expierence. Expect us to be back at the next Warfactory LAN and maybe next time we will be on hand to conduct a hardware workshop and bring in more sponsors to make the event better. The demographics show that the midwest is full of gamers, but for some reason there are not many bigger LAN's in the area!
Legit Bottom Line:
This article is dedicated to encouraging everyone to support their local LANs; especially in our hometown of St. Louis, Missouri! If you are going to be putting on a local LAN Party, drop us a line, if we're free, we may just FRAG-in!