NVIDIA today unveiled the visual computing industry's new flagship technology -- the NVIDIA Quadro K6000 GPU, the fastest and most capable GPU ever built. NVIDIA today also launched a new line of professional graphics GPUs for mobile workstations, delivering the highest levels of performance and graphics memory ever available on mobile platforms.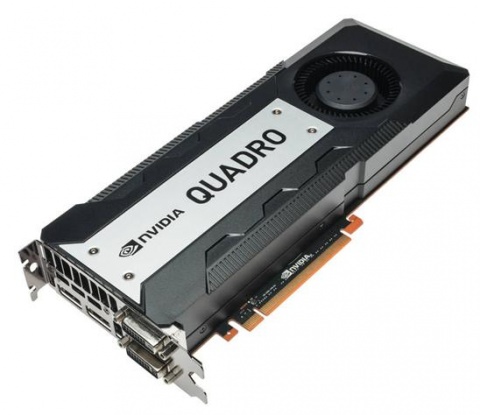 The Quadro K6000 GPU delivers five-times higher compute performance and nearly double the graphics capability of its predecessor, the NVIDIA Quadro 6000 GPU. The NVIDIA Quadro K6000 GPU has 2,880 streaming multiprocessor (SMX) cores, 12GB of GDDR5 graphics memory and supports four simultaneous displays and up to 4k resolution with DisplayPort 1.2. The max power consumption of this card is 225W and it measures 10.5" in length.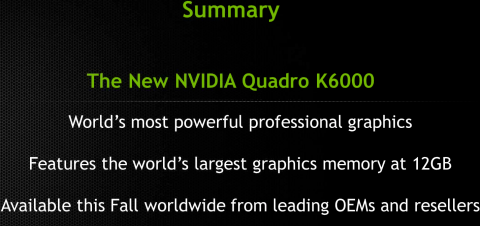 The NVIDIA Quadro K6000 will be available beginning this fall from Dell, HP, Lenovo and other major workstation providers; from systems integrators, including BOXX Technologies and Supermicro; and from authorized distribution partners, including PNY Technologies in North America and Europe, ELSA and Ryoyo in Japan, and Leadtek in Asia Pacific. Pricing will be announced closer to launch.

"Compared to the Quadro K5000, the Quadro K6000 tripled the performance when running jobs on Terraspark's InsightEarth application. With jobs running in mere minutes, we can run more simulations and get better insight into where to drill. In this business, drilling in the wrong place is a multi-million dollar mistake, and the Quadro K6000 gives us the edge to make better decisions." -Klaas Koster, manager, seismic interpretation, Apache Corporation