BetARMY is a new gaming site that hopes to set a new standard in competitive social gaming. The new BetARMY platform is built on challenging social gamers to show off their competitive style by playing the games they want and when they want. Gamers of all skill levels will use BetArmy's sophisticated feedback reputation management system to challenge opponents from around the world via a head to head match or through social online tournaments.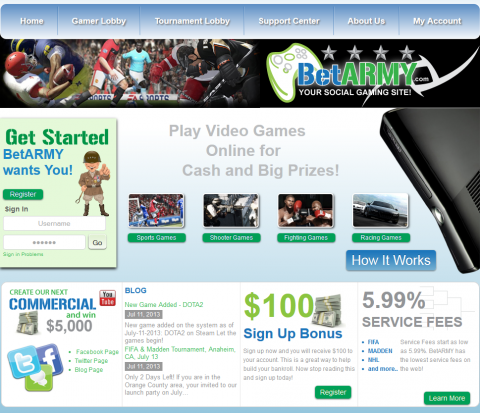 BetARMY was designed to give gamers the ability to compete with games of skill in a community where feedback was not only important, but critical to the success of both opponents' overall rating. The BetARMY system allows gamers to play an open amount of genres, like sports, racing, fighting and shooting and on platforms such as PlayStation3, Microsoft Xbox 360, Steam, Origin, Battle.net, mobile, PC and many more.


To let the games begin, BetArmy will be hosting its first onsite event at the Concourse Bowl in Anaheim, CA on July 13 from 12 pm – 7 pm PST. Gamers wanting to show their skills for Fifa 2013 and Madden 2013 are encouraged to play. There is a $20 buy in for this onsite tournament (rules and regulations apply).
"Like us, gamers are competitive and we wanted to provide an experience were gamers could have fun, stay competitive, yet not break the bank with service fees, said John Jerney, president of BetARMY. "We kept hearing that gamers wanted a place to go where they could compete and play what they wanted and when and have a wider variety of games to choose from. This coupled with being able to play on a plethora of platforms gives our customers the positive experience they are looking for."