CyberPower today unleashes its FangBook X7, a blazingly fast, terrifyingly powerful, and absolutely unique gaming notebook. The FangBook packs the meanest, fastest, and strongest qualities that the CyberPowerPC Fang series has to offer including Intel's i7-3940XM Extreme Edition Processor paired with NVIDIA GeForce GTX 680M notebook graphics processing unit (GPU) to decimate everything in its path. With the FangBook X7 you can take mobile gaming to a whole new level. Users get the power needed to maximize productivity and game play coupled with the perfect graphics engine for power users who demand unrivaled PC performance.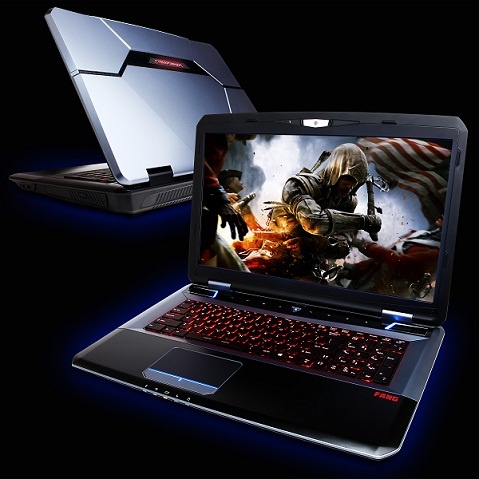 The features of the FangBook X7 with at starting price of $1,299 include:
Intel Core i7-3630QM CPU
NVIDIA GeForce GTX 675MX
8GB DDR3
17.3" FHD 1080p backlit screen
750GB 7200 RPM HDD
Windows 8 pre-loaded
24x DVDRW
Back-lit RED gaming keyboard
Premium speakers w/ Subwoofer
802.11 b/g/n w/ bluetooth
HDMI port
USB 3.0
720p webcam
The Fangbook X7 measures 16.85" x 11.34" x 2.17" and weighs under eight pounds.
"The Fangbook is an excellent gaming system, and a great GPU is at the heart of every great gaming system," said Brian Choi, notebook GPU product manager at NVIDIA. "The GeForce GTX 680M is the fastest, most advanced GPU ever built for a notebook and makes a great foundation for the Fangbook to build from."