ORIGIN PC announced today its exclusive in-game technical support client, the ORIGIN Nexus. Powered by Xfire , the world's premier online destination for millions of gamers, the ORIGIN Nexus client allows customers to contact ORIGIN PC's award-winning support team, in or out of gameplay, for any technical support related questions. ORIGIN Nexus also features the ability to chat with friends within the Xfire community, screen record gameplay, conveniently launch PC game favorites and much more. The ORIGIN Nexus client is an optional install, at no cost (FREE), to all current and new ORIGIN PC customers.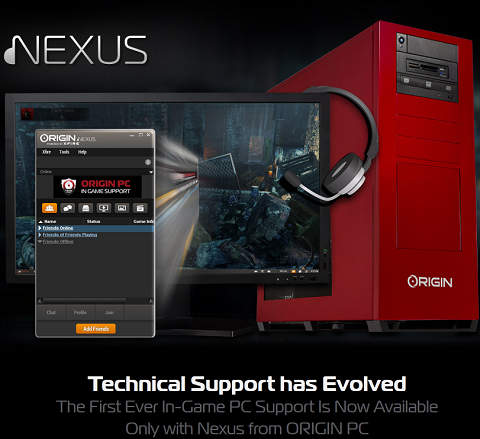 ORIGIN Nexus Features:
In-Game Technical Chat Support (9:30 A.M. to 5:30 P.M. EST)
In-Game Instant Messaging With Friends
In-Game Internet Browsing
Take Screenshots and Videos of Your Gameplay
Live Broadcast Your Gameplay
You can also catch a video about ORIGIN Nexus below!
"ORIGIN PC's focus has always been to provide the best PC experience to our customers and we are proud to continue our legacy of providing the best support in the PC industry," said Kevin Wasielewski, CEO and co-founder, ORIGIN PC. "Thanks to the great client from the Xfire team, ORIGIN Nexus makes it even more convenient for our customers to contact us without ever having to leave their game, and we're really excited to be the first and only company to offer this new level of support in our industry."