If you are in the market for a gaming notebook you should take note that AVADirect has released the first Intel X79 based gaming notebook in North America! This has been a long time coming as last year Clevo was supposed to come out with the P270WM gaming notebook, but it was canceled after many complications. The Clevo P570WM is the companies second try at bringing a true X79 desktop replacement to market and this time they did it! AVADirect is the first company to offer the P570WM gaming notebook!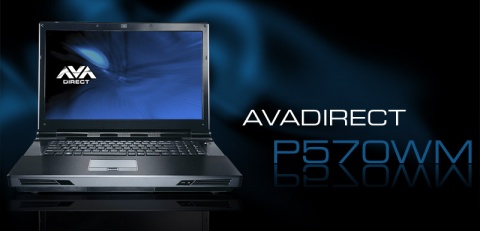 The Clevo P570WM supports Intel LGA2011 Extreme Core i7 processors along with NVIDIA GTX 680M graphics cards in 2-way SLI. You can also configure the notebook to run NVIDIA's Quadro K5000 graphics card if you wanted to go that route. Inside you'll find three 2.5" drive bays (including a separate optical drive bay. that can be converted to support a fourth 2.5" drive), RAID 0/1/5 support, and a 54/34 express card slot. The AVADirect P570WM isn't all about raw power though as it also features a back-lit, color-integrated keyboard that offers color-changing zones programmed to any end-user's preference. The standard configuration of the AVADirect P570WM runs $2757.94, but you can easily raise or lower that price depending on how you configure this mighty gaming laptop!
It's no secret that enthusiast and professionals were ecstatic, following the news of the first X79-designed desktop replacement, manufactured by Clevo, and provided by AVADirect. Desktop replacements have become a growing demand based on their ability to provide the most robust performance available in a mobile platform. The X79 Clevo P570WM sets out to raise industry standards, for mobile solutions, through its performance-driven ability to handle a majority of requirements existing with today's demanding software. These key components are the core of AVADirect's partnership with Clevo and their combined goal to bring the latest and most innovative mobile products to end-users that can expand their abilities, skill set, entertainment experience, and quality of life. AVADirect's Clevo P570WM represents everything that the custom builder stands for. Raw, uncompromisable performance presented with high-quality standards; designed by end-users that refuse to accept anything less than a reliable, high-end quality product.