Chinese electronics manufacturer Rapoo recently announced its the companies H9080 wireless headphones at CES 2013. The H9080 are wireless, over ear headphones are designed specifically for use with home entertainment systems.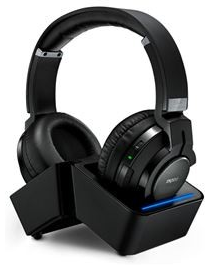 The H9080 functions operate on the 5GHz wireless transmission frequency and is said to have 6Mbps of wireless bandwidth for up to 10m (~33 feet) of high-quality audio streaming. The headphones feature a rechargeable lithium-ion battery allowing for up to 10 hours of play time with just a 3 hour charge. The H9080 are charged via the included home station which also doubles as a home base for the headphones preventing users from misplacing their headphones. They are expected to be released in the first quarter of 2013 and there is no word on pricing.
The headphones feature a smooth leather headband and ear cups making them the ideal solution for watching movies, playing video games and more. The H9080 features Bass Boost Functionality which delivers a deeper bass with the touch of a button. The headphones also feature COM-Ti Membrane Vibrating Technology which makes the treble pure and bright while keeping the bass mellow and thick.