Panasonic has introduced at CES 2013, a 20 inch tablet aimed at business users. Employing Panasonic's cutting-edge digital technology, the new tablet is designed to create new value for users with a more realistic and intuitive operating environment than paper or a display. This tablet embodies the characteristics of printed media that existing personal or tablet computers cannot provide, such as texture rich rendering, natural hand-writing and a light weight and thinness for easy mobility.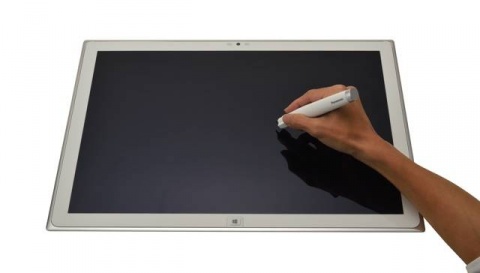 The 20-inch IPS Alpha LCD panel, driven by NVIDIA GeForce graphics, delivers 4k resolution (3840 x 2560, 9.83 million pixels), more than twice the horizontal and vertical resolutions of Full HD (1920 x 1080) and has a density of 230 pixels per inch. With a unique aspect ratio of 15:10, it can display an A3-size paper in almost full size, making it ideal to show content such as newspapers and magazines, as well as pictures with the same aspect ratio. Moreover, the pen input, with a resolution as high as the panel itself, enables natural handwriting on the tablet. Weighing 2.4 kg (5.3 lbs) and 10.8 mm (0.4 inch) thick, the tablet is easy to carry.
Other specifications include an Intel Core i5 3427U vPro 1.80GHz CPU, 4GB RAM expandable up to 16GB, 128GB SSD, Wireless IEEE802.11a/b/g/n and Bluetooth v4.0, microSD slot, 720p camera and two USB 2.0 ports and Windows 8 Pro 64-bit.
These unique characteristics will open up new ways for tablets to be used. The following is an example of its usage in an editorial meeting to finalize a new catalogue:

An editor comes into the room carrying a 4k tablet with him, lays it flat on the table and switches it on to show the catalog data for perusal by the editorial staff. While they check each page of the print-ready catalog by tapping and swiping the touchscreen, the editor jots down instructions for color changes directly on the screen using the digital pen and transfers them to the printing company. The meeting wraps up after they make a final check of the revised data returned from the printer to ensure the changes have been made correctly.