NVIDIA today announced Project SHIELD, a gaming portable for open platforms, designed for gamers who yearn to play when, where and how they want. Created with the philosophy that gaming should be open and flexible, Project SHIELD flawlessly plays both Android and PC titles. When announced the Shield, Jen-Hsun Huang slipped up and introduced it as "Project Thor", but quickly corrected himself. He provided no indication of what 'Project Thor' could be, but it got many any in the audience talking.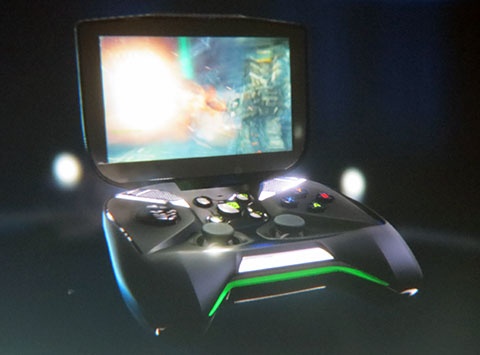 The device is powered by the Tegra 4 SoC that has 72 GPU cores and four A15 CPU cores. NVIDIA says this is the "World's fastest mobile processor" and it runs on Android. As a pure Android device, it gives access to any game on Google Play. And as a wireless receiver and controller, it can stream games from a PC powered by NVIDIA GeForce GTX GPUs, accessing titles on its STEAM game library from anywhere in the home.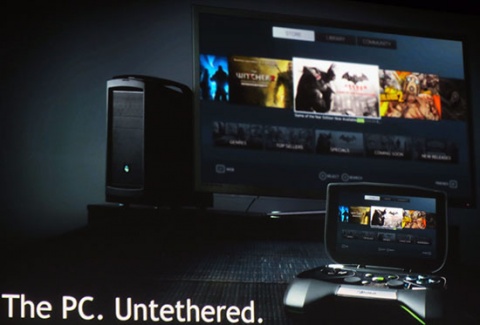 The Shield is designed to be as small as possible, so it's roughly the size of standalone controllers. NVIDIA Shield features a 5-inch, 1,280 x 720 multitouch display that is said to be a 'Retina Display' for stunning visuals. The Tegra 4 powered device has several batteries for a combined 38 watt hours of battery power, which NVIDIA says is good for for up to 24 hours of high definition video playback. NVIDIA CEO Jen-sun Huang showed off what he believes is the first 4K video coming off a mobile device (shown in the image above).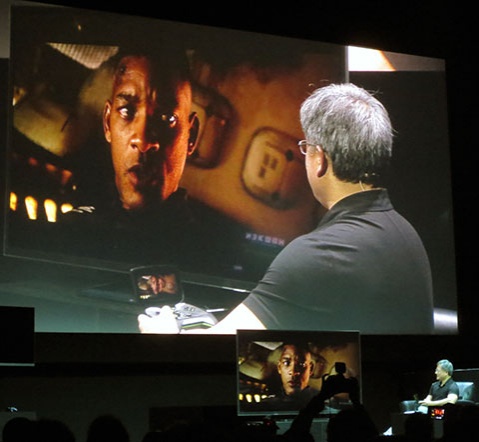 One of the nice things about Project SHIELD is that it doesn't have any proprietary interfaces, so you'll find an HDMI, micro-USB, microSD slot, and 3.5mm audio jack on the device. You can even customize the SHIELD with removable back panels, which is pretty cool. NVIDIA certainly shocked us with the SHIELD and we can't wait to see how much it costs and how it performs for us in our labs. Here is a quick video on Project SHIELD.
"Project SHIELD was created by NVIDIA engineers who love to game and imagined a new way to play," said Jen-Hsun Huang, co-founder and chief executive officer at NVIDIA. "We were inspired by a vision that the rise of mobile and cloud technologies will free us from our boxes, letting us game anywhere, on any screen. We imagined a device that would do for games what the iPod and Kindle have done for music and books, letting us play in a cool new way. We hope other gamers love SHIELD as much as we do."