MAINGEAR is adding the new NOMAD 15 custom gaming notebook mobile solution to its product lineup for PC gamers to tackle on their favorite PC games with the latest mobile hardware such as 3rd generation Intel Core i7 processors and up to NVIDIA GTX 680M graphics. This 15-inch gaming dynamo comes stocked with NVIDIA's GeForce GTX 670M, upgradeable to the GeForce GTX675MX, 675MX, or GTX 680M; all taking advantage of NVIDIA's Kepler architecture and NVIDIA's unique Optimus Technology that gives maximizes power savings by dynamically assigning workload to either the built-in Intel HD Graphics or the GeForce GPU.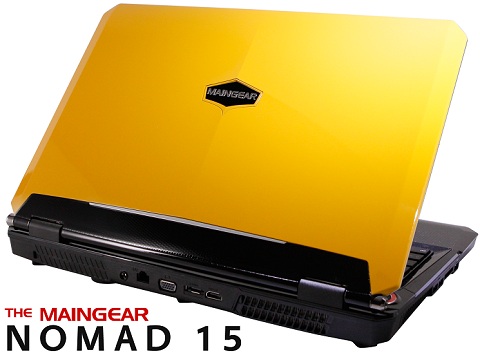 Inside you have your choice of 3rd generation Inte quad-core processors up to 3.8GHz for blazing performance andup to 32GB of DDR3-1600MHz RAM. The NOMAD 15 comes with a fully backlit keyboard, a full HD 1080P 15" matte display, multi-touch trackpad with gesture and scrolling support, USB 3.0, 2.0, eSATA, Bluetooth, Ethernet, 802.11n, HDMI, and VGA out ports and dual speakers with a built-in subwoofer so gamers can hear every sneak attack. Pricing starts at $1,549 and for that price you get the Intel Core i7 3740QM CPU, GeForce GTX 670MX GPU, 8GB Corsair Vengeance DDR3-1600 DRAM, and 750GB 7200rpm HDD.
Maingear Nomad 15 Specifications:
Processor: Up to 3rd generation Intel i7-3840QM
Video Card: NVIDIA GeForce GTX 670M, 670MX, 675MX, or 680M with one-touch MAINGEAR Redline GPU overclocking
Display: 15.5" Full HD 1920 x 1080 - (1080p) (16:9 Aspect Ratio) Anti-glare LED Backlit Matte Finish
Memory: Up to 32GB Dual Channel DDR5 - 1600Mhz
Optical Drive: Up to 4X Blu-ray reader/8x Multi Combo (BD-R, DVD+-RW, CD-RW)
Hard Drive: Up to dual 256GB mSATA RAID 0 (512GB total) Solid State Drive or dual 750GB 7200RPM SATA 2.5
Network Adapter: Killer Networks "DoubleShot" - E2200 LAN (standard) + 1202 Wireless (optional)
Audio: THX TruStudio Pro Integrated High-Definition Audio HD Audio with speakers by DynAudio
Media Card Reader: Built in 4-in-1 Media Card Reader
Operating System: Genuine Windows 7 Home, Professional or Ultimate 64-Bit
Battery: 9-cell Removable Li-Polymer Lithium-Ion
I/O Ports: 1 HDMI out, 1 DVI-I out, 2 USB 2.0, 3 USB 3.0, 1 IEEE-1394 Fire Wire, 1 S/PDIF out, 1 RJ-45 LAN, 1 RJ-11
Dimensions: (W) 15.59" x (H) 2.17" x (D) 10.59"