The Thermaltake SpinQ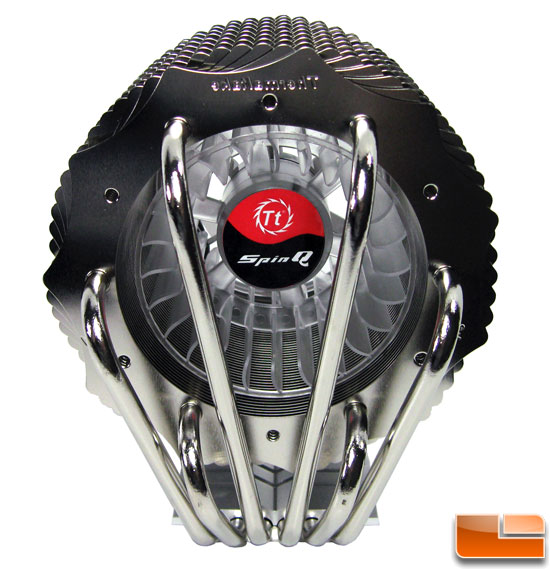 Today we have a very uniquely designed and just plain cool-looking cooler from Thermaltake, the SpinQ. The SpinQ may sound or look familiar to most readers as it is not new to this site by any means; it was first spotted in highlights of
NVISION 2008
, with a
review
here that followed in December, and again made another appearance in an
LGA 1366 Roundup
at the end of last May, and has been included in the testing of most CPU cooler reviews to this day. We are touching this cooler yet again as part of a Legit Reviews writer expansion project so to speak, in an effort to get more high quality articles out to you, the readers. For this article we are pitting the SpinQ against an easily accessible Rocketfish cooler found at any local Best Buy, as well as the stock AMD cooler. Now that the pleasantries are out of the way, let's take a look at what the Thermaltake SpinQ has to offer:
Features
Classic Cylinder Heatsink and 50 Spiral Aluminum Fins
6 Copper Heatpipes
80mm Blow Fan
19dBA Low Noise Performance
VR Fan Control
360 Degree Heat Dissipation
Also Cools Surrounding Components

Specifications
Model: CL-P0466
Compatibility:
Intel LGA1366 / LGA1156 / LGA775: Core i7 / Core i7, Core i5, Core i3, Pentium Clarkdale / Core 2 Extreme, Core 2 Quad, Core 2 Duo, Pentium D, Pentium 4, Pentium, Celeron D, Celeron
AMD Socket AM3 / AM2/AM2+/ 939 / 754: Phenom II X2-X3-X4, Athlon II X2-X4 / Phenom X4, Athlon 64 FX, Athlon 64 X2, Athlon 64, Sempron
Heatsink Dimension: 121.63mm x 90mm x 151.85mm
Heatsink Material: 50 Aluminum Fins + Copper Aluminum Base
Heatpipe: Ø 6mm x 6
Fan Dimension: Ø 80mm x 85 mm
Rated Voltage: 12 V
Started Voltage: 7 V
Fan Speed: 1000 ~ 1600 RPM
Power Input: 5.4 W
Rated Current: 0.45 A
Noise: 19 ~ 28dBA
Life Expectation: 50,000 Hours
Connector: 3 Pin
Weight: 667g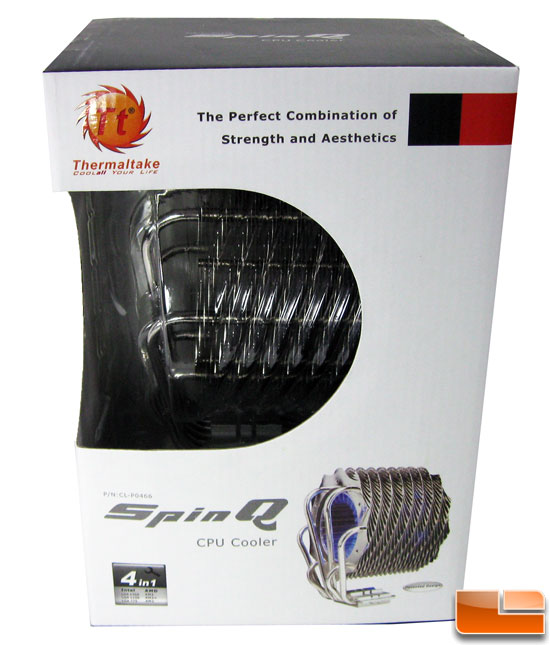 The retail box in which the SpinQ ships is a very simple design, with pictures and miscellaneous features on a white background. On the front there is a cutout which shows the side angle of the cooler in its clear plastic packaging, as well as a socket compatibility list, a picture of the lit up SpinQ, and the Thermaltake logo at the top.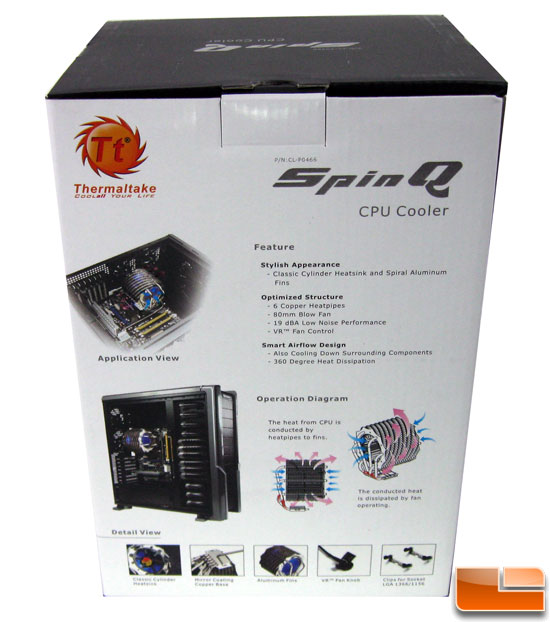 On the back side of the retail box is a features list, with several product detail pictures and an 'Operation Diagram' of how the design works. Note the 'Application View' pictures' directionality of the cooler which I will talk about in a moment.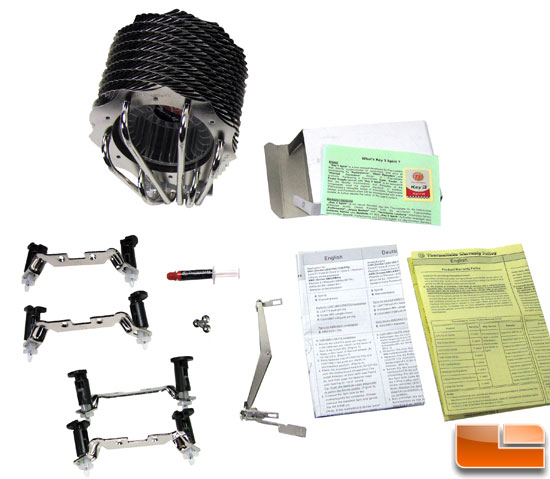 Included in the retail box of the SpinQ are two sets of push-pin brackets for Intel's LGA 775 & LGA 1156/1366 sockets and a bracket for AMD's 754/939/AM2/AM2+/AM3 socket. Also included is a 3.5g tube of thermal compound, the standard Thermaltake warranty information, Installation guide, and a 'Key 3 Spirit' sticker. The Key 3 Spirit logo represents Thermaltake's commitment to Performance, Silent Operation, and Thermal Consciousness, as well as the fact that any product labeled with Key 3 Spirit upholds Thermaltake's 'Intangible Image of Innovation, Fashionable Design, and Professionalism.' Upon opening the installation guide, I notice that Thermaltake provides a "Suggestion" of how to place the SpinQ onto a CPU, as highlighted below.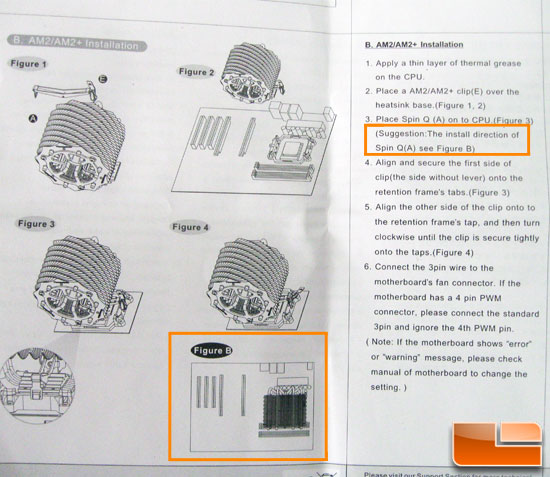 This suggestion has me confused as all product pictures on the retail box or on the Thermaltake website show the cooler facing heat pipes to RAM, not to the PWM as shown above. When facing this direction, the cooler plainly covers two memory slots on the AMD platform, and one slot on Intel platforms. I am hoping that the SpinQ can be placed in the direction shown in product pictures without sacrificing performance, as I would really like to utilize all four of my memory slots when necessary, as most consumers would also like.

Now that you've seen what you get in the retail box and the SpinQ's feature set, let's take a closer look and get on with the AM3 testing.


A Closer Look at the Thermaltake SpinQ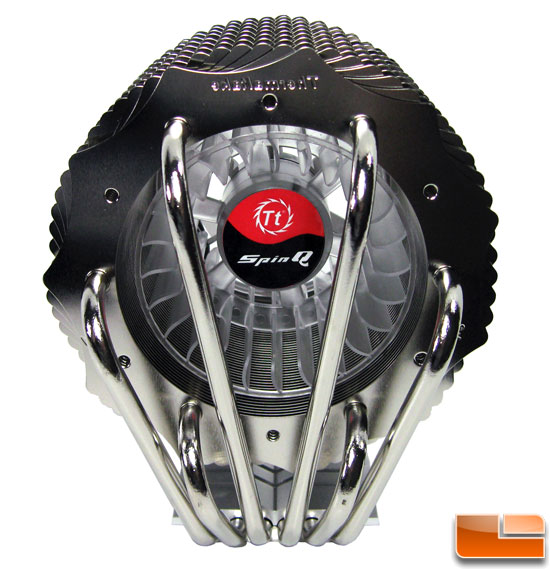 The Thermaltake SpinQ offers a one-of-a-kind look, with 6- 6mm copper heatpipes which are chrome plated and curved into the 50 circular aluminum fins, each of which are slightly rotated for the spiral appearance which you can see better below. This is also a lightweight cooler, weighing in at 667 grams. The most unique part of the cooler is the 80mm blow-fan which is 85mm deep, and comes with a VR fan controller for on-the-fly adjustment. The VR controller is great if you use CPU-heavy applications but do not need the performance all the time; it's all up to the user.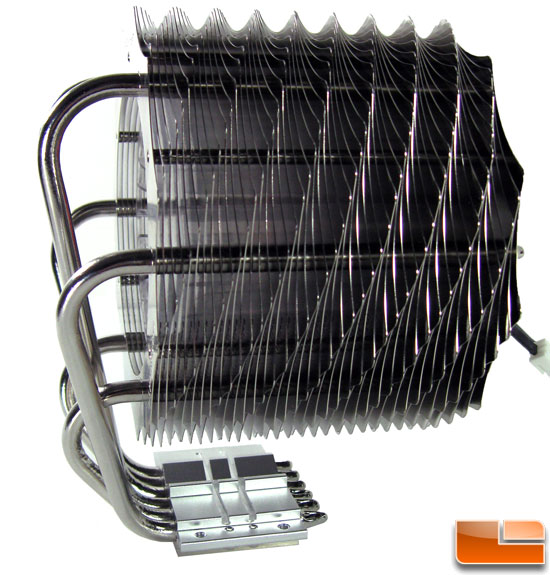 Here is a better angle on the 50 spiral Aluminum fins. It is an original look and feels so cool when you pick it up. On the back you can see the screw holes for the LGA platforms and the slots for the AMD retention bracket.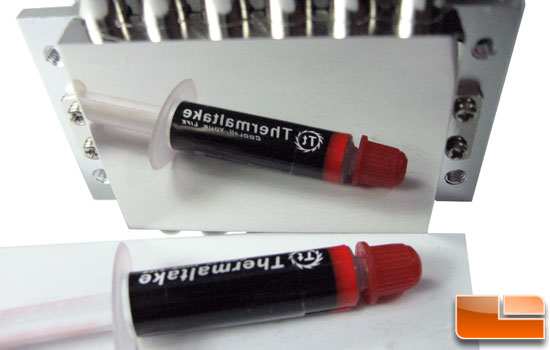 Upon removing the protective film from the contact surface of the cooler, you can see a perfect mirror finish, often described as "so good you can use it as a mirror to shave." The four small screws you can see hold the aluminum slabs together, making a heatpipe sandwich. The top piece of aluminum with the socket mounts is removable, while I could not remove the bottom piece which actually makes contact with the CPU.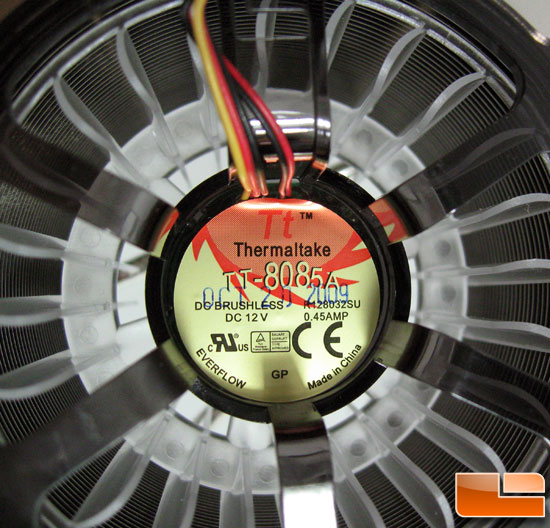 The 80mm blow fan is rated from 1000-1600rpm; the BIOS of the motherboard used reported a low of 948rpm and a high of 1562rpm. The sound pressure rating is from 19dBA to 28dBA depending on the speed it is running. At max speed, I found the fan to be far too loud for my system, so as a daily driver I run it at ~85% speed.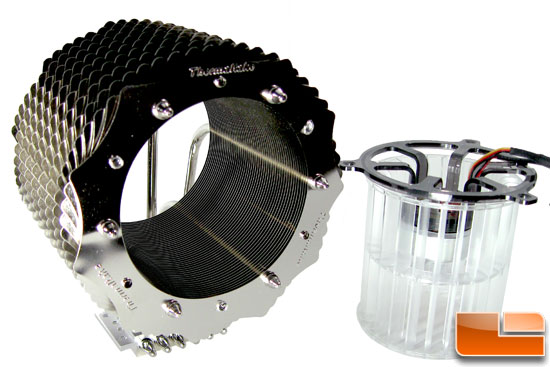 A better look at the blow fan.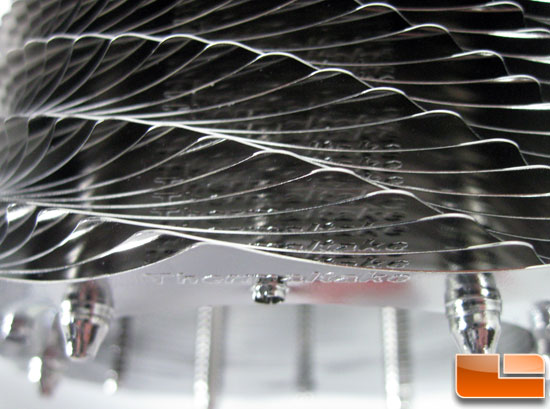 The aluminum fins really are intricate, with a Thermaltake logo on every fin centered on every screw hole for the blow fan.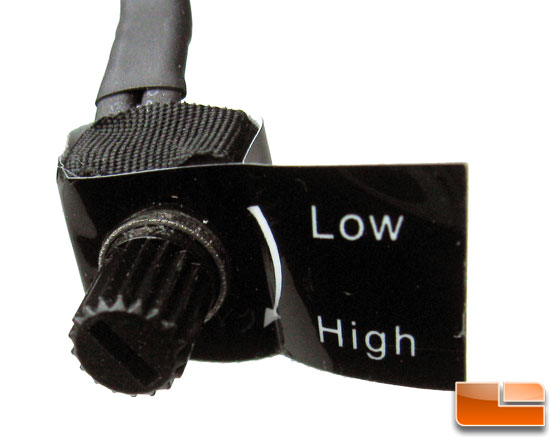 The VR fan controller is on a rather short cord, roughly six inches long. The knob can rotate 3/4 of a rotation.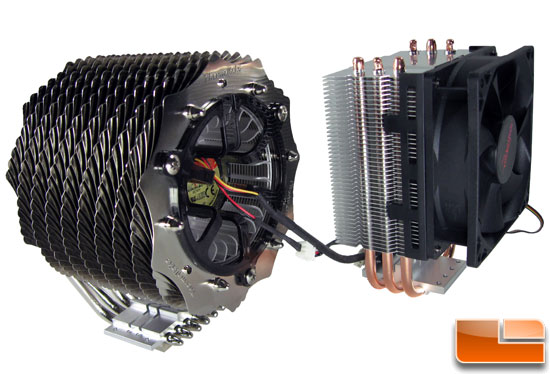 The Rocketfish universal cooler from Best Buy is a 3 heatpipe design with 40 aluminum fins, and comes with one 92mm fan with a bracket for another.

The Rocketfish cooler is a Direct Touch cooler which means the heatpipes lie directly on the CPU IHS (Integrated Heat Spreader). The base surface is not nearly as smooth and does not make as much contact on the CPU, but it does
not
have the chunk of aluminum in between so the heat gets transferred to the heatpipes faster.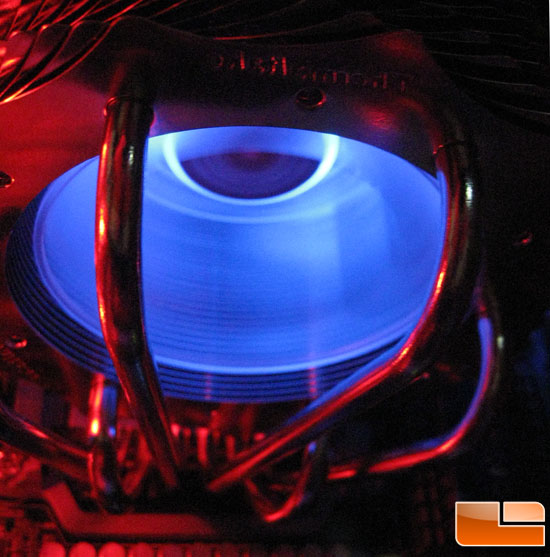 Upon installation, I noticed that the included AMD retention bracket applies little to no pressure, so the cooler is free to slip and slide all around as you're trying to fool with the bracket enough to get it on. That is not to say it will slide off the CPU, but it rotates and is difficult and annoying to keep straight. Above you can see how the bright blue LED makes the fan appear when running, and also that it is not straight with the CPU socket, which I actually had not noticed at the time.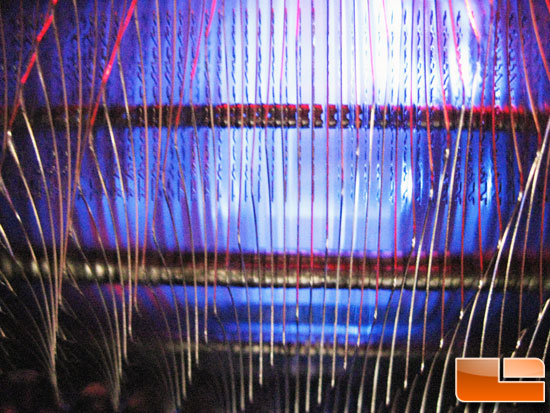 Looking at the side you see the glow from the LED blow fan.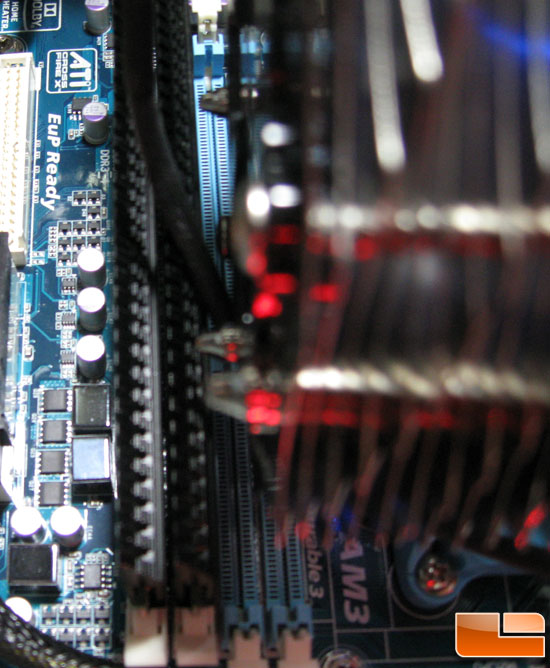 When installed in the suggested direction, two slots are completely covered and unusable and almost a third depending on the heatsink on your RAM, as was more-or-less shown in the installation manual. Hopefully the cooler will be able to cool as well when installed facing the other direction, then we will see what is really recommended as the other direction does not interfere with a single slot. I am also noting that with this RAM kit, the Rocketfish cooler's fan also blocks the first RAM slot.

AMD Test System
Mounting Directions Used:
Suggested Method By Thermaltake: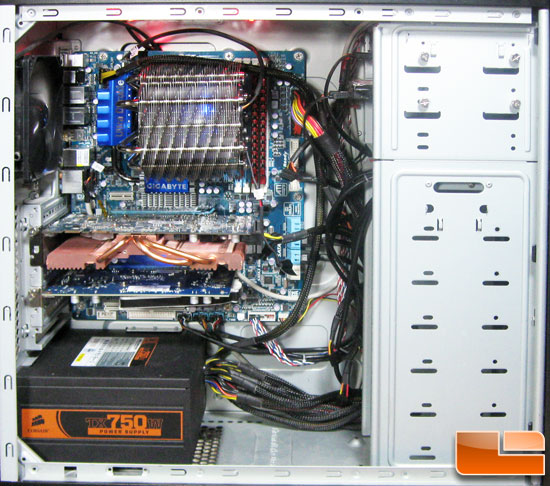 Reversed Direction We Tested For Fun: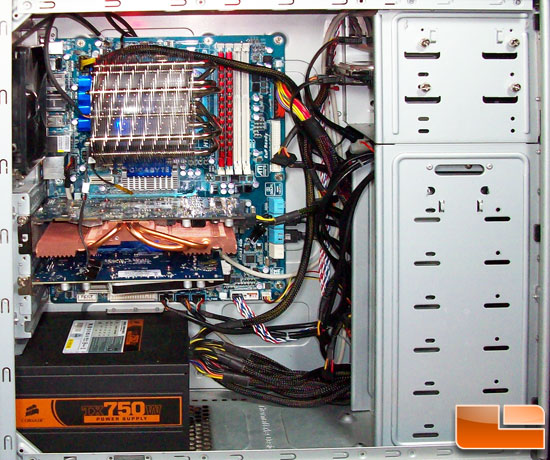 All testing was done on a fresh install of Windows 7 Ultimate 64-bit with all the latest updates installed. All benchmarks were completed on the desktop with no other software programs running. The SuperTalent ProjectX DDR3 was run at 1600MHz for stock testing and 1402MHz for Overclocked testing, both at 8-8-8-20 timings. The GA-790XTA-UD4 was run using BIOS version F2 dating December 3, 2009.

AMD Test Platform

Component

Brand/Model

Live Pricing



Processor
AMD Phenom II X2 550

Motherboard
Gigabyte GA-790XTA UD4

Click Here

Memory
2GB (2x1GB) SuperTalent ProjectX DDR3

Click Here

Video Card

BIOSTAR GeForce GTS 250

Click Here

Hard Drive

Western Digital Raptor 74GB

Click Here

CPU Cooling
See Below

Click Here

Power Supply

Corsair TX750W

Click Here

Operating System

Windows 7 Ultimate 64 Bit

Click Here

Chassis
Thermaltake Element T

Click Here

3100MHz

1.375v/1.360v (in BIOS/in Windows)

200MHz x15.5
2000MHz HT Link

Overclocked CPU Settings
3813MHz
1.525v/1.520v (in BIOS/in Windows)

263MHz x14.5
2104MHz HT Link

Results
For idle testing, the computer was left with no applications running for 20 minutes. For load testing, the Prime95 v25.11.2 Blend test was run for 20 minutes. To record temperatures, CoreTemp version 0.99.5 was used with a consistent room temperature of 72F. The Element T case was used with both side panels on, no side fan, one bottom front and top rear 120mm fan and one 250mm top fan which came with the case to simulate actual use. And finally, GELID Solutions GC1 thermal compound was used.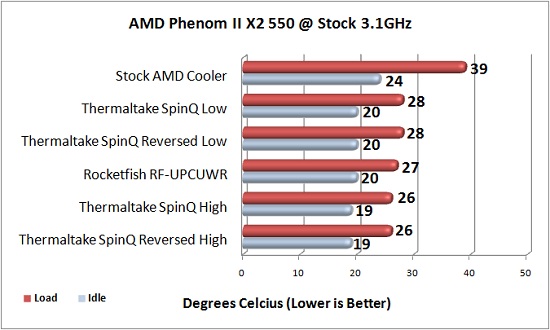 At the stock frequency, The Phenom II dual core does not put out much heat at all, although the Thermaltake SpinQ edges out the Rocketfish by a degree on both idle and load. However, both coolers had idled well below room temperature, which does not leave much room for improvement. The SpinQ on high beats out the stock cooler by a solid 13C, only reaching 7 degrees above room temperature. At this frequency, there was no difference on which way the cooler was mounted (heat pipes on the RAM side vs PWM side -as suggested).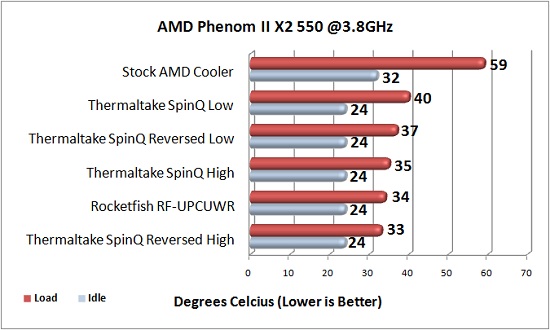 Cranking the CPU up to 3.8GHz, there is a much better view of how the coolers compare (at load, anyway). The stock AMD cooler reached a toasty 59C at load which is a staggering 26C warmer than the SpinQ on High, and is very bad as the chip forced reboot for me at 61C. All coolers beat the stock offering by a consistent 8C at idle. With the heat turned up a bit you can see the Rocketfish cooler did very well at max fan speed, beating the SpinQ's suggested install direction on high. The variance between which way the SpinQ is installed is now more apparent with the suggested installation direction reaching 2-3C warmer than the other direction that actually allows you to use all RAM slots.
For comparisons with many other high end CPU coolers, the Thermaltake SpinQ's performance on the High fan setting is also included in the Legit Reviews Intel Core i7 Test System results found
Here
.
Final Thoughts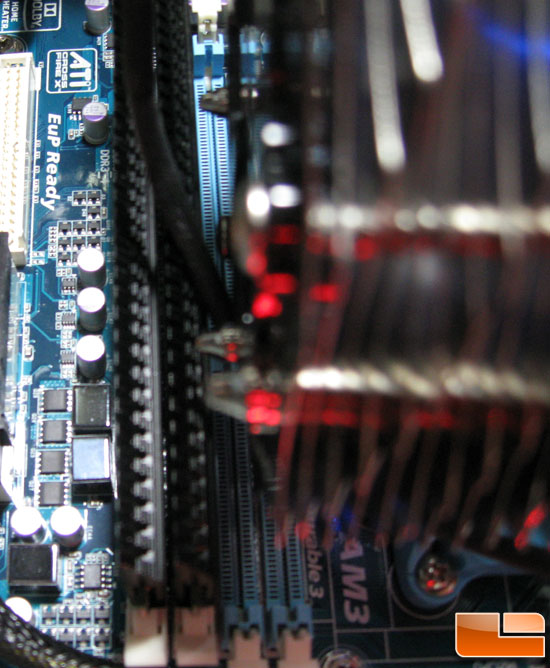 After testing, I am very confused why the suggested installation direction would be the direction which results in worse performance, worse aesthetics (I would rather see just the heatpipes than screws, the fan mount and heatpipe tips), and very limited RAM options. But I digress, and just say to install in the opposite direction (which is better in every possible way), simply look at the pictures on the box or the website and install with that directionality.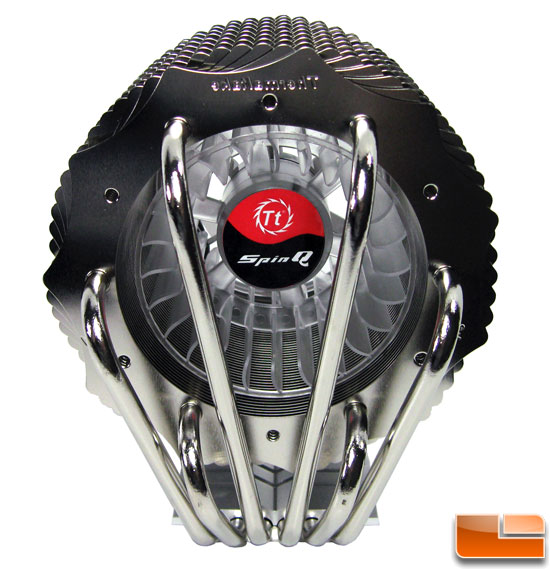 The Thermaltake SpinQ is a very attractive looking cooler with some nice features including compatibility with all current motherboards, a 6-heat pipe design with a mirror finish base and a blue LED blow fan, among many other things. This cooler is a great step up from stock cooling on any system, but for
$52.99 + $6.98 shipping
at its lowest, I would be hard pressed to recommend it over many coolers found for half its price which offer the same or better performance. The Rocketfish cooler included in testing is found at your local Best Buy for a mere
$29.99 plus tax.
Legit Bottom Line:
The Thermaltake SpinQ is for anyone who wants a great looking cooler to show off, but does not plan on doing much overclocking, as the performance does not match its price tag.