In-Win was at CES 2012 showing off their limited edition, blue anodized open-frame chassis called the XFrame. This case has an innovative design that will likely be loved or hated for obvious reasons. In-Win told us that they are receiving mixed feelings about the case from people at the show, which confirms our suspicions.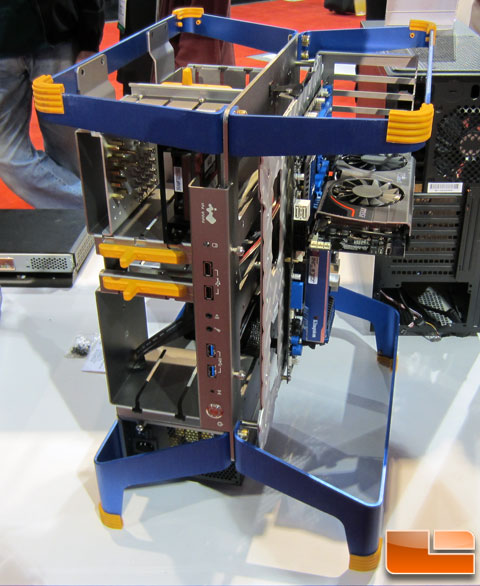 THe case reminds of the Antec
Skeleton chassis
as it brought open air concept cases to the mainstream market. It looks like In-Win is trying to do the same with the XFrame, so we'll have to keep an eye on how it does.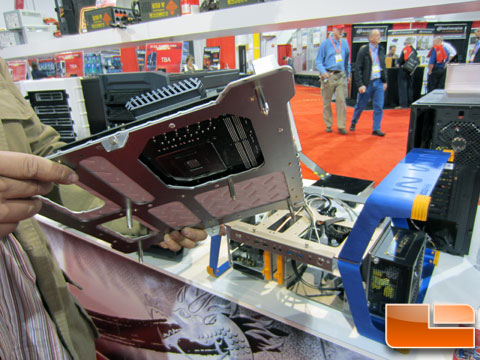 We like how this case has a removable motherboard tray, but it does lack a way to easily mount radiators for water cooling kits and cooling fans. This case has some pretty obvious pros and cons, but we like the XFrame as it is different. You can see eight more pictures of this case in the forums by following the link below.
The aluminum construction makes the XFrame exceptionally light, yet strong, while the 329 x 518 x 408mm (13 x 20.4 x 16.1inch) size means it's also exceptionally portable compared to other 8-PCI slot , ATX PC chassis. The dual-layer design has dedicated space for up to six 3.5" drives and two 5.25" drives in total, as well as up to E-ATX motherboards, full-length (12") graphics cards and ATX power supplies, while the removeable handles and front ports offer a variety of customizations depending on users needs, giving it ample upgradeability for a huge variety of PC builds. Never miss out on using the convenient motherboard pin-outs either, as the XFrame includes two USB 3.0, two USB 2.0 and HD audio front panel connectors.