Legit News
Crysis 3 PC System Requirements Announced - Will Your PC Run Crysis 3?
Electronic Arts has announced the minimum, recommended and high performance specs for upcoming FPS blockbuster - Crysis 3. Check them out below to see if your system can run Crysis 3!
Crysis 3 minimum system operating requirements for PC are:
Windows Vista, Windows 7 or Windows 8
DirectX 11 graphics card with 1Gb Video RAM
Dual core CPU
2GB Memory (3GB on Vista)
Example 1 NVIDIA & Intel):
NVIDIA GeForce GTS 450
Intel Core2 Duo 2.4 Ghz (E6600)
Example 2 (All AMD):
AMD Radeon HD5770
AMD Athlon64 X2 2.7 Ghz (5200+)
Crysis 3 Hi-performance PC specifications:
Windows Vista, Windows 7 or Windows 8
Latest DirectX 11 graphics card
Latest quad core CPU
8GB Memory
Example 1 (NVIDIA & Intel):
NVIDIA GeForce GTX 680
Intel Core i7-2600k
Example 2 (All AMD):
AMD Radeon HD7970
AMD Bulldozer FX4150
Crysis 3 PC version of the game is scheduled for release in February 2013. This should give gamers plenty of time to upgrade their PC to play Crysis 3 if it is needed. If you are going to be upgrading to play this game title be sure to leave a comment and let us know what parts you'll be getting new this winter!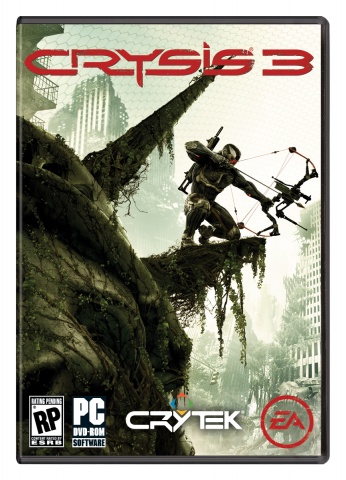 "The release of Crysis in 2007 was truly a watershed moment for first-person shooters and raised the bar on cutting-edge visuals and gameplay and we could not be more thrilled to include the original game as a pre-order bonus," said Cevat Yerli, Chief Executive Officer of Crytek. "Building upon the framework laid by the previous games, Crysis 3 offers unparalleled tactical freedom as players experience New York City's Seven Wonders and adapt to the truly unique challenges they present. By blending the best elements of the series so far, we've created an action experience that we believe will blow fans away."
Posted by | Mon, Dec 03, 2012 - 11:22 AM
---
---