Legit News
Motorola Announces the RAZR i Smartphone w/ 2GHz Intel Atom Processor
Motorola Mobility in partnership with Intel Corporation introduced the powerful Motorola RAZR i with Intel Inside: the new full-screen smartphone that fits in the palm of your hand. Its Super AMOLED Advanced 4.3-inch display spans from edge-to-edge with virtually no border and is made from Corning Gorilla Glass. RAZR i is the first smartphone that can achieve speeds of 2.0 GHz thanks to a fast Intel Atom Z2460 processor (32nm Medfield). The one odd feature of this phone is that the display resolution is only 960 x 540 pixels.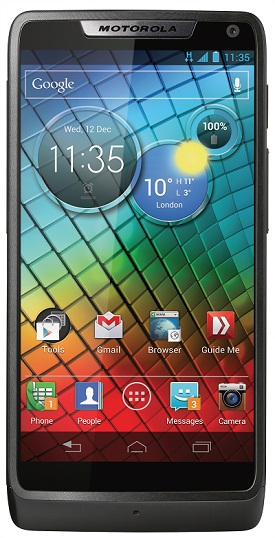 The power of Intel Inside means you also get an instant-launch 8-megapixel camera that can load in less than a second. Just use the dedicated camera key so you get the shot you want. When there's action involved, multi-shot mode lets you snap 10 pictures in less than a second. And with the illuminated sensor located on the back and High Dynamic Range (HDR) capabilities, you'll get a great shot, even in challenging lighting conditions.
Motorola RAZR i will be available in black beginning in October in select European and Latin American markets including the U.K., France, Germany, Argentina, Brazil and Mexico with more to be announced. According to retailer Clove.co.uk the SIM-free price will be £342 (about $555).
"Motorola RAZR i with Intel Inside naturally blends together the value propositions of high performance Intel Architecture and great battery life, Motorola Mobility device innovation and the Android platform," said Erik Reid, general manager, Intel's Mobile and Communications Group. "Intel's goal is to provide compelling technology options that translate into great user benefits and experiences. RAZR i is a great proofpoint in the collaboration and we're thrilled to be working with Motorola to bring this edge-to-edge experience enhanced with Intel Inside to people around the world."
Posted by | Tue, Sep 18, 2012 - 07:24 AM
---
---