Legit News
SAPPHIRE PGS Launches FirePro Professional Platform With AMD A320/A300 FirePro APUs
Many like to say the following and so does SAPPHIRE PGS, "Big Things Come in Small Packages." That phrase quickly sums up the FirePro Professional Platform SAPPHIRE PGS has launched. This FirePro workstation platform makes use of AMD's FirePro A320/A300 APUs and are paired with the SAPPHIRE PGS A3 M series mainboard supplied by SAPPHIRE Technology. Essentially in a nut shell this is a small workstation that offers high performance yet saves on space, with the flexibility to perform DCO (Discrete Compute Offload) technology together with the AMD FirePro 3D graphics card. This allows for greater compute capability by using select discrete GPUs in parallel with the APU graphics.
The SAPPHIRE PGS A300/A320M professional platform is the first family of single-chip processors that brings workstation-class visual computing performance that can satisfy the needs of todays advanced professional design workflows. There are two models available. The A320 is an entry-mid range option with a 100 watt TDP, 4 cores, 3.8GHz base clock, 4.2GHz boost clock, 384 stream processors, 800MHz GPU clock, 1866MHz DDR3 max, Unlocked and offers discrete compute offload to the FirePro V3900 and V4900. The second option is the A300 which is another entry-mid range product with a 65 watt TDP, 4 cores, 3.4GHz base clock, 4.0GHz boost clock, 384 stream processors, 760MHz GPU clock, 1866MHz DDR3 max and offers discrete compute offload to the FirePro V3900 and V4900 as well.
Certified software list as of August 2012.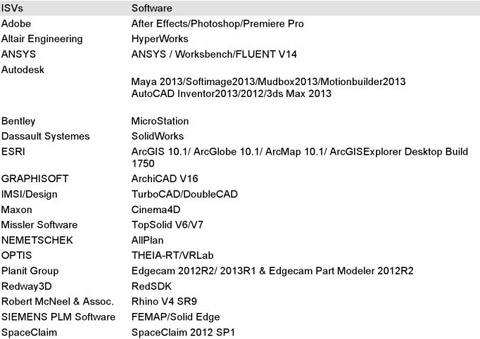 As for the performance of these FirePro APUs you can see here that in SPECViewperf 11 the AMD FirePro A320 APU offers a large increase in performance over the Intel Xeon E3-1275V with HD Graphics P4000.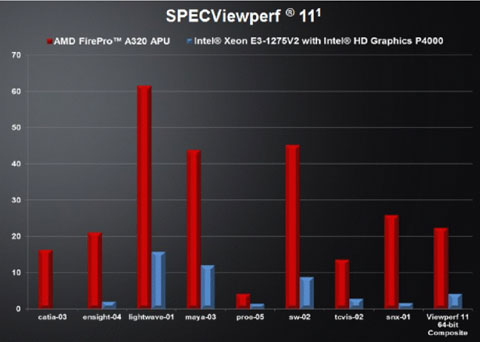 In Inventor 2013 and SpaceClaim Engineer 2012 the Sapphire PGS platform using the A320 APU again put up against the Intel Xeon E3-1275V with HD Graphics P4000 manages to achieve 2-3 times the performance of the Intel platform.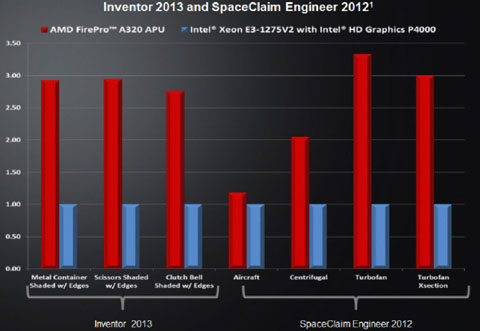 While the AMD FirePro A300/A320 will only ship alongside the SAPPHIRE A3 M series mainboards as a platform unit, SAPPHIRE will be ready to supply the units to OEM manufacturers and workstation integrators in late September. For more info on the SAPPHIRE PGS professional workstation platform visit our forums linked below.
SAPPHIRE PGS Professional Workstation Platform Features:

It is the first to use the professional AMD FirePro APU A300 series; the single chip has simultaneous GPU and CPU computing performance. Its professional graphics ability can achieve entry level to intermediate level performances.
It supports the Discrete Compute Offload (DCO) technology; by using the discrete AMD FirePro GPU together with a parallel-operating APU graphics core which can further extend the GPGPU's performance and provide additional computing ability (It can work with AMD FirePro V3900/V4900 and perform parallel computing simultaneously).
It has 3 native display outputs, which are VGA, DisplayPort 1.2, and DVI-D; it supports AMD Eyefinity Technology multi-screen output technology to deliver high work efficiency and telepresence, and to achieve high productivity in a multi-screen environment.
The AMD Turbo Core technology can dynamically adjust the CPU and GPU's performance according to the workload need, providing a more effective computer response speed.
It supports 30-bit color fidelity, displaying stunningly realistic images and colors in the most advanced operating procedures; it can perform color correction and image processing operations, etc., when using a monitor in which each color channel supports 10-bit color fidelity.
Dedicated UVD (Unified video decoder/VCE or video CODEC engine) media coding hardware; when processing H.264/MPEG4 files and other dynamic media format files, if a compatible software is used, the CPU resource can be released to execute other tasks, achieving faster (fixed function) GPU processing performance.
Supports DisplayPort 1.2: Single-monitor output resolution can reach up to 4K.
Equipped with 4 * USB3.0 and 8 * USB2.0 ports
Expansion Slots: 1 x PCI-Express (Gen2) x16 slot/1 x PCI-Express (Gen2) x1 slot/1 x PCI-Express(Gen2) x4 slot/ 1 x PCI 2.3 Slot.
Posted by | Thu, Aug 30, 2012 - 10:38 PM
---
---