Legit News
Left 4 Dead 2 Runs Faster On Linux, Valve Continues To Gain Industry Support
It seems Valve isn't just doing a whole lot of talking, performance numbers are now emerging showing that Linux and OpenGL could prove to be beneficial to gamers. Working hard to optimize the Source engine for Linux, Valve has managed to get everything running properly and improved efficiency with the help of tools like APITrace among others. This, along with collaboration between Intel, AMD and NVIDIA on respective drivers, has let Valve increase performance in Left 4 Dead 2 on Linux and OpenGL to the tune of 15% versus Windows 7 and DirectX. When comparing OpenGL on both platforms, Linux still proved faster by 4%. Using an Intel i7 3930K CPU paired with an NVIDIA GeForce GTX 680, Windows 7 managed 270 FPS in DirectX and 303 FPS in Open GL. Meanwhile Linux managed 315 FPS. Granted with these high frame rates it is still amazing to see such gains from an API swap.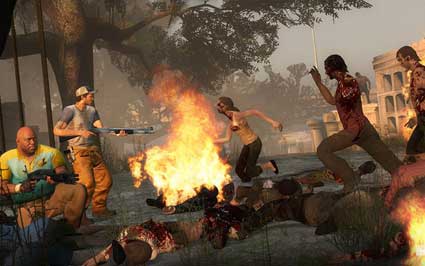 This news of course comes on the heels of Blizzard's Executive Vice President of Game Design at the Diablo 3 studio claiming that Windows 8 is
"not awesome for Blizzard either." This isn't the only one echoing Gabe Newell's thoughts, Markus "Notch" Persson is also saying Windows 8 could be
"very very bad for indie developers." Of course all of this has snowballed from Gabe's interview at Casual Connection which we
reported on last month. It seems Valve and Gabe are giving Linux a serious push with industry giants backing them with the support they need and things are looking promising to say the least, unless your Richard Stallman, who considers Steam and
DRM-based games unethical. However, even he understands there is good to be found stating "It might encourage GNU/Linux users to install these games, and it might encourage users of the games to replace Windows with GNU/Linux. My guess is that the direct good effect will be bigger than the direct harm." It would seem Gabe Newell has really struck a nerve with this Linux push, so here's hoping more developers and industry veterans jump on board.
Valve's growing Linux team is already experiencing success in optimizing the Source Engine, and in particular their initial Left 4 Dead 2 game, for Linux. In fact, the native Linux build with the Source OpenGL renderer is faster than running the game on Windows 7 with DirectX!
Posted by | Thu, Aug 02, 2012 - 02:55 PM
---
---