Legit News
ADATA Introduces XPG Gaming v2.0 Series DDR3 2400G 8GB Kit
ADATA has announced their XPG Gaming v2.0 Series DDR3 2400G memory kit. This dual-channel kit has been designed for Intel's third generation Core series processors and of course the Z77 platform. These particular sticks in the XPG lineup offer speeds of 2400 MHz with a staggering 19,200 MB/s of transfer bandwidth. Offering support for Intel's Extreme Memory Profile (XMP) version 1.3 along with the use of a 2oz copper 8-layer PCB, gives this dual-channel kit the proper support and features enthusiasts are looking for.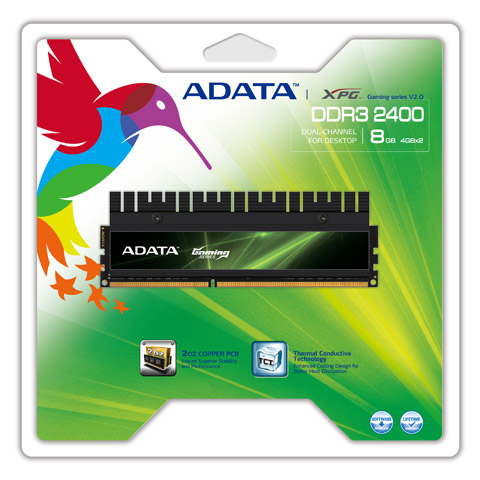 The timings for the XPG Gaming Series v2.0 2400G sticks are CL 10-12-12-31 with a density of 8GB (4GB x 2) and have an operating voltage of 1.65v. The heatsink used is of the taller variety and adopt TCT1 (Thermal Conductive Technology) in order to retain operational stability while offering fantastic performance. They have a black finish with black PCB, all in all they are attractive to say the least. As for availability the XPG Gaming v2.0 Series DDR3 2400G Kit will be purchasable from select retail channels in both the US and Canada, with an MSRP of $89.99 USD. More information can be found on the
product page.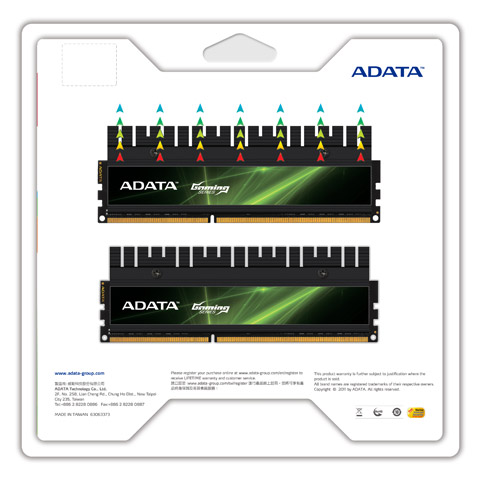 XPG DRAM modules signify Xtreme Performance Gear, providing the extreme speed and performance required by advanced users. The XPG Gaming series v2.0 is targeted specifically at the distinct performance and cooling needs of the worldwide gaming community. These latest DDR3 2400G modules offer new levels of data transfer speed, along with the many features that are hallmarks of the XPG series.
Posted by | Tue, Jul 17, 2012 - 01:13 PM
---
---