Legit News
ZOTAC Prepares GeForce GTX 670 Extreme Edition
It seems ZOTAC has more than just the GeForce GTX 670 Twincooler we reported on earlier up their sleeve. ZOTAC is now preparing a GeForce GTX 670 Extreme Edition. This new graphics card will make use of the same design as the GTX 680 Extreme Edition, to the point that the only difference seems to be the GTX 670 GPU replacing that of the GTX 680. The graphics card will be 11.2 inches in length and weighs in at 2.65 lbs. The GPU itself will come clocked at 1111 MHz with a Boost frequency of 1202 MHz, memory will come clocked at 1652 MHz. The card uses a 13-phase VRM and will draw power from a 6-pin and 8-pin PCIe power connectors. The VRM isn't just a typical design either, the 13-phases (8 Phase Core, 3 Phase Memory, 1 Phase I/O) are just the beginning; ZOTAC has used noise-free chokes, 3553M integrated PowIRstage DrMOS from International Rectifier, three multi-phase FPCAPs and finally some tantalum capacitors. Talk about overkill.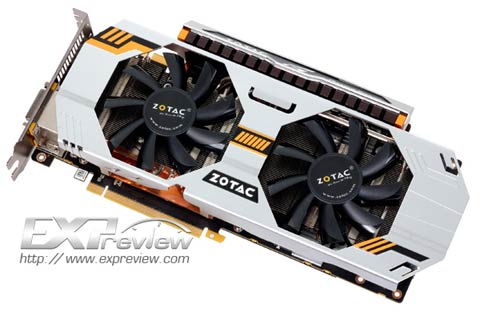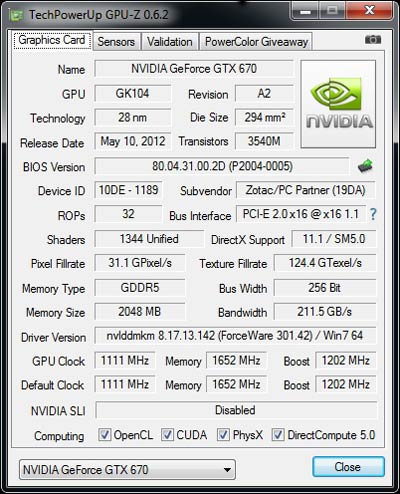 The card's cooling will be handled by the same solution found on the GTX 680 Extreme Edition and is a dual slot design. It uses a large aluminum fin heatsink, which runs the length of the card, with five 8 mm-thick nickel-plated copper heat pipes which transfer heat from the copper GPU base to the aluminum heatsink. All of which is cooled by dual 92 mm fans. Cooling potential should be good without the high noise output of the reference design.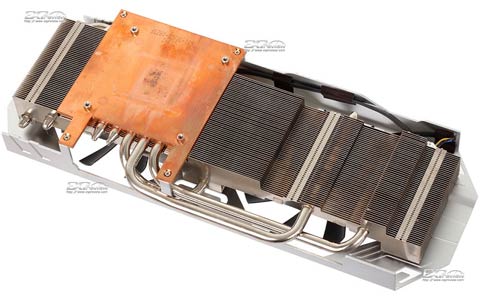 Expreview wasn't just content to look at this sexy piece of hardware from ZOTAC, they also benched the graphics card in 3DMark 11. The card managed P9247 with an overclock of 1300 MHz on the GPU and a Boost clock of 1403 MHz at 1.25 volts. Memory was clocked at 1850 MHz. The ZOTAC NVIDIA GeForce GTX 670 Extreme Edition is only available in select Asian markets, if only ZOTAC could be persuaded to release such and amazing product worldwide. Be sure to check the source below for more images and informations on this Extreme GPU from ZOTAC.
The heart of the ZOTAC GTX, 670 Extreme Edition / graphics Tian default frequency 1111/1652MHz much higher than the public version of the 915/1502MHz Boost frequency of 1202MHz, in fact, the stable operation of 1213MHz, in terms of absolute performance, it has have the ability to catch up with the GTX, 680.
Posted by | Sat, Jun 23, 2012 - 03:25 PM
---
---