Legit News
Thermaltake Announces CONKOR Gaming Mouse Pad - Designed By Team AMOTEL
Tt eSPORTS and Team AMOTEL collaborated and helped design the Thermaltake Limited Edition CONKOR Mouse Pad. The CONKOR mouse pad is created to celebrate the Team's continuous triumph and success in e-Sports competition. The Limited Edition Mouse Pad (CONKOR) by Team AMOTEL with the Roaring Lion icon design demonstrates the hungry heart for success in e-Sports, and accompanies the Team AMOTEL all the way to their goals.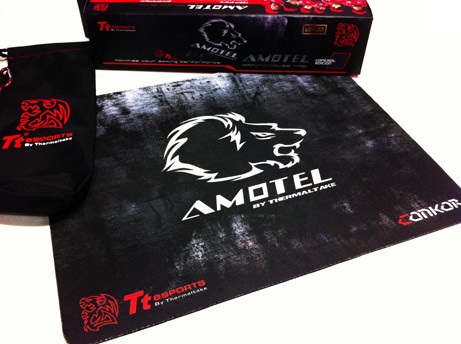 Team AMOTEL Limited Edition Mouse Pad (CONKOR) Specifications:
Dimension (LxWxH): 400x 320x 4mm
Cloth Weave Material Surface with Rubber Base, ensuring Mouse Pad Stays in Place.
Enlarged-Size Design, Ideal for FPS Game Genre's Demands in Accuracy and Precision.
Perfect Match with Tt eSPORTS AZURUES or AZURUES mini mouse.
The team AMOTEL by Thermaltake was founded in 2007 by 6 members from Thailand. And ever since then, they communicated only in languages of leadership, teamwork, and uncompromised effort in team practice. During their five-year-long dedication and commitment to professionalize their career as e-Sports gamers in Thailand, their aim soon took off to international stages, confronting groups of other elite pro-teams competing for the same objective: the World Cyber Game. The journey was not easy, and constantly demanded each one of them to concentrate on the common goal. There were bumps on the road to the path of glory, and though one may perceive it as a mere formula of life, the Team AMOTEL reacted to the challenges with attitudes to never giving it up. And it is this tenacious character of the Team AMOTEL that differentiated themselves from the rest: 6 times Championship appearances and 6 Champion trophies adding on the Team AMOTEL's accolade.
Posted by | Tue, Jun 19, 2012 - 09:27 AM
---
---