Legit Motherboard Reviews
Intel IDF 2010: Intel DP67BG Burrage Motherboard Pictures
| | |
| --- | --- |
| Manufacturer: | Intel |
| Product: | Intel DP67BG Motherboard |
| Date: | Mon, Sep 13, 2010 - 12:00 PM |
| Written By: | Nathan Kirsch - |
| Share: | |
Intel DP67BG LGA1155 Motherboard Pictures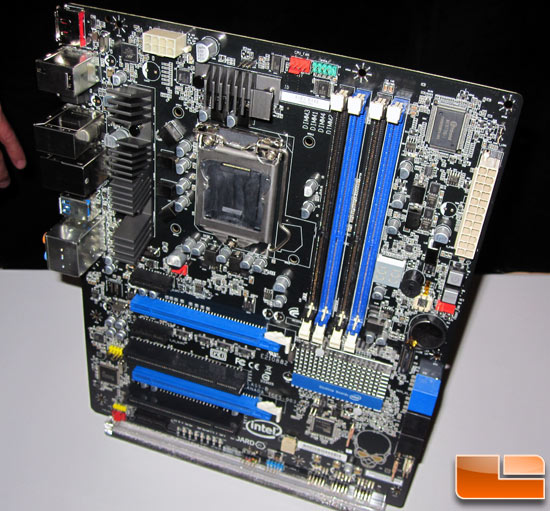 We got a nice little surprise here at the Intel Developer Forum (IDF) 2010 when Intel pulled out their upcoming LGA1155 6-series chipset Sandy Bridge motherboard! This Intel P67 board is called 'Burrage' internally, but you'll know if by the retail part number of DP67BG. The Intel DP67BG is the very first Intel LGA1155 motherboard that we have seen in person and while we don't know the specifics on the board we were able to snap some pictures of the board.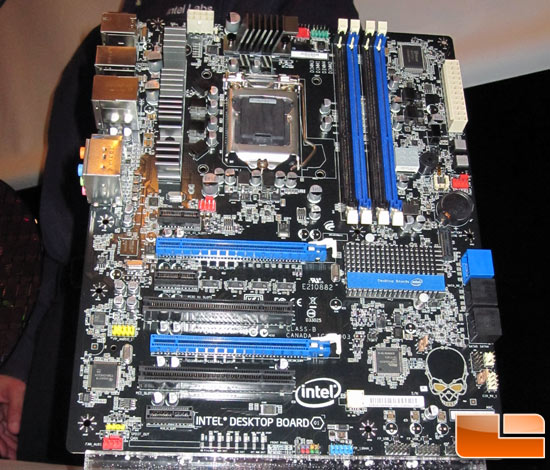 Along the bottom edge we can make out three internal USB 2.0 headers in black and a single Firewire 1394a header in blue. If we are counting right it looks like this board will have 14 USB 2.0 and 2 USB 3.0 headers. Six USB 2.0 headers are internal USB 2.0 and eight are external. The pair of Super Speed USB 3.0 headers are external. We can make out three PCIe x1 slots, two PCIe x16 slots and two PCI slots on the board. It looks like NVIDIA SLI and AMD CrossFire multi-GPU setups will be supported on the board if licensing agreements are agreed to between the companies.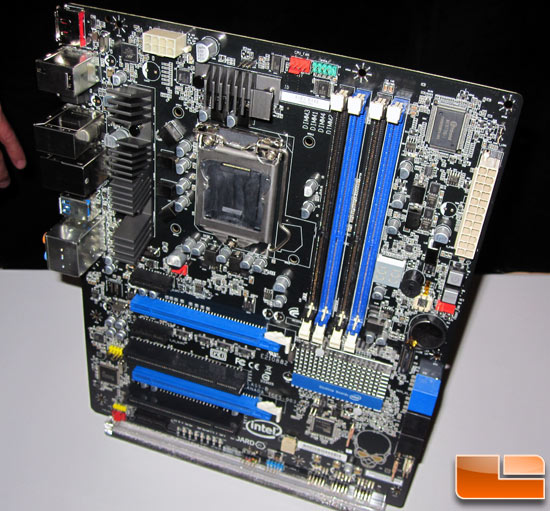 The Intel DP67BG 'Burrage' motherboard has a very clean look to it and looks like it will be an enthusiast mainboard as it is black, has power and reset buttons and an LED post indicator on the board.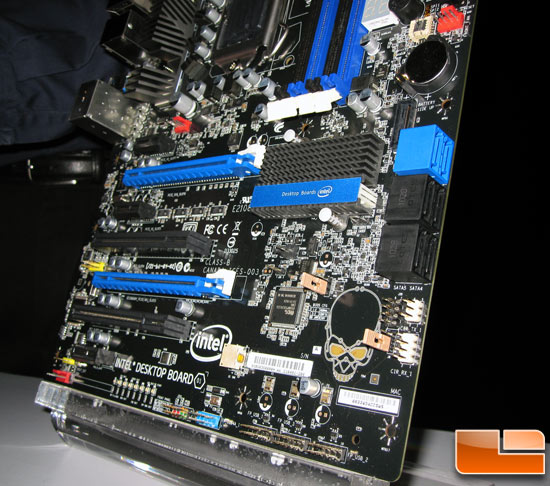 Intel has stuck with the skull that lights up on the bottom corner of the motherboard, which is a nice touch. Intel allows you to turn off and on the lights for the skull in the BIOS, so no worries if that isn't your thing. The DP67BG motherboard has six internal SATA headers and we are guessing the four black ones are SATA II 3.0Gbps and the two blue headers are for SATA III 6.0Gbps devices.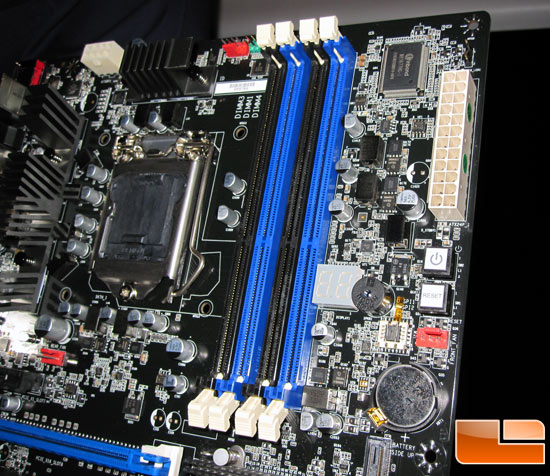 Here is a closer look at the LGA1155 socket and the two sets of dual-channel DDR3 memory slots. You can also make out the 24-pin ATX power connector and 8-pin +12V power connector just above the CPU socket. Nothing too special here and you can see the board uses all solid-state capacitors.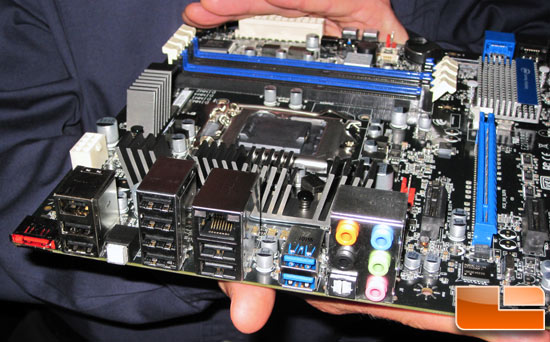 The rear input/output (IO) panel looks pretty normal, but one thing missing with this Sandy Bridge motherboard is a display connector. It looks like this will be a higher-end motherboard and they won't be offering In this shot you can see that this upcoming Intel LGA1155 motherboard for Sandy Bridge does have two Super Speed USB 3.0 headers, but if you look close you can see the NEC USB 3.0 controller chip just below the first PCI Express x16 slot. This puts to rest all the rumors that Intel will have integrated USB 3.0 support in their chipset.

We'll conclude our coverage of the 6-series chipset here since the details are sparse, but we want to leave you with this shot of an Intel Sandy Bridge processor without the integrated heat spreader next to some of the Nehalem and Westmere processors of today.
We will keep an eye open for more Intel H67 and P67 motherboards as the show goes on!

Questions or Comments? View this thread in our forums!