Legit Storage Reviews
Corsair Force Series 120GB SandForce SF-1200 SSD Review
| | |
| --- | --- |
| Manufacturer: | Corsair |
| Product: | CSSD-F120GB2-BRKT |
| Date: | Wed, Jun 16, 2010 - 12:00 AM |
| Written By: | Joe Evans - |
| Share: | |
Corsair Force Series 120GB SSD Intro
The Sandforce SF-1200 controller has been getting a lot of attention lately and there are no shortages of SSD's featuring this high-performance controller although there has been quite a bit of confusion surrounding firmware versions as we have written about; much to the chagrin of Sandforce I might add. Many of the early Sandforce based drives also had significant portions of the available storage provisioned for drive maintenance and performance preservation which left the cost per usable GB a little high for the tastes of most consumers. As of this writing, we could only find pricing for the F120 online at Amazon for $350 which comes out to $2.91 per usable GB but is far below the $4 - $5 per usable GB we saw with the F100 & F200 drives. Definitely moving in the right direction.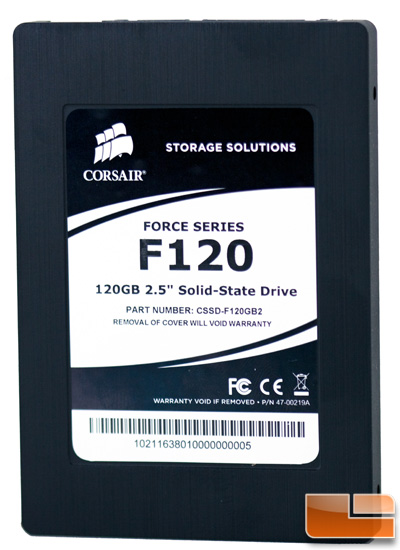 So what has changed you ask? Corsair has wisely made some changes to the Force series by cutting down on the overprovisioning. This frees an extra 20GB of usable storage over the original Force 100GB (128GB onboard NAND) and a copious 40GB on the 200GB (256GB onboard NAND) drives. They're also offering a 60GB version now as well for those with a more limited budget. For the sake of comparison, the overprovisioning calculation simplistically starts with a baseline assumption of 128,000,000,000 bytes max available for a 128GB drive. The F100 drive allows 100GB of free space for the user with 28GB withheld. Basic math says 28/100 equals 28% overprovisioning. Applying the same formula to the 120GB version, we come up with just under 7% overprovisioning. That's quite a difference and a welcome change as now the capacity compares to what we see on the Indilinx based drives.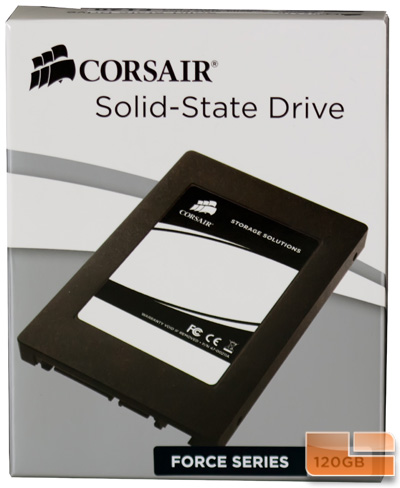 When we reviewed the first version of the 100GB Force drive, we found it to be among the fastest MLC SATA II drives available and we expect to see nearly the exact same performance this time around. In fact, the specifications for each drive as listed by Corsair are nearly identical and boast read/write speeds of 285MB/s and 275MB/s respectively. For a very technical but well-written article on the fundamentals behind the Force SSD's, visit the Corsair Blog and be prepared to get your geek on.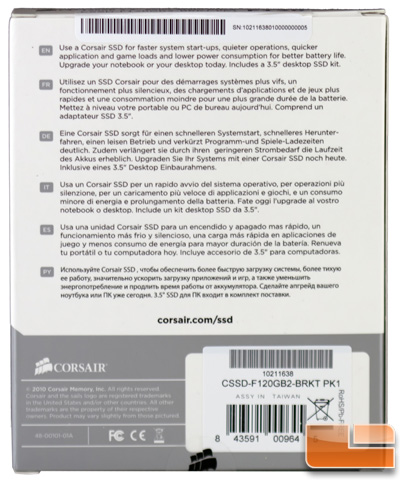 As you can see, all of the features and specifications are the same except the warranty is now three years which was upped from two years on the entire Force line. Corsair also threw in some metrics on 4k write performance.

Fast Performance—Games, applications and files load faster, while your system is more responsive
Compatible—Proven technology with installations on tens of thousands of systems worldwide
Flexible use—2.5" form factor for your notebook or netbook needs, or use with included 3.5" bracket for your desktop computer
Silent operation—No moving parts means zero noise and high reliability
Low Power—Extend battery life for notebook and netbook users
Reliable—Over 1,000,000 hours mean time between failures
Backed by Corsair—A respected name with a passion for great service and support
Maximum sequential read speed 285MB/second
Maximum sequential write speed 275MB/second
Random 4K write performance of 15,000 IOPS (F60, F120, F160)
Latest generation Sandforce controller and MLC NAND flash for fast performance
Internal SATA II connectivity
TRIM support (O/S support required)
No moving parts for increased durability and reliability and quieter operations over standard hard disk drives
Decreased power usage for increased notebook or netbook battery life
2.5" form factor for your portable computer needs
Included 2.5" to 3.5" bracket for installation on your desktop computer
Three year warranty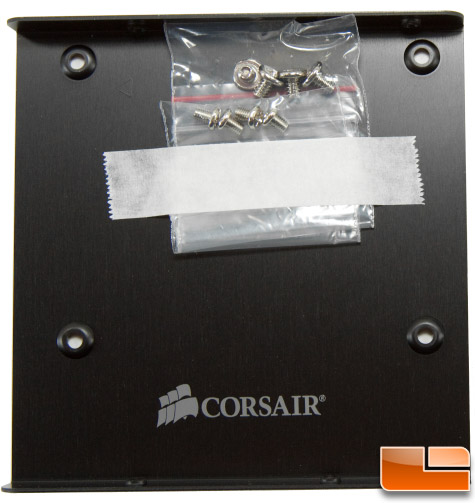 The drive comes with the familiar Corsair branded 2.5" to 3.5" adapter bracket to facilitate solid mounting in most chassis. Thankfully, we have seen cases start to pop up with 2.5" bays built in so at some point there will be little need to keep including these brackets which will ultimately help keep manufacturing prices to a minimum.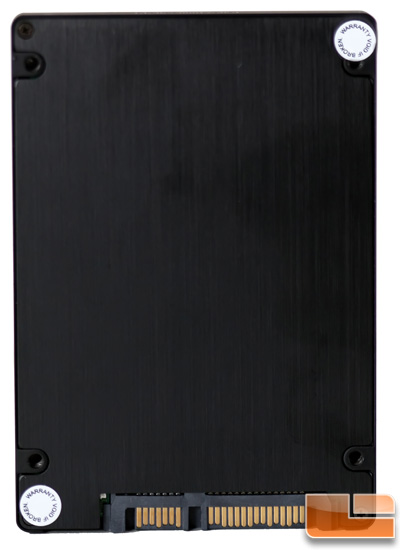 A few warranty stickers dot the corners over the screws that hold the drive together but we aren't going to let a little thing like that stop us are we? Hell no, let's look inside!